Animal Radio® Show #440 May 10, 2008
Richard Pryor Legacy Lives On For The Animals
Jennifer Pryor, Pryor's Planet

Jennifer Pryor and her late husband, actor-comedian Richard Pryor, shared a passion for animals. Not too many people knew that the late comedian Richard Pryor's love for the animals extended beyond his stand-up routine (he often times gave voices to the animals). As a result, they founded Pryor's Planet, a non-profit organization, shortly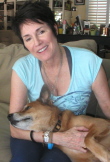 before his death in 2006. The couple has saved everything from baby elephants stolen from their mothers to rallying politicians to prosecute animal abusers.
Jennifer states they are both big animal lovers, and in fact, "Richard would get out of the car on long trips and have conversations with roadside cows and that's when I fell head over heels in love with him!"
Today, Jennifer Pryor is fronting the animal rescue and advocacy organization.
http://www.pryorsplanet.com
http://www.richardpryor.com



Pop Diva Sheena Easton


Singer Sheena Easton currently lives with 6 cats and 2 dogs who she spoils shamelessly! She has one cat who seems to have a "peeing" problem, so she keeps her furniture covered with plastic, just like grandma used to do! She also keeps her bedroom doors closed to keep the cats out.
Unfortunately while the cats get along with the dogs, all of her cats don't get along with each other, so she has separated them into two groups. The two "original gangstas" don't get along with the four "newbies." So, Sheena lets each group have control of the house at different times. Her kids say she is headed for the title of "Crazy Cat Lady." But she won't earn the title "Crazy Cat Lady" until she lives alone in a tiny little apartment with 20 cats, which she say could very well happen!
Easton whose singing career was inspired by Barbara Streisand's "The Way We Were," released her first single in the United States "Morning Train (1980)" which hit #1 in the U.S. and topped both the Hot 100 and Adult Contemporary charts in Billboard Magazine. Following her 1980 debut, Sheena made the cameo appearance performing her Academy Award-nominated James Bond movie theme "For Your Eyes Only." Notably, she is the only artist seen performing the song in the title sequence in the entire Bond series.

Sheena currently lives in Las Vegas with her two-legged family, as well as her four-legged family of six cats and two dogs. If you think you spoil your pets, listen in to see how Sheena copes with hers!
http://www.sheenaeaston.com



Goats Help Boy Cope With ADHD
Britt Savage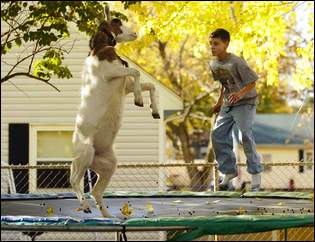 Behind a two-story house on a quiet cul-de-sac here in Clermont County, a boy jumps on a trampoline with his goats. They're David Valentine's 4-H projects, his pets. He lets D.J. and Blessing in the house to watch television, feeds them Tums and shares his sunflower seeds.

The 2-year-old caramel pygmy and the 18-month-old American Alpine are also the only things that help the 12-year-old manage his attention deficit hyperactivity disorder, David's mother, Patty, insists.
But township zoning law says goats and a subdivision don't mix. That led the family to federal court, where an advocacy group for people with disabilities filed a federal lawsuit against the Miami Township trustees.
The suit alleges that the township's refusal to allow the goats is a violation of fair housing laws. Patty Valentine says the family would have to move, which they can't afford to do, if David can't continue living here with D.J. and Blessing.

David, a seventh-grader in Milford schools, keeps his grades up because he knows he doesn't get to play with or take care of the goats unless he does well in school, his mother says. Both goats have won ribbons at the Clermont County Fair. David and his dad, Dale, both showed them this summer and won.

D.J. and Blessing aren't walking to the bus stop in the mornings with David anymore - the family is trying to keep them low profile while the suits are pending.

David thinks the goats motivate him more than the other pets because they're like a kid with ADHD.



Physical Therapy
Dr. Jim Humphries, Veterinary News Network


Physical therapy has gone to the dogs. It used to be that physical therapy was only for humans, but it has been discovered to help many animals. As our animals age, they can get some of the same diseases that we do, such as arthritis, osteoporosis, etc. And, if your veterinarian prescribes the therapy, it may even be covered by your pet insurance.
http://www.vetnewsnet.com



Kevin Fitzgerald ­ "Emergency Vets"
When Puppy Gets into Things He Shouldn't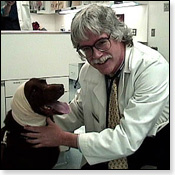 Everyone's heard about plants such as poinsettias being bad for your dog, but did you know that Macadamia nuts are toxic and can produce devastating neurological results? And what do you do when your puppy gets into your medicine on your nightstand? Also, do you think your dog will be fine if he swallows a few pennies? Beware; the zinc in pennies can destroy a dog's red blood cells. Dr. Fitzgerald has great information regarding these subjects and many more. If you have a dog ­ you don't want to miss this!
http://www.alamedaeast.com



Bobbie Hill, Special Correspondent


Oxygen Masks for Animals
Firefighters in every city deal with victims of smoke inhalation victims every day, and sometimes those victims have four legs and a tail.
The Champagne, Illinois Fire Department Squad 171 is equipped with special oxygen masks designed to be used on everything from gerbils to Great Danes. Thanks to the effort of a local Brownie Group, the department received 3 oxygen masks made to fit animals of different shapes and sizes. Until now, when firefighters encountered a pet overcome by smoke, they resorted to using standard human-sized masks which didn't work as well. Deputy Chief of Training, Eric Mitchell said, "these masks will be a better way of delivering oxygen to pets." The girls from Troup 2523 sold over 220 boxes of cookies to raise the money needed for those special masks.

Pope Benedict XVI is a cat lover
Pope Benedict XVI is a cat lover, according to several sources who have known him for years. When the Pope was a Cardinal in Germany, a newspaper reported his affection towards cats, and later he took care of felines who lived in the garden of the Vatican, often bandaging their wounds. One Italian newspaper, in 2005, reported the cats would usually walk him to his office with the assistance of the Swiss Guard. In fact, his former neighbor, a cat named Chico, has written an authorized biography about the Pope.
Pope Benedict isn't the first Pope to fancy cats, in the Fifteenth Century, Pope Paul II had his cats treated by his personal physician. In the early 1800's, Pope Leo XII raised a cat in the pleat of his cassock. And according to a report in the London Tines, Pope Paul VI once dressed his cat in Cardinal Robe's.
About Animal Radio® News Correspondent Bobbie Hill: This beautiful piece of artwork by Bobbie Hill was drawn by the artist in 1990, at the very beginnings of her career. Ms. Hill is a self taught artist who's talent awoke 18 years ago exploding onto paper and canvas. The Canadian Lynx, done in colored pencil, shows each strand of fur on this magnificent animal with incredible detail topped off by astonishing eyes. This original 22" by 30" framed piece is available to Animal Radio listeners "exclusively" with a portion of the purchase price going to animal rescue organizations.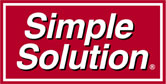 NEWS UPDATE Brought To You By Simple Solution Natural Line Of Products



Vladae, The "World Famous" Russian Dog Wizard
Is your dog out of control ­ barking non-stop, pulling on the leash, chewing your belongings, digging in the backyard, growling or possibly biting? If you have a problem ­ Vladae has the solution. Vladae, the World Famous Russian dog Wizard, teaches people how to control their dogs.

Mini Dachshund Nips at People at Door
What to do: 1. You will need a short leash and a "shaking" can ready, a soda can with pennies in it and taped at the opening, or you can use Co2 Tire Inflator. Every time your dog barks, something must happen. 2. When someone arrives at your door, put the leash on your dog and when he barks, move forward and make a loud growling sound and push the button on the compressed air or toss the can near the dog to startle him. 3. When your dog backs off and stops barking, praise him. Don't kneel down and cuddle your dog.

My Dog Licks Everything
Dogs lick for a variety of reasons. It could be compulsive disorder or the dog is bored and needs a job. What to do: 1. Check with your veterinarian and make sure your dog's body and mind are healthy. If he checks out okay, give him something else to do. 2. Play with him hard, take him for a walk, run with him, bicycle with him, put a backpack on him with a little bit of weight. 3. Also use control exercises (obedience training) of sit, stay, and down, stay. One minute of your dog in a sit, stay position takes as much energy as running one mile. 4. Your dog should then be a tired dog, and a tired dog is a good dog. 5. If after that, your dog still licks things, correct him by using compressed air, such as the Pet Convincer (do not use the air can that you clean your computer, as this contains harmful gasses to your dog), and make a loud growling sound at the same time. When he stops licking, praise him.
Dog Has Severe Separation Anxiety
What to do: 1. The dog currently sleeps on a dog bed in the bedroom. Move that bed to another room such as the living room. You need to break the dependency and increase the confidence of your dog. 2. Do not allow your dog to follow you around the house. If your dog follows you around, turn around suddenly and make a loud growling sound to startle the dog. 3. Do not greet your dog whenever you return to the house, and when leaving, do not speak to the dog for around 10 minutes prior to your leaving. 4. Also use control exercises (obedience training) of sit, stay, and down, stay. Tire your dog out before you leave the house by walking or running him. A tired dog will not think about you leaving the house. 5. When you leave, provide your dog with a special toy for when you leave the house only (do not leave the toy out when you are home). You can also sleep with the toys so that when you leave them with your dog, they will have your scent on them. 6. You can also play the CD Canine Lullaby when you leave the house.
http://www.controlyourpet.com



Billboard Rabbit
Vinnie Penn, The Party Animal


I wanted to talk about something that I spotted in my neck of the woods in recent days, my neck of the woods being Connecticut. Actually, where I see this is right where you enter into New York. It's an enormous billboard that I think has been up before Easter, and basically it has a picture of the most adorable little bunny rabbit that you have ever seen in your life. It also has the words "We're not just Easter presents, we're a lifelong commitment."
Now the only thing missing is a billboard about 100 feet after that one, with the word, "Duh!" written on it. What idiot parents out there are bringing a bunny home for their little boy or little girl for Easter morning and regarding it as no different than a goldfish? Give it a name, treat it like you would a toy, and if it happens to die, we'll bury it in the backyard and have a really touching ceremony that we will film on the camcorder and we will watch at your wedding, "Oh look, this is when dad eulogized Hugo, my beautiful pet rabbit that I stopped playing with three days after Easter."
Isn't it a given not to give a living creature flippantly to a little child? Never mind the fact that rabbits aren't the easiest pet to maintain in the first place. I mean, you can't just put them on a wheel like you would a hamster. There's a certain diet there. You don't know how many people I know who have done this, and within a week of having this brand new adorable bunny in their backyard, they throw it in a cardboard box in the backyard, and are shocked when a fox has eaten it overnight. Nothing like an eleven-year-old girl coming out to see her brand new bunny and screaming in horror to find it chewed up, chomped up, spit out, with a few bones left in the box.
Parents have to start using their heads and realizing what is an appropriate gift and what isn't. A Furbee is an appropriate Easter gift, not a bunny. But the fact of the matter is that stores shouldn't be selling these in the first place. You shouldn't be able to look in a newspaper and see "Bunnies for Sale," unless the word "play" is before it and the number to call has a name attached to it that reads "Hugh Hefner." Everybody should know ­ who's to blame? The blame is on the parents and the blame is on the seller. Feel free to give a call in ­ am I wrong? Everybody should know bunnies are not gifts unless their name is Kendra and you are buying it from a man with a pipe in his mouth.
VINNIE PENN hosted his own Top 40 morning show in CT for almost 10 years, in addition to writing an equally long-running newspaper column in the New Haven Register. He has appeared on VH1's "Best Week Ever" and The Howard Stern Show, has written for Maxim, Hit Parader, and Circus magazines, and his first major nonfiction title hits bookstore shelves in Sep., '08. http://www.vinniepenn.net



Chihuahua ends Up in Freezer
Britt Savage


A barking Chihuahua in Lancaster, California got a cruel punishment when five burglars put her in the freezer as they rifled through her family's home. Roxie, the tiny Chihuahua is fine now, but she could have easily died.
Her owner, Kimberly Holtzer, was at work when neighbors called the police after seeing men jumping over her fence. Luckily, the suspects were caught a short time later. Holtzer, who is pregnant with twins and whose Air Force husband who is an Afghanistan, quickly called her mother to check on Roxie. Police searched everywhere and could not find her until one deputy had a hunch to check a large freezer next to the living room. Inside, they found a near-frozen Chihuahua and rushed her to the vet, who gave her a clean bill of health.
The suspects were booked on suspicion of animal cruelty, burglary and receiving stolen property. Holtzer is happy to have her little dog back, saying, "everything in my house, whatever's damaged, whatever's lost is stupid replaceable stuff, but she's not!"



Improper Food Storage
Dr. Jim Humphries, Veterinary News Network


Toxic pet food caused the recent deaths of more than 100 dogs nationwide. But improper food storage and handling at home can also threaten your pet's health.
Sometimes people buy too much pet food so that it will last six months. But within a few months, it isn't very fresh anymore, and some of the vitamins and nutrients are starting to break down over time. A better strategy is to buy only enough to last 2-4 weeks. Pet food should be stored in an airtight, hard-plastic or metal container. Paper bags are subject to insect and rodent infestations. Pet food shouldn't be stored near stoves, hot water pipes or heating ducts. Heat and moisture can cause food to lose quality much faster.
The FDA continues to investigate the Aflatoxin poisoning incident involving 19 brands of diamond, Country Value and Professional dog food.
http://www.vetnewsnet.com

Animal Moms
Rae Ann Kumelos, Voice of the Animal
We share one very powerful characteristic with animals ­ all of us have a mom. This Mother's Day, discover our common kinship in qualities that transcend species.
http://www.voiceoftheanimal.org



Dr. Debbie White, Lone Mountain Animal Hospital
Dr. Debbie White, Lone Mountain Animal Hospital in Las Vegas, is the official Animal Radio® veterinarian. She is available to take your medical calls.



My Italian Greyhound has Suffered Multiple Broken Bones ­ Will Supplements Help?
Unfortunately this is not uncommon in Italian Greyhounds, who are very fragile. First, you should make sure you are feeding a good quality diet and not feeding table scraps. Don't rely on supplements for your dog, such as glucosimine (which is meant for arthritis). You can try a vitamin such as Pettabs, but a good quality diet is first and foremost for the health of your dog.
Dr. Debbie White is a small animal and exotic animal veterinarian in Las Vegas, NV. Originally from Hammond, Indiana, Dr. White attended Purdue University School of Veterinary Medicine and has been in practice for over 13 years.
Dr. White is an enthusiastic promoter of pet health and educator of the pet loving community. In addition to Animal Radio, Dr. White is also a regular veterinary contributor on her local NBC affiliate, KVBC TV in Las Vegas. Dr. White is a volunteer in the Veterinary Medical Reserve Corps in Las Vegas and is active in Pet Disaster Planning. She is a member of the Veterinary News Network, American Veterinary Medical Association, American Animal Hospital Association & the Association of Exotic Mammal Veterinarians.



Dogs That Know
Alex Tsakiris, Skeptiko


Does your dog have the unexplained ability to know when you're coming home even when you come home at odd hours even when she couldn't possibly hear your car? If so, then we urge you to join our study to determine if some dogs know when their owners are coming home.
The first step to joining the experiment is to self-test your dog to see whether they know when you're on the way home. The easiest way to do is to have someone at home with your dog while you're away running errands. Have the person watching your dog call you on your cell phone and tell you to come home. You might observe your dog spending more time at the door or window when you 're on your way.
This anticipating behavior (e.g. sitting at the window, or door, or anything else you normally observe) should be much more noticeable when you're returning home than when you were out. For example, in experiments carried out by Dr. Rupert Sheldrake of Cambridge University, one dog spent 70% of his time by the window when his owner was on her way home, versus only 20% when she was not.
Other Considerations:
While testing your dog, make sure to watch out for:
Routine. Try and make sure your dog isn't cluing into your normal schedule. If you always come home at 5:47 pm, allow your schedule to slip by 15 minutes and see what happens.
Distractions. Take note of ordinary distractions (e.g. other dogs walking by) that interrupt the normal patterns your observing.
Hit or miss. Make sure to keep track of the times when your dog doesn't pick up on your trip. Recording misses is just as important as recording hits.
Next Steps:
If you're dog makes it through this first round of testing we'd like to hear from you. Contact us at: info@dogsthatknow.com.
We'll send you the equipment and resources you need to perform more rigorous testing, and you may earn a $1,000 prize offered to successful participants
Alex Tsakiris is a successful entrepreneur turned science philanthropist and podcaster. In May of 2007 he founded OpenSourceScience.net, a non-profit project for funding controversial science experiments. The effort has earned praise from a wide spectrum of scientists including skeptic Dr. Michael Shermer, and noted parapsychology researcher Dr. Dean Radin.
http://www.dogsthatknow.com/index.html
Listen to the entire Podcast of this show (#440)

Broadcast on XM Satellite Radio Version Only.

Listen to Animal Radio® - Go to the launch page
Return to Animal Radio Network™ Home Page
Read May Newsletter
Copyright 2008 All Rights Reserved Animal Radio Network LLC