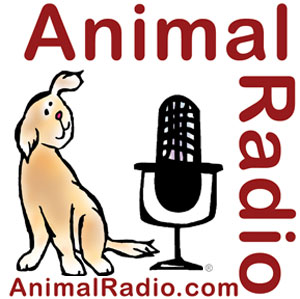 Animal Radio® Show #649 May 12, 2012
Victoria Jackson, Saturday Night Live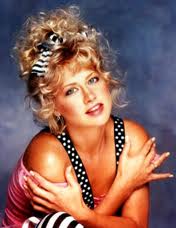 Victoria started out supporting herself as a cigarette girl and a typist at the American Cancer Society while performing stand up comedy. Her big break came when Johnny Carson put her act (which consisted of her doing a handstand while reciting poetry) on national TV. Following her 22 appearances with Johnny, she starred in many movies and TV shows, most notably Saturday Night Live.
Victoria states that every time she wanted to get pregnant, she got a puppy instead. She currently has three dogs and has been trying to convince them, although so far she has been unsuccessful, that she is the Alpha Dog!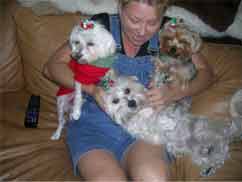 One of her dogs is named Buddy, who is a Yorkie. Victoria claims Buddy is gorgeous and is the perfect dog. Oh yeah, he was a "wandering eye" but Victoria says it is endearing! She wanted to name him Buster, but her daughter received the dog as a birthday present when she was 7, so she got to name him, which she did after "Air Bud." Victoria wanted him to be Buster after Lilly Tomlin's Edith Ann monologue. Buddy is also famous for his role on a Nickelodeon show called Romeo, where he worked with Victoria.
Victoria currently lives in Florida with her husband and two daughters, as well as her three dogs, Buddy, Daisy and Peanut.

http://www.victoriajackson.com

When Pets Come Between Partners
Dr. Joyce Brothers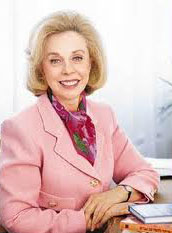 Dr. Joyce Brothers is a noted psychologist, columnist, author and one of America's 10 most influential women. Her legendary books have been translated into 26 languages, with her daily column appearing in more than 175 newspapers.
Dr. Brothers talked about a family member who had a Chow dog who was very territorial and wouldn't let her husband into the bed. This caused the husband to move to another bedroom, and eventually they got divorced. In this case, the woman preferred the dog to her husband.
In cases like this, you need to see if the dog is a one-person dog, which can cause a problem between the two individuals. When we choose our dog, we do so because of our personality. The kind of dog you like reveals your personality. When we pick our mate, we want the opposite in personality. For example, a very intellectual person would see someone who is very comfortable in a social situation and envy that person. They feel that if they were with that person, than they would also be accepted into these social situations.
Dr. Brothers mentions that people who choose sporting breed dogs, such as Pointers and Retrievers, are chosen by hard working, conservative, ambitious, loyal virtuous people. People who choose Airedales and Miniature Schnauzers are optimistic, friendly, fun loving and like to party.
The whole question of pets and how they relate to couples is a difficult one. In fact, some of the issues have become so complex that when a couple splits, there are lawyers who specialize in pet custody cases.
Hear what Dr. Joyce Brothers has to say about pets coming between partners.

No More Scaredy Cats or Dogs!
Phil Blizzard, Thundershirt



Thundershirt's founder, Phil Blizzard, has a 10-year-old, 50-pound mutt named Dosi who will make friends with anyone. But Dosi was extremely frightened by loud noises like thunderstorms and fireworks. Even when the skies were clear, Dosi's behavior would let her family know if a thunderstorm was coming. Her tail would go between the legs and the shakes and panting began. If it was during the night, she would plant herself on Phil's chest and keep her family awake for hours.
They visited three different veterinarians over the years to find a remedy. The only suggestion was to sedate Dosi, but even the veterinarians didn't think drugs were an effective solution. You have to anticipate the storm by 1-2 hours for the sedatives to take effect, not an easy task for storms that arrive in the night. And worse, while sedated, dogs can be very unstable on their legs and become a danger to themselves. Dosi would try to jump off the bed and risked breaking a leg, and she would remain groggy and unstable for many hours after the storms had past. So after a couple of uses, the sedatives were set aside.
Finally, someone suggested using gentle pressure around the torso of the dog, and that Phil could do this by putting on a snug fitting shirt. Even though Phil is an engineer, it sounded ridiculous to him and he couldn't understand how it could possibly work. But, he tried it one night and it was like flipping a switch! Dosi's shaking went away, she laid down, which is something she normally would never do during a storm, and she pretty much rested through the duration of the storm. Phil tried the shirt few more times during subsequent storms, and since it worked so well, Thundershirt was evolved from there.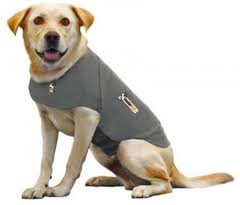 Before putting Thundershirt on your dog for the first time, they recommend offering a small amount of food to your dog using the Thundershirt as a "plate." Dogs typically become more comfortable and trusting of something that "brings" them food or anything that they associate with food. So this is an easy little trick to quickly create a positive association with Thundershirt for your dog.
Thundershirt has helped so many dogs around the world, so the next natural step was to create a Thundershirt for cats. Cats can also get stressed out from things like going to the vet's and car travel as well. Thundershirt for cats works jut like it does for dogs, by applying gentle, constant pressure t the torso, which has a dramatic calming effect for cats.
The Thundershirt for both dogs and cats is sort of like swaddling a newborn infant. Experts believe that an endorphin or oxytocin is released while wearing the Thundershirt, which has a calming effect.
Cat Lifestyle Enrichment
Jim Montgomery, Cats on Deck



It's very important that your cat gets a chance to be outdoors. This is a wonderful way to enrich the life of your cat. They get to see the birds, smell the fresh air and bask in the sun. Just think how your life would be if you couldn't go outside! But how do you keep them safe outdoors and from taking off?
Jim Montgomery comes to the rescue. At one time, Jim had 13 cats and spent a few years coming up with his concept. He tried everything there was to keep the cats contained in his yard, before he came up with clamping together panels, kind of like Legos. This allows you to create your own configuration with the space you have to work with. The panels also allow you to easily add more, as well as take to take them down if you need to move.
Jim's clients have told him how amazing it was to watch the transition of their cats when they first get into these enclosures. As expected, when cats first go into something new, they are cautious.. But once they are in and have explored it, it's almost as if they realize that they are outside and they are safe.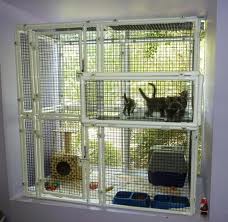 Cats are also vertical creatures, so Jim focused on shelves and perches, as well as the "Tower of Meows," which is a perfect solution for those who have limited space for an enclosure. The tower only occupies 7.5 square feet of floor space yet provides 25 square feet of play area for the King Tower or 16.5 feet for the Queen Tower, and can reach a height of 93 inches. Cats love these, as there are different levels of territory. Something for everyone!
As Jim states, cat containment is fairly easy. But how do you make sure they are safe and that nothing can get in to harm them? Your cat also needs to be protected, and that's where Cats on Deck come in. They paid attention to protection as well as lifestyle enrichment. And if you move, you just break them down and take them along with you, where they will be ready to set up in your new place!
2nd Annual Paw-Parazzi Pet Photo Contest
Steve Pinetti, Kimpton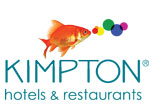 Last year we thought we'd do a fun little contest for our guests to show off photos of their pets. We imagined we'd get a couple hundred entries , but to our surprise almost 2300 pets entered the contest - dogs, cats, chickens, bunnies, turtles, lizards, even a baby calf entered - it was amazing! So, we decided to do it again!
To enter the 2nd Annual Paw-Parazzi Pet Photo Contest, upload your pet photos at kimptonpets.com and follow the contest link. The public will vote on their favorites. The 20 entries with the most votes will win great prizes from our partners like Olive Green Dog, Polka Dog Bakery, and FIDO Friendly Magazine.
The Grand Prize winner will win the Ultimate HosPETality Getaway which includes: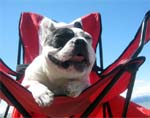 One $100 Kimpton Restaurant or in-room dining gift certificate
One in-room spa treatment for two

Quaker Pet Group & Republic of Paws Ultimate Legacy Pet Carrier

Pet amenities such as dog bed, bowls and treats during your getaway
Last year Petey, a Boston Terrier from Seattle won and we can't wait to see who it'll be this year! What are you waiting for – take that picture!
The Dogfather's Grooming Tip with Joey Villani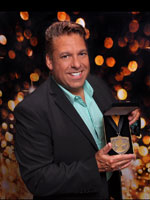 Hydrating Your Dog's Coat
If your dog has a dry, brittle coat, you have probably tried many different sprays and products. Some of these products will work, but there is a better, easy, less expensive and quicker way to fix the problem.
Get some distilled water, which is the best thing to use. Only use distilled water, because the chemicals and minerals in tap water and even in spring water, don't always agree with your dog's coat, and can even change the color of the coat. This can leave a white dog with an orange or bluish tint to their coat. Put some distilled water in a spray bottle, spray the coat lightly and work it in.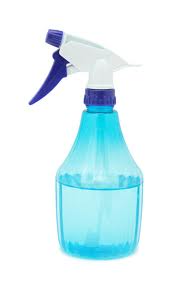 You need to nourish the outer layer, which will protect the inner layer. When its not nourished, anything can be absorbed into the coat, including dirt, and that is when you start losing your color.
By adding water to the coat and working it in, (you can't just spray it on and let it sit there, you have to work it in), this will help heal the outer layer of the coat and protect the marrow. This will make the coat shine better, lie down more and it will make it smoother and not so coarse.
By doing this, you will get a better look, a better feel and you will keep the color. You will get all of this with just distilled water and a brush!
Animal Radio® News with Stacey Cohen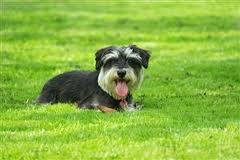 Lush Lawn Can Cause Cancer In Dogs
A lush lawn creates a sense of pride for many American homeowners, but a new study finds that utilizing a chemical lawn service to achieve those results is likely causing malignant cancer in many pet dogs. In the study, researchers identified 263 dogs with biopsy-confirmed canine malignant lymphoma (CML), 240 dogs with benign tumors and 230 dogs undergoing surgeries unrelated to cancer. Then, they asked the pet owners to complete a 10-page questionnaire. Scientists found that dogs with malignant lymphoma were 70% more likely to live in a home where professionally applied lawn pesticides had been used. Dogs with the serious malignancy were also 170% more likely to come from homes where owners used chemical insecticides to combat pests inside of the home.
Budget Accommodations For Fido
Like savvy travelers who forgo pricey hotels for budget accommodations on sites like Couchsurfing.org, easy-going pups now have an inexpensive place to crash, too. Two new services allow New York dogs to stay with a local pet-lover while their owner is away: Dogvacay.com and Rover.com both allow pet owners to create a profile with info about their animal, and can browse hundreds of hosts' profiles to see where Fido will fit in best. You can e-mail potential hosts questions and even set up a meet and greet before making an online reservation.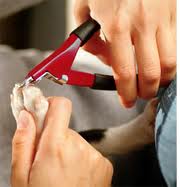 Do You Give Your Pup A Pedicure?
Many vets say they hate to trim toenails! And, no, it's not because they have better things to do and can't be bothered with it. It has more to do with the stress of the event. By and large, canine patients hate having their claws clipped more than any other routine procedure. In fact, injections, blood draws and even the dreaded fecal rod are far more readily accepted by the average dog than a nail trim. The majority of these patients shake and cower as their nails get trimmed. A sizable percentage must be forcefully restrained. Any pet who gets a nail trim only when it's time to see the vet is receiving a dubiously beneficial service that often only serves to make him more afraid of the vet's office. After all, claws grow out within a month, and less in many cases. Still want his nails trimmed? Go to the groomer. Go to your local pet superstore. Go anywhere except the place where stress should be minimized at all costs, so a good attitude can be preserved for when injury and illness happen.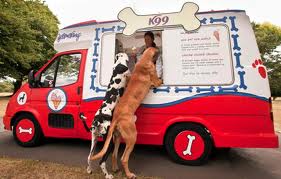 Doggie Ice Cream Trucks and Vending Machines
We know dog owners do plenty of pampering. But now you might have a few new specialty treat options near you. A handful of new businesses are going after the pampered pet set with gourmet snacks, frozen desserts and even vending machines for dogs. Humans have a near-Pavlovian response to the sound of an ice cream truck's music. Now your dog can learn what it means too. Tiki's Doggie Ice Cream Truck, run by the owner of dog day care Tiki's Playhouse, is hitting the streets in Maryland, just in time for warm weather. Priced at $1 for a small cup, "ice cream" flavors such as peanut butter, blueberry and molasses are available for your pup. The "ice cream" has no dairy. For dogs with a refined palette, a number of areas have also seen canine food trucks hit the streets. Dogs in Chicago might see Fido to Go pull up to parks and beaches that are popular canine hangouts in the warmer months. Launched last spring, the truck plans to roll out again, serving up fresh-baked gluten-free cookies in flavors like beef, venison and pumpkin, cheese wedges and "puppizza." Meanwhile, canine foodies in central Florida can dine on snacks like "Poochi Sushi" from the Sit 'n Stay Pet Café food truck, according to a story in The Orlando Sentinel. (Don't tell your dog, but it's not really sushi — it just looks like it.) With organic snacks on board, the Sit 'n Stay opened for business late last year, offering "Mutt-balls" (or meatballs) and muffins, along with many more treats. If you don't have a dog food truck in your neck of the woods, perhaps you can find a vending machine to satisfy your dog's hunger. Last May, a Michigan woman got the go-ahead from her local city council to put coin-operated machines that dispense peanut butter–flavored dog treats in and around three parks in the city of Alpena, Michigan. And a Canadian company called Hey Buddy supplies vending machines stocked with everything from food and treats to Frisbees to pick-up bags, because you never know what you'll need when you're out with your pup.
Man's Best Friend Can Be Crappy For The Environment
The 78 million dogs in America collectively produce 10 million tons of poop each year, enough to fill a line of fully-loaded tractor trailers stretching from Seattle to Boston, according to DoodyCalls, a Virginia-based pet waste pick-up service. Dog waste contains nutrients, bacteria and parasites that can contaminate water bodies and make people sick. Left on the ground, droppings from about 100 canines over the course of two or three days can generate enough bacteria to close bays and other bodies of water in a 20-mile radius. "If you think picking up what your dog leaves behind is disgusting, try drinking it," Jacob D'Aniello, DoodyCalls co-founder and CEO, told the Daily News. "The longer dog waste stays on the ground, the more it washes into the water and the environment." "People should pick up after their dog or hire someone to do it for them," he added.
Afterlife For Zoo Animals
There is an afterlife for animals at the Khan Younis Zoo in the impoverished Gaza Strip. Animals who die in the dilapidated park return to be displayed as stuffed creatures, giving visitors the unusual zoo experience of petting a lion, tiger or crocodile. But because taxidermy in the largely isolated Palestinian territory is not advanced and expertise and materials are in short supply, the experience can be grim. Flies swarm around some of the 10 animals that have been embalmed so far. The makeshift cages housing the exhibits, fashioned from fencing salvaged from Jewish settlements that Israel dismantled in 200, are littered with empty soda cans and other trash. An emaciated-looking stuffed lion, its coat patchy and mangy, lies on an exhibit cobbled together from crates and shipping pallets. A monkey had missing limbs. A porcupine had a hole in its head. The zoo's 65 live animals, which include ostriches, monkeys, turtles, deer, a llama, a lion and a tiger, don't fare much better. During a recent visit, children poked chocolate, potato chips and bread through the wire. There's no zookeeper on the premises. Gaza has no government body that oversees zoos and medical treatment is done by consulting over the phone with zoo veterinarians in Egypt. Still, the zoo is one of the few places of entertainment here in Khan Younis, a city of 200,000 people at the southern end of the Gaza Strip. It's one of five zoos in the Gaza Strip, a densely populated coastal enclave of 1.7 million people ruled by Islamic Hamas militants.

NEWS UPDATE Brought To You By PetzLife.com. Use the code "RADIO" to receive 20% off!

Listen to the entire Podcast of this show (#649)