Animal Radio® Show #545 May 15, 2010

indicates XM Satellite Radio and Podcast versions only.
Designer to the Slobs
Debbie Wiener, Slob Proof

Debbie Wiener once cared about keeping her home pristine. Then she got married. Later, with two boys (now teenagers) and a vomit-prone dog named Daisy, she found her home in a constant shambles. So Debbie, an interior designer, decided her furniture, not her family, needed to change.
As a result, she created new line of slob-friendly upholstered furniture. Debbie experimented with fabrics used in boating, but found them too stiff. Then she discovered Crypton, a nearly impenetrable material made from fibers encapsulated in a moisture proof barrier, which is popular in hotels and other institutional settings. So instead of a fabric that repels stains, this new fabric prevents stains.
The Slobproof line of furniture is all made in the U.S.A.; it's all incredibly affordable; it's unbelievable comfortable; and the best part is that neither "pee" nor "poop" can hurt this furniture.
Debbie's book, Slob Proof, offers realistic, attractive, and comfortable design solutions to families overrun by messy kids, muddy dogs, and sloppy spouses who make beige carpeting an endangered species, and make hardwood floors look like a skating rink. What these families (and even sloppy singles) need are reasonable, no-nonsense design choices for rugs and floors, sofas, tables, carpets and tiling, and curtains and blinds that can withstand the wear and tear of real everyday life and still look great.

Debbie offers some great tips on living with pets and carpet. When choosing your carpet, think about synthetics. Anything that will repel odor and clean up easily, and more importantly, think about your padding. You want an anti-microbial, waterproof padding put underneath. So if your pet is prone to accidents, the smell will not linger. You can always clean the carpet, but what do you do when the liquid has gone through the carpet, through the padding and on to the floor beneath? Debbie states, "That if Twinkle still tinkles in the house, you need to put in waterproof, anti-microbial padding!"
When covering windows, think about going horizontally instead of vertically. That way, you can pull them up out of the way, and you won't have drapes hanging on the sides of your windows. This will not only keep your pets away from the hanging drapes, but also, as Debbie states, your husbands! Debbie used to have the problem of her husband lounging on the couch and using the drapes as napkins. He felt there was no need to get up when you could just reach over and grab the drapes!
Debbie Wiener is a licensed interior designer, and owner of Designing Solutions, a full-service interior design firm specializing in real-life, family-friendly interiors. Her answers to designing dilemmas appear monthly in the Maryland Gazette Newspapers and Times Community Newspapers of Northern Virginia.
http://www.mydesigningsolutions.com
Searching for Pet Friendly Truckers
Brian Richmond, His & Her Specialized Transport, Inc.

Brian Richmond and his wife Kat have been in trucking for 14 years. When they started out, finding a company that would take their dogs was prime on their list. They haven't been without their "kids" since. They became owner/operators after their first year and their dogs are seasoned veterans of the road. They are now in a position to add drivers to their small but growing fleet, and are looking for husband and wife teams.
Brian and his wife have small poodles, which are quite protective of their territory. Chat, their oldest, will be 14 this year and was born in the truck. He still enjoys our life on the road; he's a little slower these days but just as enthusiastic as ever.
They know how important it is to travel with their pets, because their animals are their kids, and they don't like the idea of leaving any of their family at home.
To learn more about this opportunity, give them a call at 888-399-9597.
Speaker System Designed For Your Pet
Janet Marlowe, Pet Acoustics

Janet Marlowe is a co-founder of Pet Acoustics, a leading authority on music for animals, who created a speaker, called My Pet Speaker, which is specifically for the animals.
Everyone knows how animals hear different frequencies than humans do. With their acute sense, our pets can hear frequencies that are both much higher and much lower than what the human ear is capable of hearing. Sounds outside of an animal's normal comfort range can startle or cause discomfort to our pets. These speakers were designed to eliminate these unsettling frequencies.
Now you can play your personal music library and all the music coming through this speaker will be modified for the comfort range for a dog, cat and even a horse, according to their hearing sensitivity. This creates a pet sanctuary for the environment of an animal. The music also gets disbursed in 360º, which is very important because that's how an animal hears sound and reacts to sound in nature.
An animal is normally on alert when they hear high frequencies and by not having these high frequencies, they can relax into the environment. You will be able to hear the difference, which is also relaxing to the humans.
Pet owners can also download Pet Acoustics iPhone Application to create the ultimate pet sanctuary at home, at the vet, or even in the car. Unveiled in October of 2009, the Pet Acoustics' Application includes multiple tracks composed for you and your pets. My Pet Speaker coupled with the Pet Acoustics Application provides music and sounds that are tailored to fit the pitch, tone, frequency, and volume level for a pet's vulnerable hearing.
Animal Radio® News with Bobbie Hill
Gulf Oil Spill Threatens Wildlife
The Exxon Valdez disaster 21 years ago in Alaska taught wildlife experts a lot about cleaning animals after oil spill. Before the oil spill in the Gulf of Mexico made landfall in Louisiana, volunteers were organizing efforts to rescue affected wildlife, while risking health problems themselves due to contact with the oil. The first step is to collect and examine the animals, and then they are warmed, hydrated, fed and held for up to 48 hours before being washed. That process involves a series of tubs filled with cleaning agents and hot softened water. The animals are re-examined and banded or tagged before being released.

Handle Exotic Pets With Care
Just how safe are exotic pets for your family? Petco's director of veterinary medicine Dr. Tom Edling says most exotic pets have different temperaments than traditional pets. Edling cautions that iguanas, for example, grow to an unmanageable 6 feet and require a big indoor cage. As far as snakes and frogs, Edling advises wearing latex gloves when handling them and pointed out snakes are dangerous if not fed properly. If you are a chinchilla lover, get ready for a long commitment, since these rodents can easily live 15 years. Edling added, "Make sure your kids understand they can mishandle and hurt their pets....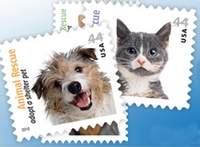 Stamps Depict Shelter Pets
The Humane Society of Southern Arizona has partnered with the United States Postal Service on the Stamps to the Rescue campaign. A series of stamps called Animal Rescue: Adopt A Shelter Pet was recently unveiled by the USPS in hopes of raising awareness of shelter pets. Each 44-cent stamp features the photo of an adopted pet from animal shelters and are now available at all USPS locations.
Pets Are Better Listeners Than Spouses
Here's a story sure to spark lots of arguments over the dinner table - a recent poll shows pets are better listeners than husbands. According to the Associated Press, the Petside.com poll showed that one third of married women who owned a pet said it was a better listener than their betrothed. Now for the husband's side of the story - that same poll showed 18% of married men responded that their pets were better listeners than their wives. No preference of cats, dogs or birds as better listeners was shown.... just pets in general.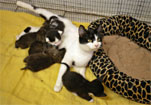 Cat Raises Bobcats
When a hunter found three small bobcats alone in the wilderness, he brought them to a local vet who transferred them to Tampa's Big Cat Rescue. The kittens, whose eyes were still closed when found just three weeks ago, were not yet weaned. Luckily the staff at nearby Suncoast Animal League had a momma cat whose six kittens had just started eating solid food. The momma cat was introduced to the three bobcats and almost immediately began nursing the kittens. The Associated Press says Big Cat Rescue will release the bobcats into the wild when they are old enough to hunt on their own, in about 18 months. Watch the video.
Do Animals Experience Grief?
Do animals experience grief at the loss of a mate? Research published in this month's journal Current Biology says chimpanzees show symptoms like human grief. Research at the University of Stirling and another study at Blair Drummond Safari Park both in the U.K. show chimps grieve similarly to humans, appear to comfort the dying, deal with trauma after death and even have trouble letting go.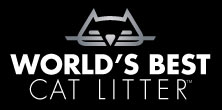 NEWS UPDATE Brought To You By World's Best Cat Litter™
Listen to the entire Podcast of this show (#545)