Animal Radio® Show #441 May 17, 2008


SPRING PEST SPECIAL brought to you by

Protect Your Dog Against Parasites
Donald Bramlage D.V.M., Safe-Guard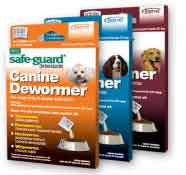 Spring is finally here and you are probably taking your dog out to the dog park. And while the grass itself is not necessarily dangerous, it is the parasites that live on the edge of that grass that you need to worry about.
Internal parasites can affect your dog's immune system and how food is absorbed through his GI tract. To maximize the health of your dog, it is important to give regular dewormer treatments as part of your dog's health maintenance program throughout the year.
Periodically during the life of your dog, parasites may be present. A few of the internal parasites of dogs which are important to diagnose and treat are roundworms, hookworms, whipworms and tapeworms.
When does a dog need to be treated for dog worms?
Weaned Puppies - Should be dewormed at 6, 8, 10 and 12 weeks of age.
Pregnant Females - Deworm just before breeding and again just before
whelping. Repeat at 2, 4 and 6 weeks after whelping.
Newly acquired dogs - Immediately, then repeat after 2 weeks.
Adult dogs - Treat at least twice each year.
Safe-Guard can be used as a preventative to parasites and comes in three convenient dosing sizes available for small, medium and large dogs.
http://www.safe-guard-for-dogs.com



Betty White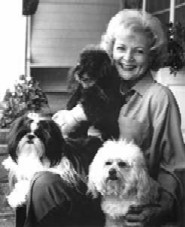 When one thinks of celebrities and animals, one can't help but think of Betty White. They go hand in hand. Or paw in hand. That's because Betty White is as passionate about animals as she is about acting, which is the other reason we know and love her. When asked what type of animal she prefers, she states "anything with a leg on each corner."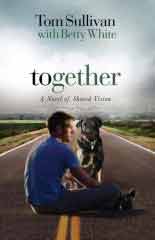 Betty, together with Tom Sullivan, singer, actor, athlete and accomplished author who happens to be blind, has created a novel Together about a young man who loses his sight in a mountain climbing accident and a black Labrador Retriever, Nelson, who struggles to find his place as a working guide dog. Together is a compelling story for anyone who's ever loved a dog or lost sight of what matters most in life.
Betty is a current trustee and former president of the Morris Animal Foundation (MAF), having been with them for 40 years. MAF is the world's largest nonprofit foundation 501(c)(3) dedicated to funding research studies to protect, treat and cure animals, including companion animals (dogs, cats, horses, llamas/alpacas), as well as wildlife (mountain gorillas, elephants, rhinoceros, wolves, and many varieties of birds, reptiles, amphibians, and fish). The MAF is currently doing research on a cure for cancer.
A member of the Television Hall of Fame and six-time Emmy Award winner for her roles which have included The Happy Homemaker on The Mary Tyler Moore Show and Rose Nylund on The Golden Girls, this busy actress has been a part of television since 1949. Her love of animals, however, started long before that.



Rue McClanahan


Rue McClanahan is a lifelong animal-rights advocate and was one of the first celebrity supporters of PETA. Rue doesn't have a preference of cats or dogs, she loves them both. The first animal that Rue connected with was actually born before she was. The animal was a German Shepherd named Cherry who belonged to her maternal grandparents.
Rue McClanahan is an Emmy Award-winning American actor, best known for her roles acting alongside Bea Arthur on the television sitcoms Maude (she played Vivian Harmon) and The Golden Girls (she played the man-crazed Southern belle Blanche Devereaux). Rue currently resides in New York with her husband and her cat, Bianca.



George Clooney & Max
Britt Savage


While tabloids are talking about George Clooney's new love, George recently opened up about his heartbreak over losing Max. Max was the 300-pound-pig that shared his Hollywood home for over 18 years. Max died in 2006, but George says he still misses seeing him sitting on the carpet in the home they shared.
Max was often featured in interviews with the handsome actor and was known for scaring delivery people. He was also the oldest pig his vet had ever seen. Asked if he will ever get another pig, George said no, adding that Max covered all of his pig needs.



Vladae, The "World Famous" Russian Dog Wizard
Is your dog out of control ­ barking non-stop, pulling on the leash, chewing your belongings, digging in the backyard, growling or possibly biting? If you have a problem ­ Vladae has the solution. Vladae, the World Famous Russian dog Wizard, teaches people how to control their dogs.

My Two Dogs Are Very Competitive
What to do: 1. You need to become the alpha over both of your dogs. 2. You need to tire your dogs out. Allow one of your dogs to have a toy when you are working with the second dog on obedience training (sit, stay, down). After about 5 minutes, switch the dogs. 3. After they have both been exercised and played with the toy, if they still fight over the toy, get some Co2 Bicycle Tire Inflator. Push the button whey they are fighting, move forward and make a loud growling noise at the same time, and this will startle them to a stop. 4. Praise them when they stop fighting.

My Puppy Jumps Up and Nips Your Face
What to do: 1. First show the puppy that you are the boss. 2. Put a leash on the puppy and work on obedience training (sit, stay, down) and have another person sit on the couch. 3. If the puppy continues to jump up, get some Co2 Bicycle Tire Inflator. Push the button when he jumps, move forward and make a loud growling noise at the same time, and this will startle him to a stop. 4. Praise him when he stops.
My Dogs Takes Toys Away From My Child


What to do: 1. First establish that you are the alpha female using three rules: (1) never give any command that you cannot enforce (2) always enforce the commands (3) never repeat yourself. 2. Do special obedience training (sit, stay, down) as well as behavioral obedience training where you establish human authority. 3. Put the dog in the sit/stay or down/stay position while your child plays with his toys and make the dog tolerate the child. 4. Then use the chew or toy discriminative method. Put about ten toys in a room. Five would be kids toys and five would be dog toys. Make sure that the five doggie toys are scented in a way that is positive. You can use a little bit of peanut butter or cream cheese. On the five kids toys put some jalapeño pepper or bitter apple (make sure you clean the child's toys thoroughly before your child plays with them). When all toys have been scented, let the dog go in the room and decide which toys are good and which toys are bad.
http://www.911dogwizard.com



Goldfish Burial
Vinnie Penn, The Party Animal


I wanted to talk to you about something that I have been thinking about lately and which bothers me. A friend of mine who has a five-year-old, just got his child a bowl with two goldfish. It made me think about the goldfish I had when I was a kid, Cheech & Chong.
He was saying the usual thing "You know when the time comes, because they don't last very long, we'll do the old ceremony by the toilet, and flush them down the toilet." Well, I have to ask you, who is the sick person that came up with that ritual? How come you can't put the goldfish in a jewelry box and bury it in the backyard with a ceremony, the same way you would a hamster or anything else? Why does the goldfish get the un-ceremonious flush down the toilet? Am I wrong to say that that's almost teaching children disrespect? It's teaching them frivolousness. How can you shout at your five-year-old not to put anything in the toilet and not to flush their toys down the toilet, but then you're going to carry over Henry, their beloved goldfish and dump it in the bowl and say, "Anybody want to say goodbye to Henry, anyone have some parting words for Henry?"
I think the flushing of the goldfish down the toilet is not only something that needs to be stopped, but we need to find out who the nut job was that came up with that in the first place and ask him why he was such a hater!
VINNIE PENN hosted his own Top 40 morning show in CT for almost 10 years, in addition to writing an equally long-running newspaper column in the New Haven Register. He has appeared on VH1's "Best Week Ever" and The Howard Stern Show, has written for Maxim, Hit Parader, and Circus magazines, and his first major nonfiction title hits bookstore shelves in Sep., '08. http://www.vinniepenn.net



Bobbie Hill, Special Correspondent


Fines For Lap Dogs
Driving with a dog on your lap may get you fined driving in the Golden State. This week, the California State Assembly passed a bill restricting pets from sitting on the laps of drivers by a vote of 44-11. Assemblyman, Bill Maze (R-Visalia), introduced the bill and said it wasn't inspired by the paparazzi photos of starlets driving with dogs, instead, Maze said he thought of the bill after seeing a woman attempting to drive with 3 dogs on her lap. Maze says that's an obvious distraction that puts not only other motorists at risk, but also the lives of the pets. The bill now heads to the California State Senate, where if passed, violators could face a $35 fine.

Pet Food Contamination Settlements
In 2007, the apparent contamination of pet food imported from China prompted the largest recall in history. This week, lawyers will be in court for a hearing on the settlement of a series of lawsuits over pet deaths attributed to that contamination. Menu Foods announced a tentative settlement last month with details, which were to be disclosed by May 1st. But now, the lawyers say they need more time to finish the document.
Menu Foods produced products that apparently contained contaminated wheat gluten imported from China that was linked last year to the deaths of otherwise healthy pets.
Women Stay in Abusive Relationships for their Pets
A study published in the latest issue of the Academic Journal Humanity and Society reveals many women trapped in abusive relationships remain in dangerous situations for the love of a pet. Findings show the relationships between abuse victims and their pet companion animals provide much needed emotional support. But since most shelters don't allow animals, women will remain in abusive relationships for fear no one will care for their pets.
The author of this study hopes her work will lead to more shelters opening their doors to not only victims of abuse, but to their furry companions as well.
About Animal Radio® News Correspondent Bobbie Hill: This beautiful piece of artwork by Bobbie Hill was drawn by the artist in 1990, at the very beginnings of her career. Ms. Hill is a self taught artist who's talent awoke 18 years ago exploding onto paper and canvas. The Canadian Lynx, done in colored pencil, shows each strand of fur on this magnificent animal with incredible detail topped off by astonishing eyes. This original 22" by 30" framed piece is available to Animal Radio listeners "exclusively" with a portion of the purchase price going to animal rescue organizations.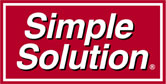 NEWS UPDATE Brought To You By Simple Solution Natural Line Of Products



Dog Trainer to the Stars
Tyson Kilmer, Dogs Incorporated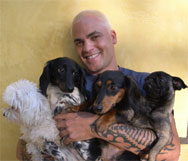 For Tyson Kilmer, training animals was a birthright. Raised in a rural community in B.C., Tyson worked with every type of animal from an early age, yet he always had a special affinity and gift for working with canines, without anyone "teaching" him how to do it.
Having professionally trained dogs throughout his youth, Tyson was approached by a modeling scout at age 15 and began an exciting and lucrative career as a professional model. Though still training dogs as a hobby, Tyson spent the next decade traveling the world and gracing international runways as a model for such couture designers as Issey Miyake, Hugo Boss, Dolce & Gabbana and Jean Paul Gaultier.
By age 25, Tyson had lost his passion for modeling and realized how much more enjoyment he got from training dogs for his friends within the fashion industry, many of whom were top models and designers. He soon settled in Los Angeles to launch his dog training company, and thanks to the buzz his talents created in the fashion industry, Tyson instantly became "the dog trainer to the rich and famous." His celebrity clientele included Sheryl Crow, Rob Lowe, Marilyn Manson, Mike Tyson, Joni Mitchell, Rose McGowan, Mark McGrath, Steve Carr and Mathieu Kassovitz, to name a few. Still, Tyson most enjoys training dogs for average everyday people who want to live in perfect harmony with their canine companions.
Listen in and find out what some of the celebs have asked him to train their dogs to do!
http://www.tysonkilmer.com



What To Do About Bowser When You're Breaking Up
Jennifer Keene, We Can't Stay Together For The Dogs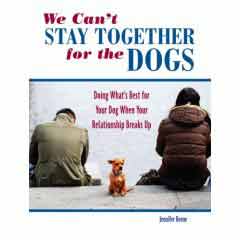 Jennifer Keene learned firsthand the importance of how to facilitate a dog-friendly breakup after successfully navigating her own divorce. It seems at the time, there were no books available on the subject. So she set out to do something about that.
The divorce rate continues to hover at around 50 percent, and marriages ending within the first five years often have dogs, not children; and statistics show that dog ownership is at around 43 percent nationwide. This breakup guide, We Can't Stay Together for the Dogs, is for both dogs and their humans, and explains how to choose dog-friendly solutions and make compromises during a split.
By integrating training tips, success stories, expert opinions, checklists, and a bit of humor, this self-help guide shows that breakups can be dog-friendly. As the first book on the subject of dogs and splitting up, it features simple step-by-step directions and offers a dog-centric point of view. Figuring out who gets the dog and whether to have joint custody, split the pack, have sole custody with visitation, or place the dog with a new family is only one of the many decisions couples face. Sections on deceptively simple subjects like housing, finances, training, food, and grooming make the transition into the new lifestyle much smoother. Quizzes and checklists are provided to help determine the need for additional assistance, and the book also offers resources to find professional help.
Whether you are going through a divorce, ending a long-term relationship, or splitting with a partner, We Can't Stay Together for the Dogs can help you. Dogs are family members who have no say in the breakup process, so dedicated pet parents need to learn to be their dogs' own advocate and respect the unique human-canine bond.
Jennifer currently lives in Beaverton, Oregon with two dogs ­ and has visitation rights with a third.
http://www.jenniferkeene.com



Can Dogs Talk?
Kay Cox, Animal Behaviorist


Can dogs Talk? Surprisingly, yes. "As people become more conversational with their dogs, it happens," says Arizona-based animal behaviorist Kay Cox. "Dogs want so desperately to communicate with their owners that they try to speak in our language instead of their own when they need something." Dogs also feel we are not intelligent enough to speak their language, so they attempt to speak ours, even though ours is a much harder language to learn.
While Cox states some scientists claim that a dog's larynx is incapable of mimicking the human voice, she says that's not true: "I've heard dogs say 'Alpo' and 'I want to go out." Kay states the easiest dogs for her to understand are the Doberman and the Tibetan Terrier.
Dogs also speak to us in different ways. Some dogs are visual or tactile, not auditory. That means they will try to get our attention by standing by items such as the door when they want to go out, or even coming over to us and touching us so we will notice them.
http://www.thepetcounselor.com



International Animal News with Kaye Browne, Pet Talk Radio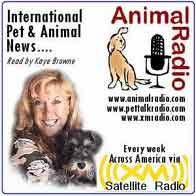 Stunt by artist confirmed hoax ­ dog was not starved and was treated well
Animal Lovers take test in Switzerland ­ not to drive cars but to own pets
Cat causes accident that closed a street ­ while sitting on the lap of its guardian
BBC uses webcam for birth of zebra ­ but a neighboring giraffe destroyed it
Florida lawmakers strike down offensive car accessories ­ vehicles should be "neutered" to remove fake ball testicles
http://www.pettalkradio.com.au



Nursery Web Spiders Have Unusual Romantic Techniques
Britt Savage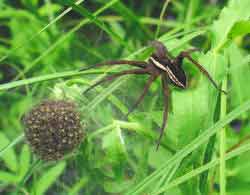 Birds do it, bees do it, but the nursery web spiders take "not tonight, I have a headache" to a whole new level. A study of these spiders at the University of Denmark found some unusual romantic techniques. Males who pretended to be dead got the most romance.
Researchers observed the spiders giving a food gift to their prospective mate, but some of the males pretended to dead, lying on their backs stretched out motionless while holding the food gift in their mouth. The curious females were seen inspecting the food, sometimes dragging the dead-like male around. At this point, the male would come to life and romance would bloom.
Eighty-nine percent of the males who played dead not only found romance, but also had romance for a longer time. Only 40% of the spiders that didn't try this playing dead trick, were so lucky. Just something to think about!
Listen to the entire Podcast of this show (#441)

Broadcast on XM Satellite Radio Version Only.

Listen to Animal Radio® - Go to the launch page
Return to Animal Radio Network™ Home Page
Read May Newsletter
Copyright 2008 All Rights Reserved Animal Radio Network LLC