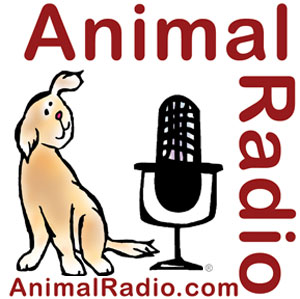 Animal Radio® Show #650 May 19, 2012
Gary Burghoff - M*A*S*H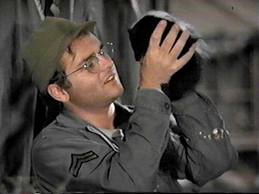 When Gary Burghoff was growing up, his father was the Vice-President in charge of manufacturing in a clock factory and his mother was a dancer. Gary had a lot of close friends, but the ones he went home to everyday after school were his animal friends, his dog Patch, who lived for 16 years, and his cats Flippy, Buttons & Bows. Gary states that animals have a way to bring people together and keeping them connected.
The role of "Radar" on M*A*S*H was tailor-made for Gary because of his obvious love of animals and his extraordinary personality. Remember Radar's zoo in M*A*S*H? This theme originated from his real life Animal Rehabilitation Clinic in Southern California where he nurtured and cared for many species of birds, such as the brown pelican. He also cared for many other animals including opossums, grey squirrels, raccoons and abandoned creatures needing Gary's special and tender-loving care. In fact Gary, once known as the "Bird Man of Malibu," was licensed by the State of California to care for wounded animals.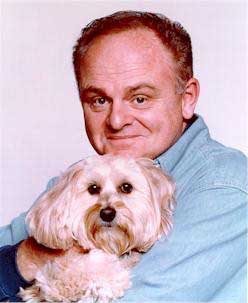 Many years ago Gary was asked to judge a duck-painting contest. After three days of judging, he was inspired and he decided to create his own wildlife art.
Gary has been looking forward to retirement for a long time. He has been working 36 years and everyone is always asking him, "What are you doing now?" as if he is supposed to be doing something now! Gary doesn't feel like he wants to do anything now, except to work in his garden locatd just outside his RV at Nature Coast Landing RV Resort in Crystal River, Florida. In fact, Gary loves this place so much he bought a spot for him and an extra one for when his children visit. But, he warns that when you visit this place for just a weekend, you will stay for a lifetime!
Gary believes that we all have a reason to be here and a right to be here (whether you are human or animal!) so stay connected with the environment!

http://www.naturecoastlandingsrvresort.com

Dog Food Dude
Rick Woodford, Feed Your Best Friend Better

Rick Woodford's dog, Jackson, was diagnosed with lymphoma and he was given a prognosis of maybe 9 to 12 more months to live. However, Jackson didn't seem to have the same opinion. He felt he had an even shorter time to live. He wouldn't eat or play and just basically had given up.
At that point, Rick felt if his dog were going out, he was going to go out in style! So, he just started feeding him all kinds of food, without really knowing what he was doing. While Jackson did start moving around and playing like a puppy, he was also getting fat. Rick learned how to slim Jackson down, and after bout 18 months, his vet stated that he didn't understand it or know exactly what Rick did, but he no longer needed to bring Jackson back in, and that he was doing fantastic. After that Jackson lived for four more years cancer free!
This encouraged Rick to start up his own dog food company, specializing in feeding very, very sick dogs. He did his research to figure out how to do it, and used vitamin and mineral analysis of what commercial foods did, but he used only fresh foods.
After starting his own dog food company, it was a natural progression to a book. Feed Your Best Friend Better contains easy recipes that will make even humans drool a little bit. Natural food can enable dogs to live longer, healthier lives, just as it can for humans, and with these meals, treats, and cookies, dogs will never miss commercial kibble. This book makes the transition to homemade dog food simple, so you can make natural food for your dog every day. From nutritional value to portion sizes, these recipes will help owners know what their dog is eating. The meals are healthy and dogs love them.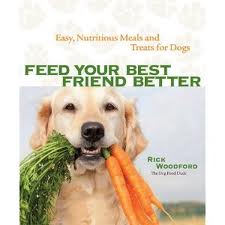 Recipes include:
* Puppy Pesto
* Bacon Yappetizers
* Barkscotti
* Mutt Loaf
* Gingerbread Mailman
In addition to 85 recipes other helpful chapters include:
* How to Pick out a Commercial Food; making the ingredient label easy to understand with a breakdown of ingredients that are good for the bowl and those that are best left on the shelf.
* Determining Portion Size; information on body type and size help readers understand how much food their dogs need to be in the best shape
* Problem Mealtime Behaviors; how to deal with the early morning wake up call, reluctant eaters, counter surfing and more.
One of Rick's favorite sections in his book is sharing foods with your dog right off the cutting board and how much is appropriate for varying sized dogs.
With all of the current and past pet food recalls, it is comforting knowing what you are feeding your dog!
2nd Annual Paw-Parazzi Pet Photo Contest
Steve Pinetti, Kimpton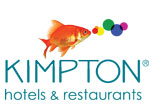 Last year we thought we'd do a fun little contest for our guests to show off photos of their pets. We imagined we'd get a couple hundred entries , but to our surprise almost 2300 pets entered the contest - dogs, cats, chickens, bunnies, turtles, lizards, even a baby calf entered - it was amazing! So, we decided to do it again!
To enter the 2nd Annual Paw-Parazzi Pet Photo Contest, upload your pet photos at kimptonpets.com and follow the contest link. The public will vote on their favorites. The 20 entries with the most votes will win great prizes from our partners like Olive Green Dog, Polka Dog Bakery, and FIDO Friendly Magazine.
The Grand Prize winner will win the Ultimate HosPETality Getaway which includes: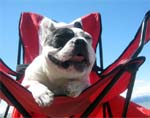 One $100 Kimpton Restaurant or in-room dining gift certificate
One in-room spa treatment for two

Quaker Pet Group & Republic of Paws Ultimate Legacy Pet Carrier

Pet amenities such as dog bed, bowls and treats during your getaway
Last year Petey, a Boston Terrier from Seattle won and we can't wait to see who it'll be this year! What are you waiting for – take that picture!
The Dogfather's Grooming Tip with Joey Villani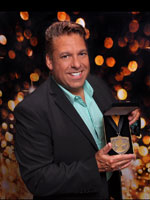 Exfoliating Your Dog
This tip can save your dog a lot of heartache if your dog is having this problem: dry, itchy, flaky skin! Many different things can cause this type of skin condition, but it can also be an easy, simple fix.
You can treat your dog's skin just like you treat your own. What this means is that when you exfoliate your skin, think about exfoliating your dog's skin! Every now and then it is healthy to exfoliate, which helps to regenerate new skin cells.
To exfoliate your pet, get a ¼ cup of brown sugar. It doesn't matter if its light brown, dark, coarse or fine, as any kind will work. Then, add 2 tablespoons of either olive oil or avocado oil. These two ingredients are very nourishing to your pet's skin. Do not use vegetable oils, as they do not absorb into a pet's skin as well as olive or avocado oils.
Most dogs do not have spores in their skin, so anything you put on top will not absorb and will sit there. However, olive or avocado oils will absorb quickly into their skin.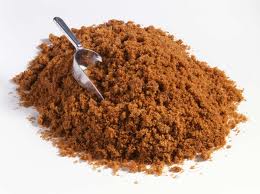 Take the mixture after you have stirred it together, and apply it to your dog's coat. Try to separate the coat so you can get it down to the skin. Then, massage it in. Most dogs like the feeling. Be sure that your dog is tied up or confined in one area when you do this, because if they get loose and take off running, you could end up with oil and sugar all over your house!
When you are done, there are two things you can do. If you are not planning on bathing your dog (the mixture with just 2 tablespoons is not real heavy on most dogs unless you have a tiny pooch), you can just take then outside and brush their coat out. If there is some oil on their coat, it will eventually be absorbed into their coat. If you are going to bathe your dog, which is probably the best thing to do, use a good pet shampoo when you are done.
This procedure will exfoliate the skin, but more importantly it will promote healthy hair growth around the hair follicle. It will also nourish your dog's skin, leaving them without that itchy, scratchy feeling.
If you do this once every six weeks or so, it will really help your dog's skin and coat!
If their skin immediately goes back to being dry, itchy and flaky, then there might be an underlying problem that needs to be discussed with your veterinarian.
Animal Radio® News with Stacey Cohen
Diamond Expands Recall
Diamond Pet Foods has expanded a Salmonella related dog food recall begun in early April to include its Diamond Puppy Formula. After recalling the company's Diamond Naturals Lamb Meal & Rice Formula dry dog food on April 6 and Chicken Soup for the Pet Lover's Soul Adult Light Formula dry dog food on April 26, Diamond is recalling it's puppy dog food product after sampling revealed it too tested positive for Salmonella.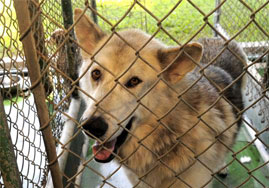 Dog Receives Life In Prison
The bad dog of the neighborhood has received a life prison sentence. The wolf dog hybrid named Chief, once ordered destroyed for aggressive behavior, will become a guard dog at Louisiana's maximum-security prison. Euthanasia was ordered for Chief last month after his neighbors in Pointe Coupee Parish testified that the dog would frequently escape from his owners' property and terrorize them. Deputy Warden Bruce Dodd said prison officials read about the dog and decided he could have a productive life guarding the perimeter of the 18,000-acre prison farm at Angola.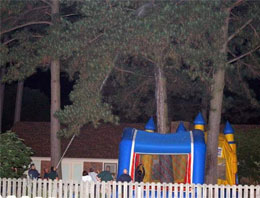 "Bouncy Houses" For Bears
When a black bear climbed a tree in a central Arkansas city and refused to come down, authorities turned to unconventional rescue tools: bouncy houses. Foster the Bear, named for the residential street where he holed up in a tree, wouldn't budge from his branch. So, authorities turned to a local hardware store owner who rents inflatable houses and castles for children's birthday parties. They asked him to set up two of the bouncy contraptions beneath the tree. Then, wildlife officials shot the bear with tranquilizer darts. "He would slide to one side, and we're like, `Oh, oh, oh, he's going to come down, he's going to come down,' " Conway police spokeswoman La Tresha Woodruff said. "And then he'd balance himself again." Foster finally passed out, but he still didn't come down from his perch. Eventually, firefighters turned a hose on him until he tumbled down onto the edge of the inflatables below. The bear, about a year old, wasn't hurt, though he did land in between a blow-up castle and the other inflatable house, kind of "like if you get something stuck between the wall and the bed," as Woodruff put it. Spectators who had been watching the bear in the tree for hours cheered and clapped, Woodruff said. "Foster was fine, just knocked out," she said. Wildlife officials plan to release the bear somewhere in the Ozark Mountains.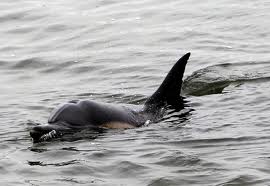 Dolphin Victim of Bullying
A lone dolphin who has spent the past five days trapped in Orange County's Bolsa Chica Wetlands may be there because it is a victim of bullying and is choosing to stay. Mammal expert Peter Wallerstein said forcing the dolphin to move could be a "death blow," and "the last thing we want to do is force a confrontation." Wallerstein said the dolphin's breathing rate is good, and it has plenty of fish to eat in the Southern California wetlands. As for the dolphin bullying, Wallerstein said it's not as rare as it may sound. "People think they are happy, loving animals, but they have a dark side and can be aggressive with each other."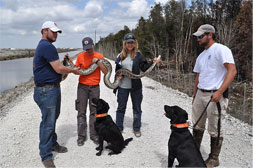 "Snake Sniffing" Dogs
Some bomb-sniffing dogs trained to help fight terrorism are turning their olfactory attention toward a different scourge: Burmese pythons in Florida's Everglades National Park. The dogs are members of "EcoDogs," a three-year-old collaboration at Alabama's Auburn University between the science departments and the school's Canine Detection Research Institute, which trains dogs to detect explosives. "The dogs are really, really good," said Christina Romagosa, a biologist at Auburn. She said in a test of python detection in south Florida, the dogs could cover a search area 2.5 times faster than a person. "People can only see that the snake is there if they can see the snake. The dogs can smell the snake even if it's not visually apparent to us," she said. Todd Steury, an Auburn conservation biologist and co-founder of the project, said many of the EcoDogs were found temperamentally unsuitable for indoor explosives work but thrive outdoors searching for ecological targets.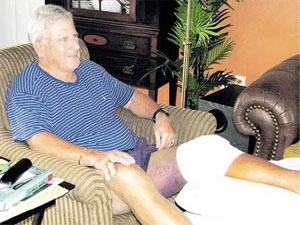 Next Time - Let The Alligator Have The Golf Ball!
A Florida golfer has his buddies to thank for saving his life after he was nearly killed by an alligator. Seventy-five-year-old Albert Miller was trying to retrieve a wayward ball from a pond at the Lake Ashton Golf and Country Club when the nine-foot gator attacked, bit down on his leg, and nearly pulled him underwater. Miller said he never would have made it if his friends hadn't rushed to his aid. The gator had Miller waist-deep in the water when he suddenly let go. Miller was taken to the hospital where it took 40 stitches to close the wound around his knee. Trappers caught and killed the gator and another six-footer that was also lurking in the water hazard

NEWS UPDATE Brought To You By PetzLife.com. Use the code "RADIO" to receive 20% off! .

Listen to the entire Podcast of this show (#650)