May 20th 2006
Swoosie Kurtz


Swoosie Kurtz's name is derived from the airplane "Swoose" ­ half swan, half goose ­ which her father piloted in World War II. Swoosie moved 17 times during school and lived in 8 different states due to her father's job. It was hard for her to have pets as a child because of this lifestyle. She currently lives in Los Angeles and has many cats who have "adopted" her. Swoosie is currently appearing on Huff, an HBO series.



Swoosie is one of the special hosts of the Farm Sanctuary's 20th Anniversary Gala, which will bring together celebrity supporters, key legislators and animal advocates to honor farm animals and those who have fought so tirelessly in their defense.
The Farm Sanctuary Anniversary Gala will be held on Saturday, May 20th in New York, and will consist of a 3-course gourmet vegan dinner (and if it is like last year's ­ will leave you licking your plate!) a silent auction and entertainment. Tickets are $300 per person and the registration deadline is May 15th. To purchase your tickets or for more information about the event, including product donations, sponsorship and advertising opportunities and auction contributions to support the event, please contact: 607-583-2225 ext. 221 or gala@farmsanctuary.org
http://www.FarmSanctuary.org
No Pets Left Behind
Michael Markarian, HSUS


A new federal bill called the Pets Evacuation and Transportation Standards Act (PETS Act) may soon do just that, by ensuring that pets-present in 63% of American households-are taken into account in future disaster planning. The PETS Act requires local and state emergency preparedness authorities to include in their evacuation plans how they will accommodate household pets and service animals in the event of a major disaster. In order to qualify for grants from the Federal Emergency Management Agency (FEMA), local and state authorities must submit these plans.


"The PETS Act will prevent people from being forced to make the horrifying and unnecessary choice of either abandoning their animals to save their own lives, or staying with their pets and remaining in a hazardous-and potentially life threatening-circumstance during a disaster," explained Lauren Silverman, federal legislative specialist for The HSUS.
Animal lovers can help ensure that this critical legislation becomes law by telling their members of Congress that the PETS Act is important to them. "People should contact their U.S. Representative and two U.S. Senators and urge them to cosponsor the PETS Act and do everything they can to help ensure its swift passage," said Silverman.
http://www.HSUS.org/PETSACT
Love Train
Dr. Mark Goldstein, San Diego Humane Society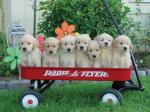 The San Diego Humane Society and SPCA has taken in 55 puppies and six dogs from the Humane Society of Southern Mississippi (HSSM), to help find them loving homes. Since the devastation of Hurricane Katrina, the Humane Society of Southern Mississippi has been trying diligently to help all animals in need. Unfortunately, almost 30,000 homes were destroyed in Harrison County, the area that HSSM serves. Thus there remains a very limited adopter base and the shelter is overcrowded and continues to receive animals on a daily basis. Fortunately, through the goodwill of other animal welfare organizations and the philanthropy of individuals, many animals have been transported to new homes across the country on the organization's new program, the "Love Train."
http://www.SDHumane.org
Toxic Houseplants
Dr. Jim Humphries, Veterinary News Network


With the return of springtime, many people will celebrate by adorning their homes with flowers and plants. However, cat owners need to be aware that some of the most common plants are highly toxic to their cats. One plant to be aware of are Lilies. All forms of Lilies are highly toxic to cats, leading to kidney damage. All parts of the plant are considered toxic, and intoxication can occur with the ingestion of less than one leaf.
http://www.VetNewsNet.com
Snakes and Driving Don't Mix
Britt Savage


An East Naples man learned the hard way that driving a car and playing with a pet at the same time isn't a good idea. Especially when that pet is an agitated snake. Courtland Page Johnson, 30, was driving his PT Cruiser on Golden Gate Parkway when the pet snake he had wrapped around his neck attacked his face, Naples police officials said.
An onlooker, Charles Page, told police Johnson was driving erratically and had crashed into several roadwork barricades. Page said Johnson had a snake in his hand at the time of the crash. Johnson was arrested and charged with leaving the scene of a crash, and he was taken to the Naples Jail Center. Police estimate the damage caused by Johnson to be about $1,000.
According to police reports, Johnson initially told police he had crashed into another car that had stopped short in front of him. After a series of questions, Johnson admitted to panicking behind the wheel once his pet snake bit him. Police do not know why Johnson was driving with his pet snake around his neck or the extent of his injuries.
You Can Lead an Elephant to a Treadmill, But....
Penelope Wells, Friends of Maggie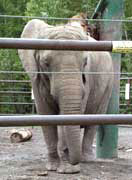 The Alaska Zoo has been trying to coax its elephant, Maggie, onto the world's first elephant treadmill for two months. But so far, no luck.
The treadmill was custom-made for Maggie amid much fanfare, then delivered to the zoo in September. It is one of the key items in the zoo's plan to improve the controversial living conditions of the pachyderm.
She is the lone elephant in Alaska, and Critics argue she should be in a warmer climate where she can walk outdoors year-round and be with other elephants. But the zoo decided to try this experiment first, and it expected Maggie to be exercising by Thanksgiving.
Recent elephant research suggests the enormous mammals are very sensitive to ground vibrations, and are very careful where they place their SUV-sized bulk.
Penelope Wells says Maggie, 23 years old, is not like other trainable animals because of her age and her background. Maggie was a wild baby elephant that was plucked from South Africa after her herd was culled.
After years of controversy, in August 2004 the zoo announced it would keep Maggie but improve her living conditions. Zoo officials said they would work on this for three years, then re-evaluate whether Maggie should be moved. A bigger indoor house, larger outdoor area and more exercise were among the recommendations from elephant experts around the country.
http://www.FriendsofMaggie.net
VIDEO: Maggie's Song - Walls of Stone http://www.archive.org/stream/MaggietheElephantWallsofStone/Maggie_256kb.mp4
Talk With Your Animals
Joy Turner
Jerra Dawn, the Doberman Pincher, passed away recently. Jerra Dawn wants her guardian to know that she is fine and can hear when she is spoken to. She tries to come to her guardian's dreams, but there is too much sadness. She knows she was well taken care of her in life on earth and will meet her guardian at the Rainbow Bridge.
http://www.TalkWithYourAnimals.com
Pet Abuse Database
Allison Gianotto, Pet-Abuse.com


Pet-Abuse.Com is a national animal protection organization that researches and tracks incidents of criminal animal cruelty. They offer a wide range of service and tools for animal advocates, humane law enforcement, researchers and prosecutors.
Pet-Abuse.com maintains the only searchable online database of criminal animal cruelty on the Internet. Currently there are 7,986 cases in the database. The database covers the United States, Canada, the UK, New Zealand, Australia and Spain, and their advanced search tools to allow you to search the database by location, animal, type of cruelty and more.
This is especially helpful for adoption agencies, as many people who have been convicted of animal cruelty will try to adopt more animals.
http://www.Pet-Abuse.com
The Divine Proportion - An Intuitive Ruler
Rae Ann Kumelos, Voice of the Animal
Discover what the ratio 1 to 1.618 has to do with animals, buildings, the stock market and you.
http://www.VoiceOfTheAnimal.org

EVACUATING - AN EMOTIONAL TRAUMA by Nell Liquorman
An open letter to Louisiana's Governor Blanco, Commissioner Le Blanc
and Senators:
Abandoning everything that you own, all you have worked for, life as
you know it, all your everyday joys, that is real emotional trauma.
If you live in a flood zone and a hurricane comes, all your choices
are gone with the wind. It is not unlike having all your American
liberties taken from you, and your very roots to the earth severed.
For many people, pets are much more than animals that live in the
house. They are family; they are all the emotional support that some
people have. Please don't add guilt to this devastating mix by
forcing your citizens to leave their pets behind. Many will choose to
die with their pets rather than make a heartbreaking choice. A pet
is a lifetime commitment for the life of the animal, and animal lovers
take this commitment very seriously. For these people, leaving a pet
behind during a hurricane is like abandoning a child. Is this
something to be encouraged?
Abandoning an unwanted pet is not acceptable in many states, so how
can a state possible make abandonment mandatory in an emergency?
Louisiana is still in America, being able to save your pet from
disaster should not just be for the elite few. Please make the saving
of as many lives as possible be the order of the day.
A Katrina Diamond
Gil-Ann Wilder - Cane


Cane was captured in the heart of New Orleans on October 31, 2005. He was shaking, terrified, the tip of his tail had lost all of its hair, he was covered in oil, would not eat and was so pitiful. And no one offered to foster him.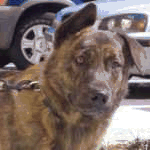 Cane was eventually brought to Gil-Ann Wilder in North Carolina. Gil-Ann is one of those people who takes in animals that no one else wants. Cane joins a household of other rescue dogs, who welcomed Cane with open paws and somehow knew that he needed a friend. Cane has been living with Gil-Ann since November (just around Thanksgiving) and is flourishing with all of the love. Cane is short for Hurricane Angel Wilder, and is truly a diamond in the rough.
http://www.AnimalRescueNewOrleans.org
http://www.BayouRescue.org

Before and After Spaying/Neutering
Annie Bruce, Good Cats Wear Black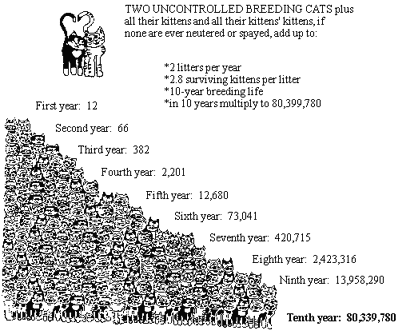 Before altering a cat, be aware that one female cat and her offspring can produce over 420,000 cats in seven years. An altered cat lives longer and is healthier.
Before spaying or neutering, make sure your animal is in good health and be aware of its eating and litter habits. A cat should be at least 3 months old and 2 lbs. And shop around, as prices can vary over $100 for a surgery.
After altering a cat, make sure he is not lethargic, is eating and using the litterbox. If you notice any changes, please take him back to the vet immediately for a checkup.
http://www.GoodCatsWearBlack.com
Listen to the 1/2 Hour ABRIDGED VERSION Podcast of this show (#338).

View Animal Radio Network® Broadcast Schedule in a new window.


Listen to Animal Radio® - Go to the launch page


Return to Animal Radio Network® Home Page
Copyright 2006 All Rights Reserved Animal Radio Network LLC