May 21st 2005
Mark Robinson, Handicapped Pets
Abused Dog Gets a Wheelchair
Lauren Smith - Dogs Deserve Better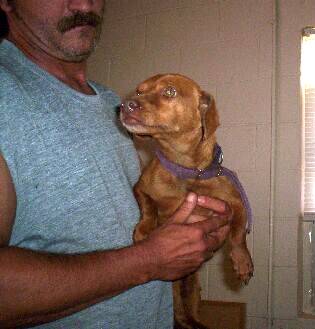 Children come to the rescue of a dog originally mistreated by other children in Tennessee. Johanna had been paralyzed when she was hit by children after being chained outside since October. She had been dragging her legs around, eventually rubbing all of her fur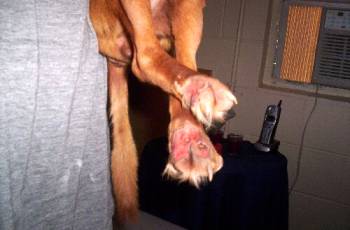 off. When the school kids in Kathy Barton's class at Velma Elementary in Oklahoma heard her story, they wanted to help. Listen to see how they came to her aid.
James Bias, Pres. SPCA of Texas
Man Receives Two years in State Jail & $5,000 Fine for Taping Shut Dog's Muzzle with Duct Tape
A man who taped shut a dog,s muzzle with duct tape was found guilty of animal cruelty and sentenced to two years in a state jail and a $5,000 fine. A Denton County jury heard nearly two days of testimony before finding Richard Swift, 43, guilty on one felony count of animal cruelty. Swift admitted to SPCA of Texas investigator that he taped shut the snout of a one-year-old black Labrador retriever named Bull last July. Swift stated that he taped the dog,s muzzle closed to stop him from barking. The dog was found running at large before he collapsed in the front yard of a house. The dog was rushed to a veterinarian, but had to be euthanized later that day after suffering from a heatstroke and swelling in the brain.
Alison Gianotta - Pet-Abuse
Did you know that animal abuse/cruelty is a felony in only 31 states. There are many different reasons why individuals abuse animals. Animal cruelty is often broken down into two main categories: active and passive. Passive cruelty is typified by cases of neglect, where the crime is a lack of action rather than the action itself - however do not let the terminology fool you. Severe animal neglect can cause incredible pain and suffering to an animal. Active cruelty implies malicious intent, where a person has deliberately and intentionally caused harm to an animal. Acts of active cruelty are often some of the most disturbing and should be considered signs of serious psychological problems. This type of behavior is often associated with sociopathic behavior and should be taken very seriously. Pet Abuse also maintains a current database of pet abusers in the United States, Canada, United Kingdom, New Zealand and Spain.
Bo Rinaldi


VEGAN WORLD FUSION CUISINE: Healing Recipes and Timeless Wisdom from Our Hearts to Yours
written by Mark Reinfeld and Bo Rinaldi, with a foreword by Dr. Jane Goodall, is a spectacular collection of art, culture, and hardworking recipes from around the world. It is a book packed with valuable information that includes tips for transitioning to a vegan diet, information about "living foods" (foods which have not been heated above 118 degrees), resources for learning about genetically altered foods, and eye-opening statistics about food production today.
Amelia Kinkade


Straight from the Horse's Mouth - How to Talk to Animals and Get Answers
Does your cat sit and stare at you? Why won't the dog stop barking? Do your pets watch you while you are * ah, hem* (you know!) Can they sense fear in the house? Who's side would they take in a fight between the husband and wife? Is there really loyalty to man as best friend? Is your pet satisfied sexually? Do you ever find yourself saying to your pet, "JUST TELL ME WHAT YOU WANT!" Listen in as world-renowned animal communicator, Amelia Kinkade tells you how to understand animals and figure out what they want and need!

Kevin Mack
PAWS (Progressive Animal Welfare Society)
So you just got rid of that unwanted wild creature living in your garage or attic and you're ready to board up its entry point. Hold on -- you might end up trapping something inside. At this time of year, animals in the wild look for safe places to give birth and that may end up being anything but safe. Many abandoned babies die in attics and crawl spaces. PAWS officials say in most cases, if left alone, the wildlife mothers will give birth and then leave attics and crawl spaces with their young in just a few months. Find out what you should do if you find an animal in your attic.
Debbie Ducommun -"The Rat Lady"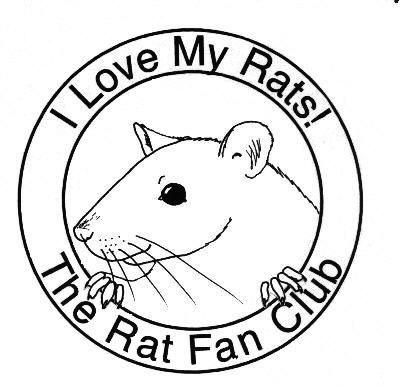 Debbie Ducommun, known as "The Rat Lady," is internationally recognized as an expert on domestic rats. She has worked in the animal care industry for over 18 years and has a background in animal training, nutrition, and animal health care. Ducommun has had numerous articles published in national animal magazines and currently writes a column for Pet Business magazine. She is the founder of The Rat Fan Club and writes, edits, and publishes the Rat Report.
Darlene Arden
Pet Abuse and how we can help.
Rae Ann Kumelos
The Golden Rule is found in every major religion and spiritual practice known to humankind. But does it apply to animals as well? Decide for yourself what it manes to be truly golden.
Listen to this show