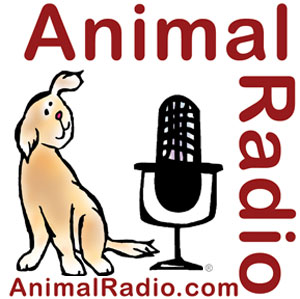 Animal Radio® Show #598 May 21, 2011
100's of Secrets, Surprises and Solutions for Raising a Happy, Healthy Dog
Dr. Marty Becker – Your Dog: The Owner's Manual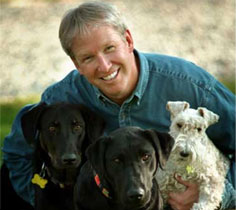 Dr. Marty Becker, the top-selling author and popular veterinarian for "Good Morning America" and "The Dr. Oz Show" returns to talk about the Secrets, Surprises and Solutions every dog-lover needs to know – and most don't.
Becker is still touring the country to promote his new book, Your Dog: The Owner's Manual, that he wrote together with Gina Spadafori. He is traveling on a tour bus was previously used by Kidd Rock and Lady Gaga. He is visiting 30 cities in 45 days.
His new book is set up to save you time, save you money and have a richer, deeper relationship with your pet.
He has some great tips on info such as:
Big dogs die younger than small dogs. This is true. Becker believes there is some kind of genetic trigger that actually shortens their lifespan. In the animal world, the animals with the higher respiration and heart rate, like a hummingbird, don't live as long. So, you would think that bigger dogs who have a really low pulse and respiration, would actually live longer. But this is not so.
Another thing people will find hard to believe is the new recommendation from dermatologists who recommend bathing your dog once a week. It was previously thought that this would dry their skin out. The number one reason people take their pets to the vet is because of skin problems. A dog is like a Swiffer with four legs and their coat will pick up dust and everything else on your floor. When humans get allergies, we sneeze and sniffle with red runny eyes and noses. But when a dog has allergies, they rub their face, they lick, chew and scratch. It is also a known fact that 80% of ear problems are related to environmental allergies. If you bathe your dog once a week, you are flushing the allergies triggers off of them.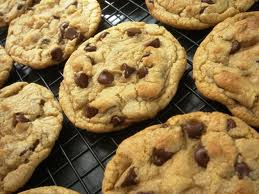 Want to become your vet's favorite client? This will grant you many privileges like being able to call anytime day or night with a question and they will gladly assist you. You get your vet to roll out the red carpet to you. No, it is not paying your bill on time (but this helps!). Never give cookies at Christmas time. Yes – never give them at this time of year. The best time to give cookies is right now. Show up in the middle of the day with a hot plate of cookies or some freshly baked muffins. At Christmas time, they are overloaded with goodies, but at this time of year, no one brings them anything!
There is probably an item on your bathroom, kitchen or bedroom counter right now, which is the number one reason people call animal poison control and that is human prescriptions. These human prescriptions might be some that a person is trying to treat their dog with, or more often the pet gets the bottle and cracks it open and consumes the entire bottle.
Another item that will ALWAYS cause stomach ulcers is aspirin. It was previously thought that giving a baby aspirin to a medium or adult sized dog was okay. It is now known that 100% of the time it will cause stomach ulcers.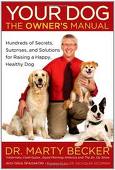 One item in your medicine counter that can save you a trip to the vets when your dog has stomach upset is Pepto Bismol. Give them one teaspoon for every 20 pounds of body weight.
And do you know what the most curable disease in dogs is? It is cancer!
Find these tips and other great info in his new book Your Dog: The Owner's Manual
Dr. Marty Becker, "America's Veterinarian," is the popular veterinary contributor to ABC-TV's "Good Morning America" and the resident veterinarian on "The Dr. Oz Show." He is a frequent guest on national network and cable television, and radio shows. He has also been interviewed for countless magazine and newspaper articles, and has served as a consultant to or veterinary spokesman for top animal health companies. Along with his writing partner, Gina Spadafori, he is a regular contributor to Parade magazine and the Co-creator of popular web site PetConnection.com You can also join Dr. Becker on Facebook as well as on Twitter.
Paw-Parazzi Pet Photo Contest
Steve Pinetti, Kimpton

At Kimpton, they love pets so much that they have set out to find the cutest and most photogenic pet out there by kicking off the Kimpton Hotels Paw-Parazzi Contest, which is quickly winding down.
They've had submissions from bunnies, chickens, turtles, a calf, cats, and dogs of every shape and size wearing sweaters, dresses, hats. They've had dogs dressed as bunnies, Santa and a prisoner. They've had dogs playing football, driving a car, running on the beach and riding a motorcycle. And apparently there are cats who love to have their photo taken while sitting in the toilet. They even have entries from many countries around the world. Who knew?
Anyone can upload a pet photo to their site. Every two weeks, the five photos with the most "Like" votes will win pet-tacular prizes from their partners such as Olive Green Dog, Polka Dog Bakery, and Republic of Paws. The contest runs for three months through May 31, 2011.
On June 1, 2011, judges from Animal Radio will select the Grand Prize photo from the 30 bi-weekly winners for the "Ultimate hosPETality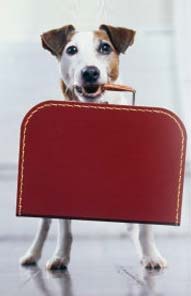 Getaway" which includes:
A two night stay at a Kimpton Hotel of the winner's choice
Two round trip tickets on JetBlue for human passengers
$500 credit for the photogenic pet on Pet Airways, a pet only airline
One $100 Kimpton Restaurant or in-room dining gift certificate
One in-room spa treatment for two
An Amelia Collection Carrier by Sherpa Pet Carrier
Use of pet amenities such as a dog bed, bowl, and treats

Anyone may enter by logging onto kimptonhotels.com to upload a photo of his or her pet.
What are you waiting for!

Dodge Journey Pet Destinations
What Is Your Favorite Place To Take Your Pet?
People who have pets love to travel with them. At Dodge, they have made it easier with their pet friendly vehicle, the Dodge Journey, which contains concealed storage bins, Chill Zone glove box cooler and second-row dual in-floor storage bins with removable and washable liners (very handy for muddy paws!) Call us with your favorite place to take your furry-friend: 1-866-405-8405.
This week's Dodge Journey Pet Destination: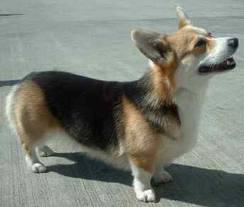 Randy is an Over The Road Trucker (OTR) and never travels without Bridget, his venerable Cardigan Welsh Corgi, traveling companion. Randy has a Dodge Journey Pet Destination that is great for truckers with pets. It is in Salt Lake City, Utah, and is the Cottonwood Dog Park at 850 Redwood Road. What makes it so great for truckers is that it is about 3 blocks away from the Sap Brothers Truck Stop. A trucker can actually take a bobtail truck and drive it to the park, parking on the street right at the dog park. Randy actually found the dog park using the website www.dogparkusa.com.
To view Past Dodge Journey Pet Destinations, click here.
Tropiclean Best Smile Contest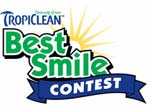 Your pet could be a winner! Share a photo of your smiling dog or cat and tell everyone why your pet has "TropiClean's Best Smile." You could win a $1,500 contribution to your favorite animal shelter plus a $500 VISA gift card and more for yourself – and there are new prize drawings every month! All entries must be submitted by June 30, 2011 to be eligible for the Grand Prize!
To submit a photo of your pet, visit www.TropiCleanBestSmile.com and create an account. Once registered, log in to upload your favorite photo of your smiling pet. Don't forget to let us know why your pet has TropiClean's Best Smile too! Got more than one pet to show off its smile? Go ahead and upload their picture too.
The Dogfather's Grooming Tip with Joey Villani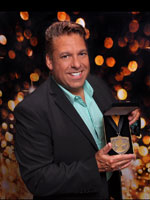 Be Careful When Aoolying Bows
People are accessorizing their pets more and more, whether it be with clothes, bandanas, etc. Unfortunately, what happens is these items don't come with manuals to tell you what can be extremely dangerous when put on your pet.
Bows are one of those items. Usually after being groomed, a bow is applied to the smaller dogs. You can also find pre-made bows on websites that usually have a rubber band for application to the dog's hair. The problem with dogs' hair is that it is usually not that long, so you have to figure out other ways to attach it.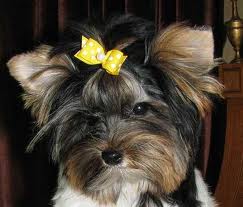 Some people have applied these bows with rubber bands right around their dog's ear. While it may stay on, it can cut off the blood supply to the dog's ear. This can actually "kill" the ear and the ear can even fall off if left on the ear for a long period of time.
If you are going to use bows, apply it the same way you would to a girl's pigtail. Wrap it once, twist it in a figure 8, and then wrap the circle part back on the hair. It should stay on as long as it is tight to their head. Just make sure that it is not so tight that your dog can't blink!
If you are going to accessorize your pet, you have to be careful and make sure that all items are applied properly and never applied to the skin Also, take them off at the end of the day and reapply the next day. If a bow is left on for a long period of time, it can give your dog a headache just like if you had it in your hair too long!

DOGFATHER'S GROOMING TIP Brought To You By SeniorPetProducts.com. Use the code "SAVE25" to receive 25% off!
Animal Radio® News with Stacey Cohen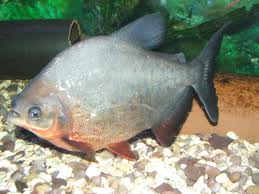 Another Fish Tale
A Texas man has a doozy of a fish tale after he caught a cousin to the piranha in Lake Woodlands earlier this week. ABC-13 News reports Kenneth Evans reeled in a Pacu fish, a South American relative to the piranha that's native to the Amazon River. Wildlife officials don't know for sure how the exotic fish got into the lake, but they speculate it was abandoned by a pet owner who no longer wanted it. Meanwhile, Evans tells the station he's keeping the fish preserved in his freezer so that people will believe his tall tale.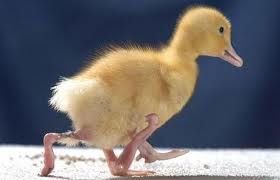 Duck Waddles on Three Legs
A duck is waddling around with three legs in North Carolina. Robert Brooks says the duck, named Tripod, was born about three weeks ago and is doing great. A vet gave Tripod a clean bill of health as the third leg doesn't move and appears to be useless. Brooks says Ripley's Believe It or Not has contacted him about taking Tripod's body when he passes away.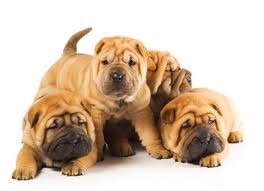 Financial Future Goes To The Dogs
An Australian woman is risking her financial future to give several dogs a better life. The Herald Sun says Melbourne resident Amanda Booth is using her life savings to rescue Shar Peis. The breed is known for its numerous folds of skin, but they can often times lead to health problems for the dogs' eyes. Facelifts for Shar Peis can cost thousands of dollars, but Booth says she's dedicated to spending more than $16,000 a year to give as many dogs as she can a better life. Booth says breeders are to blame for many of the problems facing Shar Peis, noting that they often times fail to warn pet owners of the problems the dogs can face.
Stop Using The Word "Pet"
A new publication is asking animal lovers everywhere to update their vocabulary. The Journal of Animal Ethics has released its first issue, which asks animal owners to stop using the word "pet." The publication suggests that people use the term "companion animals," noting that the word "pet" is insulting to the animal. The Journal of Animal Ethics says the terms "critters," "beasts," and "wildlife" are also outdated, explaining that they can result in animals being treated poorly. The journal's editor, professor Andrew Linzey, says he's hoping to get people to avoid an "obvious prejudgment," and plans to one day eliminate phrases such as "sly as a fox" and "drunk as a skunk."
Dog Helps Capture Bin Laden
There are some heroes that helped with the capture of Bin Laden that work for bones. An elite group of U.S. Navy SEALS counts an unsung hero as part of the successful mission on Osama bin Laden's compound in Pakistan. The British paper The Sun reports an explosives-sniffing dog was part of the covert operation that led to the al-Qaeda leader's death. Four-legged troops have often been used by special operations forces in missions carried out in Iraq and Afghanistan. The highly trained canines, equipped with oxygen masks, are taught to jump from airplanes strapped to a soldier's body at altitudes of 25,000 feet. They are also outfitted with ballistic body armor and have cameras placed on their heads to transmit pictures to troops. Along with the raid that killed bin Laden, dogs were used in missions that left Saddam Hussein's two sons dead as well as the capture of the former Iraqi dictator.

Pig Ears Recalled
Keys Manufacturing Company, Inc. of Paris, IL is recalling Pig Ears for Pet Treats because it has the potential to be contaminated with Salmonella. Salmonella can affect animals and there is risk to humans from handling contaminated pet products. People handling dry pet food and/or treats can become infected with Salmonella, especially if they have not thoroughly washed their hands after having contact with the chews or any surfaces exposed to these products. Healthy people infected with Salmonella should monitor themselves for some or all of the following symptoms: nausea, vomiting, diarrhea or bloody diarrhea, abdominal cramping and fever. Pets with Salmonella infections may be lethargic and have diarrhea or bloody diarrhea, fever, and vomiting. Some pets will have only decreased appetite, fever and abdominal pain. Infected, but otherwise healthy, pets can be carriers and infect other animals or humans. If your pet has consumed the recalled product and has these symptoms, please contact your veterinarian. Consumers who have purchased Pig Ears for Pet Treats are urged to return it to the place of purchase for a full refund. Consumers with questions may contact the company at 1-217-465-4001

Wolves Removed From Endangered List Could Be Killed
Hundreds of gray wolves removed from the endangered species list could be killed starting this past week. U.S. Interior Secretary Ken Salazar says federal protections for about 1,200 wolves in Montana and Idaho have ended. Wildlife managers are planning to kill hundreds of them, which they say is necessary to restore elk populations in areas where wolves have over-hunted. The gray wolf itself was hunted, trapped and poisoned to near extinction until protections helped to restore the population. Congress passed legislation removing the wolf from the endangered species list. It's the first time an animal has been de-listed by Congress.

NEWS UPDATE Brought To You By PetzLife.com

Listen to the entire Podcast of this show (#598)

indicates XM Satellite Radio and Podcast versions only.