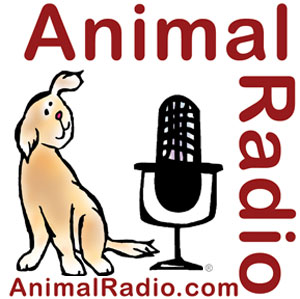 Animal Radio® Show #651 May 26, 2012
Ed Asner



Ed Asner is best known for his role as the character of Lou Grant from "The Mary Tyler Moore Show" and then on his own show, "Lou," that bore his character's name.
You may not associate Ed Asner with animal causes, but indeed he lends his voice as an advocate for responsible pet ownership, and has strong views on the importance of spaying and neutering and shelter adoptions, with a lifelong commitment to the companion animals with whom we share our lives.
Ed tells us about the story that happened years ago with his two cats, a six-toed Tabby and a bobtailed Blue Point Siamese. His wife had cooked up a batch of chicken soup, which they enjoyed before they left to see a movie. They left the pot on the stove and covered it with plastic wrap. Upon their return, his wife picked up the Siamese cat, who was gummy and greasy. They couldn't figure out what happened, until they went into the kitchen and found the wrap off the pot and knew that the cat had taken a bath in the soup. But what about the other cat? The found their Tabby just sitting there like a princess, and from a distance, she looked clean. But as they got closer, the Tabby also stunk like chicken soup. It seemed they both enjoyed an evening of bathing in chicken soup!
Asner recently voiced the character in "Up" called Carl, a lonely, cranky widower who renews his spirit of adventure by tying thousands of helium balloons to his house and flying off to the wilds of South America. Ed was nominated for an Academy Award for his performance and "Up" also tied with the movie "Hotel For Dogs," winning a Genesis Award.
Asner may always play the role of a curmudgeonly old man, but when it comes to his cats, he's anything but surly.
When asked why he has never had dogs as part of the family, Asner replies, "In my peripatetic life it's much easier to live with cats. I can leave them with friends and they don't commit Harry Carey in my absence."
Look for Ed in the upcoming movies Home Alone 5: Alone In The Dark and The Home.
Move Over King Neptune – There Are New Fish Kings In The Waters!
Mat Roy & Jose Blanco, Fish Tank Kings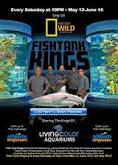 Extreme fish aquariums are the ultimate status symbol, and the people who are on the cutting edge are in high demand. Nat Geo WILD's new six-episode series Fish Tank Kings, premiered Saturday, May 12, and dove into the demanding, pressure-filled job of pulling off these massive underwater creations. Fish Tank Kings follows the Florida-based aquarium specialists at Living Color as they use their unparalleled skills, creativity and teamwork to pull off the most extreme of these tanks, where the drama and pressure of the building process is nowhere as serene as the final product.
In the first episode, Mat Roy is beside himself with excitement at the possibility of creating fish tanks for a one-of-a-kind location — the home plate backstop of the brand-new Marlins baseball stadium! The MLB believes that this aquarium cannot be done, and Living Color is set to prove them wrong. With Miami Marlins President David Samson breathing down their necks, the Living Color team comes up with a design that they hope will function as a backstop as well as keep the fish, including the rare captive-bred porkfish, from dying on the field in front of millions of Marlins fans across the country. Meanwhile, Jose Blanco can't get back on track with his already slammed production schedule, and an overlooked design flaw in the Marlins reefs could botch the delivery date completely.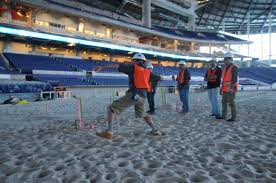 The Fish Tank Kings used a bullet resistant shield in front of the aquariums for the backstop salt-water fish tanks. This will stop any object coming towards the tanks at up to 200 miles per hour. There is also a barrier between this shield and the actual aquariums, so there is no shock to the fish. Each tank is about twenty-two feet long, about a foot and a half wide and almost three feet tall. Each holds approximately 400 gallons. The total of the tanks cost about $375,000.
Mat Roy is the president and is responsible for overseeing all projects and running operations at Living Color. His favorite part of the process is seeing the look on clients' faces as they view their aquarium for the first time.
Jose Blanco is production and safety manager, planning and creating a happy home for the fish.
Check out the Fish Tank Kings on Nat Geo, Saturdays, at 10 p.m. ET/PT, to see what they will create next!
http://video.nationalgeographic.com/video

Grooming Is Not "One-Size-Fits-All"
Shay Moeller, WAHL



If you have the right tool, you can do almost any job. Wahl knows this and has made it easy for the pet owner to pick the proper tool to groom their pet.
For example, you will find a grooming chart on the packaging for their clipper, which shows different types of dogs and what their needs are, and whether or not those particular clippers are right for your dog. So when you pick their clippers up in a store, you will know right away if they meet the requirements for your particular breed of dog. This allows you to pick the right tool every time.
When you think of Wahl, you can't help but to think about clippers. But, they are more than that. They also make brushes, shampoos and travel gear.
Wahl makes every type of brush you will need, from a small slicker brush to a shedding blade. They didn't forget about cats, as they even have a cat slicker brush!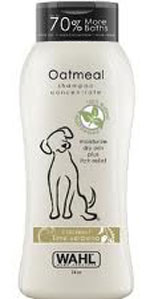 Wahl knows it is very important to use shampoo formulated for dogs, as opposed to human shampoos, which are designed to remove oils from our scalp and hair. Dog shampoo preserves the natural oils. Removing these natural oils from your dog's skin can cause a number of problems, including unnecessary shedding, dry and irritated skin, allergies and damaged fur. Wahl makes six different types of dog shampoos: Four In One; Puppy Shampoo; Odor Control; Oatmeal Shampoo; Shed Control; and Flea & Tick shampoo.
You normally don't think about Wahl when it comes to your pets travel needs, but you should! They make safety harnesses and pet travel hammocks for you car.
Wahl love pets and they want to make sure it is easy for you to take care of you pets like you take care of yourself!

http://www.wahlhomeproducts.com
2nd Annual Paw-Parazzi Pet Photo Contest
Steve Pinetti, Kimpton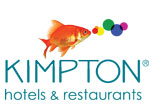 Last year we thought we'd do a fun little contest for our guests to show off photos of their pets. We imagined we'd get a couple hundred entries , but to our surprise almost 2,300 pets entered the contest - dogs, cats, chickens, bunnies, turtles, lizards, even a baby calf entered - it was amazing! So, we decided to do it again!
To enter the 2nd Annual Paw-Parazzi Pet Photo Contest, upload your pet photos at kimptonpets.com and follow the contest link. The public will vote on their favorites. The 20 entries with the most votes will win great prizes from our partners like Olive Green Dog, Polka Dog Bakery, and FIDO Friendly Magazine.
The Grand Prize winner will win the Ultimate HosPETality Getaway which includes: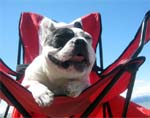 One $100 Kimpton Restaurant or in-room dining gift certificate
One in-room spa treatment for two

Quaker Pet Group & Republic of Paws Ultimate Legacy Pet Carrier

Pet amenities such as dog bed, bowls and treats during your getaway
Last year Petey, a Boston Terrier from Seattle won and we can't wait to see who it'll be this year! What are you waiting for – take that picture!
The Dogfather's Grooming Tip with Joey Villani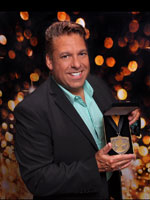 "Summerizing" Your Dog
Summer is starting to creep its head around the corner, so we need to get our pets ready, or "Summerize" them. Summerizing them is almost as important, or maybe more important, than Winterizing them.
Dogs are like us in the fact that they pick up on some of our bad habits. During the winter, most people stay in their house and gets fat! Then they try to get in shape and get ready for summer. Well, you need to get your dog in shape as well, especially when it comes to their coat.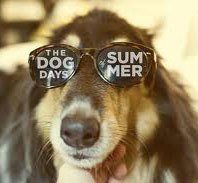 The first thing you should do for a double-coated dog (like German Shepherds) is to get that undercoat out. If you need to, take them to a groomer. You need to remove the undercoat so that their skin can breathe.
Most people don't understand that a coat can keep pets warm in the winter and cool in the summer. The right amount of ratio of undercoat to topcoat is going to dictate that, because it will let the heat out when it needs to or hold it in when it needs to. In the summer, if you are going to be active with your pet, you need to get it out. This will keep your pet from overheating in the sun.
For single-coated dogs that don't shed that much, and are knotted, you still need to get the hair off. The biggest problem is the sun. The sun is going to sunburn them, just like it does to us. You need to protect your pet. You can do this by putting a lightweight shirt on them or buying sun protection made just for your pet. It's best to use products just for pets, because products made for humans are sometimes a little greasy and don't respond well to a pet's skin. But if you can't find a pet sunblock, you can also use sunblock for children.
Animal Radio® News with Stacey Cohen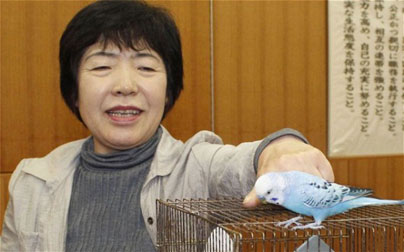 Lost Bird Blurts Out Address
A parakeet in Japan was able to make it home safe and sound thanks to his expanded vocabulary. The U.K.'s Orange News reports the bird made his way to the Yokohama city center after recently escaping his house. The pet eventually stopped in a hotel, where he was apprehended and handed over to police. Authorities say the bird didn't give any indication that it could talk until he suddenly blurted out his full home address. Thanks to the unexpected but very specific piece of information, police were able to track down the house and reunite the bird with his 64-year-old owner.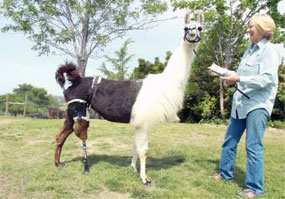 Llama Fitted With Prosthetic Leg
A 12-year-old llama in California is back on her feet thanks to a devoted prosthetist. Bella's owners, Trish and Chuck Brandt-Robuck, tell Sacramento's KXTV the llama injured her back right leg when she stepped into a gopher hole a few years ago. The damaged leg eventually became infected and veterinarians were forced to amputate. But after the Brandt-Robucks realized Bella was refusing to even try to stand anymore, they turned to the Hanger Clinic's Michael Carlson and asked him to help with a prosthetic leg. Carlson spent three-and-a-half months designing the special prosthetic, which Bella quickly adapted to, allowing her to start walking and running again.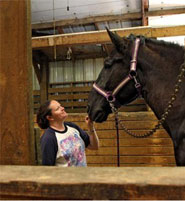 Stolen Horse Returns Carriage To Stables
A bizarre crime unfolds in downtown St. Louis. Police say a man attacked the driver of a horse-drawn carriage, took the reigns and then took off. Jenny Holzum is the manager at the St. Louis Carriage Company. She says while the thief managed to make off in the carriage, the horse, named Harry, had other plans, and simply went back to the stables. The suspect then punched the horse, before being tackled by employees and later arrested. Holzum says Harry wasn't hurt. The carriage driver refused medical treatment.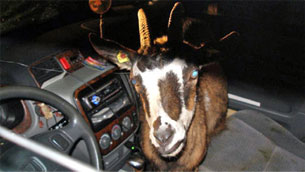 Goat Tries To Hijack Car
An Austrian man is happy to have his car back after it was nearly hijacked by an unlikely suspect. Orange News reports Gunther Hauser was recently forced to stop his vehicle outside of Radkersburg because of a stubborn goat. Hauser says when he tried to chase the escaped animal away; it doubled back, hopped in his car and started eating his seats. The motorists eventually called police, who gathered a team of local farmhands to help remove the unwanted passenger. Hauser later said he made sure to take plenty of pictures of the goat, because he knew his insurance company would never have believed him.
Diamond Pet Food Recall Expands
The Food and Drug Administration has expanded a national recall of Diamond Pet Foods dog food manufactured between Dec. 9, 2011, and April 7, 2012, from the company's manufacturing plant in Gaston, S.C. The initial recall was put into place last month, after salmonella was found in batches of the company's dry dog food, according to the FDA. No illnesses have been reported in dogs, but so far 14 cases of salmonella in humans have been found in nine states, according to the Centers for Disease Control and Prevention (CDC). Affected humans may have caught salmonella from handling the dry dog food and then handling their own food, or from cross contamination with utensils. The CDC is still investigating the outbreak. More detailed recall information for the specific affected brands can be found at diamondpetrecall.com. Customers who want a replacement or a refund should call Diamond Pet Foods at 866-918-8756 between 8 a.m. and 6 p.m. Eastern Time.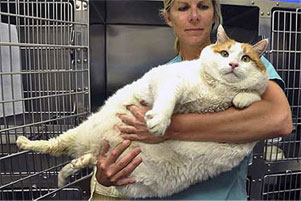 39-Pound Cat Dies
Cat lovers around the country are mourning the loss of a very big feline star. Meow, the 39-pound cat who became famous after he made appearances on the "Today" show, died at the Santa Fe Animal Shelter and Humane Society. The organization's executive director Mary Martin said via Facebook that she was devastated to announce that the two-year-old animal ultimately succumbed to pulmonary failure. Meow's 87-year-old owner handed him over to the shelter last month, and he was slowly losing weight and becoming more mobile. Martin said they are all heartbroken, adding that Meow had a personality "as big as his body."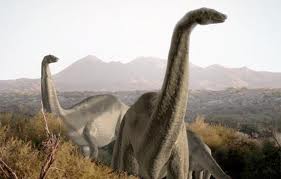 Dinosaurs Created Own Extinction By Passing Gas
British scientists have a theory that dinosaurs caused their own extinction by breaking wind, evidently a lot of times. Their new study adds passing gas to the most likely causes, which include an asteroid strike and volcanic activity, for their demise. The researchers determined that the prehistoric beasts were responsible for tooting out 520-million tons of methane a year. That would have been enough to warm the Earth during the Mesozoic era and lead to their extinction. Giant plant-eating sauropods are being held as the main offenders for having a daily diet of half-a-ton of ferns and producing clouds of methane. The study appears in the journal Current Biology.
Listen to the entire Podcast of this show (#651)