May 27th 2006 - Show #339
PETS ACT PASSED - SENATE TO GO
Michael Markarian, HSUS


The Humane Society of the United States lauded the U.S. House of Representatives for tonight's passage of the Pets Evacuation and Transportation Standards (PETS) Act, H.R. 3858, which requires state and local emergency management agencies to make plans that take into account the needs of individuals with pets and service animals in the event of a major disaster or emergency. The legislation passed by a vote of 349 to 24.
Representatives Tom Lantos (D-CA) and Christopher Shays (R-CT) introduced the bill in the U.S. House of Representatives a few weeks after Hurricane Katrina hit the Gulf Coast, stranding thousands of animals that were abandoned during the storm and endangering people who would not leave their beloved companions. The PETS Act requires that local and state emergency preparedness authorities include plans for pets and service animals in disaster plans. Those agencies must submit these plans to qualify for grants from the Federal Emergency Management Agency (FEMA).
The last hurdle on passage of this bill is through the Senate. Everyone is urged to contact their 2 members of the US Senate and get this bill passed!
http://www.HSUS.org
http://www.PartyAnimals.HSUS.org
Fred, The Crime-Fighting Cat, Has A New Job
Carol Moran, Deputy District Attorney, Brooklyn, NY


You may remember Fred, the Undercover Kitty who helped bust a man in New York posing as a veterinarian? Well, Fred has a new job ­ he is in training to become a therapy cat. The crime-fighting cat will be part of a program to teach school kids the importance of animal care. Fred will probably get straight "A's" in schools because he doesn't mind crowded places and is comfortable being petted by strangers ­ in fact, he likes it!
http://www.BrooklynDA.org
Animals and Disease
Rae Ann Kumelos, Voice of the Animal
Any disease that affects humans or animals is tragic. Yet, there is an alarming consequence to naming a disease after an animal, because it results in unwarranted fear of the animal. Discover how this trend developed over time, and how it can be changed.
http://www.VoiceOfTheAnimal.org

Man's Best Exercise Buddy
Dr. Marty Becker, Fitness Unleashed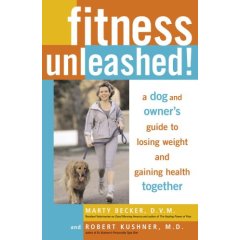 Both you and your pet can lose weight and keep it off when your exercise together. The facts are that 66% of humans are overweight and about 50% of pets are overweight. Exercise can also help your pet live an average of two years longer.

You have had exercise partners before (the human kind) and you start out very motivated. But, every once in a while you or your partner come up with an excuse not to exercise. Perhaps you are meeting someone for dinner or you are just too tired. Pretty soon, you find out that you are not doing much exercising at all. But if you exercise with your pet, they don't have any other offers and will always be available to get out and drag you with them!
http://www.DrMartyBecker.com
Dog Burns Down Kitchen
Britt Savage
A pet dog caused $50,000 of damage when it turned on its owner's cooker and burnt down the kitchen. Skylar, a three-year-old 'goldendoodle', apparently started a kitchen fire when she tried to jump on the stove to get left-over pizza. It happened after her owner Fred Haines left his home in Naperville, Illinois, to go to work, reports the Chicago Sun-Times.
The designer pooch, a cross between a golden retriever and a poodle, is believed to have switched on a hob which ignited the cardboard underneath the pizza. The flames spread to a nearby plastic cutting board, and then to the cabinets above the stove, Naperville fire officials said. Haines, 32, said he had been running five minutes late: "I didn't do my typical sweep through the kitchen to make sure Skylar couldn't get at anything," he admitted.
Firefighters broke down a door after neighbors raised the alarm and rescued the unconscious Skylar. Paramedics used oxygen to revive her. "Skylar's fur is white, but when I saw her that day, she was literally a black dog from the fire's soot and ash," Haines said.
Online Radio Station for Dogs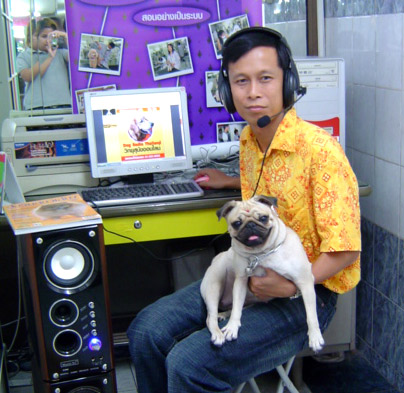 The world's first internet radio station for dogs has been launched in Thailand, which features barking DJ's playing vocal and instrumental music around the clock.
Owner Anapun Boonchuen believes listening to music has an effect on canine behavior. He has noticed how some dogs wag their tails and some lift their heads while lying on the floor.
One of the main qualifications is that anyone wanting to work as a DJ must be good at barking because our dogs are our listeners. The DJ's have to make different sounds, such as whining or barking to match the mood of the music they play.
http://DogRadioThailand.com
Gay Storks Make Good Parents


Four gay storks have proved that are as capable of raising a family as their heterosexual counterparts.
Staff at the zoo in Overloon were unsure if the gay and lesbian storks would still have the same natural urge to raise offspring.
But after giving one egg to a pair of gay males to sit on, and another two eggs to a pair of lesbian storks, they say the gay storks took to parenthood straight away.
Zoo spokeswoman Esther Jansen said all three chicks had hatched successfully and that the gay storks looked after the eggs and chicks just as well as the heterosexual birds.
Tails from the Road
Tracie Hotchner, THE DOG BIBLE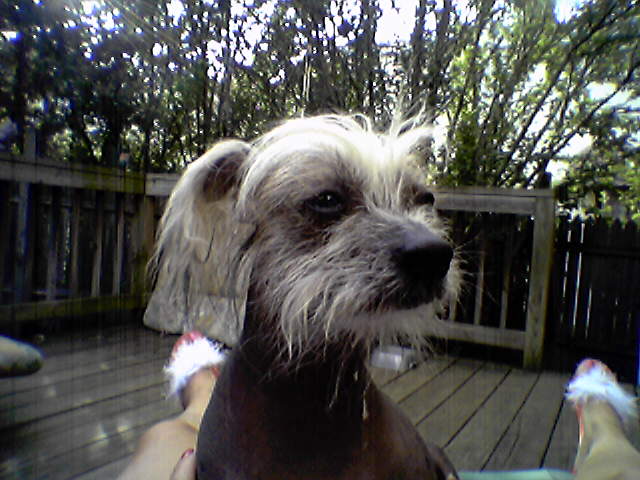 Tracie comes to us live from the Ladies Kennel Association of America at the Planting Fields Arboretum, in Oyster Bay, New York, for the All-Breed Show with Obedience and Rally Obedience Trials.
With over 1,100 dogs in competition, Tracie brings us Cheeky, the Mad Howling Chinese Crested who sings. You don't want to miss this!
http://www.TheDogBible.com
Hero Cats
Annie Bruce, Good Cats Wear Black


You always hear about hero dogs, but what about those hero cats? Throughout history cats have played an important role. Most people have heard about Scarlet, the cat that ran back into a building four times to rescue her kittens. But did you know that a cat helped wire the Grand Cooley Damn by taking wire tied to its tail through a long and winding pipe? And what about the stray cat in Mexico who showed up when a 10-year-old girl slipped into a coma after a car accident, licked her fingers, and shortly thereafter the girl woke up? The cat then disappeared as quickly as it had showed up.

Cats have also helped with food by keeping mice at bay. Mickey held the world's record for catching 22,000 mice, which was recently surpassed by Towser, with a record of 29,000.
And of course, let's not forget Annie's own Abraham Lincoln, who is touring the country and telling people to stop enslaving their cats and put an end to declawing. http://www.GoodCatsWearBlack.com
World's First Pet Funeral Home
Coleen Ellis, Pet Angel Memorial Center


Coleen Ellis has founded the world's first funeral home called the Pet Angel Memorial Center, which is located in Carmel, Indiana. Coleen spent 18 years in the funeral industry. When her beloved dog Mico passed away in 2003, she was dismayed to see that funeral and burial options for a pet were virtually non-existent. She is currently traveling the country to help open new locations.
http://www.PetAngelMemorialCenter.com
Human Meds Not for Cats
Dr. Jim Humphries, Veterinary News Network
Human medications are a no-no for cats! Human medications are the most common source of animal poisoning. The most common source of these medications for cats is those that are left out on the countertop or table, or those that are accidentally dropped on the floor. However, many times owners think that when a medication is safe for children, then it is probably safe for their cat. This is far from true, and in fact, many of these medications can cause death in cats. Why do various human medications, something as simple as aspirin, cause death in cats? The primary reason is that cats do not have the necessary enzymes to metabolize these drugs. Even small amounts can be very toxic. Most notably are the topical flea and tick products labeled "dogs only." A single application of these on a cat may mean sudden or an agonizing death for a cat. Tylenol is one of the deadliest and most common drugs that we see that causes fatalities in cats. Second on the list of most frequent toxins in cats is aspirin.
http://www.VetNewsNet.com
Fleas, Ticks & Mosquitoes - Oh My
Bill Puentes, BIO Spot, Farnam Pet Products


Help keep those fleas ticks off of your pet with Bio Spot Flea & Tick products. Bio Spot products can be purchased over the counter and are very affordable, up to a third of the price. Bio Spot not only protects against fleas and ticks, but also mosquitoes, for up to a month.
Bio Spot products are tested, safe and regulated through the government, and are personally used by the employees of Farnam.

But, like most over the counter products, you want to make sure that you are applying the proper product on the proper animal. For example, never apply a product for a dog on your cat. This can cause serious damage and even death.
Visit their website to find out how to safely use these products, find information on their performance and how they compare to the vet brand.
Look for their new products, such as the Easy Brush ­ which a dog can chew to clean his teeth. And don't forget Comfort Zone for summer traveling. It comes in a convenient spray to use in your car to make traveling easier for your pet.
http://www.BioSpot.com
http://www.FarnamPet.com
http://www.EasyBrush.com
Talk With Your Animals
Joy Turner
As a dog, Summit, ages, his guardian wants to know how he feels about his legs, heat and teeth. Summit states he doesn't see anything wrong and for his guardian to change her way of thinking. If his legs get worse, he knows there are always carts that can help him. His guardian can help with the heat by giving him or by providing a kiddie pool, but when he is put downstairs, where it is cooler, he feels he is being punished.
http://www.TalkWithYourAnimals.com


Next week: Animal Radio's Traveling with your Pet SPECIAL! Don't Miss It!
Listen to the 1/2 Hour ABRIDGED VERSION Podcast of this show (#339).

View Animal Radio Network® Broadcast Schedule in a new window.


Listen to Animal Radio® - Go to the launch page


Return to Animal Radio Network® Home Page
Copyright 2006 All Rights Reserved Animal Radio Network LLC