Animal Radio® Show #495 May 30, 2009
Disney Pixar "Up" The Must-See Comedy for Everyone this Summer!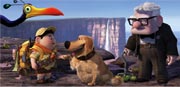 Animal Radio® has teamed up with Disney/Pixar to celebrate the kick-off of "Up."
Up is a comedy adventure about 78-year-old balloon salesman, Carl Fredricksen, who finally fulfills his lifelong dream of a great adventure when he ties thousands of balloons to his house and flies away to the wilds of South America. But he discovers all too late that his biggest nightmare has stowed away on the trip: an overly optimistic 8-year-old Wilderness Explorer named Russell. Up will be presented in Disney Digital 3'D in select theaters.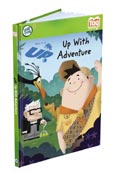 Cast and characters:
* Edward Asner as Carl Fredricksen.
* Jordan Nagai as Russell, Wilderness Explorer stowaway on Carl's flying house
* Bob Peterson as Dug, a dog with a collar that translates his thoughts into comical-sounding English
* Kevin, a large tropical bird. Russell gives the bird a male name although Kevin is actually a girl
* Christopher Plummer as Charles F. Muntz, the villain
* Delroy Lindo as Beta, Muntz's talking Rottweiler
* Jerome Ranft as Gamma, Muntz's talking Bulldog
* John Ratzenberger as Tom, a construction worker
* Elizabeth "Ellie" Docter as Young Ellie, Carl's late wife (as a child)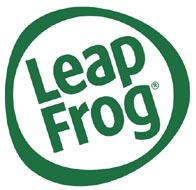 Tune in to win a great prize pack from Disney/Pixar's first film in Disney Digital 3-D™, UP! UP opens nationwide on May 29th - but you can take home the adventure now. Select Animal Radio® callers will receive the Tag™ Reading System and Up storybook plus a movie hat, t-shirt and mini poster. Give reading skills a lift with this LeapFrog® Tag™ storybook featuring Carl, Russell and friends from Up! Kids can use the Tag Reading System to bring words and pictures in the book to life, then play learning activities that help build vocabulary and reading comprehension skills! Learn more about the movie at Disney.com/UP
Judah Friedlander, 30 Rock – Funny For Fido

The goofy-looking writer (Frank) on NBC's smash-hit 30 Rock has a heart for the furry.
Friedlander, who prefers to be addressed as "Champion of the World," tells us that his career keeps him from getting a dog, although he is a 'dog-person.'
He's headlining a multi-comic benefit to help the non-profit Funny for Fido charity started by fellow-comedian Justin Silver. Funny for Fido will be held Wednesday, June 3rd at 8:00pm at Carolines on Broadway located at 1626 Broadway, New York, New York. It is an annual stand-up comedy event that brings together the country's most talented comedians to raise money and awareness for abused and neglected animals. It benefits a group of no-kill animal rescue organizations.
Friedlander says he's Twittering, and defends it fiercely; "If any hot chicks want to stalk me…you can Twitter me…or come see me at Caroline's this Wednesday." Tickets for the event are available from www.FunnyforFido.com.
While Judah Friedlander currently doesn't have any animals, he states that if he could have an animal, he would probably get a dragon and then practice karate with him every day!
Get Your Licks on Route 66 - The Cross-Country Adoption Tour
Susan Sims, Fido Friendly Magazine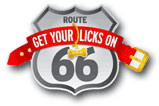 Fido Friendly Magazine and North Shore Animal League America bring you "Get Your Licks on Route 66." The cross-country adoption tour kicks off June 6th in Pico Rivera, California and travels to raise awareness of shelter adoptions with its mission to save lives.
Find the 36-foot mobile adoption unit on the length of nostalgic Route 66 in California, Arizona, New Mexico, Texas, Oklahoma, Kansas and Missouri, and Illinois with an adoption wrap party in Grand Rapids, Michigan in early July.
The mobile adoption unit will be stopping in 12 cities along the way and will visit with local shelters along the way who will bring out their available dogs and cats for adoption.
Fido Friendly Magazine will be taking pictures of everyone who adopts a dog and one lucky person will be selected to have their picture on the cover of Fido Friendly Magazine.
The entire tour is broadcast live every weekend on Animal Radio®. Animal Radio® is a supporting sponsor of this event.
Their goal is to raise awareness for the plight of homeless pets and get people out to find their furry companion!
Elephant Odyssey
Rick Schwartz, San Diego Zoo

The San Diego Zoo's $45 million Elephant Odyssey Exhibit opened on Friday, May 22nd. Combining elements of traditional zoos and natural history museums, Elephant Odyssey is a journey through time, highlighting animals of the past, present and the future. The 7.5-acre habitat includes a 137,000-gallon pool, gentle rolling hills, hidden drinkers and feeders to entice foraging, and the half-acre Conrad Prebys Elephant Management Facility. Elephant Odyssey will be home to more than 30 species of animals, including many living together in multi-species habitats.
The facility contains many different types of substrates for the elephants to both walk and play in. It also contains seven "Utilitrees," the firs of their kind, which will lower food, such as ficus, at different times and places every day. The unpredictability is meant to keep the elephants moving and thinking. At the base of these trees, hay is also placed behind iron bars as an additional mental challenge for the elephants. The Elephant Odyssey also has narrow passages, which will allow some smaller animals to leave their exhibits and mingle with the eight elephants.
Rick Schwartz is a senior animal keeper for the San Diego Zoo and also serves as the Elephant Odyssey ambassador. He joined the Zoo in 2000 and is responsible for the care of more than 30 different species of animals and works with other keepers and the veterinary staff to improve the physical and psychological well being of the animals.
Doing Dumb Stuff with Animals
Richard Conniff – Swimming With Piranhas At Feeding Time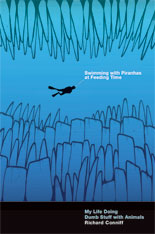 Richard Conniff, who has made a thrilling foray into the animal kingdom, has written a book about his adventure-packed journey. But, some of the things he has done weren't necessarily the smartest things someone should do with animals!
For example, he once jumped into a tank containing Piranhas. Expecting them to attack, he was surprised when they swam to the other side of the tank and cowered because he didn't look like the food they were used to eating. It all started when he wondered how the Piranha got a ferocious reputation. He said it was due to Teddy Roosevelt who made a trip to Brazil in 1913 and wanted a wild tropic experience. Teddy thought that the Piranha was that incarnate. So he created the myth that a Piranha will strip you to the bone if you put your foot in the water – which is not true!
He also sat down with African wild dogs and let them sniff his neck to test the idea that they are vicious man-eaters. And one time he stuck his hand in a fire ant mound.
Richard Conniff is a Guggenheim Fellow and winner of the National Magazine Award. He also writes for the Smithsonian and National Geographic.
Vladae, The "World Famous" Russian Dog Wizard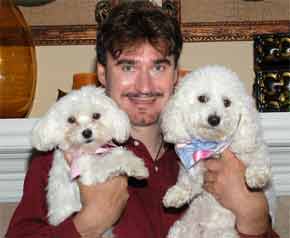 Dog Is Aggressive To The New Baby
This 11-week-old baby lives in a household with two Chihuahuas. Since the new baby, the male Chihuahua has started peeing in the house and is growling at the baby. Vladae states that you need to have the dog accept the baby as a positive thing. Get a crate for the dog and put him in there every time the child is NOT around. When you are with the baby, make sure that the dog is around and give him treats as well as lots of love and affection. You can even take the dog outside with the baby and toss a ball for him. The dog needs to feel that all fun starts when the child is around. Also, have the child sleep and eat together. This means that when the child is sleeping, put the dog in his crate in the same room. When the baby is eating, you need to feed your dog at the same time.
One Dog Attacks The Other

This male Jack Russell Terrier has started biting the female Jack Russell Terrier. The male bites the female just once and then they seem to work it out. Vladae states that there is bad news and good news. The bad news is that Jack Russells are famous for this type of behavior. The good news is that there is a male and a female, instead of two males or two females. He also says that the dogs need to worry more about him than their toys, food or the other dog. He mentions than when you have two kids and they are both in trouble, they become friends because now they are allies against your wrath. You also need to stop democracy in this household and terminate their welfare, where they will now need to work for affection, food and love. They also need physical exercise, one dog at a time. You need to establish your authority and control for obedience training. Get the Herm Sprenger German prong collar with quick release and use it on one dog at time. After a while, start working with them at the same time. If you make your dogs sleep together, eat together and work together, they will become friends. When they can't be supervised they should each be put in a crate kept side-by-side.
Dog Howls And Won't Shut Up
When this 9-year-old Lab mix was a puppy she would howl when her guardian listened to music. When she was young, it was cute – but not now! Vladae suggests the guardian get the Pet Convincer, which is a harmless blast of air with accompanying sound.
http://www.animalradio.com/vladae.html
Vinnie Penn, Animal Radio's Resident Party Animal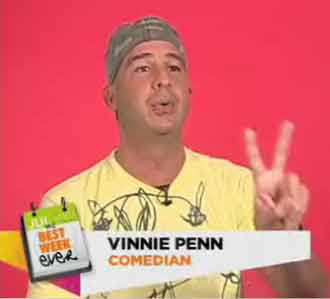 Pencil Drawing of Cat on Lost Poster
I saw on the telephone pole at the end of my street the other day a "Missing Pet" flyer. We've discussed flyers here in the past. The catch with this one is that they had drawn a picture of the cat missing. It was a pencil drawing!

Now one, you're not going to be able to tell, as it didn't look any different from the other millions of cats you see out on the streets. Fortunately, you don't see as many stray cats these days as I did as a kid, back in the 70's and 80's. But it didn't look any different. Two – it told me that by drawing this picture of your cat that you never took one of your cat.
So, how much could you have possible loved it if you didn't have a picture to photocopy for the flyer now that Smittens is missing? I'm not even going to get into the whole Smittens thing. But how much could you have loved Smittens? Maybe Smittens ran away because, one – you never took a picture of him' and two - you named him Smittens!
Owning Cats And Goldfish
Good morning, good afternoon, whatever time of day it is Animal Radio fans!
Sometimes I just open with a question here on the Party Animal Segment, and that's what I'm going to do this time. And perhaps, if you'd like to display your comedic chops, email me at vinnie@animlaradio.com.
Why are there some people out there who own both a cat and goldfish? I don't understand why that is. Do they actually want to view a goldfish nervous breakdown? Is this something they want to see? Are they amused by it?
"Hey, look at the way it's trembling, knows we leaving," and they jingle jangle the keys in front of him.
"Hey, were about to leave, and we're leaving you alone with Saber tooth over there. That's right, another 9 hours."
"Look at him shake. Look at the fish shake – isn't it hilarious?"

I've never understood homes that have both a cat and an aquarium. Did they miss Tom & Jerry growing up? Was that not on? They were watching Heckle and Jeckle; they were a Scooby Doo family?
The worst thing about these housecats, too, is they don't just immediately run up. If you rigged a video camera to film the house while you are at work, you'll see that housecats just don't immediately pounce on the tank when you leave. They toy with those two tiny little goldfish. That cat's moving slow across the room and he's looking and he's licking his chops, yeah, and then "Boo," he's right in front of them. And then maybe he'll back off, saying, "Maybe I'll eat you, maybe I wont." And then it's bobbing for apples until its 5:00.
Why do people have both a cat and fish? That is this week's question on Party Animal!
Animal Radio® News with Bobbie Hill


New Solution for Birds on Runways
The water landing of a U.S. Airways plane earlier this year brought attention to the hazard of birds near runways. At LAX, over an 18-year period over 900 birds or other animals struck aircraft. The FAA says this is nothing new. In North Bend Oregon the municipal airport has come up with a solution - they're using a herding dog to cut down on bird strikes. Filly the Border collie's official title at the Southwest Oregon Regional Airport is "wildlife management canine."
Condors Still Struggling to Survive
Sad news on one of the California condors being cared for at the L.A. Zoo. One of the two birds has died, he was called Pinns and was one of the first six condors released at Pinnacles National Monument. Pinns died of lead poisoning and had been in critical condition since arriving at the facility in March. On the upside, the other California condor recovered and has been re-released into the wild.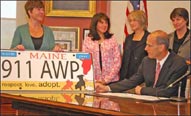 Animal Welfare Vanity Plates
People love to advertise their love for their furry companions and the state of Maine just made it easier. They'll be issuing new animal welfare vanity plates beginning this fall. Maine's Governor signed the law "An Act to Create the Support Animal Welfare Registration Plate"
Half the money from the 20-dollar fee will go to fund animal cruelty an abuse investigations. The other half to spay and neuter programs for low income residents. Plates will show a dog, cat, bird, rabbit or horse with the words "Respect. Love. Adopt".
Animal Hall of Fame
Three dogs and one fat cat were honored as heroes in Canada by the Purina Animal Hall of Fame. The inductees include Sophie, a Bijon Frise who woke her owner to alert her that her daughter had slipped into a diabetic coma. Jarod, an 8-year-old Chow Chow saved his owner and another dog from a charging black bear before safely escaping. Ace, the Dutch-Shepard mix, adopted and trained by a police officer in Ontario to be a search and rescue dog, found a woman buried in snow who'd been missing for three days. And finally there's Nemo.... the 21 pound cat who's persistence helped save a life. He alerted his Toronto owner that her husband had stopped breathing. The man survived thanks to his wife's fat cat.
Neither Rain, Sleet Nor The Gloom Of Night – But Maybe A Dog!
For close to 200 years the Postal Service has delivered the mail under the slogan that neither rain, sleet nor the gloom of night would keep them from their appointed rounds. But that was before they met Cozmo, a Jack Russell terrier in Clarksburg, West Virginia. Cozmo is preventing mail delivery to 7 homes along Milford street according to the Associated Press. Cozmo's owners say he hasn't bitten anyone - just chased. One carrier was injured after falling while trying to run away from the 20-pound terrier. USPS isn't laughing - they won't resume mail delivery until Cozmo is gone.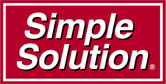 NEWS UPDATE Brought To You By Simple Solution Natural Line Of Products
Animal Minute With Britt Savage
Cat Walks from Phoenix to Iowa
An adventurous little cat took a little walk and apparently made his way from Phoenix to Iowa. After 5 months, Megan Rowley was sure she would never see her beloved cat Austin again. Imagine her surprise when she got a call from 1,500 hundred miles away, saying they found her traveling tabby. And how they found him was even stranger! In Iowa, Nancy Crook was making a deposit at a bank drive-thru when a cat jumped into her car, right through the open window. Austin landed in her lap, and as luck would have it, Nancy worked as an animal tech at the Avendale Cat Hospital, where Austin's owner was located by his microchip. That's amazing!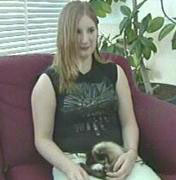 Lilly, the Ferret, Kicked Out of Dorm
Over allegations of a violation of her civil rights, a student at Our Lady of the Lake University in San Antonio, Texas, has filed a complaint.
But what makes this so different from other complaints, is that the student, Sarah Sevick aged 19, states that the school won't let her keep her therapy ferret, Lilly, in her dormitory.
While Lilly is not a trained therapy animal, Lilly helps calm Sarah during panic attacks. Sarah states she has a post-traumatic stress disorder from both a physical disorder and depression. Sarah states Lilly is not only a pet, but helps her during her time of need such as a blind person needs a seeing-eye dog. Sarah states that her disability is a blind disability, and "just because you can't see it, doesn't mean it's not real."
The Justice Department is reviewing the complaint, but it could take three months for any action to be taken. The university is not commenting at this time.
Your Vet Questions Answered with Dr. Debbie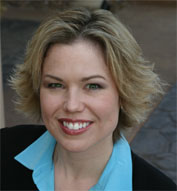 Dog Looks And Leaps At Nothing In The Air
About 3 weeks ago, this 2-year-old dog started tracking flecks of dust in the air for about 30 minutes at a time. She jumps and looks around in all directions and bites at nothing there. There is nothing that triggers this behavior. Dr. Debbie states this night be a "fly biting seizure," which is like a focal motor seizure that humans get. Dogs can do this at times and then be fine at other times. Just make sure you get a full medical workup to make sure that there is nothing medically going on. These seizures rarely progress into something more serious, but just make sure that they don't injure themselves while jumping around.
2 Cats Are Pooping Outside Box
These two rescued, male, declawed, neutered indoor cats have started defecating outside their litter box. They had a checkup at the veterinarians and are in good health. Their guardian bought 3 new litter boxes and new cat litter, but they still do this on occasion, near the boxes. Dr. Debbie finds out that the boxes are all in one room and only on one level in a two-story condo. She suggests moving the litter boxes around the house and make sure that you have at least one litter box on every level. Also, turn the area where they are currently pooping into feeding areas, as they won't poop where they eat.

Dogs Eats Algae Out Of Koi Pond
These two Chocolate labs eat the algae out of the koi pond when their guardian is cleaning it and they also eat the oranges off the tree. Is this bad for them? Dr. Debbie states that there is the potential for resulting toxicity so keep them away. There is also the possibility of Guardia, which can lead to diarrhea and vomiting which can then be passed to humans. As far as the oranges go, it shouldn't be a problem unless they eat them whole!
Dog Licks Pee
This 2-year-old Blue Heeler licks pee. He will both lick spots where other dogs have peed, and will also turn around after urinating and even lick his own pee. After doing this, his tongue goes spastic and he starts foaming at the mouth. His guardian wants to know if he is missing something from his diet? Dr. Debbie asks if the dog is neutered and it turns out he is not. He is therefore reacting to the presence of pheromones in the urine. She suggests getting him neutered, which will hopefully stop this behavior and make him a healthier dog over his lifetime. In the meantime, keep him on a "head collar" when you take him out to keep him away from the urine.
Beginner's Agility
Pamela Spock – Affordable Agility

We complete our 6-week agility training of Ladybug with Pamela Spock, the President of Affordable Agility and a 10-year-veteran in agility training and research. Pamela gave us advice and tips along the way on how to get Ladybug, a novice, through the course.
We worked with Ladybug using the Agility-In-A-Bag, from Affordable Agility, which consists of 6 of the most popular agility obstacles, including: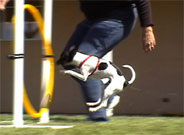 Weave pole set (Ladybug is still working on this)
Adjustable jump (Ladybug conquered it in the first 5 minutes)
Adjustable tire jump (Ladybug also conquered this within 5 minutes)
Pause box (well - what can I say - Ladybug's working on it!
Tunnel & Chute (Ladybug has the tunnel down but is working on the chute)
Carrying bag (makes the whole kit very portable!)
Colored vinyl tape (mark your poles to make them more visible)
Instruction manual (tips on setting up and working the course)
The most important thing that Pamela taught us was to remember to make agility fun and build confidence in your dog.
Check out the video of Judy's training with Ladybug.
Ladybug is well on her way to get through the complete course and maybe one day she will compete professionally. Thanks Affordable Agility!
Animal Radio "Quarantine"

Due to a bite that Judy Francis received from Boog, the Animal Radio studio cat, the County of San Luis Obispo Division of Animal Services quarantined all animals on the premises of Animal Radio. Judy was bit during a routine blood draw on Boog (something she does every month) when he got upset and bit her. When she went to the doctors, she was advised that she would have to fill out a "Bite Report" and that someone would come out to see the animal.
When the Animal Service Officer came out, she posted a notice on the Studio doors that an "Animal Quarantine" was in process and advised us that the sign had to stay posted for 10 days. During this time, no animals that come in contact with Boog are allowed to be removed or taken from the property during the quarantine.
When we asked the officer to come on the air and talk about "bites" she refused, stating departmental policy prohibited her from doing so. Oh well, she was just doing her job!
Listen to the entire Podcast of this show (#495)

Broadcast on XM Satellite Radio and Podcast Versions Only.

Listen to Animal Radio® - Go to the launch page
Return to Animal Radio Network™ Home Page
Read May Newsletter
Copyright 2008 All Rights Reserved Animal Radio Network LLC