June 2nd, 2007

Emmylou Harris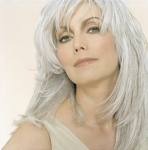 "Animals: That's what I want to devote my life to now," Emmylou Harris told The HSUS recently. The angel-voiced singer has been wowing audiences for decades, and as one of music's leading vocalists, has earned 12 Grammy Awards.
"Now I am at a place where I want to focus much more on helping [animals] and ensuring humane treatment," she said. "That's what my passion is about these days: ending their suffering and educating people about animal issues."
"Animals can teach us how to be better human beings," Harris theorized. "They've certainly taught me that."
She offered examples of how pets help sick patients in hospitals, reform prisoners and teens in detention centers, act as service guides to the blind and handicapped, bring smiles to the elderly in nursing homes, and alert people to epileptic seizures and illnesses such as cancer.
It seems only natural that Harris would be so concerned about animals. Her father, she said, was training to be a veterinarian at the University of Virginia when World War II began. He abandoned his veterinary studies to join the armed forces, get married, and start a family. Harris was raised near Quantico, Virginia, where her father was stationed for more than a decade. Later, she started her music career in Washington, D.C.
In her adult years, one of Harris' closest canine companions was Bonaparte, a poodle mix who traveled with her on tour and lived to age 15. She also inherited another dog, Radar, 13 years ago when her daughter left for college. The Cairn terrier is now both "blind and deaf, but still an incredible friend."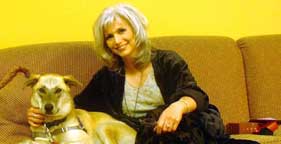 These days, the musician hangs out with her "road dog" Keeta, who was displaced by a hurricane in 2005 but now travels comfortably on tour.
Harris also operates her own fostering operation, which she calls Bonaparte's Retreat and can be seen at her web site: www.emmylou.net. She has turned part of her yard into a small shelter, complete with runs and doghouses for up to three pooches at a time. Currently, her foster dogs are close to or more than 50 pounds and in need of permanent families all their own. She noted that she always tries to help out those dogs who seem to be the hardest to place-those who are older, have been relinquished more than once, or have been available for adoption for a while.


Leslie Nielsen


Listen as comedian Leslie Nielsen shares his warm fuzzy animal side. Leslie starred as Frank Drebin in Police Squad, as well as in The Naked Gun and its sequels, Airplane and Scary Movie 3. He was awarded the UCLA's Jack Benny Award for his comedic talents. Nielsen's impressive career includes more than 200 films and television programs. See what he is up to now.

The Man Who Listens to Horses
Monty Roberts


Monty Roberts, known as the "Man Who Listens to Horses" has led an extraordinary life. An award-winning trainer of championship horses, best-selling author, Hollywood stunt man, foster dad to 47 children (in addition to three of his own) and creator of the world-renowned and revolutionary equine training technique called Join~Up, Monty Roberts could now, in his later years, be resting on his laurels -- but that's not his style.
If you go looking for Monty Roberts, you won't find him lounging in his favorite chair high up in the hills overlooking his horse-training farm in the beautiful Santa Ynez Valley. Monty is more likely to be found somewhere on the globe continuing to spread his message of nonviolence. You're more likely to find him speaking to incarcerated youth in a juvenile detention facility, gentling his 15,000th horse at a demonstration, teaching his techniques to the growing number of students at his Equestrian Academy in Solvang, California or advising executives at Fortune 500 companies.
If you are looking for adventure, you and your horse can join Monty on the Fish & Ride Adventure from June 27th through July 1st at the Clearwater Lodge. The lodge also has rental horses available for gusts who aren't able to bring a horse. And if you don't wish to ride, there is fishing, river rafting, golfing and antique shopping. For more information, contact Pat Roberts at patr@montyroberts.com or telephone 805-688-4382 or 805-688-3368.
Every year, Lapland organizes a Reindeer round up in autumn. Previously, these animals were killed. Now, Asia has been offering to pay for their antlers, which help supports the Laplanders. During these roundups, about 20% of the animals were lost due to stress. Monty has been invited to help make do it more quickly and more humane with less stress for the reindeers.
http://www.MontyRoberts.com



To Catch a Thief (err, Mouse)
Britt Savage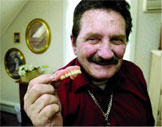 We have all misplaced things, but when Bill Exner couldn't find his dentures, he knew someone else was involved. That someone else turned out to be a mouse.
A mouse that they have managed to capture three times, only to have him escape three times, has plagued Bill and his family for quite some time.
Bill eventually found a hole in the wall of his closet and believed that this where the mouse fled with his dentures. He called upon his daughter's fiancé, Eric Holt, to help. After tearing apart a section of the wall, they found the dentures lying there.
Since then, Bill claims that mouse comes out occasionally and taunts him. When Bill does catch the little guy, he will take him for a ride in the country.
"Unchain the 50!"
Tammy Grimes, Dogs Deserve Better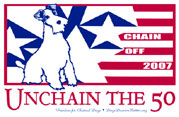 Dogs Deserve Better, a nonprofit working to bring dogs into the home and family, has finalized plans for it's Chain Off 2007: Unchain the 50! Event, which will take place between June 30th and July 7th, 2007. During this Event, the group seeks Freedom for Chained Dogs in every state in the nation. They need at least one volunteer per state to live chained to a doghouse for 8-24 hours in order to raise awareness for the state's less-fortunate dogs.
Tammy S. Grimes, founder of Dogs Deserve Better, states, "We chose July 4th for this event because it symbolizes the Freedom of America. Yet we call attention to those who are still not free-dogs who live their entire lives on the end of a chain, enclosed 24/7 in a small, lonely pen.
The nature of a dog is such that living away from its family, its pack, is detrimental to its very existence. A dog wants nothing more in life than to be with you."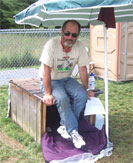 The Dogs Deserve Better Chain Off, held every July 4th for the past 5 years, has evolved from one woman chaining herself to a doghouse for 33 hours in Pennsylvania in 2004, to 11 contestants chaining themselves for as long as 13 days to win a new car in 2006.
The group is firming up plans to hold it's main Unchain the 50! Event in Atlanta, Georgia, an area whose advocates have been most successful in the past two years winning county bids for law changes.
Laws against chaining dogs for life are a growing trend in America, with California passing a law in late 2006 limiting tethering to 3 hours a day, and over 100 cities and counties nationwide winning laws limiting or banning tethering in the past five years.
See the website at www.dogsdeservebetter.org/chainoff2007 for complete Unchain the 50! information and a growing list of locations or to sponsor the nationwide event.
Slentrol ­ The Doggy Diet Drug
Mike Fry, Animal Ark Animal Shelter and Host of Animal Wise Radio with Dr. Linda Wolf


Is your dog a poster child for the before photos at Jenny Craig or Weight Watchers? Dr. Linda Wolf discusses the new "Doggy Diet Drug" Slentrol. Slentrol decreases the appetite thus decreasing food intake. Given once daily as an oral solution, you can do it either directly into the mouth or with a small amount of food.
People nowadays want a quick fix to their problems, such as just taking a pill. Granted, there may be some situations where this pill might have some value, like when a dog is really not capable of exercising for a valid physical reason. But come on folks, there is no quick fix to your pet's weight problem, it goes back to the basics of good appropriate nutrition and exercise.
Keep Fido out of the fridge; don't express love with food; and get out there and exercise. It'll be good for both of you.
http://www.AnimalWiseRadio.com
http://www.AnimalArkShelter.org
A Fabled Wildlife Center
Rae Ann Kumelos, Voice of the Animal


What do a lion, a thorn, and the Roman Coliseum have to do with a wildlife center in New Mexico? Discover how the lessons from a fable twenty-centuries old are still practiced today in the care and rehabilitation of injured raptors, reptiles, mammals and songbirds at the Wildlife Center in Espanola, New Mexico.
http://www.TheWildlifeCenter.org
http://www.VoiceOfTheAnimal.org
Breed Specific Legislation
Dr. Jim Humphries, Veterinary News Network


Breed Specific Legislation became popular in the 80's after numerous Pit Bull attacks. Hollywood, Florida, began by requiring special insurance policies and registrations for Pit Bull owners. Ever since then, more cities and state governments are looking at how to best minimize the number of dog attacks, often by banning certain dangerous dog breeds. Currently, 37 states allow or have enacted breed specific legislation. The laws range from requiring muzzles on the affected breeds while out in public, or the erection of 6-foot high fences on the owner's property, to the immediate confiscation and euthanasia of suspected breeds.
Opponents of breed specific laws state that the ordinances are discriminatory and can put undo hardship on the owners of affected breeds. Proponents say this is the only way to stop the increasing numbers of dog attacks. National organizations have denounced the enacting of breed specific laws and have begun a strong campaign to stop them. Remember, it's often the individual dog, not the breed, that's the problem. Stronger aggressive dog laws that are not breed specific would do a better job of helping to stop the terror of dog attacks.
http://www.VetNewsNet.com
Fido Friendly Travel Talk
Susan Sims, Fido Friendly Magazine
Vermont Vacations for You and Your Dog
Mountain Top Inn and Resort, VT: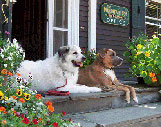 The Mountain Top Inn & Resort understands how wonderful it is to share an outdoor vacation with your canine companion. Pet lovers ourselves, we realize that especially in unfamiliar settings, dogs will be dogs, despite a history of exemplary behavior. We therefore happily allow you to share with your pet the creature comforts of our rustic cabins with the following guidelines:
They will receive a dog bed, bowls for food & water and a welcome treat. When outside of their guest room, pets must be on a leash and owners must clean up after them. Pets are permitted on designated cross-country ski trails and all hiking trails. All pets incur a $25 per pet, per night charge.

Fido Friendly Magazine: The Travel Magazine For You & Your Dog, a complete guide to Fido-friendly accommodations across the United States and Canada. "Fido Friendly is the only magazine dedicated to the travel lifestyle of man's best friend, and the one magazine your dog will thank you for." And don't forget to join the Fido Friendly Travel Club.
http://www.FidoFriendlyTravelClub.com
http://www.FidoFriendly.com
"The Rat Lady"
Debbie Ducommun, The Rat Fan Club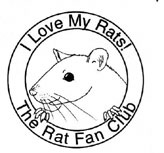 Debbie Ducommun, known as "The Rat Lady," is internationally recognized as an expert on domestic rats. She has worked in the animal care industry for over 18 years and has a background in animal training, nutrition, and animal health care. Ducommun has had numerous articles published in national animal magazines and currently writes a column for Pet Business magazine. She is the founder of The Rat Fan Club and writes, edits, and publishes the Rat Report. Ducommun is also author of the book Rats! A Fun and Care Book published in 1998 and revised in 2002 as Rats, Practical, Accurate Advice from the Expert. Ducommun has promoted rats on television and radio including appearances on The Tonight Show with Jay Leno, The Howie Mandel Show, To Tell The Truth and Ripley's Believe It Or Not.
http://www.RatFanClub.org
Vitamin Water for Your Pet
Rene Gaston, VitaPaw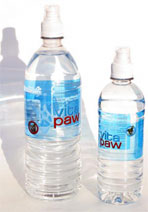 René Gaston, who has been in extreme sports for the past 15yrs (inventing many products for inline skating, skateboarding, razor scooters and also selling products on QVC) started a brand called Kiapet.com in 2003. The first product that he came up with was a very unique K9 Tankpad, which allows a person take a dog along with them on their Harley. He then expanded the line to include a patent pending flying disc for dogs. This unique product has bites taken out so that dogs can pick up off of any surface.
Well one day after playing fetch back in 2002 he noticed that Kia always drank tons of water, but he would not always remember to give her a vitamin with every meal. Being that Kia can ask for water, he thought why not add vitamins to her water so that she would get extra nutrition that she might not get from her current food or tap water. That is how VitaPaw was born. Made with the finest ingredients and purified water, VitaPaw hydrates pets while providing them with essential nutrients they need to maintain a healthy lifestyle. Ready to serve and available in 16.9 oz and 1 liter bottles, even the most discriminating pet will welcome this fresh alternative to tap water.
http://www.VitaPaw.com
Listen to the 1st Hour ABRIDGED VERSION Podcast of this show (#392).
Purchase a CD Copy of this Show



View Animal Radio Network® Broadcast Schedule in a new window.


Listen to Animal Radio® - Go to the launch page


Return to Animal Radio Network® Home Page


Read June Newsletter
Copyright 2007 All Rights Reserved Animal Radio Network LLC