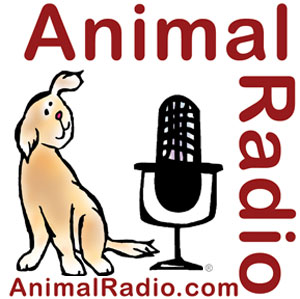 Animal Radio® Show #652 June 2, 2012
Pop Diva Sheena Easton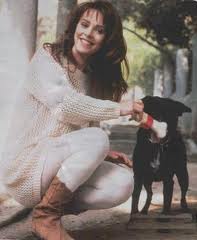 80's Superstar Sheena Easton is back on Animal Radio®. Sheena Easton is a Scottish singer who achieved worldwide fame in the 1980ís.
The "extremely conversational" singer admits that music is really her second love. Her first love is her house-full of cats and dogs. Sheena currently lives in Las Vegas with her two-legged family, as well as her four-legged family of six cats and two dogs.
"People who think cats are self-maintaining creatures, you put out a dish of water, a dish of food and you leave the house and the cat's happy… boy they're wrong," Easton states.
One of Sheena's cats, "Puffy,"' named after Puff Daddy, has peeing issues. Sheena has removed the carpets and couches because of this problem, because she would do anything for her cats. And while the cats get along with the dogs, some of the cats don't get along with the other cats. In fact, she has her "upstairs gangsters" and the "downstairs gangsters." She keeps these cat groups separated by the floors in her home. Her kids say she is headed for the title of "Crazy Cat Lady."
Even though Sheena Easton is known for her singing (her first single in the United States "Morning Train – 1980 - which hit #1 in the U.S.), she made her feature film-acting debut as the voice of the Irish setter in the animated feature, All Dogs Go To Heaven 2. Sheena is still touring the United States.
If you think you spoil your pets, listen in to see how Sheena copes with hers!
Canine Secrets Revealed
Hy Conrad & Jeff Johnson, Things Your Dog Doesn't Want You To Know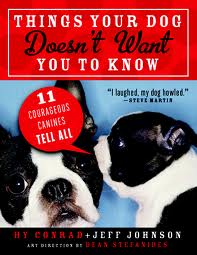 Hy Conrad and Jeff Johnson admit that they collaborated with eleven courageous canines who came forward to dispel myths and disclose long-held canine secrets in their new book, Things Your Dog Doesn't Want You To Know. However, they emphasize that they get all of the royalties and the dogs just get a few treats here and there.
Like their human counterparts, dogs have unusual habits and quirks. As canines continue to become full-fledged family members, the time for their "tell-all" book has come!
This book is a collection of 115 short essays that reveal truth behind some of the most baffling canine behavior, their hopes and dreams, their grudges and pleasures, and what they really think about us humans.
One baffling question us humans want to know is why do our dogs circle three times before they finally lie down? The dogs response: They are surprised as to why humans want to know why their dog circle three times and not surprised by the fact that their dog can count to three!
Dogs reveal a lot of secrets including: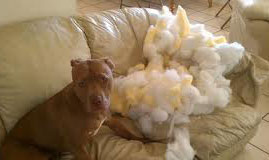 • We can poop the second we start our walk (but choose not to)
• The reason we ate the sofa (leather tastes very similar to rawhide)
• Human words we actually understand (dinner time and walk are easy, nicknames not so much)
• What we really think of costumes

Even our pet peeves are finally aired, including: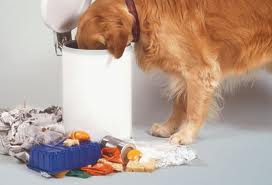 • Tiny dogs do NOT think they're big dogs
• Digging stuff out of the garbage and eating it is our form of recycling
• Humans should really try to honor the bed rules (it's our bed, not yours)
• Tricks with treats (seriously, am I just getting a treat or are you trying to lure me into the bathtub?)

Here's what you'll also learn. You're the center of our lives. We can't live without you. We love you so much we never want you to leave (and will sabotage your planned vacation by any means necessary).
So no matter what, at the end of the day, dogs are just wonderful, marvelous creatures that us humans can marvel at, enjoy, and make up stories about, just like Hy and Jeff did!
Hy Conrad was one of the original writers for the series Monk. His latest work is with White Collar. He is the author of hundreds of short stories and whodunits. His first novel series, Abel Adventures, will debut in 2012. He lives in Key West.
Jeff Johnson is the author of The Hourglass Solution: A Boomer's Guide to the Rest of Your Life and co-authors a national online advice column called Short Answers. He lives in Vermont and Key West.
Animal Radio® News with Stacey Cohen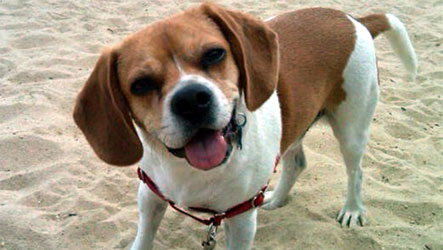 Men Spends $60,000 In Custody Battle For Dog
A New York man is looking for a little financial assistance after spending thousands of dollars trying to get his dog back from his ex-girlfriend. Craig Dershowitz tells NBC's Today Show he's already racked up $60,000 in legal bills trying to win custody of Knuckles after his ex kidnapped the dog and took him across the country. With the court battle still raging, Dershowitz has started a website to raise funds for his legal efforts. He's offering a variety of gifts for people to buy, including a "Free Knux" t-shirt for $25 and a $250 game of fetch with Knuckles when the dog "hopefully" returns to New York. Those interested can get more information at IndieGoGo.com/RescueKnux.
Clean Up Snake On Aisle 3
A man says he reached down to pick up a stick lying in the gardening aisle of a Wal-Mart in eastern Washington state, only to discover that it was a rattlesnake that then bit his hand. Mica Craig says he was shopping in the outdoor garden department of a Clarkston store when he was bitten. The 47-year-old man says it latched onto his hand and that he screamed, shook loose the snake and stomped it to death. The Lewiston Tribune in Idaho, reports a bystander drove Craig to an emergency room in nearby Lewiston. Craig says he was treated with six bags of anti-venom and was told that his hand could be permanently disfigured.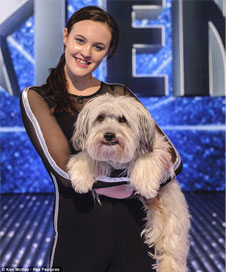 Hound Wins Britain's Got Talent TV Show
Nearly 15 million viewers watched as Pudsey upset the odds by dancing his way to victory in the final of the Britain's Got Talent TV show. Speaking to The Sun just hours after her beloved hound beat opera singers Jonathan and Charlotte, Ashleigh Butler said: "He was sitting on the bed and I told him: 'Pudsey, you've just won £250,000.' "He knows that he's done something good but he doesn't know what. He wouldn't know what to spend the money on so I'll probably have to spend it for him. "I lost one of his leads during the semi-final so he needs a new one. He loves his bling so maybe I'll get him one with diamonds." She also revealed that six-year-old Pudsey is taking his newfound celebrity status in his stride and even snubbed BGT mogul Simon Cowell backstage. The pretty teen added that her Border Collie, Bichon Frise and Chinese Crested cross has a diet to suit his A-lister lifestyle. She said: "He eats better than me these days. He had steak the other day, it will be caviar next." Experts predicted the super-pooch could add £10MILLION to his haul with commercial and acting contracts.
Peeing In A Lake May Not Just Be Taboo – It Could Also Be Deadly
At least that's what a group of anglers contend, blaming swimmers for the 500 dead fish that have turned up in a picturesque German lake near Hamburg, The Local reported. "Swimmers who urinate in the lake are introducing a lot of phosphate," Manfred Siedler, a spokesman for an angler's group, told Bild newspaper. "We're calculating half a liter of urine per swimmer per day." Skeptics questioned whether the outcry was an attempt by fishermen to oust bathers, with whom they have long feuded according to The Local, but are saying this could be possible.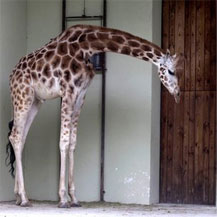 It's Hard To Find A Date - Even Harder If You Are A Giraffe
Zoo officials are trying to find a companion for Tofik, a widowed Rothschild giraffe, after his two female companions died after a zoo break-in. The two females apparently died from stress when vandals broke into the facility in Lodz City. Barbara Wicinska, a zoo official, said one of the female giraffes was found dead, and a post-mortem showed she had died of stress. The other female giraffe was found dead a few days later. A test is planned, but zoo officials believe she died for the same reason. The head of the zoo's breeding section, said management is checking with other zoos in Europe to see if it can find a companion for Tofik, the widowed male giraffe. Like his two dead companions, Tofik is from the endangered Rothschild giraffe subspecies. It is a tough task because there are not many Rothschild giraffes in zoos. Investigators also are trying to find out why the zoo's security guards didn't call police until hours after the hooligans left the facility, which is not equipped with cameras.
Get Paid To Watch Videos
Members of the nonprofit Farm Animal Rights Movement are sponsoring an unusual national campaign. In it, the Maryland-based group is offering people $1 to watch a short video that shows gruesome scenes of slaughter and abuse of chickens, pigs and cows at unidentified farming operations. The images they will watch on video are graphic enough, organizers hope, that people will turn away and stop eating meat. Organizers boast that it is the largest and "most audacious" effort yet designed to discourage people from consuming animal products. "Believe it or not, offering people a little reward, just one dollar, is a great incentive to get them to see this," said campaign coordinator Jeni Haines. "Once you see it, it stays with you. It is a very powerful four minutes." On a bus equipped with 32 screens, FARM is bringing the video to college campuses, festivals, fairs and other public places around the country this summer.
Listen to the entire Podcast of this show (#652)