June 3rd 2006
Traveling with your Pet Special - Sponsored by Fido Friendly Magazine
Be Prepared When Traveling with a Pet
Dr. Holly Knor, Animal Planet's Emergency Vets


The most important thing when traveling with a pet is to be prepared, both for the expected and unexpected. If you will be staying in hotels, check ahead to make sure they accommodate animals. And always take enough of your pet's regular food, plus a little extra, because a road trip is not the time to run out and have to switch foods. Also take plenty of bowls. Collapsible bowls are great for traveling. If your per is on medication, again make sure you have enough for the trip plus a little extra, in case you are gone longer than expected.
You should also pack a First-Aid kit for your pet. This should include gauze, bandages and liquid bandages, scissors, wipes, sunscreen and towels. Make sure you also have plenty of bags to clean up after your pet.
http://www.3M.com/us/home_leisure/petcare.jhtml
Airline Transportation for Pets Can Be Deadly
Dr. Jim Humphries, Veterinary News Network


For one San Francisco pet the seemingly safe trip across the country on American airlines proved to be fatal. Willie, a 2-year old English Bulldog, died after flying across country. According to the Air Transportation Association, over a half a million animals are transported each year by air, of which only 1% experience complications. Complications range from minor issues including unapproved kennels, lack of health certificates and missed connections to more serious problems such as loss, injury or the death of the animal. Most severe are temperature fluctuations, insufficient oxygen in cargo holds or damage to the kennels. For devoted per lovers, even 1% is a risk worth preventing when trusting an airline to transporting their pet safely. Willie's owner is suing American Airlines. He hopes the lawsuit will make American Airlines, as well as other airlines, more responsible when transporting dearly beloved pets. American Airlines and Continental have contributed to more than half of all pet deaths on airplanes.
http://www.VetNewsNet.com
Travel Magazine for You and Your Dog
Arden Moore, Special Correspondent with Nick Sveslosky, Fido Friendly Magazine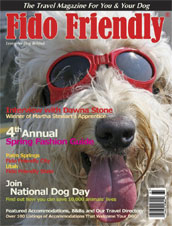 Arden Moore shares some savvy travel tips with Nick Sveslosky, editor-in-chief of Fido Friendly, a national magazine dedicated to on-the-go dogs. His dog, Tasha, a black Labrador retriever with non-stop energy, frequently joins him as he scouts out dog-welcoming places coast to coast.
The pair are based in Tustin, California, but have journeyed by car and by airplane to reach such destinations as Yosemite National Park and a five-star ski resort in Telluride, Colorado.
With each issue of Fido Friendly Magazine, Sveslosky and his staff unleash their talents and showcase dog-friendly places. Their realistic reviews tout the doggy perks ­ and concerns ­ about each locale.
Final advice from Sveslosky: book lodging in advance at places that allow dogs and don't try to sneak in your pet.
Animal Radio special correspondent Arden Moore is the editor of Catnip, the national award-winning monthly published in cooperation with Tufts University's School of Veterinary Medicine. Arden has also authored more than a dozen books on dogs and cats and can be reached through her Web site: http://www.ArdenMoore.com
http://www.FidoFriendly.com
Wildlife Global Conference
Tippi Hedren, Roar Foundation/Shambala Preserve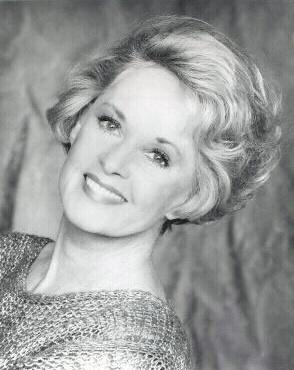 Tippi talks about the myths of raising a baby tiger or lion and then expecting it to be tame the rest of its life. She discusses mishaps with peop1e who thought their animals would not attack, such as in the case of a 10 year old boy who was visiting a friend's tiger and the girl who wanted to take a picture for her yearbook with a wild cat, when both were attacked and killed. These animals are wild and will always be.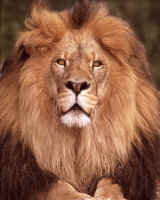 Now you can join Tippi and others for the first ever Annual Roar for Wildlife Global Conference which will be held on June 10, 2006. The purpose of the event is to highlight the needs of wildlife around the world. Guest speakers will be acclaimed authors and wildlife conservationists Delia and Mark Owens. Tippi will also be speaking on the conditions of wildlife in the United States and current legislative activity. You will also be able to view wildlife vendors showcasing their artwork. And of course, the event will be set in the beautiful setting at Shambala, where the wild-ones will have center stage!
http://www.Shambala.org
Dog, Family Reunited After Nearly 5 Years
Britt Savage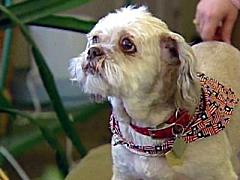 A couple says they are thrilled to have their dog back nearly five years after it disappeared.
Holly and Troy Webb said they thought the worst when Gidget, their Lhasa apso, ran away in 2001.
"We thought maybe she got hurt or something, but nobody called or anything like that," Holly Webb told WNDU-TV.
But the South Bend Animal Control officials called the Webbs last week, saying they found the dog, still wearing the collar and tags she had on when she disappeared. The dog was found tied to animal control's front door, the Webbs were told.
"When I saw her, it was like seeing a ghost," Troy Webb said.
Gidget, missing for four years and seven months, is now 12 or 13 years old. She came home with matted fur and moves a bit slower but was otherwise all right, the Webbs said.
"If she just wants to be a lap dog, that's fine with me, too," said Troy Webb.
The Webbs said they believe someone had their dog. She had been fed but not groomed.
Dog Dies on Cross-Country Air Trip
Terrence Ing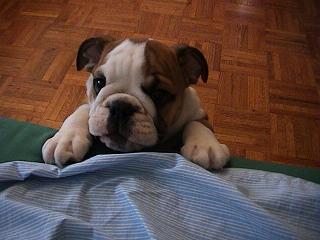 For one San Francisco pet, the seemingly safe trip across the country on American Airlines proved to be fatal. "Willie," a two-year-old English bulldog died after arrival from a cross-country flight. Terrence Ing, the owner of Willie, placed his dog under the care of American Airlines to safely transport his pet on a New York to San Francisco flight. Ing never expected Willie was not going to make the trip alive.
According to Ing, an American Airlines baggage manager denied him access to Willie and had the dog relocated pending instructions from airline superiors. It was only after Ing contacted several area veterinarians that animal paramedics arrived five hours after the flight landed. By then, Willie had died. An animal paramedic who examined Willie's body at the airport believes the dog may have survived had American Airlines provided adequate medical care. Now, Ing is taking American Airlines to court.
http://www.AnimalLawAssociates.org
http://www.lclark.edu/org/ncal/willie.html
Pet Friendly Hotel
Jerry Grymek, Doggie Concierge New York's Hotel Pennsylvania


New York's Hotel Pennsylvania is a year-round dog friendly hotel. While they cater to mostly cats and dogs, they do have an occasional bat or monkey. Jerry Grymek is the "Dog Concierge" and will do his best to make sure that you and your pet have everything you need. But to make it easier for you and your pet, Jerry Grymek discusses some great tips such as bringing something familiar from home as your pet's favorite toy or blanket to making sure there is a park nearby where you will be staying. Hear these great tips, as well as others.
http://www.HotelPenn.com
Guide for the Traveling Pet Guardians
Judy Macomber, Pet Lovers Publication
Do you want to find the best pet-friendly locations and services as you hit the "trails" through California, Arizona and Nevada? Well, look no further! Pet Lovers Publication has gathered locations of some of the best campsites, most pet-friendly café's and hotels, and quality pet supply stores and services in each area. What makes it helpful is they not only list the locations, there are also maps to help direct you. And best of all, it's free! Listen in to find out how you can get your free copy today.
http://www.PetLoversPublications.com
Lyme Disease
Andrew Eschner, DVM, Veterinary Medical Affairs Merial
Lyme disease is transmitted through the bite of a tick. Borrelia burgdorferi is the scientific name of the bacteria that causes Lyme Disease. The transmission of Lyme Disease is from the bite of the deer tick, or the black-legged tick. Some symptoms you may see if your dog has contracted Lyme Disease are limping, loss of appetite and lethargy.
A good approach to use is the "Vet" approach. That is: Vaccinate; Educate: Tick Control Products.
While Lyme Disease has been reported in dogs from all states, there are certain geographical area of the United States where you are more likely to encounter these bacteria carrying ticks. So if you don't live in one of these area but plan to visit with your dog, be prepared.
http://www.LymePrevention.com
Storybooks of Stone - Animals in Rock Art
Rae Ann Kumelos, Voice of the Animal
On rock art from Norway to the Southwest, France to Peru, discover how the elements of earth are used to communicate the story and spirit of the animals who lived in the far distant past.
http://www.VoiceOfTheAnimal.org
Talk With Your Animals
Joy Turner
Jeannie, a Hungarian sheep dog, barks every time someone gets up and moves about or the phone rings. His guardian would like him to stop. It is only natural for these dogs to herd people about, and since he has not been guided as to who she should "herd," she herds everyone. She also does not like the tone of the cell phone.
http://www.TalkWithYourAnimals.com


Look-A-Like Contest
Dr. Kevin Fitzgerald, "Emergency Vet" and Jennifer Greenberg, Pet Photographer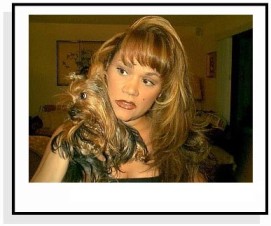 1st Prize - Debbie & Cupcake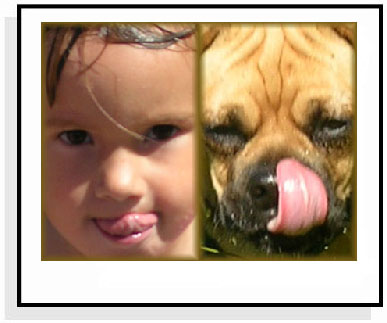 2nd Prize - Abbie & Tucker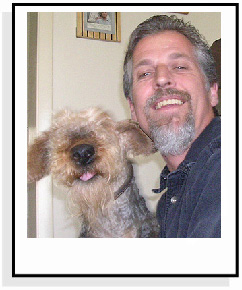 3rd Prize - Timothy & Cheyenne
Latka's Treats "Pet Look-Alike" contest ended with three winners who are going to receive prize packages featuring assorted Latka's Treats and a mix of delightful doggie gifts from Animal Radio Network (including a KongTime - doggy day care in a box, The Poop Hound by Hound Dog and a New Puppy Kit from Planet Dog), bags from Sherpa Pet Trading, subscriptions and gift items from Bark Magazine, videos from Dog Trainer to the Stars Bash Dibra, a gift from DogCollectibles.com, books from author Darlene Arden, subscriptions to Animal Fair Magazine, books from author Cheryl S. Smith, pawsitively fabulous accessories from Purple Pebble (including LEEDZ 6-footer leashes, Buckle and Slip COLLARZ collars, FLEEZ Ravioli Fetch-a-Cinne toys and a FLEEZ Cuddle Mat) and more!
Contest judges were Dr, Kevin Fitzgerald, Animal Planet's "Emergency Vet" and Jen Greenberg, Pet Photographer.
http://www.De-LiciousTreats.com/ContestPhotos
Listen to the 1/2 Hour ABRIDGED VERSION Podcast of this show (#340).

View Animal Radio Network® Broadcast Schedule in a new window.


Listen to Animal Radio® - Go to the launch page


Return to Animal Radio Network® Home Page
Copyright 2006 All Rights Reserved Animal Radio Network LLC