June 4th 2005
Cesar Millan
Dog Psychology Center of Los Angeles


In the wild, a dog's survival depends on a strong, stable, and organized pack where every member knows its place and follows the rules established by the pack leader. The pack instinct is perhaps the strongest natural motivator for a dog. Cesar Millan teaches that to be an effective owner, you need to become your canine's calm, assertive pack leader. Cesar has an uncanny gift of communicating with dogs and seeing the world through their eyes. His celebrity roster of clients includes Will and Jada Pinkett Smith, Vin Diesel, Nicolas Cage, Ridley Scott, Michael Bay, Hillary Duff and, of course, their dogs.
Kim Sheridan
Animals and the Afterlife: True Stories of Our Best Friends' Journey Beyond Death


Do animals have souls? What happens when they die? This book offers some amazing answers
This subject has been the author's lifelong passion, and she has made it her personal quest to find the answers. Each time she faced the death of a beloved animal, along with the pain came the same questions, to which she could find no answers. Then, mysterious things began to happen which she could not explain. Along with her own extraordinary experiences, she compiled the amazing true stories of everyday people around the world.
Caroline Levin, RN


Living With Blind Dogs
Living With Blind Dogs is the only published resource book on this topic. It's full of helpful hints from hundreds of blind-dog owners: dealing with loss, causes of blindness, how dogs react to blindness, pack interactions, helping dogs negotiate the house and yard, training new skills, toys and games. It gives dog owners many positive things they can do to dispel their sense of helplessness when their dog is diagnosed with blindness. You don't want to miss out on this information if you have a blind dog or one who is going blind.
Tammy Senter, Farnam
Helping Your Newly Adopted Pet Adapt to His New Home -

Farnam Pet Products offers veterinarian- developed pheromones that can ease the transition of your newly adopted pet into its new home and surroundings. Comfort Zone® with D.A.P.® (Dog Appeasing Pheromone) and Comfort Zone® with Feliway® for cats are synthetic pheromones that naturally control and manage pet behavior associated with anxiety, fear, stress and phobias without drugs or electronic training devices.
Emily Yoffe
"What the Dog Did: Tales from a Formerly Reluctant Dog Owner"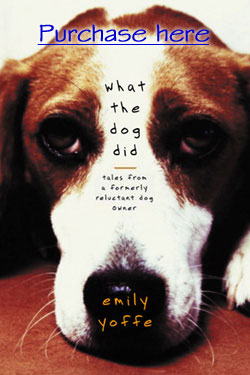 Journalist Yoffe recalls her entry into urban dog ownership-a life experience this former "cat person" thought she could avoid-in this witty memoir. Yielding to immense pressure from her husband and young daughter, Yoffe finds herself the main caretaker of a rather high-maintenance, rescued beagle, Sasha. Yoffe relates amusing tales of bodily functions gone awry and house-training incidents (beagles are notorious for having difficulty in this area), as well as vivid recollections of Sasha's behavioral training.
Nancy Janes
Romania Animal Rescue, Inc.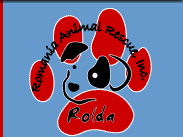 Our mission is to help the animals in Romania to live a full and content life. Presently we are working exclusively with ROLDA in Galatzi to help them to spay/neuter and shelter street dogs. We are committed to educating the public as to the value of animals (dogs) and setting up safe adoptable homes for those who are capable and no kill shelters for life care of those who are not adoptable. In one and a half years, we have helped establish one of the best shelters in Eastern Europe, and have helped countless dogs and cats (last count of spay/neuter dogs was 1000).
Darlene Arden
LIVE from International Association of Animal Behavior Consultants, Inc. (IAABC)
Darlene reports live from the IAABC Conference in Columbia Maryland.
Rae Ann Kumelos


Storybooks of Stone - Animals in Rock Art
On rock art from Norway to the Southwest, France to Peru, discover how the elements of earth are used to communicate the story and spirit of the animals who lived in the far distant past.
Listen to this show