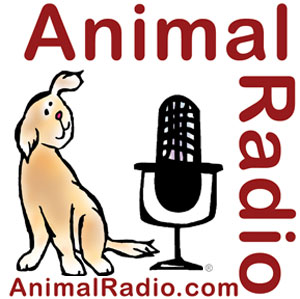 Animal Radio® Show #600 June 4, 2011
1,138 Pet Remedies Using Everyday Products
Joey Green, Amazing Pet Cures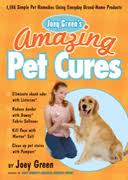 Joey Green, the guru of discovering extraordinary uses for ordinary household products, has ventured into the animal kingdom and returns with a host of pet care secrets in his new book, Joey Green's Amazing Pet Cures: 1,138 Simple Pet Remedies Using Everyday Brand Name Products. These creative solutions to everyday pet troubles utilize brand-name products that you probably have at home, so why run out to the store and spend a lot of money when you may have the solution right in your pantry!
While Green's pet solutions and suggestions are offbeat and imaginative, they are, in fact, highly effective. He also thinks of products you most likely already have in your home.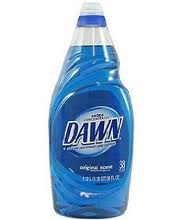 Take for example Dawn Dish Washing Liquid. This product is great for killing fleas. The way to get rid of fleas on your cat or dog is to give them a bath using a small amount of Dawn. Dawn kills fleas because fleas, like all insects, have exoskeletons, which means that they wear the skeletons on the outside of their bodies. The ingredients in Dawn penetrate that exoskeleton and kill the fleas immediately. If you give your pet a thorough washing with Dawn, you should be able to solve your flea problem. Now, you don't have to take your pet to the vet for a toxic chemical dip.
Another great product is pantyhose. You spend a lot of money on these and can sometimes ruin them the first time you wear them. But don't throw them out! When it comes to your pet, they are great for making an impromptu muzzle. For example, if you are bathing a dog who doesn't want to be bathed and who starts nipping, take a pair of pantyhose and cut off one of the legs and wrap it several times around your pet's mouth, not extremely tight, but just securely, and tie it behind their ears. The pantyhose is expandable, so you don't have to worry about stopping them from breathing.
Don't forget about condoms. If you have old condoms, again, don't throw them out. If your dog has an injured paw, you can use a condom as a booty to protect their paw while it heals. Just make sure that you use the un-lubricated type. And for explaining to your spouse why you have condoms – well, you're on your own!
Joey put a lot of research into his book and mentions also that people write to these companies all of the time with their unusual uses of the products. The companies never advertise this information because they have one main purpose for its use.
Some of the tips you will see in the book are how to:
* Remove carpet odors with Heinz White Vinegar
* Get rid of urine stains with Pampers
* Use Con-Tact Paper to prevent chewing through and injury from electrical cords
* Remove pet hair from furniture with L'eggs Sheer Energy Panty Hose
* Silence a squeaky hamster wheel with Pam Cooking Spray
These simple, quick shortcuts make caring for animal friends more fun than ever and let you live the good life with your pet!
Shelter Giveaway
Dr. Marty Becker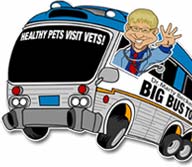 Dr. Marty Becker wants to give your favorite shelters and rescue groups more than $70,000 in pet products and supplies! To celebrate the release of his book "Your Dog: The Owner's Manual," and as part of his nationwide 30-city bus tour, Dr. Marty Becker — resident veterinarian on "Good Morning America" and "The Dr. Oz Show" – wants you to vote for a shelter or rescue group to receive prizes valued from $1,000 to $20,000!
They are giving away pet care products, supplies and equipment to shelters and rescue groups across the country, all donated by leading pet and veterinary product manufacturers.
The Shelter Giveaway Contest received more than 13,000 nominations, and 50 finalists have been selected at random from among them and will go on to the voting round. Until June 14th, you'll be able to vote for one of the 50 finalists, chosen at random from over 13,000 nominated shelters and rescue groups.
To vote, just go here (you have to have a Facebook account to vote).
Imagine what a shelter or rescue group could do with thousands of dollars worth of pet treats, food, grooming products, veterinary supplies, and toys.
Dr. Marty Becker, "America's Veterinarian," is the popular veterinary contributor to ABC-TV's "Good Morning America" and the resident veterinarian on "The Dr. Oz Show." He is a frequent guest on national network and cable television, and radio shows. He has also been interviewed for countless magazine and newspaper articles, and has served as a consultant to or veterinary spokesman for top animal health companies. Along with his writing partner, Gina Spadafori, he is a regular contributor to Parade magazine and the Co-creator of popular web site PetConnection.com You can also join Dr. Becker on Facebook as well as on Twitter.
Tropiclean Best Smile Contest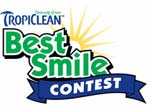 Your pet could be a winner! Share a photo of your smiling dog or cat and tell everyone why your pet has "TropiClean's Best Smile." You could win a $1,500 contribution to your favorite animal shelter plus a $500 VISA gift card and more for yourself – and there are new prize drawings every month! All entries must be submitted by June 30, 2011 to be eligible for the Grand Prize!
To submit a photo of your pet, visit www.TropiCleanBestSmile.com and create an account. Once registered, log in to upload your favorite photo of your smiling pet. Don't forget to let us know why your pet has TropiClean's Best Smile too! Got more than one pet to show off its smile? Go ahead and upload their picture too.

Dodge Journey Pet Destinations
What Is Your Favorite Place To Take Your Pet?
People who have pets love to travel with them. At Dodge, they have made it easier with their pet friendly vehicle, the Dodge Journey, which contains concealed storage bins, Chill Zone glove box cooler and second-row dual in-floor storage bins with removable and washable liners (very handy for muddy paws!) Call us with your favorite place to take your furry-friend: 1-866-405-8405.
This week's Dodge Journey Pet Destination:
Donna of Indianapolis like to take her dog to Broad Ripple Dog Park, which is located in the northern part of Indianapolis on Broad Ripple Avenue. It is along the Monon Trail, which is a bicycling/hiking trail. You can also walk to Broad Ripple, which is like a little European Village with shops where you can also sit outside restaurants with your dog. So after you take your dog to the park and run off all their energy, go to the Village for a little relaxation for you.
To view Past Dodge Journey Pet Destinations, click here.
Paw-Parazzi Pet Photo Contest
Steve Pinetti, Kimpton

At Kimpton, they love pets so much that they set out to find the cutest and most photogenic pet with the Kimpton Hotels Paw-Parazzi Contest, which recently ended.
They've had submissions from bunnies, chickens, turtles, a calf, cats, and dogs of every shape and size wearing sweaters, dresses, hats. They've had dogs dressed as bunnies, Santa and a prisoner. They've had dogs playing football, driving a car, running on the beach and riding a motorcycle. And apparently there are cats who love to have their photo taken while sitting in the toilet. They even had entries from many countries around the world. Who knew?
Tune in to Animal Radio in the next couple of weeks to find out who they selected as the winner of the Grand Prize which consists of: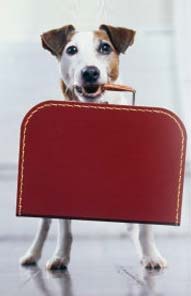 A two night stay at a Kimpton Hotel of the winner's choice
Two round trip tickets on JetBlue for human passengers
$500 credit for the photogenic pet on Pet Airways, a pet only airline
One $100 Kimpton Restaurant or in-room dining gift certificate
One in-room spa treatment for two
An Amelia Collection Carrier by Sherpa Pet Carrier
Use of pet amenities such as a dog bed, bowl, and treats

Visit kimptonhotels.com to view the runners up.
The Dogfather's Grooming Tip with Joey Villani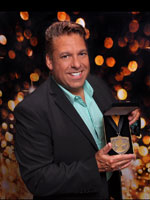 Keep Your Dog Smelling Clean and Looking Good Between Grooming
It's very easy to keep your dog looking clean and smelling good between grooming visits and the items you will need are probably already in your home.
You will need baking soda, a spray bottle of water, witch hazel and Vaseline. If you have lavender essential oil, you can use that as well.
First, mist you dog down with the water and brush through it. This will help to break down the dirt and oil. Next, you will need something to remove it. Sprinkle baking soda over your dog, which will absorb everything left behind. Because baking soda has good deodorizing properties, it will also remove any bad smells. You will then brush the baking soda through your dog's coat. Just make sure that you haven't applied too much water, or you are going to be left with a paste that will have to dry before you can brush it through. Make sure that your dog is standing on a towel while you are doing this so you won't make a big mess.'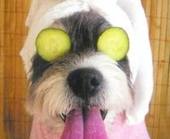 If you happen to have lavender essential oil on hand, put about 5 drops into a small bottle of spray water before you mist your dog down. This will give you dog a great smell without any harm.
While you are doing this, and if you happen to have a piece of gauze, wet the gauze and dip it in the baking soda. If your dog will let you, with your fingers run the gauze in their mouth and against their teeth. This will freshen their breath a little bit and will even clean their teeth. Doing this on a regular basis will help to keep their teeth under control and keep their breath smelling better.
You can also take witch hazel, apply some to a cotton ball and wipe out your dog's ears. If you do this on a regular basis, you should have less ear infections.
Lastly, take a little bit of Vaseline and rub it into their feet pads. This is especially good at this time of year with the arrival of summer and hot pavement. This will soften their pads and make their feet feel better.
These tips will make your dog feel better which should make you feel better!

DOGFATHER'S GROOMING TIP Brought To You By SeniorPetProducts.com. Use the code "SAVE25" to receive 25% off!
Animal Radio® News with Stacey Cohen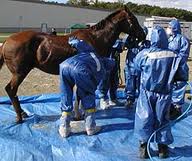 Equine Herpes Outbreak
An equine herpes outbreak has widened to include eight Western U.S. states, with 33 horses confirmed to have the highly contagious disease, the U.S. Department of Agriculture said. The outbreak comes just as the prime season for riding shows, with sales and rodeos starting, resulting in the forced cancellation of scores of horse events. All but one of the 33 confirmed cases involve horses that attended a National Cutting Horse championship competition held in Ogden, Utah, from April 29 to May 8, an event that health officials have identified as the source of the outbreak. Seven of the infected horses have died or were euthanized, according to the USDA statement. Equine herpes virus (EHV-1) is a highly contagious disease spread by horse-to-horse contact or through contaminated equipment, clothing and hands, officials said. Horses cannot infect humans but for the animals the symptoms of the virus include respiratory problems and hind-leg weakness, decreased coordination, nasal discharge and fever. Earlier this week, it appeared the outbreak had reached at least six states, but it was unclear how many horses were infected. In recent days some states increased their count of how many horses were sick with the virus. Two of the infected animals in Colorado and one in California were euthanized, officials said.

One Dog Per Household In China
Officials estimate that 800,000 pet dogs are living -- and barking and pooping -- in Shanghai, China, and apparently that's a problem for government officials responsible for keeping civic order. So, in an effort to curb the population and reduce the risk of dog attacks, they say a new policy of one dog per household has been put into effect. Although the policy was announced some months ago, dog owners rushed to have their pets licensed over the weekend in order to have multiple pets in a household grandfathered into the policy. But a report from China's State Media says animal shelters have been expanded in anticipation of an increase in pet abandonment now that the policy is in place.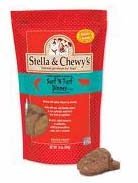 New Products For Your 4-Legged Friends
Wouldn't it be great if you could dine with your dog, so while you are eating surf and turf your buddy is too without having to wait for leftovers? Well The NYC pet show featured some really hot innovative products for your 4-legged friends. One is Stella and Chewys line of natural, raw dinners and treats for dogs. Their Dinner for Dog flavors includes a new Surf 'N Turf. All of their meat, poultry and fish are sourced from USDA-inspected facilities, without added hormones or added antibiotics. No grain, fillers artificial preservatives or colorings are used. They don't even add sugar or salt.
False Pregnancy?
Scientists at the National Zoo say they have detected a rise in hormone levels in the female giant panda, Mei Xiang (may-SHONG) that could indicate she may give birth or end a false pregnancy by early July. The zoo said Tuesday that the hormone rise isn't enough to know whether Mei Xiang is pregnant. Zoo veterinarians have been conducting ultrasounds twice weekly, but they have not yet detected a fetus. Scientists say panda fetuses don't start developing until the final weeks of gestation. A Chinese panda-breeding expert helped zoo scientists artificially inseminate Mei Xiang in January. She and panda Tian Tian (tee-YEN tee-YEN) had attempted to mate but weren't successful.
California Updating Their "Vo Cab"
This new legislation would change the term "pound" to "animal shelter" and the term "destroy" to "euthanize." In twenty different places throughout California state law, the word "pound" is used to describe animal shelters and their operations. "Pound" was a common term decades ago, when most of the laws were written, and reflects an outdated emphasis on animal control as contrasted with today's balance between animal control and animal care. Across the state, California animal shelters provide essential life-saving services, and the word "pound" does not accurately encompass the extent of their work. Similarly, California laws referring to euthanasia in cases of dire animal suffering as "destroying" an animal also are outmoded. AB 1279 would remedy this to reinforce the state's commitment to the humane handling and treatment of animals in distress.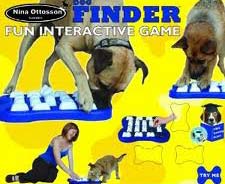 Make Your Dog Smarter
You know how they have games to teach babies to read and stuff listen to Mozart to make them smarter? Well, the NYC pet show had an awesome interactive game Suitable for all breeds and sizes of dogs, the Nina Ottosson interactive games are designed to keep pooches mentally active while reinforcing a special canine-human bond. Some games are even feline friendly.

Solving these brain-games requires mental, as well as physical, dexterity to work through the challenges and reveal hidden food rewards.
The Nina Ottosson Dog Tornado was awarded a Lifestyle Innovation Award at Pet Fashion Week New York 2010 and the Nina Ottosson Dog Finder was selected as Editors' Choice product in 2010.
The Company of Animals is founded by highly acclaimed UK pet behaviorist Dr. Roger Mugford, the U.K.'s leading specialist in dog behavior and training products, so your dog can have fun and learn at the same time.
Not every dog can be as smart as a border collie but we can certainly attempt it!!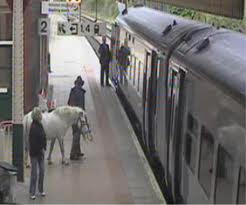 Man Tries To Board Train With Pony
There's no time for "horsing around" when you want to ride the train. The Daily Post says a man in the U.K. tried to bring his pony with him when he went to board a train. When he wasn't able to purchase the animal a ticket, the man reportedly snuck the pony onto the platform and attempted to put him on the train. He was eventually stopped by a conductor and, after a brief argument, the man and his pony left. One witness says everyone was surprised by the man's behavior, adding that the entire incident appeared to be a prank. A spokesperson for the train company says that while they allow small animals on board, a pony would "pose a risk to the general public."

NEWS UPDATE Brought To You By PetzLife.com

Listen to the entire Podcast of this show (#600)

indicates XM Satellite Radio and Podcast versions only.