Animal Radio® Live Broadcast from the San Diego Humane Society Adoptathon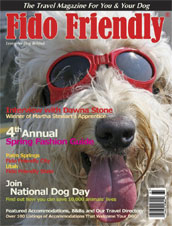 Sponsored by Fido Friendly Magazine and Animal Instinct - The Novel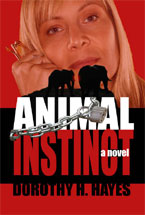 Adoptathon - Finding Homes for Pets from the Love Train and Katrina - Dr. Mark Goldstein, President San Diego Humane Society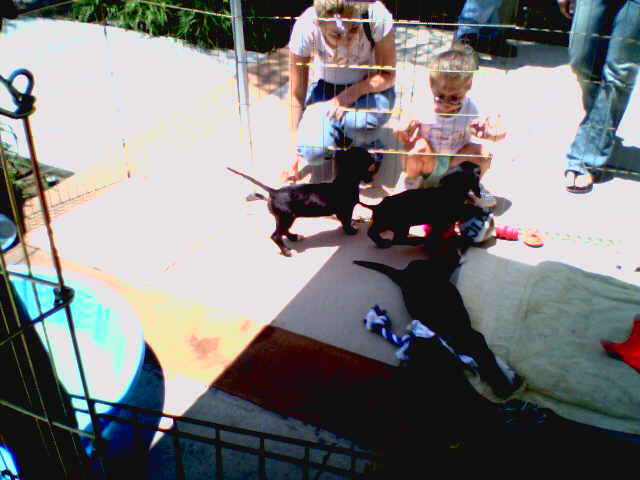 The San Diego Humane Society celebrated their biggest Adoption Event of the year. San Diego is a big animal community, with dog beaches, dog parks, and the San Diego Humane Society reflects that feeling. It is set up where animals live in habitats or apartments instead of cages.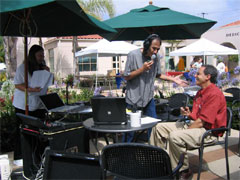 SDHS recently brought in over 55 puppies and 36 adult dugs on the "Love Train" where the animals were transported from Biloxi, Mississippi. Many homes were destroyed during the Katrina hurricane and people couldn't keep their animals. Unfortunately, spaying and neutering was not widely practiced. All animals are either spayed or neutered upon entering the San Diego Humane Society and micro-chipped.
The SDHS also sponsors kid camps and birthday parties. Their day camp has over 400 kids registered for the summer. Studies show how we learn to treat animals growing up translates into how we treat each other ­ we become more humane in our world. One way to do this is to teach kids that animal have feelings and feel pain. There are a lot of lessons animals can teach us by how they treat each other and how they treat us.
The SDHS has over 525 active volunteers - a job for everyone.
http://www.SDHumane.org
Selecting the Right Animal - Arden Moore, Special Correspondent
Think about the time you spend in buying a car - you devote a lot of energy. And an animal is with you longer than your average car. So, spend some time and go beyond looks alone. Chose an animal with a temperament that matches your lifestyle. If you have a busy house with kids, don't get a shy, submissive Persian cat. Get a high energy dog like a Jack Russell mix or a Main Coon cat,
Make sure your new pet has his own area. A crate or pet bed are great items to have. When you bring home a new animal you don't want to let it have free roam of the house. Introduce them room-by-room. Go slowly and have everyone in the family follow the same guidelines with the new arrival.
Arden Moore is the editor of Catnip Magazine, which is a monthly issue through Tufts University. There are no advertisers ­ it is sort of like consumer reports for cats. Everything is reviewed by the advisers of Tufts, and there are 4 pages of product reviews each month by test cats. To subscribe visit catnipeditor@tufts.edu.
http://www.ArdenMoore.com
Betty White - Pet Advocate First, Actress Second.


When one thinks of celebrities and animals, one can't help but think of Betty White. They go hand in hand. Or paw in hand. That's because Betty White is as passionate about animals as she is about acting, which is the other reason we know and love her. A member of the Television Hall of Fame and six-time Emmy Award winner for her roles which have included The Happy Homemaker on The Mary Tyler Moore Show and Rose Nylund on The Golden Girls, this busy actress has been a part of television since 1949. Her love of animals, however, started long before that.
Animal Investigations - Zachary Shalit, SDHS Chief of Investigations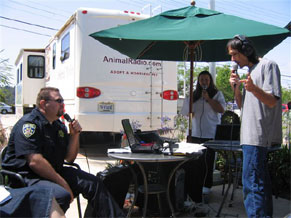 Zachary Shalit is the Chief of Investigations for the San Diego Humane Society. The department has a staff of 10 members. These "Animal Cops" investigate approximately 200 cases per month of animal cruelty complaints. The most common complaint is lack of shelter and then food and water. The investigators go out and meet with the person involved and check out the animal and decide whether it is a situation where they can educate the person or if a crime has been committed and they need to investigate. They also talk to the public and educate them on how to better raise animals with food shelter vet care. One of their departments is the Animal Rescue Reserve Program. Several of these teams went to Louisiana during hurricane Katrina. The Animal Rescue Reserve trains with the SD Fire Department to do airlifts of animals, such as horses and livestock, to get them out of hazardous situations.
Behavior & Training - Morgan Bartell, SDHS Manager of Behavior & Training
As most organizations, the San Diego Humane Society receives a lot of animals that maybe haven't had any kind of prior training. They then work with these animals to make them more adoptable. The most common behavior problems with dogs are jumping and knocking over people, digging, chewing and barking. As long as you are consistent it doesn't take that long to correct a behavior. They also work to change behaviors in cats. Many of these cats are fearful, and they work with them to show them that good things come from hands.
Ultrasound Technology in Veterinary Medicine - Dr. Jim Humphries, Veterinary News Network


Flip the switch, squirt on some gel and give old Sparky a friendly pat. A few minutes from now your veterinarian might be able to diagnose a problem with your pet. Increasingly, veterinarians are adding diagnostic ultrasounds to their offices as the technology improves. It used to be only used by specialists, but now more general practice veterinarians have the machines. The machines allow your veterinarian to get near instant feedback without hurting the animal. It also allows the doctor to capture the images, which means they can e-mail the footage to a specialist and get a quick second opinion.
http://www.VetNewsNet.com
Talk With Your Animals - Joy Turner
Daisy is a very talkative female cat. Her guardian wants to know if she is trying to tell her something. Joy states that the cat wants her guardian to learn how to communicate with her. This will add a new dimension to both their lives.
http://www.TalkWithYourAnimals.com
Pocket Pets - Sarah Whorley, SDHS Marketing Communications Coordinator/Small Pet Guru
Pocket Pets, such as guinea pigs, are great for first time pet parents. They are not freely

roaming like a cat or a dog, so you won't have the problems with chewing or scratching, etc. They are also low maintenance. Pocket Pets are basically small animal pets, such as guinea pigs, rabbits, rats, mice and hamsters. Chances are if you are allergic to a cat or a dog, you will not be allergic to guinea pigs. Female guinea pigs are not spayed because their organs are so close to their spine the surgery is too delicate. However, the males are neutered. Guinea pigs are very calm great for kids. Rabbits are a little harder for a child to pick up and hold, and usually don't like to be held.

Snakes. Why did it have to be snakes? - Rae Ann Kumelos, Voice of the Animal
From the Garden of Eden to the countryside of ancient Greece, snakes have had a tough time keeping up their reputation. In this true story about catching rattlesnakes, explore the rich and divine heritage of snakes throughout the ages. http://www.VoiceOfTheAnimal.org
Howling Dog Saves Family from Fire - Britt Savage


A newly adopted dog's noisy barking alerted a sleeping family that their home was on fire, allowing them to escape the blaze with only minor injuries. John Cramer, 54, and his wife, Cheryl, 44, were in their second-floor bedroom when he heard the dog howling around 6:30 a.m Sunday, authorities said. When he went downstairs to comfort Toby, a Norwegian elkhound who had been with the family for just two weeks, he saw flames creeping up the walls from the basement. As the smoke thickened inside the home, Cramer opened the crate to free Toby and then ran upstairs to rouse his wife and their 9-year-old daughter, Lee.
Investigators believe the fire began in the basement near an electrical outlet, and they were trying to determine if a faulty circuit sparked the flames. The fire had been burning for about 30 minutes before it was discovered and caused severe damage to the home, authorities said.
Listen to the 1/2 Hour ABRIDGED VERSION Podcast of this show (#341).

View Animal Radio Network® Broadcast Schedule in a new window.


Listen to Animal Radio® - Go to the launch page


Return to Animal Radio Network® Home Page


Read June Newsletter
Copyright 2006 All Rights Reserved Animal Radio Network LLC