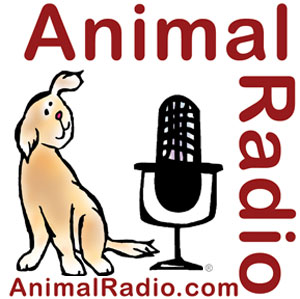 Animal Radio® Show #549 June 12, 2010
New Solutions For Old Problems
Dr. Marty Becker, "America's Veterinarian"

According to VPI (Veterinary Pet Insurance) the top three claims last year all had an allergy component. For example, 80% of ear problems, and 80%of anal glands problems, have an allergy component.
Humans who have allergies end up with runny noses, runny eyes and sneezing. But with pets, they lick, they scratch and they chew. By doing this, they penetrate the skin and end up with either fungus or yeast or even a bacterial infection.
In the past, veterinarians would give these animals steroids. Now, it is recommended that you bathe your dog at least once a week. Forget the old wives tail that frequent bathing is bad. Most of the allergies are environmental allergies, such as dust mites and pollen. Think of your dog as a swiffer sweeper with four legs. It picks up all of this stuff from the floor and also inhales it from the air. It even licks it and ingests it. If you have an at risk breed, such as a pug, you might want to bathe them or use wipes on them daily during the peak season.

There is also the new class four laser to treat hot spots, sore ears and arthritis. This laser works at a cellular level and a series of four treatments costs around $150. Most pet insurance companies cover this treatment. Follow up usually consists of a treatment once a year.
Dr. Marty Becker, "America's Veterinarian," is the popular veterinary contributor to ABC-TV's "Good Morning America" and the resident veterinarian on "The Dr. Oz Show." He is a frequent guest on national network and cable television, and radio shows. He has also been interviewed for countless magazine and newspaper articles, and has served as a consultant to or veterinary spokesman for top animal health companies. Along with his writing partner, Gina Spadafori, he is a regular contributor to Parade magazine and the Co-creator of popular web site PetConnection.com You can also join Dr. Becker on Facebook as well as on Twitter.
Food Safety Is Their First Priority
Marie Moody, Stella & Chewys

If you are a regular listener to Animal Radio, then you've heard us talk about Stella & Chewys. Ladybug, the Animal Radio Stunt Dog, is very loyal to Stella & Chewys and will even lead us to the cupboard where she knows it is stored.
We talk to Marie Moody, the Founder of Stella & Chewys. She tells us that the origin of Stella & Chewy's traces back to an animal shelter in Los Angeles. Marie rescued Chewy (a real dog with serious health problems) from the shelter and upon a veterinarian's recommendation, put him on a natural, raw meat diet. To her amazement, Chewy was well on the road to recovery within days. Stella, Chewy's best friend, also thrived on this diet.
This experience taught Marie that wholesome, less-processed food (and a lot of love) can dramatically improve a pet's health. But the more she learned about animal nutrition, the less she could understand why there wasn't a commercial product as good as what she could make at home. So with the help of several veterinary nutritionists, Marie developed Stella & Chewy's raw diets.

Stella & Chewy's starts with only wholesome ingredients like raw, USDA-inspected meat, raised naturally with no added hormones or antibiotics. Vitamin and mineral supplements are added to meet AAFCO nutritional profiles. Chewy's Chicken Dinner for dogs, for example, contains farm-raised chicken as the primary ingredient plus organic cranberries, spinach, broccoli and beets. And just like every Stella & Chewy's dinner and treat, it's made without grain, fillers, artificial preservatives or colorings – not even sugar or salt are added.
Food safety remains a serious issue for American families. Not only are we concerned about the food our family eats; we're also concerned about the food we feed out pets. Stella and Chewys has taken in innovative approach to ensure that their dinners and treats are safe for both families and pets while still delivering the high nutritional value dogs and cats need to thrive.
The Dogfather's Grooming Tip with Joey Villani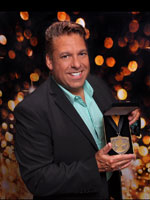 How To Trim Your Pet's Nails
Pets pick up on our feelings. So when approaching your pet to trim their nails, make sure that you approach them with a non-nervous attitude. If you are nervous cutting your pet's nails, they will sense it and not cooperate.
If you are using a nail clipper, find one that is a guillotine or scissor style. In the guillotine style, the blade goes up and down, while the scissor style cuts like a regular pair of scissors. There is also the new grinder type that will file the nail down. Use the one that you are most comfortable with. Also have styptic powder on hand just in case your cut the quick (vein) and it bleeds. This will burn, so before you use it, you should try it on yourself (if you have a cut) to see what it feels like. If you can, have someone help you by holding the pet and controlling their head while trimming the nails.

For your first cut, take a little bit off. After you take a little bit off, look at the nail, and if it is a clear nail, you can actually see the quick itself. It is inside the nail and a light pink in color. You want to get as close to it as possible without making it bleed. If you are cutting a black nail, take off a little bit and look at your cut. The center will become white. You are going to cut off a little at a time until you see a black dot coming through the white center. When you see this, this is the beginning of your quick, so stop cutting. The reason you want to cut it back until you see the black dot, is that when you get this close to the quick, it will pull back and recede. This means that in the future when you cut your pet's nails; you will be able to cut them shorter each time.
As an alternative, if you take your dog for a fast paced walk on pavement, about one mile five times a week, your dog's nails will never need to be cut. Not only will this keep you in good shape, it will also keep your dog and their nails in good shape.
And as a last resort, have your veterinarian or groomer do the trimming.

DOGFATHER'S GROOMING TIP Brought To You By SeniorPetProducts.com
Animal Radio® News with Bobbie Hill
Government Agency Ignores Violations Against Animals
The government agency in charge of enforcing the Animal Welfare Act ISN'T, according to an internal report. Investigators say the Dept. Of Agriculture agency ignores repeated violations at large kennels known as puppy mills, does not adequately document inhumane treatment of dogs and waives penalties. One case cited by investigators showed 27 dogs died at a breeder in Oklahoma City after inspectors cited it for violations. Current Agriculture Secretary Tom Vilsack said the report will be taken seriously and violations that occurred before his time in office are troubling. Vilsack said the department will take immediate action to improve inspector training and enforcement.
Top 10 Summer Safety Tips
Just in time for summer, the Humane Society of the United States has released the top 10 Summer Safety Tips... 1. Never leave your pet alone in a car 2. Make sure your pets' vaccinations are up to date 3. Keep cats indoors 4. Beware of cocoa mulch 5. Don't let your bunnies get too hot 6. Don't leave your dog chained up outdoors unattended 7. Be sure to safely restrain your pet inside your car 8. Dogs need sunscreen too! 9. Keep your midday walks short for dogs on hot days. 10. Be kind to wildlife - don't let your pet harass the local birds, etc.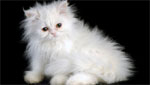 How NOT to Wash a Kitten!
A family in Sydney learned how NOT to wash a kitten - in the washing machine! The Rogers family's 4-month-old white Persian kitten Kimba accidentally got thrown in the washing machine after falling asleep in the laundry basket. She survived a high level spin cycle from the front-loading machine and tumbled out soaking wet and dizzy! Kimba was rushed to the vet where she was treated for hypothermia and irritated eyes from the detergent. Mr. Rogers said, "It is just amazing that she survived but we reckon she's used all of her nine lives."
New Law Against "Crush Videos"
Legal update - remember back in April when the United State Supreme Court struck down a law banning "crush videos" due to First Amendment Rights. Now two congressmen have introduced legislation certain to pass free speech protection while protecting animals. The two bills introduced by Representatives. Gary Peters - democrat from Michigan and Republican Elton Gallegly of California, will confine the illegal act to making or selling crush videos, according to the L.A. Times. While all 50 states currently have laws against animal cruelty prosecutors say it's nearly impossible to eliminate the crush videos because they have no location, dates or faces associated with the acts. The new laws provide a way to prosecute by banning the sale.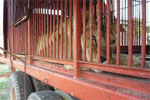 Barker Funds Freedom Flight for Lion Cubs
Thanks to the long time host of the Price Is Right, four lion cubs have arrived in California from South America. Bolivia has the world's most comprehensive ban on circus animals and with the help of Animal Defenders International, freed four lion cubs. The law in Bolivia bans all animal displays in circuses. The mother of the cubs was not healthy enough and had to be euthanized but thanks to Bob Barker who has funded their flight to freedom and retirement, the cubs will live at a habitat of the Performing Animal Welfare Society.
"What's In Your Wallet?"
There's a new answer to the question "What's in your wallet." According to a recent Petside.com/Associated Press poll, 45% of pet owners carry pics of their pets not only in their wallets but also on cellphones, laptops, iPads & Pods. The survey revealed dog owners are more likely than cat owners to carry pictures and more than half of respondents under the age of 50 say they carry pet pictures.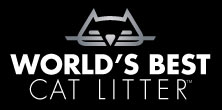 NEWS UPDATE Brought To You By World's Best Cat Litter™
Listen to the entire Podcast of this show (#549)

indicates XM Satellite Radio and Podcast versions only.