Animal Radio® Show #445 June 14, 2008


Gary Burghoff - M*A*S*H


The role of "Radar" on M*A*S*H was tailor-made for Gary because of his obvious love of animals and his extraordinary personality. Remember Radar's zoo in M*A*S*H? This theme originated from his real life Animal Rehabilitation Clinic in Southern California where he nurtured and cared for many species of birds such as the brown pelican, and many other animals including opossums, grey squirrels, raccoons and abandoned creatures needing Gary's special and tender-loving care. In fact Gary, once known as the "Bird Man of Malibu", was licensed by the State of California to care for wounded animals.
When Gary was growing up, he had a lot of close friends. But the ones he went home to everyday after school were his animal friends, his dog Patch and cats Flippy, Buttons & Bows. Gary states that animals have a way to bring people together and keeping them connected. Many years ago Gary was asked to judge a duck-painting contest. After three days of judging, he was inspired and he decided to create his own wildlife art, which you can find at http://members.aol.com/ArtByRadar.



Vladae, The "World Famous" Russian Dog Wizard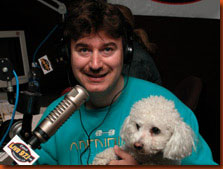 Vladae tackles dogs that attack other family dogs. Maybe they will never be best friends, but Vladae can teach them how to get along.
He also helps a caller who has a male dog that has been neutered, but he still has those "desires" with other male dogs. Vladae offers some great suggestions on how to curb this unwanted behavior.
And, do you have one of those possessive dogs, you know the one who won't let anyone near your vehicle or you? Listen for some awesome tips from Vladae on how to retrain the possessive dog.
http://www.911dogwizard.com



International Animal News with Kaye Browne, Pet Talk Radio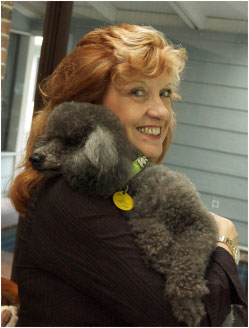 Sometimes rescuers need a little help themselves
In the UK, the tables were turned when a St Bernard, commonly associated with saving people, got into a spot of bother on British beach and had to be rescued by the Cornwall Coastguard. Arnold, a 95 kilo St Bernard-cross mastiff-cross hates the water, but followed another dog down steps to a beach, but got cut off by the rising tide. It took six burly lifeboat men to wrestle the podgy pooch into a fishing net and carry him to safety on the lifeboat. It's not the lifeboat group's only animal rescue ­ in the past 12 months they've saved 40 dogs, five horses, four dolphins and 11 sheep.
Japanese parrot tells name and address to rescuers
A Japanese parrot, which escaped from his home, did exactly as he'd been taught when strangers tried to help him, he recited his name and address. But he didn't spill the beans to the cops who initially took him into a police station. It was only when he was taken to a vet clinic that the bird announced, " I'm Mr. Yosuke Nakamura". The clever African Grey also gave his address before entertaining staff with songs, until the real Mr. Nakamura arrived to take him home.
Sniffer dog fails to find stash ­ passenger unknowingly carries it on plane Japan's drug detection officers planted some cannabis in a suitcase chosen at random to make detecting the drug more realistic for his trainee sniffer dog. Oops. The sniffer dog failed to find the stash and the officer couldn't remember which bag he'd picked, meaning some unsuspecting passenger flew into Tokyo carrying 9 thousand dollars worth of cannabis compliments of customs officials.
British man saves dog from moving train
A British university student suffered serious friction burns when he saved a small dog from certain death after the pup's lead was caught inside a moving train. Dar Pardon was on his way home from a Pink Floyd concert and had just got off a train when he spotted the pup being dragged along the platform. Despite onlookers warning of the danger, the 18 year old snapped the nylon lead with his bare hands, getting first degree burns for his efforts. Police later reunited the pup with its owner, who'd fallen asleep on the train and had contacted authorities fearing the pup was dead on the tracks.
Ex-wife of Beatle says get healthy without meat and drink dog's milk
The ex wife of Beatle Sir Paul McCartney has taken her promotion of veganism to a whole new level in a new book on how to get healthy without meat. Heather Mills reckons the world would be better off without cows, and that she has the perfect cure for global warming. The former Mrs. McCartney suggesting we drink dogs milk, or her personal favorite, rat's milk. Listen to Current World News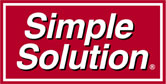 NEWS UPDATE Brought To You By Simple Solution Natural Line Of Products

Dr. Jill
This week, Dr. Jill tackles a common question from elderly dog owners, "As my dog ages, is it normal for him to have tumors over his body?"
She also tries to decide if a dog that is biting his backside has fleas or perhaps it's allergies? Find out how you can tell the difference.
And have you ever wondered how often to clip your animal's nails, if ever? And what about the dew claws ­ should you trim those? Listen in for some great advice that will finally solve this age-old question for you.

Dr. Jill Richardson is the resident veterinarian at Zootoo.com. She would like to share some videos of Tank, the cutest dog ever, and her "Crash Em'Up hamster Bare.



Why Do Goldfish Die When You Go On Vacation?
Vinnie Penn, The Party Animal


Why is it that your goldfish always die when you go on vacation? You know what I am talking about! You've taken care of them all year, you're six, and you've managed to keep them alive for the past year. And yet you go away for a week, and either (a) come back to the sob story of the year from some relative you never see or a friend of your mother's who was given the job of feeding the fish or (b) to a fish that doesn't look remotely like Pokeman, the fish that you left the week before.
If you are going to care for your friend or family member's child's fish, take a look at him. If you are going to choose to starve him for a week and figure on replacing him because you are a cold callous person, and mom has overlooked that fact during the hiring process, you should still take a look at him so you know what you are replacing him with. Nothing worse than a six-year-old to come back and find his goldfish that has been replaced with a piranha.
So, if you are going to murder the goldfish, replace it with a goldfish! Isn't that a crazy concept? But, I don't know what it is. Every time the fish die, we think Grammy overfed him. Well, I can believe that, as Grammy overfeeds me every time I stay with her. But, I didn't know you could really die from that. That's always the excuse - that your goldfish was overfed.
Now this comes from a real place. When I was six or seven years old, I had two goldfish, Cheech & Chong. When I came back, there was just one big fat fish in the tank. Not two, one ­ big fat fish, clearly different fish, in which my brother of course, in a continuing effort to torment me, informed me that Cheech had eaten Chong. But I still didn't buy it, since it wasn't even the same color. It took me years to unravel the mystery.
All of us have that long-standing pet incident from our youths that have taken years to uncover what really happened. It took years for my mother's best friend Linny to say, "Look, the fish died and I didn't know what to do. I had missed a day and I just went and bought you a new fish. Wasn't that nice of me?" The classic, "What about me?" "You know, I felt terrible." "Here you were my best friend's son and I killed your fish, what about me?" And, you're sitting there like, uh, but what about Cheech & Chong?



Unexpected Vet Bills
Dr. Jim Humphries, Veterinary News Network


Pet owners love to spend money on their pets, no question about it. But what happens when a car hits their dog or their cat needs an emergency surgery?
Advances in medical care for pets have made miracles possible, but it also comes with a great price. What are the options to help with these unexpected pet costs? Between the Untied States and Canada, pet owners will spend more than 45 billion dollars on their four-legged family members. But a specific trauma event or a serious illness can devastate personal finances or potentially lead to heart wrenching decisions. Fortunately, the availability of pet insurance, pet health savings plans and even credit cards for pets will help some owners keep their pets around a little longer.
The problem, consumer advocates don't think this is a good plan. Pet insurance is not a brand new idea, and actually it has been around for more than 25 years. In general, you pay the veterinarian for the services that are done and then submit a claim to the company. After deductibles are applied, the pet insurance company will send out a check based on the type of plan you have. Although you wont get 100% of your money back, it certainly will help ease the financial burden.
But some consumer advocates don't agree. Consumer Reports has stated that insurance is only beneficial if something catastrophic happens to your pet. They recommend placing the premiums into a savings account instead. Veterinarians as a whole have not been overly receptive of pet insurance over the years either. Many become afraid that the managed care system might burden the process with paperwork, and some fear being disappointed by the pet insurance denial of claims.
Jack Stevens, founder of Pets Best Insurance, has other thoughts. He says medical problems don't wait until you've saved enough money and then stay within the savings that you've accumulated. Jack also points out that Americans are not known to be good savers. If only a few pet owners are utilizing some sort of pet insurance or savings plan, what are the other options?
Fortunately, for some pet owners Care Credit may be the solution. Care Credit offers several flexible payment options that allow clients to make payments over several months. But, like other lines of credit, interest rates can skyrocket if the balance is not paid within a specific time.
The advances in veterinary medicine over the past few decades have been absolutely amazing. But, there are costs associated with the life-saving skills and all of that high-tech equipment. If your pet suffers a traumatic injury or has a very serious illness, make sure you understand the costs as well as the procedures. Talk with your veterinarian about the options that are available to you to pay the bill and be pro-active in planning for your pet's healthcare.
http://www.VetNewsNet.com



Pet Cremations Made Into Jewelry
Britt Savage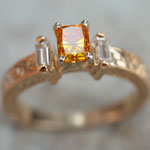 Oh, what a beautiful ring! Is it a diamond, a sapphire- a cat! Cat owners are getting creative with pet cremations. While most owners go for the traditional grave in the backyard or a cremation urn, some owners are having their pets made into jewelry.
Paperweights, crystals and jewelry have all been created by Life Gem, a company that can turn a doggy into a diamond for about $2,000 to $25,000.00. There's also Floramorial, a company that makes soil that converts cremated ash into a planting medium to grow a memorial flower.
Other owners opt to keep their pet's ashes in a thumb-sized urn so they can take it with them wherever they go. You can even get a huggable plush toy filled with your pet's ashes.
It's all just a way of showing that dog is man's best friend, or maybe diamond's are a girl's best friend, or maybe a little of both!



Top Money-Saving Strategies for Dog Owners
Amy Ammen, Hip Ideas for Hyper Dogs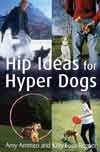 Dog ownership can be prohibitively expensive ­ but it doesn't have to be. The budget-conscious owner can save a bundle by being a smart shopper over the life of his or her dog.

Selection
Look for a dog that's available "free to a good home," or adopt from a shelter with low adoption fees of, say, under $200 for a puppy or $100 for an adult.
Ask if the dog is up-to-date on medical basics such as vaccinations, worming, spaying or neutering. If not, factor these costs into the equation.
Inquire about freebies, such as collar, leash, bed, gates, dishes, kennel, food, even heartworm preventative.
Consider asking a professional to temperament-test the dog before making a commitment.
Training
Do not give your dog unsupervised freedom until he's proven himself trustworthy.
Puppy-proof your home to keep temptations out of reach; you'll avoid the need for replacing items as well as the potential for costly emergency surgery.
Speak with and observe a prospective trainer in action to avoid wasting money on training methods that you disagree with.
Go with group classes, using private lessons only as needed.
Don't send your dog away for training; it's expensive, and doesn't teach YOU how to bring out your dog's best behavior.
Services
When your vet recommends an expensive test or treatment, ask, "Is this really necessary?" "Do I have to do it right away?" "What are the pros and cons?" "Is there a more conservative approach?"
Price-shop for medications if your vet will give you a prescription.
Learn to do maintenance grooming yourself between professional appointments.
Avoid dog day care. Instead, form a community with neighbors, coworkers and relatives.
Supplies
Don't cut corners on food; avoid generic and grocery store brands.
Feed dry food to reduce waste and the tendency toward finicky eating habits.
Don't feed treats at all. If you must, offer chopped veggies, cereal or kibble.
Avoid cutesy, poorly constructed toys and equipment. Instead, choose sturdy and practical items.
For money-saving suggestions on training, quick energy burners, grooming and trouble-shooting tips, Ammen recommends consulting her book Hip Ideas for Hyper Dogs.
http://www.dogclass.com



50-Year-Old Turtle Returns Home
Ray Stenson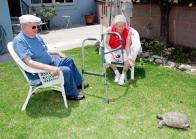 Little Joe, the beloved pet desert tortoise of Ray and Alzo Stenson, has been a family pet for over 50 years. Until recently, when he went missing. Little Joe escaped from a gate that was left often and was missing for about two weeks. It appeared that Little Joe was "turtle-napped."
A woman driving by saw Little Joe and thought he was her turtle, so she picked him up and took him home. She then saw a story of Little Joe in the Whittier Daily News, and called the Stensons.
"I was surprised to get the call from the woman who took him," said Stenson. "We really missed him."
Ray states that Little Joe is not quite himself yet, and is moving around a little more slowly. But, he is still enjoying his favorite meal of grapes, lettuce and hibiscus flowers.
The Stensons have vowed to make sure that the gate is always secured in the future, as they don't want to lose him again.

Camera Installed for Zebra Birth Destroyed by Giraffe


Britt Savage


Days before the birth of a baby zebra at England's Noah Arks Zoo, reporters from the BBC installed a streaming web cam so animal lovers from all over world could witness the zebra birth on the Internet. Unfortunately, the camera was destroyed by the 18-inch tongue of Gerald, a giraffe in a neighboring pen. Zoo owner Anthony Bush explained that giraffes are notorious lickers, and they often lick the ankles of zoo visitors. He said, "I do apologize for Gerald, but he couldn't help it. He couldn't believe his luck. He saw an amazing web cam fruit within licking distance ." A new camera has been installed, but this time it's six feet up.


Truckers Pet Transport


Sue Wiese, Operation Roger Truckers Pet Transport (ORTPT)


It is a sad fact that each year, millions of healthy, adoptable animals are admitted to animal shelters or are taken in by animal rescue groups across the United States. Many of these animals are adopted into new homes, but many others are not so fortunate.
It is also a fact there are thousands of homes who would adopt many of these animals, but how do you get a dog in Alabama to a new home in New Hampshire? How do you transport a cat in California to it's forever home in Florida?
Many would dread a 500 mile or more drive, but for us, it's another day at the office- We are Operation Roger... Truckers Pet Transport.
Many times, an adoption agency has a client in a far away location who is ready, willing and able to adopt a pet, but cannot figure out how to transport the animal to it's new home.
It is also a fact that every day and night, tractor/trailers are rolling up and down the nations highways, heading to far away places hauling the freight that we all depend on. Operation Roger serves the animals as the trucks serve the economy while saving everyone interested in helping pets while saving valuable resources.
Operation Roger is a 501(c)(3) non-profit organization comprised of regional and long-haul truckers who volunteer our time to share our love of animals with people who run animal shelters or animal rescue groups who are trying to save the lives of pets. It was started by Sue Wiese in memory of her Manchester Terrier in September 2005 in the aftermath of Hurricane Katrina. If you are a trucker and would like to help, visit www.operationroger.rescuegroups.org, or call Sue Wiese at: Sprint/All Callers 682-622-1172; Verizon 817-602-6547.




"What Is Your Most Outrageous Pet Cleaning Problem" Contest
What is your most outrageous pet cleaning problem? Perhaps your dog got into something he shouldn't and got sick, or your cat has left you little hairball presents all over the house.

Call us at 866-405-8405 with the worst pet cleaning problem that you have ever had to face. One listener per week will receive a gift basket valued at $70 (retail) sponsored by Simple Solution.
The gift basket includes a Stain and Odor Remover for all surfaces and pet messes in your home - even the most outrageous pet messes!
You'll get:
Simple Solution® Stain and Odor Remover - the original - for everyday pet messes,
an all-natural pet stain and odor eliminator,
a carpet pre-treat product for tough stains,
a specialized Hardfloors cleaner,
an oxygen activated remover with the power of orange,
and to top it off, a U.V. Spot Spotter™ Urine Detector.
Call us now at 866-405-8405 and tell us your worst pet cleaning problem!
Listen to the entire Podcast of this show (#445)

Broadcast on XM Satellite Radio and Podcast Versions Only.

Listen to Animal Radio® - Go to the launch page
Return to Animal Radio Network™ Home Page
Read June Newsletter
Copyright 2008 All Rights Reserved Animal Radio Network LLC