June 16, 2007


Dr. Joyce Brothers
When Pets Come Between Partners


Dr. Joyce Brothers is a noted psychologist, columnist, author and one of America's 10 most influential women. Her legendary books have been translated into 26 languages, with her daily column appearing in more than 175 newspapers. Hear what Dr. Joyce Brothers has to say about pets coming between partners.

See the results when Dog and Cat owners were asked: What disturbs you most when sleeping and how often does your pet sleep in bed with you at home? http://www.animalradio.com/sleepingdogs.html
Exploring the World on Horseback
Darley Newman, Equitrekking


Darley Newman is an equestrian travel expert, who searches the globe for the best in horseback riding travel. As the host and producer of Equitrekking®, the first equestrian travel television series to explore the globe on horseback, and Managing Editor of Equitrekking.com, the one-stop site for equestrian travel, Darley has ridden championship cutting horses in Colorado, Andalusians on the beaches of Spain, Icelandic horses in Iceland and thoroughbreds in Connecticut.

Most recently she has visited Iceland, Sweden, Finland, Ireland, Spain, Belize and New Mexico. Darley continues to horseback ride in and around New York City, Connecticut and all over the world.
Her Equitrekking series has gone national in high definition on Public Television. Watch Equitrekking on your local PBS station. Keep checking for updates on dates and times.
http://www.Equitrekking.com
Summertime Allergies Affect Animals, Too!
Dr. Jeanne Budgin, Veterinary Dermatologist, ASPCA Bergh Memorial Animal Hospital


Animal lovers may be celebrating the arrival of Summer, but for many, the season is synonymous with the "A" word-allergies! Just like their pet parents, companion animals frequently develop allergies. In fact, information collected by the ASPCA® (The American Society for the Prevention of Cruelty to Animals®) shows that about one out of every five dogs nationwide suffers from some form of allergy.

An allergy is a disease that results from an abnormal reaction of the immune system to common substances. In humans, symptoms normally include sneezing, wheezing, runny nose and watery eyes. Dogs and cats commonly will lick and scratch, causing skin irritations and hair loss, and/or have frequent skin and ear infections. Although not life threatening, the symptoms may make your pet very uncomfortable.
If you think that your dog or cat may have allergies, talk to your veterinarian and discuss having your pet tested and treated. For more information on how to take care of your pets this summer, please visit www.aspca.org.
Emergency & Critical Pet Care: Who's Caring for Your Pet after Business Hours?
Dr. John Robb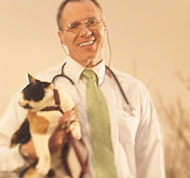 Last week, a veterinarian who referred critical and emergency care cases to my emergency hospital, The Farmington Valley Veterinary Emergency Hospital in Avon, Connecticut, contacted me to say he was removing us from his answering machine as a referral for emergency care. The decision stemmed from a client case in which his client complained that our bill was too high for treating her two dogs, which had been quilled by a porcupine. Each animal was under anesthesia for over an hour as the doctor used a scalpel to cut and pry out as many quills as she could find, and placed both dogs on the best broad spectrum antibiotics available to protect the pets from infection. This veterinarian claimed we were doing things for money, instead of what was best for the pet. Furthermore, he was upset that our emergency vets referred the clients he sent in to us to a specialist instead of back to him.
Two days later we received a call from another client who goes to this same referring veterinarian. His dog had just died at this vet's hospital after suffering a relapse to a disease that we had successfully treated at our emergency clinic 9 months earlier with a blood transfusion and 24 hour critical care. This time around, the referring vet did not send the dog our way but, instead, hospitalized the dog in his own hospital, and in fact, left the dog in a cage overnight with no one to care for him. The dog was found dead in the morning. The owner was beside himself since he had trusted this vet. This time, he saved money at his day vet's office, but paid the ultimate price of losing his best friend.
This happens every day across the United States. Many veterinary hospitals don't have overnight care. When animals are hospitalized overnight after surgeries or during sickness there is no one to care for them once the staff leaves for the night. They are left alone with the hope that their intravenous line will continue to run and they will be alive in the morning. Could you imagine a woman who has just had a c-section and the nurses say good night to her at 8pm, and she is left alone until they come back to work the next morning?
If you ever find your pet in need of emergency or critical care, I urge you to ask if there is overnight monitoring at the hospital you decide to leave your pet, and if not, request a referral to a critical care facility that has the staff and equipment to handle the case appropriately.
Join the Protect the Pets Movement:
Veterinary Medicine is changing rapidly. Its important pet owners understand what's changing and why in order to get great veterinary care for their pets. Dr. Robb leads a national movement called Protect the Pets. He believes educating pet owners allows them to get great veterinary care and drive the changes necessary to improve the profession. Forty veterinarians have joined the movement and subscribe to his Code of Conduct. This Code of Conduct is the heart and soul of the movement. You can view this Code of Conduct by going to the website - ProtectthePets.com and clicking on the Veterinary section. Remember, being an educated consumer is the most important thing you can do to Protect the Pets. Join the movement by going to the website and signing up. Talk to your veterinarian about joining the movement and subscribing to the Protect the Pets Code of Conduct. Your Pets life may depend on it!
"Birdbrain"
Britt Savage


Birdbrain has long been a colloquial term of ridicule. The common notion is that birds' brains are simple, or so scientists thought and taught for many years. But that notion has increasingly been called into question as crows and parrots, among other birds, have shown what appears to be behavior as intelligent as that of chimpanzees.
Summer Sun Shines for the Animals
Rae Ann Kumelos, Voice of the Animal


Discover how, during the brightest and lightest week of the year, a fashion designer, a grocer and a president all made decisions that will have a positive affect on animals for years to come.
http://www.VoiceOfTheAnimal.org

Talk With Your Animals
Joy Turner
1. Joy speaks with a young dog who need to re-learn a few things.
2. Joy speaks with a dog who doesn't like to put on a harness.
http://www.TalkWithYourAnimals.com
http://www.JoyTurner.com
Environmental Enrichment for Cats
Darlene Arden


If you think all cats are independent and don't interact with other cats and humans, think again! Cats are intelligent sentient beings and therefore need environmental enrichment.
Things you can do top enrich the life of your cat are:
*Cats see on a level ­ make sure your cat has a window perch or cat condo where he can sit and look out the window
*Interactive toys ­ these are feather sticks, etc., that you and your cat can play with together. However, when you are not playing with these toys, please put them away as they can be dangerous to your cat if he is left alone with them
*Variety of toys ­ just like human children, cats like to have many different types of toys to play with
*Catnip ­ you can purchase catnip toys or a catnip spray to spray on existing toys and scratching posts
*Scratching posts ­ cats need to stretch and scratch and scratching posts are a necessity
*Interact with your cat twice daily for 10 minutes ­ these sessions can be playing or just brushing and holding your cat
*Catteries ­ catteries our outdoor enclosures, fully contained, which is a great safe way for your cat to enjoy the outdoors
http://www.DarleneArden.com
Beer for Dogs
Mike Fry, Animal Ark Animal Shelter and Host of Animal Wise Radio with Dr. Linda Wolf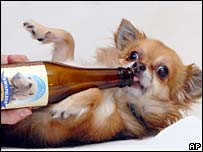 Beer for dogs, what next? Perhaps your dog prefers the taste of a nice cold beer after a hard day of laying around, or maybe he just wants to drink out of the toilet!
http://www.AnimalWiseRadio.com
http://www.AnimalArkShelter.org

Llamas by Sonya Lane
Rae Ann Kumelos, Voice of the Animal
The winner of a Radio Scriptwriting Contest sponsored by the non-profit organization, Penelope's Bow, recently held in Las Vegas, NM, and opens to sixth graders at Memorial Middle School, was won by 12-year-old Sonya Lane with her story on llamas.
http://www.VoiceOfTheAnimal.org
Book Introduces Children to Therapy Dogs
Lisa Dunn-Dern, Dr. Duncan Dog on Duty!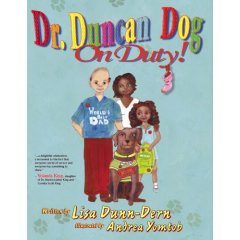 In this charming children's picture book, Dr. Duncan Dog on Duty!, author Lisa Dunn-Dern tells the story of an interracial family and their adopted shelter dog who grows up to become a therapy dog. It's a wonderful way to teach children - and their parents - about the difference therapy dogs can make for young and old alike in a hospital environment. Dunn-Dern also clearly explains the vest the dog wears and the must-have tools including treats for the patients to give to the dog, and wipes for their hands after petting the dog.
Lisa researched an animal-assisted therapy program at Children's Hospital in Los Angeles in order to tell the story of a shelter dog that brings joy to patients. A portion of the proceeds from the book will be donated to organizations that benefit children and animals.
Lisa Dunn-Dern is a children's lifestyle expert, writer, author, television and radio personality, director of children's theater, wife and mother.
http://www.derngoodbooks.com
Listen to the 1st Hour ABRIDGED VERSION Podcast of this show (#394).
Purchase a CD Copy of this Show



View Animal Radio Network™ Broadcast Schedule in a new window.


Listen to Animal Radio® - Go to the launch page


Return to Animal Radio Network™ Home Page


Read June Newsletter
Copyright 2007 All Rights Reserved Animal Radio Network LLC