June 23, 2007
NFL Star Investigated for Dog Fighting
Merritt Clifton, Animal People



A search warrant was recently issued for a property owned by NFL Star Quarterback Michael Vick, in Surry County, Virginia. According to reports, law enforcement authorities discovered dogs in a state of apparent neglect and malnourishment. The Virginia Animal Fighting Taskforce was on the scene. Officers discovered up to 70 dogs, many with wounds and scars believed to be from dog fighting, according to sources.
http://www.AnimalPeopleNews.org
Utah is One of Only Seven States with no Felony Level Penalties for Animal Cruelty
Wayne Pacelle, President HSUS


With the recent removal of Hawaii, the remaining seven states with no felony level penalties for the most malicious acts of animal cruelty are Alaska, Arkansas, Idaho, Mississippi, North Dakota, South Dakota and Utah.
The District of Columbia, U.S. Virgin Islands and Puerto Rico also have felony animal cruelty laws. Hong Kong passed the equivalent of a felony law for animal cruelty in 2006.
Animal cruelty is linked to violence against humans and violent criminals frequently have histories of serious and repeated animal cruelty. The FBI has recognized the connection since the 1970s, when its analysis of the lives of serial killers suggested that most had killed or tortured animals as children. Of 36 convicted multiple murderers questioned in an often-cited study, 46 percent admitted committing acts of animal torture as adolescents (Congressional Register, 1996). Over half of the school shooters were known to persistently abuse animals (Miner, 1999).
Other research has shown consistent patterns of animal cruelty among perpetrators of more common forms of violence, including child abuse, spouse abuse and elder abuse.
The American Psychiatric Association considers animal cruelty one of the diagnostic criteria of conduct disorder.
The HSUS has been a leader in advocating for felony animal cruelty laws. Of the 45 states and territories with such provisions, 41 were passed within the last two decades.
http://www.HSUS.org
Psychic to Celebrity Pets
Jill Marie Combine, Spiritual Coach


She's done celebrity predictions, helped law enforcement officials solve some of their most difficult cases, and is now talking about celebrity pets and how they feel about their guardians.
Have you ever wondered how Tinkerbell feels with Paris in Jail? Or, how do Oprah's dogs feel about her being voted the Best Celebrity Dog Owner? Tune in to hear the answers to these and other celeb pet question.

An accomplished psychic, healer and spiritualist Jill has experienced visions since early childhood. In 1996 Jill had a near death experience (NDE) which increased her clairvoyance, clairaudience, clairsentience and empathy. The experience imparted her with the gifts of healing and medical intuitiveness.
http://www.jillmariecombine.com
Will Your Microchip Become Outdated?
Mike Fry, Animal Ark Animal Shelter and Host of Animal Wise Radio with Dr. Linda Wolf


Microchipping is a procedure where a small microchip is embedded under your pet's skin, so that if Fido or Fluffy or Tweety become separated from their loving owners, the chip can be scanned and the chip registration company can be contacted and you can all be happily reunited.
But, here's one of the major problems with the microchipping industry. Too many cooks spoil the broth. There are now so many companies that have entered the microchip business, developing chips with different frequencies. And these differing microchip frequencies require scanners that pick up all of those different frequencies. So what happens if a shelter or veterinary office or research facility has a scanner that doesn't read your pet's chip? The animal gets listed as not having a microchip.
http://www.AnimalWiseRadio.com
http://www.AnimalArkShelter.org
Finding Someone Who Loves You and Your Pets
Britt Savage


It's hard enough to find love, but finding someone who loves you and all your pets can be even trickier. A new Dutch website, http://www.dier-en-mens.nl loosely translated to mean animal-human, says it's a meeting place for all animal lovers, whether you're looking for that special someone, someone who likes snakes and spiders, or someone to take care of your chickens when you're on vacation.
The Fly: Lord or Louse?
Rae Ann Kumelos, Voice of the Animal


Discover the insect that is the number three pollinator of flowers, killed more soldiers in the Spanish American war than gunfire, and whispers sweet solace into the ears of suffering people.
http://www.VoiceOfTheAnimal.org
Tips to Avoid a Summer Pet MayDay
Tracyann Mains, Pets911


As the weather gets nicer, there is a greater opportunity for our pets to join us outside. However, we must use caution to avoid serious injury to our pets as the temperature rises.
Tips to Avoid a Summer Pet MayDay:
DO NOT KEEP YOUR PET IN A HOT CAR!!! Even a couple of minutes can be fatal.
Always keep current tags on your pet. The tag should include your pet's name, and your CURRENT contact information ­ an address and/or phone number with area code. If you are moving this summer, remember to update everything about your pet ­ tags, microchips, vet information, etc.
Keep your pet safely secured inside if they are spooked by fireworks, thunderstorms, etc.
Be careful with fertilizers and plants. Many products and plants are hazardous, and even fatal, for animals.
Watch your pet around swimming pools. If you have a pool, keep it fenced or covered when no one is using it. As an added precaution for in-ground pools, make sure your pet knows how to get out of the pool if she falls in accidentally. If possible, show her where the stairs are located and how to swim to them.
Do not let your pet ride in the uncovered bed of your truck. She can fall out with quick stops or curves, during accidents or be hit by debris.
Get your pet on heartworm and flea/tick prevention. Check with your veterinarian on how to best protect your pet.
Exercise your pet but take caution to check temperatures ­ the air and the ground. Asphalt can get hot enough to burn the pads on your pet's paws. Walk your pet in the morning or evenings to avoid peak temperatures.
Keep your pet supplied with plenty of water. If you have outdoor bowls for your pets, use plastic bowls as the sun can heat up metal bowls.
Always watch your pet for signs of heat stroke. If your pet is in danger, get him to a veterinarian immediately. You can apply cool water to his body or apply ice packs to his chest, face or neck areas only. Signs of trouble include heavy panting, glazed eyes, a rapid pulse, unsteadiness, vomiting, or a deep red or purple tongue.
http://www.Pets911.com
Choosing the Right Pet the First Time
Dr. Jim Humphries, Veterinary News Network


There are three main things you need to consider when choosing a pet:

1. Which pet works best for you?
2. Who will be responsible? Remember, if a child will be taking care of the family pet, choose the child by maturity not age; and
3. What happens later when the kids grow up and leave?
http://www.VetNewsNet.com
Pet Trusts
Peter Canalia, Peace of Mind Pet Trust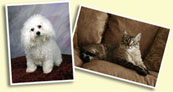 Peace of Mind Pet Trust recently launched with a mission: provide a better life for the 500,000 pets that are left to the disposition of the state each year when their owners die or become incapacitated. Peace of Mind Pet Trusts POMPT is the nation's most competitively priced bona fide pet trust established by a licensed trust attorney:
"I kept receiving requests to set up pet trusts for animals ranging from champion race horses to dogs. Despite all the legal smoke and mirrors most lawyers will throw up around trusts the form is easy to complete and binding in 38 states where pet trusts have been recognized. I felt that this service was so important to so many people that it should be accessible to anyone who wants to take advantage of it," says Peter Canalia, founder of POMPT and an attorney licensed to practice in Illinois. POMPT pet trusts are priced at $89 per trust.
In 2005 the New York Times reported that "Most people, though, don't make formal arrangements, assuming they'll outlive their pet, or that friends and family will take care of it. Consequently, more than 500,000 pets are killed in shelters and veterinary offices each year after their owners die, according to 2nd Chance 4 Pets, a nonprofit organization in Los Gatos, California, that raises awareness of this problem."
"Setting up a trust for a pet is similar to setting one up for a child, with a trustee and caregiver named. Most attorneys charge upwards of $1000 or more for this," adds Peter Canalia.
Pet trusts can stipulate all the details that an owner finds important, from the kind of food that a pet is to be fed, medical needs, walking schedules, even the number of times a pet should be walked or cuddled each day.
"A trust is designed to take care of your pet in the manner in which you do. Most people will leave between $8-15,000, which should carry a pet through it's natural life in the style to which it has become accustomed, assuming you're not Brittany," he adds.
http://www.PeaceOfMindPetTrust.com
How Do Zoos Teach Us to Perceive Nonhuman Animals?
Derrick Jensen, Thought to Exist in the Wild


As the summer season approaches, families across the country make plans to visit a zoo. In fact, 45 million American adults and children visit zoos each year, yet rarely does anyone ask the fundamental question of what zoos really teach us about animals, ourselves and the natural world.
As Bill Maher, Host of HBO's "Real Time with Bill Maher" states, "Finally someone has the courage to question zoos. Animals in zoos are not ambassadors teaching us about the natural world, they're unwilling prisoners teaching us how we humans seem to need to dominate every living being on the planet."
With his new book, Thought to Exist in the wild, Derrick Jensen brings a powerful voice on behalf of the animals incarcerated in zoos and brings attention to a critical issue which receives very little thought in our society.
http://www.NoVoiceUnheard.org
Fido Friendly Travel Talk
Susan Sims, Fido Friendly Magazine
Editor Nick Sveslosky of Fido Friendly magazine talks to Susan about the "Loews Loves Pets" program at the San Diego Loews Coronado Hotel.
Loews Love Pets:
The Loews chain, which started its pet program in 2000, has an elaborate approach to making pets feel at home, starting with a personal letter from the general manager's pet explaining all the high points of the resort. It also includes a special menu that offers such pet-friendly entrees as "Bow Wow Tenderloin of Beef" for $19 and "Kitty's Salmon Supreme" for $17. All the meals are served with Evian water and in the proper pet bowls.
Su'ruff Camp:


Loews at Coronado even offers dog-surfing lessons called "Su'ruff Camp." Su'ruff Camp - Hang 20 with Man's Best Friend! With the Su'ruff Camp package at Loews Coronado Bay Resort, dogs don board shorts for surfing lessons with Coronado Surfing Academy at Coronado's Dog Beach. Starting at $300, the one-night package also includes water view accommodations and a copy of "The Dog's Guide to Surfing," a unique book about the surf dog lifestyle. Surf dogs chow down on a surf `n' turf supper, and can choose between doggie board shorts or a surfer bandana from Lucky Dog, San Diego's premier dog boutique.
Gondola Cruise for You & Your Pet:


A twilight gondola cruise through the canals and waterways of the Coronado Cays. This cruise includes a complimentary appetizer or dessert plate. Blankets, an ice bucket, and wine glasses are provided. Guests are invited to bring their own beverage. Each cruise is approximately one hour.
Fido Friendly Magazine:
The Travel Magazine For You & Your Dog, a complete guide to Fido-friendly accommodations across the United States and Canada. "Fido Friendly is the only magazine dedicated to the travel lifestyle of man's best friend, and the one magazine your dog will thank you for." And don't forget to join the Fido Friendly Travel Club.
http://www.fidofriendly.com
Experimental Anti-Cancer Vaccine for Dogs
Dr. Jim Humphries, Veterinary News Network


An experimental anti-cancer for dogs with melanoma has shown to be effective in some cases. Scientists hope it will lead to the development of a similar cancer treatment for humans. Researchers at the University of Wisconsin Madison School of Veterinary Medicine have been producing the canine vaccine since 1998. They found that about 40% of all dogs with melanoma responded to the treatment. Tumors disappeared completely in about 12 and 1/2 percent of dogs treated with the vaccine. Not all dogs with melanoma responded to this treatment, but those that did, seemed to do quite well. About 75% of dogs with oral melanoma die within a year, even with conventional treatment.
http://www.VetNewsNet.com
Listen to the 1st Hour ABRIDGED VERSION Podcast of this show (#395).
Purchase a CD Copy of this Show



View Animal Radio Network™ Broadcast Schedule in a new window.


Listen to Animal Radio® - Go to the launch page


Return to Animal Radio Network™ Home Page


Read June Newsletter
Copyright 2007 All Rights Reserved Animal Radio Network LLC