Animal Radio® Show #499 June 27, 2009
Ed Begley, Jr. - Going "Green" with Your Pets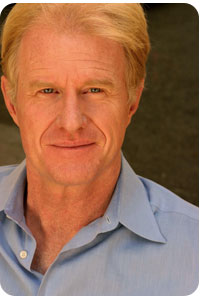 Ed Begley first became aware of conservation growing up in smoggy Los Angeles. By the 1970 (and the First Earth Day) Ed decided that enough was enough and he decided to do something about it.
He is one of those people who doesn't just talk the talk, he walks the walk. Literally. One of the first actions Ed took himself was to become a vegetarian. "It just seemed like a good thing to do in 1970. But it was so hard back then, that I was only a vegetarian for about a year. Then I started eating some fish because I couldn't find vegetarian food when I traveled. I'd do a movie in some distant city or even on location and they wouldn't have anything to eat," Ed explains. "I became a vegan again in 1992." And can you believe he actually has (and uses!) a Los Angeles bus pass! He also drives an electric car, lives in a solar powered home and recycles everything he can.

Ed currently has an elderly dog and cat. This, of course, doesn't include the feral cats that he regularly feeds. Ed traps and alters the feral cats that he can. But, trapping a feral cat can be a tough thing to do. Find out how Ed was able to trap one feline who eluded him for years!
Ed offers some great suggestions on how pet guardians can become environmentally friendly:
Buy organic pet food
Clean your pet's food bowls frequently – (this reduces pests and therefore the need for pesticides)
Groom your pet regularly using organic shampoos that are non-toxic for your pet and the environment
Change your air and heat filters regularly (pet hair can clog your filters and make these units work harder)
Besides his environmental lifestyle, Ed has also created some environmental friendly cleaning products, "Begley's Best," for you to use in your own home. He has created everything from an all-purpose cleaner to a carpet spot remover. To find out where you can find these products, visit www.begleysbest.com. You can also catch Ed on HGTV "Living with Ed," for more points on being "green."
What Clicker Training Teaches Us About Animals
Karen Pryor – Reaching the Animal Mind

Reaching the Animal Mind is a book about clicker training, which has been around for about 10 years. We now know much more about it and what it teaches us about the animals. The clicker training "movement" has taken off and now there are so many people doing it.
Clicker training is way of communicating with animals completely different from they way we've been training animals since the stone age, which was by making them do stuff and being nice to them when they did what we want, and being nasty to them when they didn't. This is now old fashioned compared to modern clicker training.
Clicker training is used to identify for the animal exactly what it's doing that we like. Dogs respond to clicker training not because they love you, not because it respects you (which really means it fears you), but because it understands the game and wants to win, and the two of you are in the game together. This system leaves punishment out when you are teaching an animal something new.
The clicker training method teaches the animal to think and to explore and to watch us and guess what we want. This makes them enthusiastic and bright eyed and interested in their people. It's so easy to do once you try it.
Reaching the Animal Mind is a great tool for anyone with an animal in their life. Want to teach your dog to sit or get off the couch? Train your cat to give a high-five? Or even instruct your dog to find your car keys? You will find this and other amazing activities in Karen's book.
Today, clicker training is used worldwide on dogs, cats, horse, birds, zoo animals and increasingly, humans! The fundamental principle is that in order to change what somebody else is doing, you have to change what you're doing. That's often a lot of trouble – as most people don't want to change they way they do things!
Vladae, The "World Famous" Russian Dog Wizard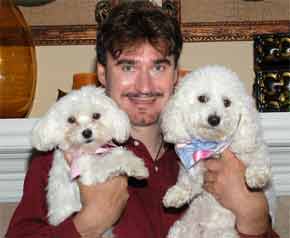 Dog Is Very Hyper
This 7-year-old Aussie is a very hyperactive dog! She has even worn a path around the yard from constantly pacing. They try to exercise her with a ball, but they can't talk her for a walk, because as soon as she is on the leash, she lays down. Vladae says while physical exercise is important, mental exercise is just as important and just as tiring. This dog needs to be put through obedience training and Vladae suggests using the Herm Sprenger prong collar, which mimics what nature intended, mommy's teeth! The key is to have the leash slack and never pull on it. When you want to redirect your dog, just snap the leash. Since this dog is hyper, you want to walk her SLOWLY to mentally tire her as well as physically tire her.

Dog Chases Cars And Loses
This Australian cattle dog constantly chases cars. She is on medication for seizures, which may be part of the problem. Vladae suggests that the guardian visit www.dogpro.org, an international association of canine professionals, for a reputable dog trainer. He also believes that drugs can affect a dog's personality and behavior. He suggests using ProQuiet a holistic medication used to calm a dog down. There are two issues with this dog: (1) behavioral issue and (2) a genetic drive. Vladae receives a lot of calls about Australian dogs chasing everything from kids to cars, and that if people would just research the genetics of a breed before acquiring it, they might change their minds. In this case, Vladae suggests good leash control and training. He recommends using the Herm Sprenger prong collar, which mimics what nature intended, mommy's teeth! The key is to have the leash slack and never pull on it. When you want to redirect your dog, just snap the leash.
Vinnie Penn, Animal Radio's Resident Party Animal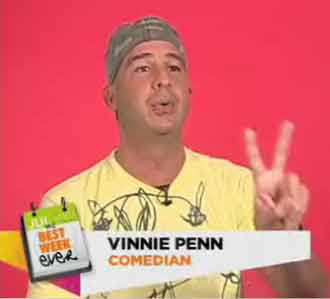 Eating The Family Pet For Dinner
I'm just going to come right out and say it. My sister and my brother-in-law killed the family pet and ate it for dinner. I'm just going to say it; with my nephews, my two small nephews. If that's not further proof of the economy being in turmoil, as if any of you needed it, I don't know what is, killing the family pet and eating it for dinner! You heard right. But, I guess I should explain that the family pet at the time, and just for a few days, was a lobster.
Get a load of this – my nephew has just begun fancying lobster. They went out for a seafood dinner and he tried lobster for the first time and he loved it. So me being the good uncle that I am and a big fan of "Lobstergram." (I don't know how many of you out there are familiar with Lobstergram, but you can go online and send a variety of different meals like chowders, even steaks, and things like that, but of course, seafood and namely obviously lobsters), I said I'm going to be the good uncle, Uncle Vinny, even though they call me Uncle Sam, but that's a real long story.

So I sent them out a small order of lobsters for the family. Well, my sister's got the bright idea that she's going to open the crate when it shows up, with the boys. When they see the live lobster in there that was sent with some chowder, as I said and with some whatnot's, the kids screamed in ecstasy and immediately named him "Plankton."
My sister and my brother-in-law didn't know what to do. They think it's a pet. They're calling him Plankton, and they can't process that the lobster that they've eaten at restaurants, even though it looks exactly the same, just not moving, is the same thing. And, they would never hear of eating him. So for three days they had to let the lobster hang around. I don't know if it was three days, I'm kind of running amok right now, and then ultimately do what all parents do, and lie and say that Plankton ran away one day while they were at school, but hey, lobster's for dinner tonight. They just kind of served it in a way that the kids didn't know they were eating Plankton.
Am I the bad guy in this? Because my sister screamed at me that when she opened the crate. She didn't know it would be alive and waving it's arms at them. I said, "What am I going to send you a dead lobster? " That's what Italians do when they're threatening your life. Of course it's going to be alive. It's a Lobstergram. I'm not going to send a dead lobster.
My sister said she had to let it crawl around on the carpet for a while and the kids were playing with it, because of course the claws were closed up with elastic bands and whatnots, and I'm made to look like a bad guy. And now, of course, the children think that Plankton made his way all the way from Las Vegas to Reno and is living a good life on a farm somewhere with Sunny, my sister's collie that died a couple of years back. Plankton and Sunny, sounds like a Fox TV show!

Greyhound as Pets
I took my daughter to an art show, to an outdoor festival this weekend. They had all sort of events and I stopped by this one booth and they had this great brochure, "Greyhounds as Pets, a Greyt Pet for All," and this was from Pups Without Partners, which is a greyhound adoption program.
I thought it was cool really because they really bullet-pointed why Greyhounds are a great dog to get. They are the only dog mentioned in the Bible, that's the first thing they lead off with, "it's Biblical, there are Biblical implications." If Jesus does return and you have a Greyhound, you're saved! I like that they started with that.
Good with well-behaved children was the second thing. What if your child's like my son Luke? Ha, ha, should I not get a Greyhound? Good with well-behaved children? Luke is not well-behaved! Chances are he is going to want to ride the Greyhound, he will want to box with him, so, well-behaved children?
Maybe I should talk to them about re-writing this brochure. Actually a lot of the other points were great. They're good with other pets; very intelligent; clean; and low maintenance. I know the shedding issue is very big for a lot of people. They are very used to human contact and they can never wear flea collars or run loose, which I thought was interesting. It said the Greyhound had been raised with littermates and craved affection and attention. By nature they are calm and laid back.
There were a few there, and it is true! They were beautiful dogs, and I don't think I've ever seen a Greyhound outside of a bus, up close and personable. It is a beautiful dog. The brochure said they can live between 12 and 15 years of age.
The program there said that they were very successful and had 100% adoption rate since they began in 1995. That's over 10 years of getting these Pups Without Partners partnered up.
I'm from Connecticut, but if you do want to check them out, visit www.PupsWithoutPartners.org. I'm just really stuck on the "Good with well-behaved children!" My son Luke really just ruined Greyhounds for our house!
Animal Radio® News with Bobbie Hill


Schwarzenegger Isn't Making Any Friends Among Animal Lovers
California's governor isn't making any friends among animal lovers in his attempt to save the Golden State a few bucks. Gov. Schwarzenegger is proposing to cut the time strays in animal shelters would be allowed to live from six days to as few as three. The L.A. times reported the logic behind the move is to increase pet adoptions and reduce euthanizations...but a Legislative Analyst's Office report shows there's little evidence that approach works. The Humane Society of the United States along with the American Society for the Prevention of Cruelty to Animals, the State Humane Association of California and the California Animal Control Directors Association have collectively voiced their opposition to the proposal.
Cats Are More Susceptible To Flea & Tick Products
With flea and tick season upon us, the ASPCA has released information showing cats are more susceptible to adverse reactions from over the counter flea & tick products. The spot on products sold without prescription all over the country should not be used on very young, sick, old or pregnant animals. If a product is labeled for dogs, it shouldn't be used on cats! The EPA recently announced more intense scrutiny of the topical spot-on products.

What Celebrity Was Chosen The Most Trustworthy Pet Sitter?
In a recent AOL-Paw Nation poll - 70% of those participating picked Jennifer Aniston as the trustworthiest pet sitter. Other categories in the poll included favorite celebrity pet - winner Gizmo the dog that just happens to belong to actress Amanda Byne. Craziest Pet Owner went to the late Leona Helmsley, mostly because she left her dog 12 million bucks. And the favorite Presidential pet category was a tie between Socks the Cat of the Clinton administration and Millie from the Bush One era. Bo-bama, the current White House Pet, placed third.
John & Kate Plus 8 Receive Animal Cruelty Complaints
Just when you thought it was safe to listen to the news again - The Humane Society of Berks County Pennsylvania received dozens of complaints against dog owners and parents of 8, Jon & Kate Gosselin. The complaints were prompted after an interview in a celebrity gossip magazine in which Jon talked about his German Shepherd and all those kids. The executive director of the Berks County Humane Society told the Reading Eagle, they found "no credible reason to believe in any way that there is cruelty going on."
Robert DeNiro on Wrong Side of Greenpeace
Sushi loving actor Robert DeNiro is on the wrong side of Greenpeace with his restaurant chain Nobu. Seems the upscale sushi venders are serving endangered bluefin tuna. DeNiro's partner Ritchie Notar said he's trying to discontinue the practice of selling the tuna but sushi connoisseurs prefer the taste. Nobu has offered this compromise to Greenpeace - it will place an asterisk next to the critically endangered Atlantic Bluefin Tuna to let diners know what they're eating.
Fox Has Shoe Fetish
German authorities in the town of Foehren were on the lookout for a shoe bandit. Seems the residents of the small town reported missing shoes from their front porches. A forest worker inadvertently stumbled upon the cache of 120 shoes piled up in relatively good condition. The culprit was a fox, she had taken the more than 100 shoes for her cubs to play with...most of the shoes, everything from ladies' shoes to cross trainers, were missing laces.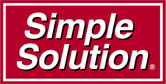 NEWS UPDATE Brought To You By Simple Solution Natural Line Of Products
Your Vet Questions Answered with Dr. Debbie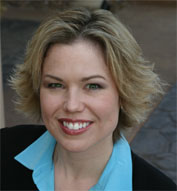 Dog Bothers Other Dog
This 8-month old Papillon always bothers the other female Papillon in the household, who is 3 years old. He constantly pulls and bites her tail, as well as her ears. When his guardian tries to stop him, he turns around and bites her. This guardian originally wanted to get another female, but Dr. Debbie states that two females are usually more of a problem and that a male/female combination works out much better when it comes to them getting along. Puppies usually learn about biting from their mother. When they bite too hard, she will correct them. Obviously this little guy never learned this! Dr. Debbie suggests positive correction and to redirect his attention. She also suggests more physical activity for this rambunctious guy.
How Can I Introduce A New Cat?
This woman has a 7-year old cat that just lost his companion about 12 weeks ago. He misses the other cat and now his guardian is thinking about getting another cat. She is considering a female cat about 9-12 months old. She also mentions that he is a little dominant. Dr. Debbie suggests getting a "laid back" cat as a companion, and a young female would be the best fit. You want to take it slow with little physical contact in the beginning. Keep the new cat in a room (with a bed, food, water and a litter box). This way, they can smell each other under the door without coming in contact. You can also place their food on both sides of the door so they can essentially eat together. After a day or so, you can switch their bedding so they can each smell the other's presence. Watch for signs when doing this, to make sure that they are both at ease. Eventually you can take the barrier down and keep an eye on them to see how they interact at first. Make sure there is no competition, providing plenty of scratching spots, litters and food. You can also try a pheromone plug-in during the introduction phase.

Do Dogs and Pot Bellied Pigs Get Along?
This woman has 2 dogs and is considering getting a pot belied pig and wants to know if they can co-exist. Dr. Debbie says that pigs and dogs can get along, but it depends on both the pig and the dogs. If they can be raised together, this is even better. But since these dogs are already in the household, look to see how the dogs interact with other dogs, as this is how they will probably react with a pig. Make sure that both the dogs and pig have been altered, which will make things go more smoothly!
What Should You Look For In Cat Food
When looking for cat food, what ingredients should you look for on the label? This is a hard question, and there is not one answer, as every pet is different. Sometimes life stages or health conditions might lead us towards one diet for one pet and another diet for another pet. When looking at labels for cat food, since cats are carnivores and eat primarily meat in the wild, make sure that protein is one of the first couple of ingredients. Next look at the brand and check for the company's reputation. Make sure you can look up their information on the Internet and check to see if they have done feeding trials on that food. Also look for a phone number, so if you have questions or concerns, you can get a live person on the phone. If the label says "meal" make sure that it comes from a protein such as chicken. If the label says "byproducts" this could include claws, beaks, etc., so stay away! Avoid labels that list the preservatives as BHA or BHT's. You can also check out the DogFoodProject, which can help you with reading labels.
Should I Get My Cat A Companion?

This man has a male cat about 6 years old and is thinking about getting another cat. He is an indoor cat and has always been by himself. Dr. Debbie suggests that the best way to acclimate a new cat is to get a young one. Since he has a male cat, Dr. Debbie states that either a female or another male should get along fine with him. Just make sure that you introduce them gradually.
Dog Has Skin Allergy

This 2-year-old Vishla has a skin allergy. He is on an all-natural gluten free food, and his vet has throw up her hands and says it is neither fungal nor bacterial. It went away for the winter but has now come back. The guardian wonders if it coincides with the weather or the chlorine in the pool during the warmer months. He is on medication, but his guardian doesn't want to keep him on these medications long term. Dr. Debbie states that you can treat allergies symptomatically or try to get to the root of the problem. She suggests that if the gluten free diet is not working, she might try another hypoallergenic diet such as hydrolyzed protein or a limited protein diet. If all else fails, try going to a veterinary dermatologist and getting them allergy tested.

Get Your Licks on Route 66 - The Cross-Country Adoption Tour
Susan Sims, Fido Friendly Magazine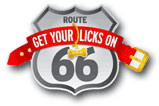 "Get Your Licks on Route 66," brought by Fido Friendly Magazine and North Shore Animal League America is a huge success. We check in with Susan Sims, Fido Friendly Magazine, who is in St Louis Missouri near the end of the tour. July 1st is the last stop in Glenwood Illinois and they will end in Chicago with a bang!
In early June they set off in a Toyota Venza as the official chase car behind the 36-foot mobile adoption bus. They began in Santa Monica, CA and then traveled the length of Route 66 – through CA, AZ, NM, TX, OK, KS, MO and IL – with a culmination event in Chicago, IL in early July followed by a wrap party hosted by Supporting Sponsor, Bissell, in Grand Rapids, MI.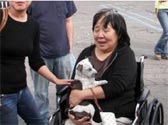 Thanks to Presenting Sponsor Purina One and One Hope Network and supporting sponsors, Bissell, 3M, Toyota and LaQuinta Inn & Suites, they were able to deliver a message of hope and raise adoption awareness in 12 cities along the route.
Destined to be an annual event, the First Annual Get Your Licks on Route 66 editorial can be read in its entirety in the upcoming Sept/Oct issue of Fido Friendly Magazine and video with tour updates can be viewed online at www.getyourlicks.org.
Fido Friendly Magazine has been taking pictures of everyone who adopts a dog and one lucky dog (and person) will be selected to have their picture on the cover of an upcoming issue of Fido Friendly Magazine.
Hundred of dogs and cats found their forever homes during the tour and they look forward to planning the 2nd Annual Get Your Licks on Route 66 for 2010.
Listen to the entire Podcast of this show (#499)

Broadcast on XM Satellite Radio and Podcast Versions Only.

Listen to Animal Radio® - Go to the launch page
Return to Animal Radio Network™ Home Page
Read June Newsletter
Copyright 2009 All Rights Reserved Animal Radio Network LLC