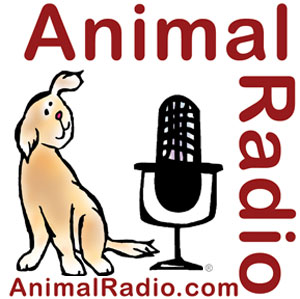 Animal Radio® Show #604 July 2, 2011
All I Know About Management I Learned From My Dog
Martin Levin

When 91-year-old legendary management guru Martin Levin decided to adopt a dog by the name of Angel, he thought he was in for an interesting experience, yet not a challenging one. It didn't take long for him to learn that he was wrong. Very wrong! It turned out that Angel didn't like him. But Martin didn't give up. He even wrote a book about his experience, All I Know About Management, I Learned From My Dog.
Following one of the guiding mantras of his life to never stop learning, Levin found that each day with his dog brought new insights. Through interacting with Angel, he began to recall some personal adventures that added to this insight. And as it turned out, his journey led him toward realizing the Four Golden Rules of Management:
Rule 1: Trust and Leadership
Rule 2: Communication
Rule 3: Problem Solving and Decision Making
Rule 4: Perseverance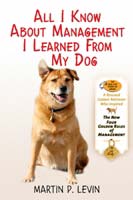 In the end, Levin found that his Four Golden Rules of Management were so simple that even Angel understood them. Thus, if a manager can develop trust, it will lead to corporate excellence, provided he or she is able to communicate effectively, make the right strategic decisions, and, above all, persevere. Levin is uniquely capable to show us all how to succeed as strong leaders - all you have to do is get a dog!
Martin P. Levin led an extremely successful career in publishing, spending years at Grosset & Dunlap, and Times-Mirror Book Company. While he was thriving in the book world, he attended New York Law School at night, and was admitted to the New York Bar at the age of 65.
Now, at 92, Levin still works as a counsel at Cowen, Liebowitz & Latman in New York until they realize he is still there!
http://www.skyhorsepublishing.com
Does Your Pet Get Anxious or Stressed?
Teresa Lynch, Animal Health Options - Pet Pals Vitamins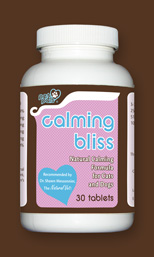 This time of year not only do we have fireworks going off, but there are also thunderstorms across the country and we are taking our pets on road trips more and more. It helps to have a natural calming product like Calming Bliss for your pet during these times.
Calming Bliss contains natural ingredients like L-Tryptophan (you know that stuff in turkey that makes you sleepy after eating a Thanksgiving meal) and ginger, which helps with nausea.
Calming Bliss is intended to take the edge off nervous or easily excited pets. Some pets are regularly stressed and some have very particular situations that make them seem crazy. Calming Bliss is for both types, so it can be used daily or only occasionally.
Most pets begin to relax within 30-60 minutes of eating the tablets, but some may require more time. It's best if you can give Calming Bliss before any signals, such as car keys or pet carrier, are recognized. Thunderstorm and fireworks anxieties often require seasonal use. It may be possible to modify your pet's behavior by using this supplement along with training techniques. If so, your pet will become less fearful when the problem situation occurs.
You shouldn't feel guilty for wanting to help your pet relax. If you want to relax, you might drink some chamomile tea or warm milk.
You can also find these other great products at Pet Pals Vitamins: Get Up & Go (joint support for cats and dogs); Daily Love (multivitamins for cats and dogs); Young-4-Life (antioxidant supplements for cats and dogs); and Scratchy Dog (skin and coat support for dogs).
http://www.petpalsvitamins.com

Dodge Journey Pet Destinations
What Is Your Favorite Place To Take Your Pet?
People who have pets love to travel with them. At Dodge, they have made it easier with their pet friendly vehicle, the Dodge Journey, which contains concealed storage bins, Chill Zone glove box cooler and second-row dual in-floor storage bins with removable and washable liners (very handy for muddy paws!) Call us with your favorite place to take your furry-friend: 1-866-405-8405.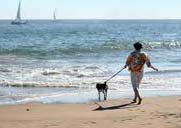 This week's Dodge Journey Pet Destination:
Danielle from Shell Beach, California tells us her favorite place to take her dogs is Avila Beach, California. She states it is a very secluded beach with a nice protected area to let your dogs run free. Everyone brings their dogs to this beach and it is a very pet-friendly place.
To view Past Dodge Journey Pet Destinations, click here.
The Dogfather's Grooming Tip with Joey Villani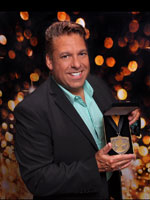 Shine Your Cat's Coat
How can you get a great shine on your cat's coat without using shampoo?
Whether you have a long haired or short haired cat, the first thing you want to do is give it a good brushing with the brush of your choice and then a good combing with a comb of your choice. This will remove all of the loose hair.

This is where it makes a big difference. The reason a cat's coat will look dull is that they have a short layer of fur that is dulling which covers the coat itself. You have to get rid of that. You can do that by using a pumice stone or lava rock and lightly run it over your cat's coat. This will pull out the short dead coat that is making the coat dull. By removing this, it will expose the nice shiny coat that is underneath.
Your cat might not like this, so be sure to have someone help you hold the cat during the process. Cats normally like to hide, so if you are having a difficult time, cover their head. When their head is covered, they actually think they are hiding because they can't see you!

DOGFATHER'S GROOMING TIP Brought To You By SeniorPetProducts.com. Use the code "SAVE25" to receive 25% off!
Animal Radio® News with Stacey Cohen
Tips On The Summer Heat And Your Pet
Never leave your animal in a parked vehicle. Even on a relatively cool day with the windows open, a car can quickly become a furnace. Exercise your pet in the cool of the early morning or evening as hot asphalt or pavement can burn their paws. Extra precautions should be taken with senior dogs, short-nosed dogs, over-weight dogs and thick-coated dogs, as they can quickly succumb to heat-stress. Provide your pet with plenty of fresh drinking water and shade while they're outdoors. Keep your pet clean and well groomed to reduce the chances of summer skin problems. If your pet gets shaved down for the summer, protect him or her from the direct rays of the sun. Animals with light-colored fur are particularly vulnerable to sunburn and skin cancer. Apply sunscreen to his or her nose and ear tips. Ask your vet to recommend a flea and tick preventative program, as this is the time of year when these parasites are most prevalent.

Animals Frustrated By Budget Cuts
Animals at the Bronx Zoo are having their say on New York City Mayor Michael Bloomberg's budget cuts. In a homemade video released by the Wildlife Conservation Society, talking animals express frustration that cultural programs will be decimated. Chief among their concerns is that there may be no one left to feed them if the 4.7 million-dollars worth of cuts proposed for the Bronx Zoo and New York Aquarium come to pass.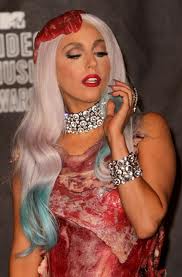 Lady Gaga's Meat Dress
Lady Gaga's infamous meat dress is completing the journey from the butcher shop to the Rock and Roll Hall of Fame. The Cleveland museum announced that the outfit would be installed as part of the "Woman Who Rock" exhibit. Gaga first donned the garment at the MTV Video Music Awards last September. She later explained the symbolism to talk show host Ellen DeGeneres, interpreting it as an outward expression of her desire to fight for what she believes in because she is "not a piece of meat." Designer Franc Fernandez, one of the men behind the dress, originally said it would be turned into a type of "jerky" and archived. Instead, it's set to take its place next to Madonna's "Blonde Ambition" cone-shaped bra and other rock memorabilia.
Sheep Saves Owner
A sheep is being credited for helping to save the life of its owner. British resident Emma Turner tells the "Daily Mail" her pet sheep, Alfie, was the first one to detect that she had breast cancer. Turner says one day Alfie just started butting her in the chest over and over. A bruise eventually developed, and she subsequently discovered a lump on her breast. It was eventually determined that Turner was in the early stages of breast cancer. She has already undergone chemotherapy and doctors say the tumor could have gone unnoticed for years had it not been for Alfie. Turner adds that everyone at her hospital is "convinced" that Alfie saved her life.

U.S. Customs Officers Make A Surprising Fin
Officers seized about 160 pounds of iguana meat a U.S. citizen was bringing through the Otay Mesa port of entry south of San Diego. The man had declared he had fish from Mexico in his vehicle. Officers ended up discovering three coolers containing iguana meat hidden under the fish. It was turned over to the U.S. Fish and Wildlife Service. Importing exotic meats like iguana requires a government permit.
Man Needs New Dating Advice
It appears as if a man in Poland is in desperate need of some dating advice. Jan Rudnicki was recently arrested after he tried to impress a woman by riding a horse into her house. The 40-year-old was out drinking with some friends when he allegedly decided to hop on his horse without a shirt on. He then proceeded to smash through the woman's front door. The woman was watching TV with her daughter at the time and says she was shocked to find a half-naked "loon" in her house. Jan has apologized for his drunken horse ride and offered to replace the woman's door. The U.K.'s "Orange" news says he is facing five years behind bars for aggravated breaking and entry.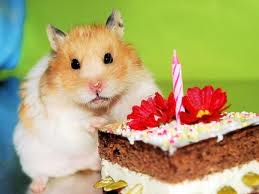 Pet Birthdays
Eighty percent of dog owners celebrate their pet's birthday. What do they do to make their furry friend's day special? Most people buy a gift, while a significant number of others make a special food, go on a special outing, or bake or buy a birthday cake.

NEWS UPDATE Brought To You By PetzLife.com


Listen to the entire Podcast of this show (#604)

indicates XM Satellite Radio and Podcast versions only.