July 7, 2007

Lucie Arnaz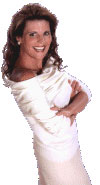 Lucie Arnaz was one of the first members of Actors and Others for Animals when they opened their doors. This comes as no surprise, as she is the daughter of Lucille Ball and Desi Arnaz, who were big animal lovers themselves. Lucie grew up around all types of animals, from rabbit and ducks and once even had a boa constrictor. Her father, Desi Arnaz, once owned and operated a thoroughbred breeding farm called Corona Breeding Farm of thoroughbred horses.
Lucie currently does not have any pets, as she lost her 2 dogs and her 2 cats to friend when she went to Europe for a year and a half and upon her return didn't have the heart to uproot her pets who had become used to their new people and surroundings.
Lucie began her career at age 12 when the played in her mother's tv show "The Lucy Show," and then she became a series regular on "Here's Lucy" co-starring with her brother, Desi Arnaz, Jr. But despite her many movie credits, Lucie's real passion lies in lived theatre. You can catch her live at the star-studded two-night "Broadway at Birdland" engagement at Birdland in New York, July 15th and 16th at 7:00p.m. Entitled, UNTIL NOW...The Music of Ron Abel.
http://www.LucieArnaz.com
http://www.Birdlandjazz.com
Who's Who of Broadway Stars
Ron Abel


Ron Abel is a multi-award winning composer, producer, arranger, orchestrator, conductor and musical director. His film and television credits include: Musical direction for I Love Lucy's 50th Anniversary TV Special (CBS); Composing the television theme songs for Animal Court (Animal Planet) and late night talk show, Nitecap (ABC). Ron was featured as the on-camera musical director for Nitecap, as well as the syndicated musical TV game show, Name That Tune. Film work includes composing, arranging and/or orchestrating for Michelle Pfeiffer and Kim Basinger; and for a Lily Tomlin TV Special; and work for Bea Arthur and Carol Burnett, as well as pop star Taylor Dane.
Ron Abel is headlining a special, star-studded two-night "Broadway at Birdland" engagement at Birdland in New York, July 15th and 16th at 7:00p.m. Entitled, UNTIL NOW...The Music of Ron Abel, the show will feature a Who's Who of Broadway stars, musicians and show business insiders celebrating and performing the songs and arrangements of one of Hollywood's greatest artists! The roster of VIP performers already includes Lucie Arnaz, Valarie Pettiford, Jack Noseworthy, Giselle Wolf, Sally Mayes, Billy Stritch and Michele Lee to name a few. Broadway luminaries expected to be in the audience include Marvin Hamlisch, Christine Ebersole, Sergio Trujillo, Jay Johnson, Jeffery Lane, and author Nancy Friday.
http://www.RonAbel.com
http://www.Birdlandjazz.com
Pets and Their Celebrities
Christopher Ameruoso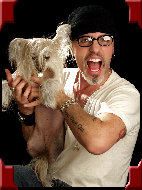 Armed with a mantra of "Just Do It", Christopher Ameruoso has carved himself a unique and successful niche in the Hollywood Hills where dreams are made and stars are born. Gaining access to some of Hollywood's most sought-after stars, armed only with an artistic eye an his camera, Ameruoso has become a self-made photographer of Pets and the stars that own them. He has been photographing actors, actresses, and models since 1998, and has released a best selling pet book "Pets and Their Celebrities".
Over the years Christopher has been involved with a vast range of projects, including 'The Osbournes pets' and 'Bark at the Moon', the official Osbourne Family Pet Book. Christopher was tapped for a special tribute to the search and rescue dogs of 9/11 for 'New Yorker' magazine featuring nine celebrities with hero canines.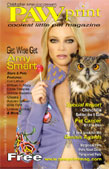 Throughout the course of his career Christopher's work has been featured in People magazine, In Style, Smoke, Star, US Weekly, The New York Times, Daily News, The NY Post, and The LA Times to name a few. In fact, People Magazine broke tradition and printed a unique black and white montage of some of Christopher's select pieces.
He can now be seen every week in 'In Touch' in his column titled 'Stars and Their Pets'.
Christopher Ameruoso has also launched an animal lover's magazine 'PAW print'. After years of photographing a myriad of celebrities and their beloved pets, http://www.ChrisAPhoto.com
http://www.PawPrintMag.com
Bicycling With Your Dog
Mike Fry, Animal Ark Animal Shelter and Host of Animal Wise Radio with Dr. Linda Wolf


If you think your dog likes to tag along with you while you ride your bike ­ think again, especially in this hot weather, Most dogs aren't built for this type of exercise, but will go along with you because they want to be in your company and will do anything to please you.
http://www.AnimalWiseRadio.com
http://www.AnimalArkShelter.org
Therapy Kangaroo
Noralynn Snow, Silverado Senior Living Community

You've probably heard of therapy dogs and cats, and even perhaps horses and pigs. But what about a Kangaroo? Well, residents of the Silverado Senior Living Community have the pleasure of visits from Elliott, a six-month old baby Kangaroo.
Elliot visit the 120 citizens of the center, who suffer from everything from Alzheimer's disease to Parkinson's disease, and will even sit on their laps for hours at a time.

It has been proven that animals of all types can have large health benefits. Dr. Marty Becker, author of The Healing Power of Pets states that "there is actually a biochemical event that happens when they come in contact, a biochemical spa treatment of sorts and that "it lowers blood pressure and elevates the mood."
When Elliot is not at the hospital, he goes home with a staff member, Noralynn Snow, and actually sleeps in bed with her.
http://www.silveradosenior.com
NEWS UPDATE:
Acetaminophen-Contamination in Pet Food Unfounded
Dr. Steven Hansen, ASPCA Poison Control Center


In light of the recent Menu Foods pet food recall, recent speculation on whether certain pet foods may be contaminated with acetaminophen has been spreading alarm among pet parents and the public.

The ASPCA® (The American Society for the Prevention of Cruelty to Animals®) today announced that it has been in close touch with veterinary toxicologists at the University of California (Davis), who have conducted independent tests on cat food to analyze for this contaminant-and whose findings corroborate those of the U. S. Food and Drug Administration (FDA), as cited in the press. As such, the ASPCA believes that fears of widespread contamination of pet food with acetaminophen are unfounded.

"Ever since the news broke that some pet food had been found to have been contaminated with acetaminophen, we were justifiably concerned for the continuing safety of pets," said Dr. Steven Hansen, a board-certified veterinary toxicologist and senior vice president with the ASPCA, who manages the ASPCA's Animal Poison Control Center (APCC), located in its Midwest Office in Urbana, Ill. "As we mentioned in our last advisory, acetaminophen poisoning can be deadly in pets, especially cats."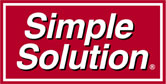 NEWS UPDATE Brought To You By Simple Solution Natural Line Of Products
Bed Bug Sniffing Dog
Britt Savage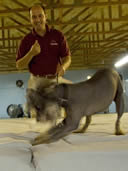 Dogs love to have jobs, so why not sniffing out bed bugs? Nine-pound Nudie, a Chinese crested terrier mix has been trained by Jose Peruyero's J&K Canine Academy in High Springs, Florida to do just that.
When told to "Find your B's" Nudie runs around the bed and will paw at a spot containing bed bugs as if she is trying to dig through it. And, with her great "sniffer" this is no problem for Nudie ­ just give her a treat!
Dogs have been trained to sniff out termites as well, which are said to cause some $5 billion dollars in damages yearly. But, there is no record for damage from bed bugs, as there is the stigma that keeps people from reporting them.
Autographed Dog Collars
Kyle Orent, Kyle's Collars


We check in with Kyle Orent, an 8-year-old from Northport, New York who raised more than $20,000 for Canine Companions for Independence through sales at his lemonade stand, is currently working on his next endeavor is to raise an additional $10,000 for the non-profit organization, which trains dogs to help people with disabilities, through celebrity autographed collars that are auctioned off.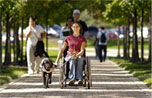 With the generous donation of 100 collars from Bamboo, Kyle has his collars and is in the process of contacting celebrities for their autograph. The collars will then be auctioned off to benefit the Canine Companions for Independence. When asked why he chose this charity, Kyle says he is a big animal lover and likes how these animals have been trained to assist their humans and wants to help.
Listen in to find out what celebrities have returned signed collars. Kyle has been busy!
http://www.CanineCompanions.org
Fido Friendly Travel Talk - Montana
Susan Sims, Fido Friendly Magazine
Bar N Ranch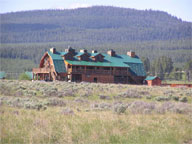 The Bar N Ranch is located roughly 6 miles west of West Yellowstone, Montana, only 10 minutes from the west entrance of Yellowstone. An elegant extension of the natural wonders and scenic byways of the nation's first national park, and a welcome respite from your day of travel. Your hosts, Mike & Gayle Gavagan, invite you to make these two hundred acres your home while visiting Yellowstone Country. And pets are always welcome!

Rainbow Ranch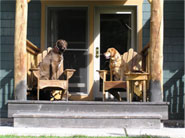 A Montana vacation unlike any other, the Rainbow Ranch Lodge combines the rustic rugged West with classic elegant sophistication. A place where exceptional food, wine, and accommodations are their passion and hospitality is instinctive. Welcome to their little paradise on the banks of the Gallatin River in Big Sky, Montana. And don't forget to bring your furry friends.

Fido Friendly Magazine: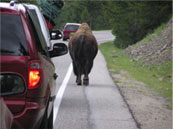 The Travel Magazine For You & Your Dog, a complete guide to Fido-friendly accommodations across the United States and Canada. "Fido Friendly is the only magazine dedicated to the travel lifestyle of man's best friend, and the one magazine your dog will thank you for." And don't forget to join the Fido Friendly Travel Club.
http://www.fidofriendly.com
http://www.fidofriendlytravelclub.com
Pigeon: Bird of Courage and Valor
Rae Ann Kumelos, Voice of the Animal
The pigeon acted as a messenger of hope for the early pioneers and Native Americans, and actually delivered messages for Julius Caesar. So brave and courageous were the pigeons that delivered top secret information in World War II, they were awarded medals of honor.
http://www.VoiceOfTheAnimal.org
NEWS UPDATE:
Leave the Wild in the Wild
Dr. Jim Humphries, Veterinary News Network


Wild animals are not meant to be pets. While you may be fascinated with the baby alligators you saw on vacation or you want to get a Carolina Snapping Turtle into your backyard pond ­ well it's buyer beware!
Along with chimps, hedgehogs and gerbils these animals are not legal as pets in many states. You may be able to purchase them in other states, or over the internet, or even locally but the Western Veterinary Conference warns you that you could be putting your health and your family's health and the wild animal's health in danger, as well as frankly breaking the law.
You may remember the very small turtles, some with colorfully painted shells sold many years ago throughout the country as the perfect pet for young children. Today, the sale of turtles with shells less than four inches in length is outlawed for your protection. Virtually all reptiles carry salmonella bacteria, and while these germs may not pose a threat to turtles, humans, especially children, are susceptible to illness from such exposure, as are other animals.
Each year 93,000 reported cases of salmonella infection result from both direct and indirect contact with reptiles or amphibians. For this reason, states imposed a ban on the sale of small turtles, which children were especially prone to handle. Also, importing some species poses a threat to the area's eco-systems. While the Peruvian Quaker Parrot sounds like a great house pet, they are not domestic birds. And then those released out-of-doors in the United States have been known to raid crops, leading to their ban in many agricultural states.
Most people can figure out why the African Lion made the list of animals you can't bring home to play with the kids, but I suggest you check with your Department of Fish and Game and learn what other animals are illegal in your state. Frankly, if your main concern is animal health and well being, you will "leave the wild in the wild."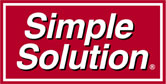 NEWS UPDATE Brought To You By Simple Solution Natural Line Of Products


Pet Etiquette for the Dog Who Pees on Your Rug, etc.
Darlene Arden, ROVER, Get OFF Her Leg!


The worst-case scenario handbook for dogs meets Emily Post. Some say that there are no bad dogs, just bad dog owners. This good-humored guide to canine etiquette is just what the vet would order. Award-winning author and dog-care authority Darlene Arden gets down and dirty, so frustrated owners won't have to anymore. From the embarrassing (the dog who passes tear wrenching gas) to the just plain unacceptable, it's all covered here: - Aggression - Biting - Horrifying odors - Humping - Playdates with dog owners you can't stand - Playdates with dog owners who aren't so fond of you or your dog - Watching you in the bedroom doesn't he know that's creepy? - And, of course, peeing.
http://www.DarleneArden.com
Listen to the 1st Hour ABRIDGED VERSION Podcast of this show (#397).



View Animal Radio Network™ Broadcast Schedule in a new window.


Listen to Animal Radio® - Go to the launch page


Return to Animal Radio Network™ Home Page


Read July Newsletter
Copyright 2007 All Rights Reserved Animal Radio Network LLC