Animal Radio's Pet Containment and Enclosure Special 070806 #345
Crates - Are They Inhumane?
Dr. Holly Knor, Animal Planet's Emergency Vet


If dogs are trained when they are young to be in a crate, they learn that it is not a punishment. A crate can actually be a save haven for a pet in times of stress. Once a dog has been crate trained, you can leave the door open and you will probably find him there throughout the day napping.
Crates are also a good way to housetrain a dog, as dogs won't go to the bathroom where they live. If you have an excited puppy in a crate when you return home, if you are able, pick the whole crate up and take it outside before letting him out of the crate.
To begin crate training, place your dog in the crate for short periods of time. You can feed him while in there and also place his toys in the crate. You may hear some whining and objections at first, but they will ultimately get used to it. Eventually, you can build up the time for extended periods.
The size of a crate is very important. If it is too large, a dog may use the bathroom in a far corner. If it is too small, he will not be able to stand up. With a puppy, you may want to start off with a small crate, but purchase a new and larger crate as he grows. Most pet stores can help you pick out the right size for your pooch.
Custom Cages
Adam Keller, CagesByDesign.com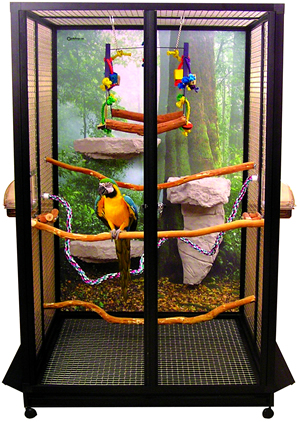 Are you looking for the most complete, versatile, attractive and affordable cage system available? Well, look no further! CagesByDesign.com has what you are looking for. CagesByDesign.com will design a system that is affordable, mobile and light enough for the average person to be able to fit into their home or office, and attractive enough to be a museum quality display. They will also back their cages up with a range of custom options and accessories.
CagesByDesign.com's enclosures have been featured on Bravo's "Queer Eye for the Straight Guy," where the CagesByDesign.com team went quick to work to set up the perfect enclosures for a pair of cockatoos owned by Las Vegas Entertainer Max Clever.
Their enclosures have also been showcased on "Extreme Makeover: Home Edition" where they provided two walls of cages as well as a customized headboard, which has become the focal point for a child's room.
Order your FREE CATALOG from a live operator 24/7 by calling 1-800-941-2243 or visit CagesByDesign.com.
http://www.CagesByDesign.com
Complex Dynamics of Babies and Pets
Emily Yoffe, What The Dog Did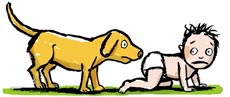 Reading the Humane Society of the United States' suggestions for how to prepare your pet for the arrival of your baby made me realize how negligent my husband and I had been before our daughter's arrival 10 years ago.
In the months before her birth, I was supposed to be anointing myself with eau de baby wipe to get our two cats accustomed to new scents. I should have held, bathed, and diapered a swaddled doll in their presence.
Thank goodness I didn't have a dog then, or I'd have to take it for walks accompanied by the doll in the stroller. (The HSUS does not offer counsel for what to do if the neighbors start worrying you're suffering from prepartum psychosis.) Finally, I should have familiarized my pets with baby sounds by playing a recording of an infant crying. I found one here: www.preparingfido.com. The sample is so enjoyable it made me yearn for "Teen Party Next Door" and "Broken Car Alarm."
http://www.WhatTheDogDid.com

Slithery Stowaway
Britt Savage
Can you imagine flying an airplane at 3,000 feet, discovering a stowaway, and then realizing it is a snake? Well, that is exactly what happened to Monty Coles.
No manuals could have prepared Monty Coles, during his recent flight over West Virginia, for what he was going to encounter. But instinct took over, and he remembered being told that no matter what happens in the air, just fly the plane.
After the snake fell to his feet after he tried to swat it, Coles finally managed to drive the plane with one hand and grab the snake with the other. He then radioed for an emergency landing.
Both Coles and the snake had a smooth landing, and after several pictures together, the snake was released.

Broadway Barks
Crystal Hunt, Guiding Light


Mary Tyler Moore and Bernadette Peters will host the eighth annual BROADWAY BARKS!, a star-studded dog and cat adopt-a-thon benefiting New York City animal shelters and adoption agencies. A galaxy of Broadway stars will join Moore and Peters for this special benefit, presenting the animals for adoption.
The event will take place on Saturday, July 8 in Shubert Alley (located between 44th and 45th Streets, between Broadway and Eighth Avenue). The festivities begin at 3:30 p.m.; celebrity presentations of pets from citywide animal shelters will take place between 5:30 and 6:30 p.m. (In the event of rain, BROADWAY BARKS 8! will be rescheduled for Saturday, July 22 from 3:30p.m. 6:30p.m.)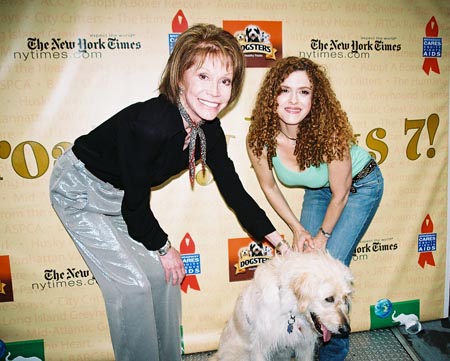 Back by "pawpular" demand, BROADWAY BARKS 8! will help many of New York City,s shelter animals find permanent homes by informing New Yorkers about the plight of the thousands of "homeless" dogs and cats in the metropolitan area. Last year,s BROADWAY BARKS! attracted an audience of more than 6,000 theater fans, pet owners, and animal lovers, and featured the participation of more than 24 animal shelters from the New York City area.
BROADWAY BARKS 8! will also feature an auction of celebrity-autographed memorabilia. Additional auction merchandise will be available via the Internet by logging on to www.eBay.com <http://www.ebay.com/> and using the key words Bernadette Peters. Proceeds from the auction and other donations received during the day will benefit the shelters and organizations attending BROADWAY BARKS 8!
For more information about BROADWAY BARKS8!, call (212) 840-0770, extension 477, or visit the website.
http://www.BroadwayBarks.com

Electric Dog Fencing
Brian Donovan, Innotek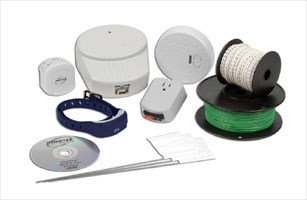 Hundreds of dogs run away every year but only about 16% ever return. Unfortunately, you can't tell your dog how unsafe it can be when he gets out of your yard. Using an electric fence is a great way to keep your dog contained. There is only a mild shock, and compared to the fact that your dog could get lost forever, it is more than humane. Remember, nature is even harsher on animals when they stray from their mothers. And unlike their mothers, we can't be with them every minute of the day.
Electric fencing is so easy to install, you can even do it yourself. But remember, no animal should be left outside for extended periods of time.
http://www.Innotek.net

Transporting Dogs in the Car
Lynn Lott - Pup Parenting


You may have a lifestyle that involves hours in your car, and you like your dog to go with you. Many people have developed the habit of letting their dog ride in the passenger seat next to them. This is a mistake, mainly for safety reasons. If you have a fairly large dog, your view can be obstructed. If you encounter an emergency and need to brake suddenly, your dog could get injured by hitting the windshield or by the air bag. If you have to make a sharp turn, your dog could end up bumping into or falling over you.
Your dog is safest in the back seat. Use either a special harness for your dog that hooks on to a seat belt, a doggy car seat that elevates your dog so he or she can watch out the window, or a leash that attaches to the seat belt.
If your car is a station wagon or sport-utility vehicle, the best way to transport your dog is in the far back of the car using a crate or a grill to create a safe, convenient compartment for the dog.
If you have a pickup truck without a camper shell, you have only two options: in the cab with you with the leash attached either to the door handle or some other device that keeps your dog from reaching you, or a crate in the pickup bed securely fastened with bungee cords or something similar that will prevent it from tipping over or sliding.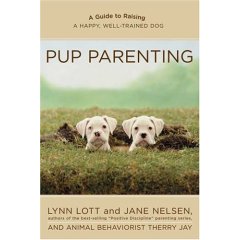 Start training your dogs early if you want them to get used to traveling in a car with you. Use one of our recommended forms of containment or a crate. Leave a bowl of water in the car, along with some type of animal product such as a baited bone or a hoof. And lock your doors; if your dog is well socialized, valuable, and friendly, he could become a dog-napping victim. In hot or even warm weather you must never leave your dog in the car, even in the shade. Even with windows cracked open and in the shade, the temperature inside the car can be fifteen to twenty degrees hotter than outside, and your dog can die of hyperthermia.
http://www.PupParenting.com
Are Cats Affected by Influenza Viruses?
Dr. Jim Humphries, Veterinary News Network


Previous studies to see if cats were affected by influenza viruses show cats to be very resistant. Many veterinarians consider cats to be unable to spread the deadly disease. However, since 2003, a small number of large cats, such as tigers and leopards as well as isolated cases of house cats have died after eating infected birds. Experts at the Cornell Feline Health Center do believe there is a measure of concern, but that Americans can rest assured that current risks to our cats are minimal. Keeping your cats indoors prevents them from eating wild birds and avoid feeding them uncooked poultry. Other veterinarians warn that cat owners should be watching for gastrointestinal symptoms and unusual respiratory symptoms. Overall, experts agree that the risk of our cats spreading avian flu to us is minimal. But as always, they urge cat owners to use common sense and see their veterinarian at the earliest sign of disease.
http://www.VetNewsNet.com
Talk With Your Animals
Joy Turner
Joy speaks with Keela, a female husky shepherd mix. Her guardian is trying to find out why she is so timid.
http://www.TalkWithYourAnimals.com
Cat Fencing
Don Barnes, Affordable Cat Fence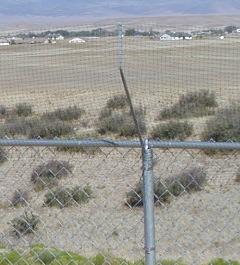 While cats are excellent climbers, they won't climb on unstable surfaces. Affordable Cat Fence is an almost-invisible barrier (polypropylene netting) that attaches to solid steel stanchions angled to prevent escape from your yard, patio or deck. It keeps cats in your yard, keeps other animals out, lets you move litter boxes outside to any covered area, and allows your cats to safely enjoy the outdoors!
The Affordable Cat Fence fits any height wood, masonry, wire or chain link fence. And when you move, you can take it with you!
http://www.CatFence.com
Hippopotamus - Behold the Behemoth!
Rae Ann Kumelos, Voice of the Animal


Did you know that many scholars and zoologists consider the behemoth of the Hebrew Bible to be a hippopotamus? Discover how hippo ranks first in the eyes of God, was featured as the head of an Egyptian goddess, and played an important role for the President of the United States.
http://www.VoiceOfTheAnimal.org

Listen to the 1/2 Hour ABRIDGED VERSION Podcast of this show (#345).

View Animal Radio Network® Broadcast Schedule in a new window.


Listen to Animal Radio® - Go to the launch page


Return to Animal Radio Network® Home Page


Read July Newsletter
Copyright 2006 All Rights Reserved Animal Radio Network LLC