July 9th 2005
James Black Kooky Kat Catnip Company


Everything you wanted to know about catnip but were afraid to ask - Kooky Kat Catnip Company, the one true source for high quality organic catnip, honeysuckle, valerian root, and many other unique pet products. The Kooky Kat Catnip Company has been supplying premium quality 100% certified organic and economical high quality non-organic catnip since 1990. Listen for some interesting facts about cats and catnip.
Ichiro Sasaki - Takara USA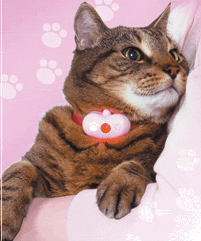 There is no mistaking when a dog is happy, it's tail wags as it runs to greet you and hangs on every word, and then there is your cat Takara introduces the Purrfect Mood Detector, a new stylish collar charm that incorporates proprietary technology that allows you to see when your cat is in a good mood! It works like this: The Purrfect Mood Detector charm attaches to a cat's collar. When the tiny microphone detects that the cat is purring, a red LED light blinks, letting you know that your furry feline is content. Takara knows that no one understands cats better than their owners. The Purrfect Mood Detector offers you another way to make sure that everything is "purrfect."
Joan Dalton - Project Pooch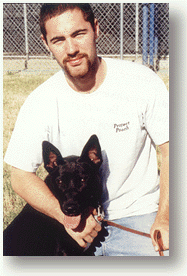 A new leash on life to both the rescued dogs and the juvenile offenders at the Oregon Youth Authority's MacLaren Youth Correctional Facility. Founded in 1993, Project Pooch matches unwanted dogs, who might otherwise be destroyed, with incarcerated youths who obedience train and prepare them for adoption as family pets. The student trainers work with their dogs daily, and practice the principles of positive reinforcement and behavior modification. They also earn school credits, develop good work habits, and acquire valuable occupational skills. Project Pooch is a non- profit organization that has been pairing young men incarcerated at the MacLaren Correctional Facility in Woodburn, Oregon with rescued dogs from animal shelters for over a decade. POOCH depends on grants and private donations for funding.
Karen Derrico
Painting 4 Paws - Art With a Cause
Painting 4 Paws-Art with a Cause helps to raise funds and awareness for animal rescue and welfare organizations. To date, Painting 4 Paws has raised nearly $10,000 for animal charities around the country. A unique component to the project is the adopt a painting program. Each month a piece of artwork is created of special rescue animals submitted by different organizations. Upon completion, the artwork becomes available for "adoption" online, and at various exhibits. A story about the rescue animal and an adoption certificate accompany each adopted painting, and 20% of proceeds benefit the affiliated organization. For people who want a pet but don't have time to care for an animal ­ you can adopt an animal portrait. The benefits? Pet portraits don't need food, water or training and won't soil the carpet, and adopting a portrait can also help homeless animals find homes. Find out how you can get adopt your own animal portrait.
Dan Westfall - C.H.E.E.T.A.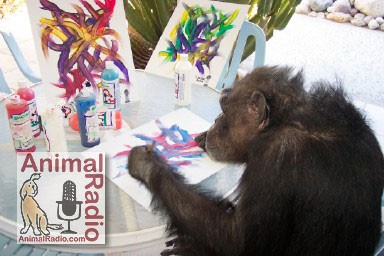 C.H.E.E.T.A. stands for Creative Habitats and Enrichment for Endangered & Threatened Apes. Dan Westfall started the sanctuary when he received custody of Cheeta of Tarzan movies fame. He created a desert sanctuary to provide residence, care, and rehabilitation for homeless or unwanted ex-show business primates. There are chimpanzees, orangutans, and monkeys at our desert refuge. Dan said primate researcher Jane Goodall inspired him to start the sanctuary. Most of the animals at the sanctuary are ex-show business primates but there are a few other animals that aren't retired stars. Cheeta the Chimp is the most well known star at the sanctuary and is the oldest at 73. He was recently dubbed the oldest chimpanzee by Guinness Book of World Records.
Rick Smolan - Cats 24/7:


Extraordinary Photographs Of Wonderful Cats
For these latest entries in their best-selling "24/7" series (America 24/7), Smolan and Cohen sorted through more than 100,000 pictures taken by dog and cat lovers nationwide and for each volume chose 500 breathtaking, full-color photos celebrating the relationship between human and pet. Readers will recognize their own companions, whether it's the new kitten playing with youngsters or a mixed-breed dog hiking in the backcountry with his doctor owner. Besides the images, there are photo essays by well-respected writers like Patricia McConnell, Michael Rosen, and James Herriot ("The Christmas Kitten" from The Best of James Herriott). Featuring purebreds and mutts, fat cats and cool cats, these large-format books will be enjoyed by anyone who has ever owned an animal. For a unique copy, readers can even put their own dog's or cat's photo on the dust jacket. If you would like to submit ideas for the next 24/7 book of animals, please contact Rick Smolan at RickSmolan@mac.com.
Annie Bruce, Good Cats Wear Black - Cats in the 'Hood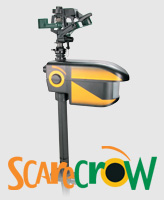 Listen as Annie tells us what we can do to prevent neighborhood cats from coming into your yard, and how to keep your cats out of the neighbors' yards as well.

Darlene Arden
Traveling With Your Pet
Rae Ann Kumelos


Hippopotamus - Behold the Behemoth!
Did you know that many scholars and zoologists consider the behemoth of the Hebrew Bible to be a hippopotamus? Discover how hippo ranks first in the eyes of God, was featured as the head of an Egyptian goddess, and played an important role for the President of the United States.