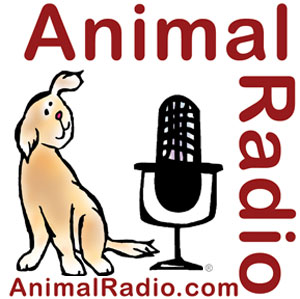 Animal Radio® Show #605 July 9, 2011
Top 10 Most Dangerous Days For Pets
Grant Biniasz, VPI
According to research done in 2010 by VPI (Veterinary Pet Insurance), the worst day for pets was Monday June 7th.
VPI took a look at their claims for 2010 and sorted them by treatment days to see if there were any days or times of the year when more pets were being treated for accidental injuries. What they saw was that more pets were treated on Mondays. This is perhaps because treatment was unavailable for the weekend and pet owners had to wait until Monday to seek treatment. As a result, people need to find out if there is a 24-hour clinic in their area.
VPI saw a spike in the summer months, with June in particular, for accidental injuries. Obviously, our pets are outside more at this time of year. These injuries included insect bites and stings, which are a typical hazard for summer and our pets. Contrary to popular belief, the company did not find any spike in pet accidents treated on or following full moons.
VPI process a little of a million claims a year, and listed the worst days in 2010 as follows: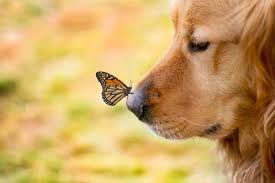 Monday, June 7 – 206 claims
Tuesday, September 7 – 205 claims
Monday, June 14 – 199 claims
Tuesday, June 1 – 193 claims
Monday, June 21 – 188 claims
Monday, August 9 – 183 claims
Monday, April 26 – 179 claims
Monday, June 28 – 179 claims
Monday, April 5 - 173 claims
Monday, August 2- 171 claims

The amount of accident claims treated spiked following holidays, particularly Labor Day, Memorial Day and Easter. Surprisingly, December was the safest month with the least claims.

In order to accurately assess the "danger" of a day, the company only analyzed claims submitted for injuries requiring immediate attention, such as broken bones, poisonings, and lacerations. The data revealed that on the average day in 2010, about 118 VPI-insured pets were treated for severe accidental injuries. Of the days of the week, Mondays had the largest average number of pets treated for accidental injuries at 152. Sundays were the lowest at 59.
For a full breakdown of the data, visit http://on.fb.me/dangerousdays.
50 Remarkable Stories from the Animal Kingdom
Jennifer Holland, Unlikely Friendships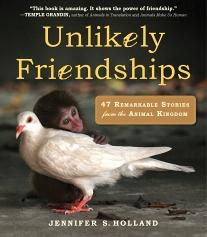 We've all see the pictures of animals of different species together that are normally enemies. But Jennifer Holland, senior writer for National Geographic magazine, has taken it one step further and written a book called Unlikely Friendships, which documents one heartwarming tale after another of animals who, with nothing else in common, bond in the most unexpected ways. A cat and a bird. A mare and a fawn. An elephant and a sheep. A snake and a hamster. The well-documented stories of Koko the gorilla and All Ball the kitten and the hippo Owen and the tortoise Mzee.
These are the most amazing friendships between species, collected from around the world and documented in a selection of full-color candid photographs. Jennifer narrates the details and arc of each story and also offers insights into why and how these friendships occurred.
Jennifer lives with her husband, two dogs, and dozens of snakes and geckos; none of whom, to her dismay, have crossed the species barrier to befriend the others!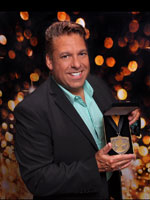 DOGFATHER'S GROOMING TIP with Joey Villani Brought To You By SeniorPetProducts.com. Use the code "SAVE25"

to receive 25%
Animal Radio® News with Stacey Cohen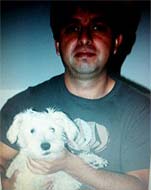 Million Dollar Lawsuit For Dognapping
A Long Island man is slapping his ex-girlfriend with a multi-million-dollar lawsuit after she left him and took the dog with her. The man returned home from a business trip in February to find his girlfriend and his dog Guapo gone. The white-bearded Schnauzer is registered in the girl's name, but he claims they'd agreed that he would be the primary caregiver for Guapo. He's suing his ex-girlfriend for return of the pooch as well as $11 million dollars for emotional distress.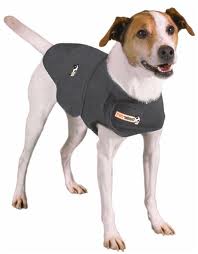 Many Dogs Are Suffering From Anxiety
More than 40% of those taking part in the "The Thundershirt Dog Anxiety Survey" say they either have, or have had, a dog with fear and anxiety issues. Loud noises are the most common anxiety triggers for dogs. Owners also know when their dogs are having problems. They report that their dog shakes, trembles and cowers during an anxiety attack. Among the owners who take action to calm their dog's nerves, the most popular strategies include medication, training and avoiding the situations they know make their dog nervous. Dog anxiety does cost a lot of money. People with anxious dogs reportedly spend more than one-billion-dollars each year, which includes over 240-million-dollars going toward replacing or repairing property damaged by their dogs during an anxiety attack.

Nighttime Zoo Parties
A spokeswoman for the Philadelphia Zoo boasts that guests at its programs get a distinctive experience in an uncrowded setting. The Philadelphia Zoo has offered the overnight adventures for about 20 years. Guests at the Denver Zoo get what a spokeswoman calls a completely different look at the animals. The Denver Zoo provides night vision scopes on its two-hour night tours so that visitors can get a good look at nocturnal animals such as owls. An overnight program at the Queens Zoo in New York gives guests a chance to make breakfast for some of the animals and watch the feeding the next morning.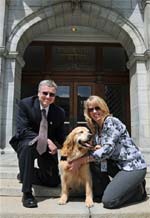 Dog Helps Children On Witness Stand
A 15-year-old girl had special help when she took the witness stand at the trial for the man accused of sexually assaulting her for four years. Rose, an 11-year-old golden retriever whose regular job is helping provide therapy in schools for troubled children, was there at her side, helping to calm a child who experts said is otherwise incapable of talking about her traumatic ordeal. It's an unprecedented arrangement in New York and now gaining acceptance elsewhere. Pioneered by a Seattle prosecutor in 2003, courthouse dogs are participating in trials in at least 10 states, often over the objections of defense lawyers who worry that the dogs generate extra sympathy for victims and witnesses.
Aggressive" Black Bear Chases Colorado Springs Cop
It wasn't quite Yogi and the park ranger but a Colorado Springs, Colorado cop had a close encounter with a black bear. Sergeant Darrin Abbink says the officer escaped unharmed and the bear eventually wandered off into the woods. Abbink suggests anyone who encounters a bear should leave it alone. If anyone gets involved in a dangerous situation with a bear they should call 911.

What's The Cut Off Point That You Would Spend For Your Dog?
How does this sound...A three-story townhouse on Paris' exclusive Place Vendome, with gorgeous interiors hung with plush red velvet and dazzling gilded chandeliers. It's an address fit for a king. Or his dog. The property in question is actually a miniature poodle-sized replica of a tiny Paris townhouse, handmade for discerning pooches with deep pockets and a taste for the finer things in life. The 4-foot-tall doghouse, complete with a canopy bed and velvet-lined drawers for storing a dog's accessories, is the jewel in the crown of Puppy de Paris, a new luxury canine comfort line crafted by prized French artisans. Other offerings in the line by Frenchwoman Karin Fainas include a velvet bed painted with scenes from Parisian bakeries and fitted with lion's paw feet in hand-cast silver and a doggy bowl in gold-dipped bronze that looks more like more like a crown than something you'd intentionally fill with dog chow. "I used to work in fine jewelry, and my clients would inevitably have little dogs in tote," said Fainas, a 41-year-old with elegant features and close-cropped hair. "They were always telling me, what about my dog? You should make beautiful things for him, he deserves them just as much as I do.'" So Fainas set about doing just that. The Made in France label comes with a price: about $14,000 for the dog bowl to about $21,000 for the Haussmannian master apartment house. The little couches are about $17,000.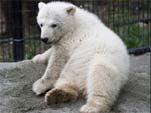 How Do You Ship A Bear? UPS!
It might be the beginning of summer, but Operation Snowflake is in full effect.
Qannik, a 5-month-old polar bear cub found as an orphan on Alaska's North Slope in April, is being shipped on a UPS Boeing 747-400 from her temporary digs at the Alaska Zoo to the Glacier Run development in the Louisville Zoo in Kentucky. The cub's name, means "Snowflake " in the Inupiat language and it is also the name of the oil field where she was found. Operation Snowflake has been in the works for two months, with the Alaska Zoo, Louisville Zoo, U.S. Fish and Wildlife Service, Association of Zoos and Aquariums, Polar Bears International and UPS all also involved. Researchers first saw the cub emerge from a snow den, along with her mother and a sibling, in February. When she was spotted again in late April, she was on her own. An aerial search for the mother and sibling turned up no clues, so the decision was made to rescue the young bear.


NEWS UPDATE Brought To You By PetzLife.com


Listen to the entire Podcast of this show (#605)

indicates XM Satellite Radio and Podcast versions only.