Animal Radio® Show #450 July 19, 2008


PET EMERGENCY SPECIAL brought to you by the AMERICAN RED CROSS

Joy Behar, The View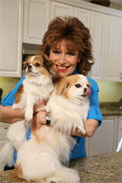 Joy Behar, dog lover, comedian and co-host of the national talk show The View Joy currently has two dogs, Tallulah and Gracie, which she says you can set a clock to when it comes to dinner time. When asked if she lets her dog sleep in the bed with her, she said she doesn't allow it ­ they just do! And let's not forget her cat who joins them ­ which makes it a very crowded bed!
Joy is the celebrity judge who will help select the winner of the national search for the New Face of ALPO. ALPO is looking for the biggest "meat maniac" in America ­ the lovable, everyday dog who has the most entertaining, humorous and memorable way of showing his excitement when dinner is served. One lucky dog (and owners) will be awarded a grand prize package including:
Dog's image will appear on over 2.5 million cans of ALPO brand dog food
Dog will be featured in an ALPO print ad
Trip for two, plus dog, to Hollywood for five days and four nights for a taste of fame that includes: a day with Hollywood animal trainer; meet-and-greet with celebrity dogs from TV and film; a tour of animal film landmarks around Los Angeles; and spa treatments for dog and owner(s)
Hometown celebration and larger-than-life inflatable of ALPO can with dog's image
One year supply of ALPO
$10,000 cash
To enter, visit www.alporealmeatmoments.com
Joy is also an author. Her first children's book, Sheetzucacapoopoo: My Kind of Dog, was written about her late dog, Max. The mixed breed ­ part Shih Tizu, part cocker spaniel, and part poodle, was a member of Joy's family and their bond was unbreakable. Due to her love for animals, Joy donated her royalties to the North Shore Animal League America.



Vladae, The "World Famous" Russian Dog Wizard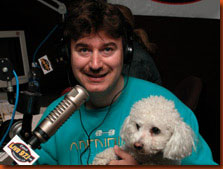 My Dog Steals Item Out of Trash
Well, you probably guessed, it is a Labrador retriever. If you have one of these thieves, you need to exercise him more and tire him out. Listen in for more great tips to stop this from happening.
Dogs Attacks Certain Dogs
When this dog goes to attack other dogs, the guardian holds her back and tries to soothe her. Is this what you do in this same situation? Well, it is the wrong approach, and is actually making it worse than better, as this tells your dog it is okay to do this.
Sleeping With Your Pets
It's no secret Vladae is opposed to sleeping with your pet. But, most of us do it without thinking twice. If you are going to allow this, listen to Vladae tell you the right way to go about it.



Pet Emergencies
Dr. Kevin Fitzgerald, "Emergency Vets"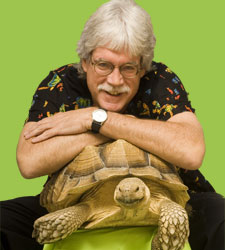 This time of year, the exposure to emergencies is greater. Dogs are outside more and get into mischief, there are more dogfights and you take them along with you to events such as picnics where they get into garbage and can get food poisoning. So, this is the time of year where more emergencies are seen than in the snowy months of the year.
The number one emergency that Dr. Kevin Fitzgerald sees is seasonal. This time of year, its poisonings with fertilizers and pesticides, which aren't seen as frequently during other times of the year.

Bee stings and porcupine quills are also up at this time of year. If a bee stings your pet, don't waste your time looking for the stinger, as recent research has shown that all of the poison is out within 60 seconds, and there has never been an infection found on a dog when a stinger was not removed. Dogs are usually stung on their paws or face, because they usually step on bees or they stick their nose in the bee's business. Try some ice or cortisone cream if your dog gets stung. You can also give them a warm bath to make them feel better. Unless you see immediate signs of respiratory distress, you probably don't need to take your dog to the vet.
Dr. Fitzgerald also sees animals that are not only overheated form being left in cars, but from also being taken on jogs. Our dogs love to go with us and to please us, but we have to be realistic about the demands we put on them and the time of day we take them out. Like us, dogs don't sweat. They do, however, have sweat glands on their feet and in their ears, but it is not enough to keep them cool on as really hot day. And, don't put booties on your pet on a hot day, as this can keep the heat in.
If your dog has shortness of breath and appears comatose, he could be suffering form heat stroke. He may even start having seizures and you should get him to the vet immediately. Animals are able to tolerate big drops in temperature and come back, but they can only take a few degrees above their normal temperature before they get into trouble.
http://www.alamedaeast.com



Dr. Jill Answers Your Vet Questions



My Ferret Has Itchy Skin
This ferret has been suffering from itchy skin for about a year and moisturizing shampoos are not helping. Dr. Jill suggests taking the ferret to a vet that specializes in ferrets to determine if it is a food allergy.
Dr. Jill Loses Dog While Pet Sitting
I know it is hard to believe that Dr. Jill would lose a dog while pet sitting! Fortunately, the dog was picked up immediately by animal control and was microchipped. If your dog is not microchipped, you should do so immediately. You should also place a collar on your pet with your information for those that don't have scanners. The moral of the story is - Be careful when you have people baby sit your pets!



Mosquitoes
Rebecca Kolls, Seasons Magazine


Nobody likes mosquitoes! In fact they are so unpopular that June 22-28 has been declared National Mosquito Control Awareness Week! Wherever there's moisture there will be some mosquitoes. But you can reduce your chances of getting bitten by mosquito pests by helping to reduce their breeding habitat.

It's the females that do all the biting. They need a blood meal to lay eggs and they lay eggs in water. Consider any amount of standing water the perfect environment for egg laying. So as you stroll your garden dump standing water that might have collect in saucers, containers. Empty the water from birdbaths and kiddy pools once a week. Get rid of old tires, unused buckets and trashcans that can hold rainwater. Clean clogged roof gutters. If it holds standing water, it holds the next generation of mosquitoes.
If the eggs hatch, you can kill the larvae naturally with products containing B.t.i., (Bacillus thuringiensis israelenis) such as Mosquito Dunks and Mosquito Bits. Simply drop the product in the water - it kills the larvae up to 30 days without harming anything else.
Also when you head for the garden later in the day, cover up, wear a mosquito repellent and hit the doors as dusk approaches!
http://www.rebeccakolls.com



Vinnie Penn, Animal Radio's Resident Party Animal


What Is Your Next Pet?
I have been discussing what the next pet is for the Penn household, and I'm thinking a bird. I had a bird when I was a kid, Harry; we named him after the mailman, the good old days of Americana, of life in the suburbs, when you named your pets after the mailman or the milkman. Now, he is just someone you suspect is sleeping with your wife. But again, this isn't about me!
So, I'm thinking the bird thing. It's a wonderful pet and a lot of fun. You can lug the cage around, and we have a beautiful deck in the house and we bring the cage out when we are all sitting by the pool.
One problem that I've had with a lot of my friends who have had birds over the years, when did it become par for the course that if you have a bird; you teach it to tell bad jokes or to cuss? For the life of me, I just can't understand this. This is not the point of having a pet. It's like these people who have dogs now that they teach to attack. This isn't the point. We don't have pets to teach them to be belligerent or aggressive. If we have pets, we teach them to love and to give love to and to get love from, that age-old unconditional love.
Several years back, I visited a friend of a friend, and he's like, "Hey, this is my bird Tequila." I mean that alone, you named him Tequila? And the bird is like "*******." Everybody was just cracking up in the kitchen. These are the guys who clearly sat around in the dorm room and marveled at the pet snakes someone had munching on a rat or a mouse.
We don't get birds to teach them to cuss or to tell jokes. I don't know, maybe I'm wrong?



Animal Minute With Britt Savage



Wild Boars Help Catch Thief
In Germany, a herd of wild boars helped capture a suspected car thief. Police say an eighteen-year-old abandoned the stolen SUV he was driving after failing to shake off a chasing police car by driving into a field. Police nabbed his passenger right away, but they said the driver initially got away by running into the woods. Searching officers then heard someone screaming for help. It was the fugitive who had run into a herd of angry, wild boars protecting their young. Police freed the relieved suspect from the boars and took him into custody.



Animal Radio® News with Bobbie Hill



Dog Fighting Raid in Georgia
The ASPCA announced its involvement in last week's dog fighting raid in Georgia. The American Society for the Prevention of Cruelty to Animals joined other animal welfare agencies along with officers from the Madison County Sheriff's Department in a planned raid. The major shake down of the alleged dog fighting operation led to the arrest of one man who was charged with felony dog fighting. The raid resulted in seven dogs being seized as evidence as well as dog fighting paraphernalia. The ASPCA president Ed Sayres said "The ASPCA is proud to assist HSUS in their raid of this illegal dog fighting ring." The raid marked the first bust for suspected dog fighting since the passage of new legislation May 10th making it a felony to own, possess, train or sell a dog for the purpose of dog fighting.
Raw Food or Grained Based Food?
The dispute over feeding Fido fresh or grain based pet food continues. Especially since the last year's pet food recall due to contaminated ingredients there's more interest in feeding raw. Statistics show more pet owners are choosing "fresh" pet food since last spring - in the U.S., raw/frozen pet food sales have climbed 38% between 2003 and 2007. That exceeded the annual 5 to 6 percent sales growth of the pet food market as a whole. Stats showed the sale of "fresh" pet food was actually declining until 2007 when it showed a 119% leap. The "fresh/frozen/raw" pet food category includes natural and organic varieties defined as food made with whole or unrefined ingredients and natural preservatives.
Deployed Military Reunited With Pets After Returning
Volunteers are working to help deployed members of the service find safe homes for their pets while they're assigned to active duty. Guardian Angels for Soldier's Pet is a non-profit organization in Arkansas ensuring military service personnel are reunited with their pets upon returning home. President Linda Spurlin-Dominik says, "By providing safe homes for their pets, it is our hope that we can help cut down on the anxiety and uncertainty of deployment.... and say thank you for their service and sacrifice." To find out how to provide a foster home, become a volunteer or make a donation visit www.guardianangelsforsoldierspet.org



Is it An Emergency or Not?
Dr. Jim Humphries, Veterinary News Network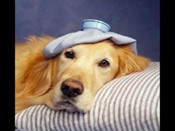 Can you tell the difference between a veterinarian problem that's urgent and a life-threatening emergency that should send you racing to the ER?
Here are some examples:
After walking home on a hot day, your dog sits down and refuses to move. She's panting heavily.
Those are the symptoms of hyperthermia, and if left untreated, can cause permanent brain damage, kidney or liver disease and even death.
Within an hour after a meal, your dog starts drooling and becomes restless. He starts gagging but nothing comes up.
Those are the symptoms of bloat. This is a medical emergency and you need immediate surgical help.
Your cat jumps onto the stove and puts a paw down on a hot burner. The paw is blistered, red, swollen and tender.
This is a deep limited burn, and such burns usually heal pretty well. Although there may be some scaring, it is not a medical emergency.
Your dog looks and acts as though he has a bad cold. His eyes are red, his nose is running and he sneezes and coughs.
Well, these might be the symptoms of the dog flu, which is highly contagious. Call your veterinarian, but ask before you take your dog in. You don't want to affect other animals at the clinic.
There are thousands of these scenarios, but as a responsible pet owner, you should know what's an emergency and what's not. Never be hesitant, however, to call your veterinarian.
http://www.myvnn.com



Your Vet Questions Answered by Dr. Debbie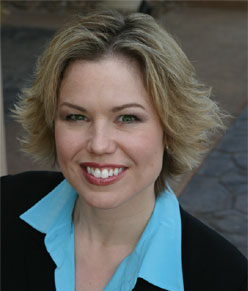 Border Collie 100lbs and Still Growing
This guy adopted a Border Collie from a Border Collie Rescue. But, so far the 7-month-old dog is almost 100 pounds and is still growing. Unfortunately, this is not the dog this guy signed up for ­ what should he do?
Cat Is Losing Hair From Chin And Tail
This woman's cat is an indoor/outdoor cat. Lately, he seems to be missing some hair from his chin and tail. Could someone be messing with him, or is it acne or allergies? Dr. Debbie tries to determine just what us going on.



Animal Minute With Britt Savage



Teen Loses Control Of Car While Trying To Catch Gerbil
Police in Springville, Utah, says a teenage driver lost control of her car while scrambling to capture her pet gerbil. While the seventeen-year-old was trying to catch her gerbil who had gotten out of its cage, she veered off the road, hitting a stranded truck hooked up to another truck with jumper cables. The impact pushed the two trucks together, pinning a woman in between. She suffered a broken leg, and a male co-worker, helping the woman, also suffered a broken leg. Neither the teenager nor the gerbil were hurt, and no charges were brought against her at this time. But, I'm sure she's learned a valuable lesson!



International Animal News with Kaye Browne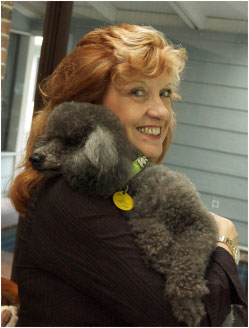 Man Resorts to Crime to Feed Pets
We've mentioned in past news bulletins about the economy affecting pet owners all around the world ­ well in Japan ­ an animal-lover has resorted to holding up convenience stores to feed his pets. Japanese media branded Takaharu Kawata "The Dogman" after he was caught on a surveillance camera waving a knife and wearing an oversized black-and-white dog mask. The 28-year-old told police he'd seen robberies on TV and thought it was the only way he could get money to feed his two dogs, five cats, five turtles, two snakes and an aquarium of tropical fish. The dogman's now in custody - his pets are now being looked after by a pet store.
Child Survives on Cat Food
Relatives of a two-year-old Californian boy are now singing the praises of the nutritional content in dry cat food ­ after it saved the life of a little boy - in a home alone for 6 days. The Sacramento Bee says it appears the toddler's mother died of natural causes leaving the little boy to survive on what he could find ­ which turned out to be dry cat food. A social worker passing the house called police after hearing the toddler crying inside.
Biting Dog Can Sometimes Be a Good Thing!
You won't hear many stories about dog bites in this news program ­ but sometimes a dog bite can be a good thing. Just ask the New Jersey family of 12-year-old Jessica McMahon whose dog Princess attacked a man who tried to grab the little girl while the pair were out for a walk. According to Jessica, the German Shepherd cross Labrador leapt to her defense when the strange man grabbed her necklace ­ biting the would-be abductor on the leg ­ scaring him off! Good doggy!
Pigeons Supplying Contraband to Prisoners
Brazilian prison officials had a problem the inmates were somehow getting drugs and cell phones ­ even though they'd installed high tech surveillance equipment. Then they noticed a couple of carrier pigeons looking like they'd had a big lunch ­ they were having trouble keeping airborne. You guessed it. Those crafty crooks in Sao Paulo state prison had been training the birds to smuggle in goods using cell phone sized pouches on their backs. Now - like their trainers ­ the birds are behind bars.
Listen to Current World News



Could Your Pet Be Making You Sick?


Dr. Marty Becker, ABC's Good Morning America


Many owners consider their household pets family members, but just like their human counterparts, these animals can spread illnesses to people.
Pet-to-human transmission is called zoonosis, and highly publicized examples include disease that's passed from nonhousehold animals to humans, such as mad cow disease and bird flu.
"Good Morning America" contributor Dr. Marty Becker gives you tips on how avoid getting sick from your pet.
How do diseases get passed from our cats and dogs to us?
It's not a pretty picture. Disease can cross a bridge between you and your pet on a flea or tick, or through bacteria or other organisms found on the body of your pet or in your pet's waste. We come into contact with these when we care for our furry pals. Grooming them, petting them and cleaning up after them exposes us, but it isn't difficult to safeguard yourself and your loved ones once you have the facts.
What are some of the more common diseases passed from animals to people?
The most common by far are diseases spread by parasites, such as fleas, ticks or worms. A new study from the Centers for Disease Control and Prevention found that 14 percent of the U.S. population is infected with toxocara, or internal roundworms, contracted from dogs and cats.
From roundworms, people can contract visceral larval migrans, which is a potentially serious disease that can affect the eyes or other organs. Symptoms can include fever, cough, loss of appetite, weakness and lung congestion.
Another common problem is cat scratch fever, which is just what it sounds like. It's an infection caused by a cat bite or scratch. Bacteria found on a cat's nails or claws is transmitted through the scratch and can cause high fever, loss of appetite and swollen glands.
If you're a healthy person, cat scratch fever is mild and if you wash out the scratch or bite with soap and water it can resolve itself. But it can be very dangerous for people with weakened or immature immune systems.
Contracting salmonella also is a potential problem and the most frequently reported cause of food borne illnesses in humans. It's in the news now because of contaminated tomatoes. However, it can also be passed through animal waste, and may cause symptoms like fever, vomiting, diarrhea and exhaustion. The biggest pet culprits are reptiles, so it is important to practice excellent hygiene when caring for them.
And then there are protozoal infections. Protozoa are single-celled organisms that can be found on undercooked or raw meat, or unwashed or undercooked vegetables. Your pets have frequent contact with all those things and can pass the protozoa on to you, which can cause diarrhea that can sometimes be severe.
Who is most at risk to catch a disease from a pet?
Kids have the greatest risk of catching a disease from a pet because they not only play with their pets but often come into contact with an animal's waste, which can be hidden in the grass in the yard or in the sandbox. Inevitably, little hands that play in the grass or sand end up in little mouths.
Pregnant women, the elderly and anyone with a weakened immune system also are in danger. This includes people undergoing cancer treatment, or recent organ recipients anyone with an autoimmune disease.
Unfortunately, people with compromised immune systems are often mistakenly advised to remove cats from the household to reduce the risk of infection. This is particularly distressing for people going through a serious illness, who often need the love of their pets to help them get through this tough time. However, people are highly unlikely to become infected from direct contact with their cats and with simple, proper precautions, there is no danger at all.
What should people do to stay safe?
The key for owners is cleanliness. Wash your hands before and after handling your pets. Avoid letting them lick your face, your plates, utensils, etc.
Minimize your contact with high-pet traffic areas doggy parks or doggy potty areas at highway rest stops. If you do go to them, be sure to wash your hands thoroughly after you leave.
Also, keep your surroundings clean. Scoop the poop in the street and in your yard. Make sure the area where your children play is poop- free. Cover up the sandbox when it's not in use, which will keep it parasite and poop-free. But if you're pregnant or have an immune deficiency, make sure someone else does the scooping.
Finally, take bites and scratches seriously. Clean them thoroughly and see a doctor if you experience any irritation.
What should I do to protect my pets?
First of all, keep you pets in good health with semi-annual visits to the vet to keep their vaccines current and to make sure they are parasite-free. Also, make sure that you use year-round parasite control throughout your pet's life, regardless of your pet's age or where you live.
Keep your pet's environment clean by scooping the poop out of your cat's litter box every day. Also, deep clean the litter box periodically with scalding hot water and detergent, and replace that litter box at least once a year.
Click here to watch a video on Dr. Marty Becker discussing Zoonosis Diseases, please visit:
Visit the following Web sites for more information:
www.healthypet.com; www.petparents.com; www.wormsandgermsblog.com; www.ACVIM.org; www.cdc.gov/healthypets; www.noworms.com; www.petconnection.com
Copyright © 2008 ABC News Internet Ventures




Talk With Your Animals with Joy Turner

A woman who was recently burglarized while her dogs were home, wants to know if they were traumatized by the unfortunate event.
http://www.TalkWithYourAnimals.com
Listen to the entire Podcast of this show (#450)

Broadcast on XM Satellite Radio and Podcast Versions Only.

Listen to Animal Radio® - Go to the launch page
Return to Animal Radio Network™ Home Page
Read July Newsletter
Copyright 2008 All Rights Reserved Animal Radio Network LLC