July 21, 2007
TRAVELING WITH YOUR PET SPECIAL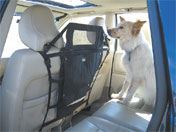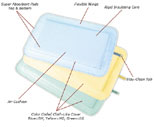 Dogs are the pets that travelers bring along most often, according to the Travel Industry Association. It estimates that 29 million travelers have taken a pet with them at least once in the past three years. The group said 78 percent of those people (about 22.6 million) took dogs, while feline travelers were a very distant second. Cat owners made up 15 percent of the pet-toting public (about 4.4 million). This show covers the new products and services available for your traveling pets. Brought to you by DryFur, makers of the Dryfur pet carrier insert; and KURGO, makers of innovative products to safely restrain your dog while traveling.
Clive Pearse
HGTV Design Star 2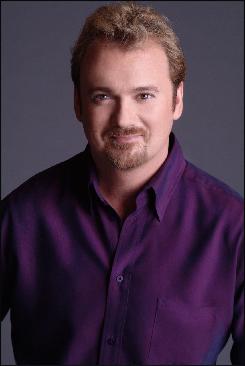 British-born Clive Pearse returns to host the much-anticipated second season of the highly-rated reality competition, HGTV Design Star. Pearse, a familiar face to HGTV viewers, began his career with the network as host of the L.A.-based team of Designed to Sell, which recently celebrated its 100th episode. This year, he also hosted the live broadcast of the HGTV Dream Home 2007 special.
A one-hour special will air on Sunday, July 22 at 10PM ET/PT. Beginning the following week, HGTV Design Star will air weekly in its Sundays at 9PM ET/PT regular time period. Its finale is scheduled to air on Sunday, September 16.
HGTV Design Star's second season will feature a cast of 11 interior designers, artists, architects and craftsmen living in Las Vegas and competing in a series of challenges that test their creativity, ingenuity and skills. Viewers will find more twists, more turns, fun surprises, fresh ideas and takeaways on the show this season.
HGTV Design Star's second season finalists will be critiqued by the same judges as the show's first season's finalists -- former Trading Spaces designer Vern Yip, renowned designer Cynthia Rowley, and In Style executive editor Martha McCully.
Clive, star of HGTV's Design Star and the Designed to Sell series, lives in Los Angeles with his dog Delia, who doesn't like traveling!
http://www.ClivePearse.com
http://www.HGTV.com
Kennels - Not Just for Traveling
Rolan Tripp, DVM, Petmate


Kennels are used in transporting dogs both in vehicles and in airplanes. They are also great for full time use at home.
Dr. Rolan Tripp offers some great tips on getting a dog accustomed to a kennel:
1. Make the kennel a dog's favorite place.
2. Spray a pheromone in the kennel to calm him.
3. Make the kennel his dining area.
4. Place treats in the kennel.
When getting a dog ready for airline travel:
1. Start with placing the kennel in your car for short trips, and then extend the time gradually.
2. Do not give food or water one hour prior to plane traveling.
3. Place a worn t-shirt, or other item of clothing with your scent, in his kennel.
4. Spray a pheromone in the kennel to calm him.
5. Make sure your kennel meets the International Air Transport Association (IATA) and USDA requirements. (the Vari Kennel Ultra by Petmate is the premiere kennel for air travel)
http://www.animalbehavior.net
http://www.Petmate.com
Keep Your Pet Dry While Traveling
Lisa Kelly, DryFur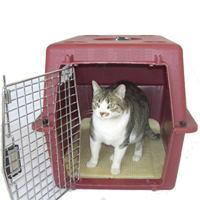 Does your cat have accidents in his pet carrier? Do you have an elderly, ill or diabetic pet? Do you periodically crate your dog and worry he may have an accident? Bringing your pet home after a medical procedure? Planning to travel with your pet with very limited or no potty breaks?
I am sure you have been faced with one or more of these scenarios. If so you know how embarrassing, messy & inconvenient this can be but did you ever think about how your poor pet must feel?
Lisa Kelly tells us about the new DryFur Pet Carrier Cushioned Mat. The DryFur mat makes a great bed and will last for months or even years. If your pet has an accident while in his carrier it will keep him completely clean and dry, and then simply toss away. They also come in many different sizes to fit all carriers and won't bunch up.
They have also come out with a great "Pet Airline Kit." The kit includes food and water cups that attach to your crate (no more spilling!); replacement nuts and bolts; "LIVE ANIMAL" stickers; cable ties; and an airline checklist. They have thought of everything for traveling with your pet!
http://www.DryFur.com
When Pets Travel in Cars
Gordon Spater, Kurgo


Face it, you love to bring your dog along in the car, but dogs moving around freely in cars are a safety hazard. While riding in the car may be fun for them, it can be dangerous if your pooch isn't safely secured. Gordon Spater explains that Kurgo has solved that problem with their AutoZip line.
The "Backseat Barrier" will keep your dog safely in the backseat when the car stops quickly and restricts excited pups from moving between the front and back seats of the vehicle; and the "Auto Zip Line" cable creates a tether run for your dog, allowing him to move freely but providing safety with sudden stops.
Then there is the "Wander Hammock" that will not only provide the perfect place for your dog to travel, but it will protect your car from dog hair and mud. And last, but not least, there is the "Wander Bed" with a double use, allowing your pet to rest on it during rides, and then a portion of the bed pulls out for your dog to use as a comfortable resting spot in a strange place.
If you travel with your pets, you will definitely want to check out these great products!
http://www.Kurgo.com
Fear of Flying with Pets
Dr. Jim Humphries, Veterinary News Network


New report may conquer fear of flying with poets. Pet owners who worry about shipping Fido in the belly of an aircraft might want to chew on this. Despite previous estimates from animal rights groups that thousands of animals were killed, injured or lost on commercial airlines each year, only 56 incidents were reported nationwide in the past year. And, that is the first year that official statistics were kept.
A Dallas morning news analysis of records reported by airlines to the federal government revealed that 28 animals died, 22 were injured and 6 were lost form May 2005 through May 2006. About 70% of the incidents involved dogs, which are more likely to travel in cargo than in the cabin, 14 cats, 2 birds and 1 rat made up the rest. The figures don't show how many animals travel on each airline each month.
It is important to know that cargo holds throughout the industry are temperature controlled and pressurized to the same degree as the cabin. Continental allows year-round flying, because it transports the pets to and from the plane in temperature controlled vehicles. It also has arrangements in all cities with local veterinarians to respond to animal emergencies. The airline's Pet Safe Program is designed to attract passengers flying with animals.
http://www.VetNewsNet.com
Can't Afford a Cow? Rent One!
Britt Savage


A Swiss farmer is renting out his cows. The farmer says people can hire Maxine, Wanda or Lynn for about $100 a month. And what do you get by renting one of the cows? You can visit any time you'd like, milk them and receive a souvenir picture. In addition, you get a discount on bread and cheese sold by his farm and a chance to spend a weekend in an Alpine Chalet by a lake in the summertime when the cows are put out to grass. The farmer is hoping his cow rental idea will bring in some extra money to help pay bills not covered by farming.



Horse ­ Highway of Hoof-Prints
Rae Ann Kumelos, Voice of the Animal
What do traveling down the highway in your car and watching a television program beamed to you via satellite have in common? Two horses. Tune in to learn why.
http://www.VoiceOfTheAnimal.org
Fido Friendly Travel Talk
Susan Sims, Fido Friendly Magazine
Honest Kitchen:


Dog food has been in the news lately and Lucy Postin from The Honest Kitchen educates us about the importance of organic human grade food, which as it turns out, is especially great travel food. The Dehydrated Raw Dog Food is easily hydrated with fresh, warm water, a process that takes just 5 to 10 minutes.
http://www.thehonestkitchen.com
Fido Friendly Magazine: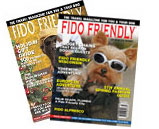 The Travel Magazine For You & Your Dog, a complete guide to Fido-friendly accommodations across the United States and Canada. "Fido Friendly is the only magazine dedicated to the travel lifestyle of man's best friend, and the one magazine your dog will thank you for." And don't forget to join the Fido Friendly Travel Club.
http://www.fidofriendly.com

NEWS UPDATE: Cat Has 8 Lives Left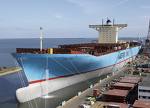 Spice, a 3-year old Calico Cat, recently used up one of her nine lives after surviving for 19 days without food or water while trapped in a shipping container bound to California from Hawaii.
Spice's family was planning the oceanic move and had made arrangements to leave Spice with friends. However, when they were packing their belongings into a shipping container, somehow Spice got inside. When the family realized what happened, the ship had already sailed.
Upon arrival of the first of their two containers in California, they anxiously opened it, but no Spice. A day later their second container arrived, and after searching for Spice, she was found poking her head out from behind some bicycles.

A veterinarian checked Spice over and found that even though her kidneys had shrunk and her bowels were backed up, she was none the worse for the wear.
Perhaps Spice knew her family was leaving and just wanted to go along!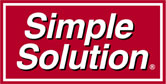 NEWS UPDATE Brought To You By Simple Solution Natural Line Of Products
RV'ing With Your Pet
Bob Livingston, Affinity Group (Good Sam Club)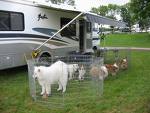 Years ago when you saw an RV, chances are it was an older couple. Today, more and more younger people are hitting the road in RVs and brining their pets with them. While most people travel with cats and dogs, some people bring ferrets, birds, and other exotic animals.
RV manufacturers have started catering to this new generation and pets, and people are using their imagination to make their own conversions. For example, the trailers with open backs for motorcycles are now being used by people with kennels, making it easier to get them in and out.
But remember, when traveling with your pets in an RV, you still need to be aware of the temperature. If you are going to leave your pet along for any length of time, leave the air conditioner on and windows open. I know it sounds crazy, but if the power should go out, you don't want your pet to overheat. And never leave a generator on when you leave. Also, be careful when moving slides in or out. There are small openings that a small animal can quickly squeeze into. Just do a head count before moving slides, and have a great trip!
http://www.AffinityGroup.com
Top 10 Fido Friendly Destinations
Susan Sims, Fido Friendly Magazine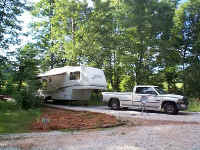 10.Four Paws Kingdom Campground in NC
Campers will enjoy the 33 acre campground where owners can swim with their dogs and where you can sign your dog up for obedience and agility during your stay.

9. Cunard Lines' Queen Mary 2
Bet you didn't think you could cruise with Fido but for you world travelers out there, the good news is you can! The Queen Mary 2 makes the transatlantic crossing in 6 days. There are just 12 kennels on board as dogs are not allowed inside your rooms. The cost to take your dog ranges from $300-$500 one way.

8. The Ruby at Crested Butte, CO
The Ruby is the premier Fido friendly bed and breakfast in the very dog friendly town of Crested Butte. Each dog that stays at this bed and breakfast will lap up the luxury as much you will.
7. Cambria Shores Inn, Cambria, CA
Newly renovated upscale accommodations right across from the ocean; you receive your breakfast in a basket on a hook outside your door and Fido receives his own goody basket as well. $15.00 pet fee.

6. Cypress Inn, Carmel, CA
Carmel is one of the top FF cities in the country where pets can run leash-free on Carmel Beach. The Cypress Inn, owned by actress and animal activist, Doris Day, gives you a list of Fido-friendly restaurants where you can dine al fresco with your dog and offers pet-sitting. $30 and up for pet fees.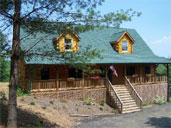 5.The Dog House Resort, NC
Listed as a B&B for people and their dogs, this is a brand new property on 3 acres overlooking the Blue Ridge Mountains. There is no pet fee or breed restrictions and there is a fenced dog park on property. You can also canoe or walk with your dog at the nearby New River. Great place to plan a fall foliage trip.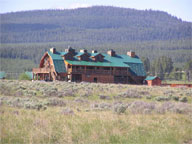 4. Bar-N Ranch, West Yellowstone, MT
Located just 10 minutes from the entrance to Yellowstone National Park, the Bar N Ranch offers private, Fido Friendly cabins on over 200 acres. The breakfast is included and is out of this world. You and Fido are free to romp on the 200 acres or fish in the river running through the property. Pet fee is $15.00 for 2 dogs.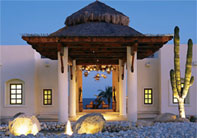 3. Las Ventanas al Paraíso, A Rosewood Resort in Baja, Mexico
Here is a great pick for those adventurous souls venturing south of the border. Upon arrival, dogs receive a neck massage and while you relax poolside, your canine companion can relax right along side you inside his own pet cabana. The down side is it's a bit pricey at $450 a night and $50.00 pet fee.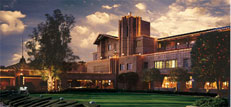 2. Arizona Biltmore, Phoenix, AZ
As part of the Biltmore's "Preferred Pet Pals" program, the hotel sends guests who are bringing pets a special profile to complete before arrival, noting everything from size to special dietary needs. Several of the Biltmore's cottages feature enclosed yards for dog play, and the 39-acre resort has other large common grassy areas for all guest pets to enjoy. Room-service pet meals come with Arizona Biltmore bottled water. $250 deposit; $200 of which is refundable
1. Telluride, CO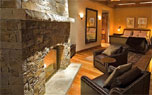 With it's pet-friendly gondola and 2 dogs per person ratio, Telluride Colorado makes our Fido Friendly top ten list coming in at number 1. No matter the season, the resort town of Telluride rolls out the welcome mat for you and your dog. With puppy parking stations located throughout town, you can leash Fido up with some of his new best friends while you run errands or dine. There is a dog park in town and you will see several well-behaved pooches walking off-leash with their guardians. The whole town is Fido-friendly and there are too many Fido-friendly hotels to mention. Just take my word for it, this is a travel destination for you and your dog you won't want to miss.
And if I do have to mention two of my favorites, they are The Peaks Resort, home to the famous Golden Door Spa. There is a Fido entrance to the spa where your dog will be pampered while you hit the slopes or are getting pampered at the same time. $150 non-refundable fee. Each additional pet is $50. And the Mountain Lodge at Telluride. The hotel's "Elevated Pooch Package" includes dog bed, check-in biscuits, a take-home dog dish and copy of "Fido Friendly." With a two-night stay they'll waive the $25 per night pet fee.
http://www.fidofriendly.com
Listen to the entire Podcast of this show (#399).



View Animal Radio Network™ Broadcast Schedule in a new window.


Listen to Animal Radio® - Go to the launch page


Return to Animal Radio Network™ Home Page


Read July Newsletter
Copyright 2007 All Rights Reserved Animal Radio Network LLC