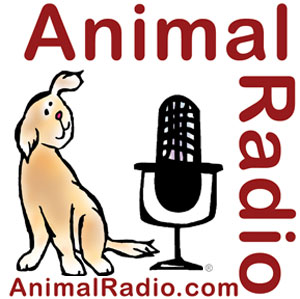 Animal Radio® Show #659 July 21, 2012
Joy Behar, The View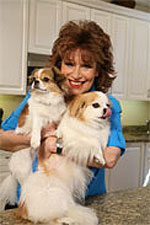 Joy Behar is a dog lover, comedian and co-host of the national talk show The View. Joy is one of the original cast members, having been there since the very beginning. She started out being on the show only 3 days a week, on days when Barbara Walters wasn't there. However, the audience liked her so much, she was brought in 5 days a week. Her philosophy is, "Just show up!"
Joy currently has two dogs, Tallulah and Gracie, which she shares custody of with her daughter, since they all live in the same building. Joy was brought up with her family all living close to one another and likes this living arrangement.
Both her dogs are mutts and come from the same litter. Joy says you can set a clock to them when it comes to dinner time. When asked if she allows her pets to sleep in the bed with her, she said, "Do I allow it? Of course they sleep I bed with me. I don't allow it - they just do!" And let's not forget her cat who joins them – which makes it a very crowded bed! Her cat likes to wake her from a dead sleep at about 5:00am in the morning by jumping on her and purring in her face, and when she gets up and feeds him, 'He eats two bites and then leaves!" Joy knows the experts say your pets shouldn't sleep in your bed, but you can find a marriage counselor who will say, "Don't let your husband in the bed!" "There's always an expert who will give you advice!"
Joy is also an author. Her first children's book, Sheetzucacapoopoo: My Kind of Dog, was written about her late dog, Max. The mixed breed was part Shih Tzu, part cocker spaniel, and part poodle, was a member of Joy's family and their bond was unbreakable. Due to her love for animals, Joy donated her royalties to the North Shore Animal League America.
Motivational Weight Loss While Walking Your Dog
Janine Lechuga, Fitness Leash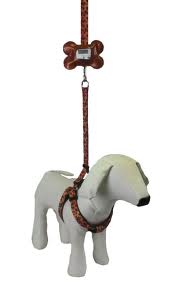 Sweetpea and Tallulah was founded by two women with a dream, Janine Lechuga and Rachel Nieto. They believe in the hope of the greater possibilities in life, and their adopted pet Ralphy inspired their pet products.
One of their product is the Fitness Leash, the one and only leash that will tell you how many calories you've burned while walking your dog. This product not only promotes power walking, but also motivates the pet parent to spend more quality time with their pet by walking longer, because of the attached pedometer.
Janine originally started out by walking her dog in her own neighborhood. But when she started to actually monitor the calories she was burning, she wasn't satisfied. She found out she was only burning about 37 calories per walk. She knew she could do better!
With the Fitness Leash, she started venturing out even farther. Now, she walks about two to four miles per day with Ralphy. Janine was surprised that by adding the extra time on her walk, she has lost about 64 pounds. Even though Janine likes the way she currently looks, she is not stopping. She plans on losing even more weight with the help of the Fitness Leash. And think about all of the exercise Ralphy is getting – I'm sure he is slimmer as well. It's a win/win situation for everyone!
The beauty of the Fitness Leash is that it is multi-functional. You may enjoy a leisurely stroll with your pet or take a fast power-walk by simply staying at the same pace as your dog.
Besides the pedometer, the Fitness Leash is also equipped with an LED light and potty bag clip for convenience, and are available in assorted patterns and colors.
Sweetpea and Tallulah support animal adoptions and a portion of proceeds from their products go to the following charities:
Homeless With Pets
The Seal Beach Animal Care Center
CAT(Community Action Team) Long Beach
If you need to lose weight (or even if you don't) it's fun to see how far you've walked and how many calories you've burned with the Fitness Leash!
Comforters Really Can Comfort!
Eileen Smulson, Operation Blankets Of Love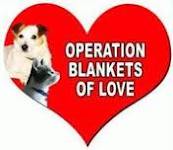 Operation Blankets of Love (OBOL) was started in January 2008 by Eileen Smulson after her visit to a shelter where she learned that one item that was sorely needed were blankets. Since then, she has collected over 255,000 old and new blankets, comforters and towels, plus pet related items people donated.
Eileen currently has 40 drop off locations and is always adding more. Eileen makes presentations on Pet Responsibility and Pet Care for schools, civic groups, and businesses and also does an Operation Blankets of Love drive.

A study by the Compassion Action Institute in New York shows that shelter animals that are given blankets, sheets, and comforters to rest on are more able to relax and get comfortable in their new surroundings while they are waiting to be adopted.
Items that are needed are used and new: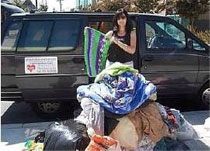 blankets
towels
washcloths
comforters
bed sheets
pet beds
(everything must be clean and not ripped)

These blankets will then be used for:
* bedding so they do not have to sit, lie and sleep on a hard cement floor and be uncomfortable.
* when animal control finds an abused or sick animal they wrap them up in a soft blanket/comforter.
* after an operation by the vet in the shelter they put them on a blanket/comforter.
* towels in all sizes are used for bedding, too.
* towels are used to clean them up when they come in filthy.
* washcloths are used to clean their ears, noses and faces.

OBOL also coordinates unique pet adoption events; bringing together local shelters, rescue groups, community groups and animal-loving individuals to promote homeless pet adoptions and increase public awareness of shelter needs while providing a venue for the collection of new and recycled comfort items
To find out how you can help, contact Eileen Smulson eileenobol@ao.com or 818-402-6586.
http://www.operationblanketsoflove.com
The Dogfather's Grooming Tip with Joey Villani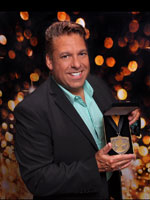 Smelly Cat
Joey received an email from a listener who says that every remedy Joey's given hasn't worked for her cat, because it has to do with sprays. Her cat is afraid of water and the sound of a sprayer, like most cats. So, her kitty smells!
For the most part, cats do keep themselves clean. The problem can sometimes be found in the litter box, no matter how clean you keep it. They have to go in, where they stand in the urine. There are some cats that will even roll around in the box.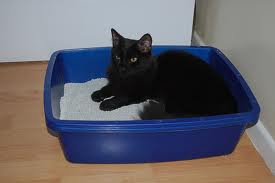 If you are having a problem with a smelly cat and they are afraid of sprays, you can use an Old Italian remedy. When Italians had indigestion, they drank a quarter glass of water with a half-teaspoon of baking soda. This worked well as an ant-acid, and this is what baking soda is going to do for your cat.
This is a great remedy, because it is non-toxic. Just sprinkle baking soda over your cat and brush it through. You should also wipe it on their feet and then brush it off.
Because urine has a lot of acid in it, the baking soda will break down the acid and take the smell away with it. It will absorb the odor and get rid of it.
You will then be left with a clean smelling kitty again, and everyone will be happy!
Animal Radio® News with Stacey Cohen
What's The Best Exercise For Your Type Of Dog?
Start with a conversation with your veterinarian. No matter what age, size, shape, breed or mix of dog you have, you can't just push him into an exercise program until you know he is healthy. Once your veterinarian gives you the go-ahead, look at your dog. Some types of exercise are just not suitable for certain types of dogs. Two kinds of dogs in particular that are likely to be intolerant of some kinds of exercise are dogs with short faces, and dogs with short legs and long backs. Exaggerated features need special care. Dogs with short noses such as Pekingese and Bulldogs are often exercise-intolerant. Because they have been bred for an appearance that's adorable but not efficient for breathing, they can overheat and even die very easily when exerting themselves, especially when it's warmer. Swimming might seem to be a good exercise for keeping these dogs cool, except that they typically don't swim well, either. In fact, some Bulldogs can't swim at all; they just sink. For these dogs, walking at a slow pace when it's cool is the best exercise, working up to increased distance very gradually. The other dogs who need special consideration are those with long backs and short legs, such as Welsh Corgis and Dachshunds. These dogs are, not surprisingly, prone to back injuries, which means activities that demand leaping and twisting movements (such as chasing a flying disk) are not a good idea. These are active dogs, however, so if you come up with activities that keep all four on the floor, you'll be making your dog happy and keeping him healthy.
Kitty Litter Suicides
A parasite commonly found in kitty litter boxes could increase a person's risk for suicide. A new study shows the toxoplasma gondii parasite causes changes in the brain of an infected person that make them more likely to attempt or commit suicide.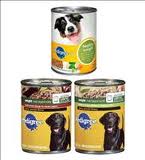 Recalled Food Contains Plastic
Mars Petcare has announced a recall of some varieties of Pedigree canned dog food because of a potential choking risk. The recall affects only weight management varieties and was issued after the discovery of small pieces of blue plastic that entered the food during the production process. The source of the plastic has been identified and resolved and while a few retailers have reported finding pieces of plastic, there have been no reports of choking or other health issues, the company said. Consumers who have purchased affected product are urged to discard the food or return it to the retailer for a full refund or exchange. The affected product was distributed to retail customers throughout the United States. The recall involves only cans of PEDIGREE® weight management canned dog food varieties: Healthy Weight Premium Ground Entree in Meaty Juices, Weight Management Meaty Ground Dinner Beef and Liver Dinner with Meaty Juices, Weight Management Meaty Ground Dinner. Chicken and Rice Dinner with Meaty Juices - with the production codes shown below are included in this voluntary recall. Each product will have a lot code printed on the end of the can that begins with 209, 210, 211 or 212 and a Best Before date that falls between 2/24/2014 and 3/23/2014. Pet owners who have questions about the recall should call 1-877-720-3335 or visit www.pedigree.com/update.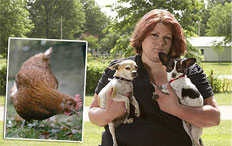 Chihuahuas Scare Chicken To Death
A Missouri woman's pet Chihuahuas are accused of literally scaring her neighbor's pet chicken to death, and she's facing criminal charges because of it. According to the "Kansas City Star," Joy McDonald has been slapped with a misdemeanor charge of failing to controlling her pets, Peaches and Domino, after the dogs got loose and into her neighbor's yard. McDonald tells the paper she had to restrain her laughter when she first received a phone call from her screaming and cursing neighbor who told her his chicken was dead because Peaches and Domino barked at it. McDonald believes the bird may have suffered a heart attack, but there is no official cause of death. However, her laughter quickly died down when the neighbor sent authorities to her home to pursue criminal charges. The Missouri woman says she tried to offer $30 as compensation for the loss, but the neighbor turned it down. McDonald is due back in court this month to defend herself. She denies that her dogs are killers, but has since built an outside pen to keep them from getting loose.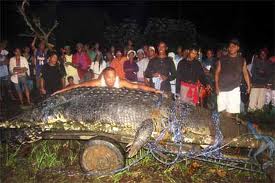 Crocodile Breaks World Record
While no longer a threat to residents in the southern Philippines, a giant crocodile is taking another title of notoriety. A representative for Guinness World Records says the saltwater crocodile, dubbed Lolong, is officially the largest crocodile in captivity. Measuring more than 20 feet long and weighing more than a ton, Lolong takes the title from an Australian crocodile that measured more than 17 feet and weighed almost a ton. Lolong was blamed for a number of deadly attacks in a remote area in the Philippines until its capture last year. According to Sky News, the crocodile is now housed at an eco tourism park and research center near the town of Bunawan where it has become the main attraction for tourists in the area.
Best Bird Song of All Time
The Steve Miller Band's "Fly Like An Eagle" is soaring to new heights. The song has been named the Best Bird Song of All Time in a "Birds And Blooms" online readers' poll. The 1976 hit earned the top spot in the survey with 17-percent of the vote, and edges out the number two song, "Rockin' Robin," by just two-percent. Lynyrd Skynyrd's classic "Free Bird" follows at number three, with the novelty hit "Mockingbird" taking the number four spot. Readers put The Beatles' "Blackbird," which the publication's editors ranked number one, at number five. Prince's "When Doves Cry" and the R&B classic "Shake A Tale Feather" also make the top ten. Rick Dees' "Disco Duck" rounds out the list of 16.
"Birds And Blooms" Readers' Poll List Of The Best Bird Songs of All Time:
1. Fly Like an Eagle; 2. Rockin' Robin; 3. Free Bird; 4. Mockingbird; 5. Blackbird; 6. When the Red, Red Robin; 7. Two Sparrows In A Hurricane; 8. When Doves Cry; 9. Three Little Birds; 10. Shake A Tale Feather; 11. Bye Bye Birdie; 12. I'm Like A Bird; 13. Surfin' Bird; 14. Birdhouse In Your Soul; 15. I Like Birds; and 16. Disco Duck.
Listen to the entire Podcast of this show (#659)