July 22 2006
POCKET PETS AND SMALL DOGS SPECIAL
Pocket Pets with Marc Morrone, "PetKeeping"


Marc Marrone, celebrated animal and pet expert, discusses mice, hamsters, and other small rodents (Pocket Pets) that actually make great pets for children. They provide the perfect balance of a concealed cage environment with an easy schedule of letting them out for exercise and play when it is convenient for the family. Marc convinces even the most die-hard skeptic that the differences between pet mice and sewer rats are vastly different and pocket rodents may be easier to care for than many parents may think!
Mag Rack, the premier on-demand television network, has launched an original 25-Part On-Demand series by Marc, bringing him into the living rooms of America to help the nation's 170 million pet owners care for their furry friends with his new series The Pet Shop.
http://www.ParrotsOfTheWorld.com
http://www.PetKeeping.com
Reducing Your Pet's Weight
Dr. Jim Humphries, Veterinary News Network
It's no secret that America's growing girth has lead to a sharp increase in chronic medical conditions such as diabetes, heart disease and cancer. It turns out the dogs aren't fairing much better. According to a 2005 study cited in the trade magazine, Veterinarian Economics, as many as 40% of America's pet pooches are carrying too much weight on their frame. Depending on the size of the breed, even a few excess pounds can make a dog susceptible to a range of health problems and cut years off their life. So why are so many dogs in the Untied States overweight? Well, we're killing them with kindness. We equate food with love. They've fallen into the same cycle of inactivity as we have also, so diet is the key.
http://www.VetNewsNet.com
Great American Chain Off - 2 Contestants Left
Tammy Grimes, Dogs Deserve Better "Chain Off"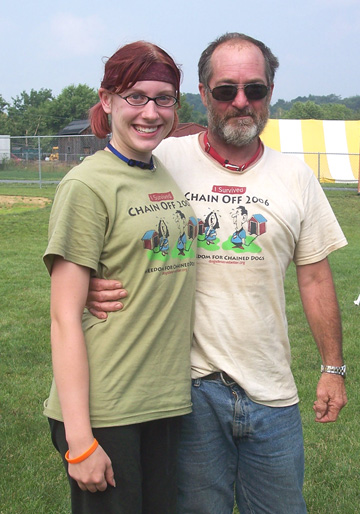 Dogs Deserve Better, a nonprofit working to bring dogs into the home and family, is down to 2 contestants in the Chain Off Contest at Leidy Park in Mundys Corner, Pennsylvania.
Final elimination rounds pitted 52-year-old Don McKendree, the oldest contestant, against 18-year-old Aija Gillman, the youngest contestant.
Contestants from Pennsylvania, Michigan, Illinois, Florida, South Carolina, and New York converged on the little town of Mundys Corner, PA to begin a contest like no other. They lived chained to doghouses until only one remained. They competed to survive the boredom of this life . . . no books, TV, radio, smoking, or even visitors. They were allowed the bare minimum in hygiene, only cleanliness routines undertaken within the confines of four tiny port-a-john walls. They were stripped of all comforts: receiving only a chain, a collar, water, food, doghouse, sleeping bag, and shade in their stead.
Stay tuned to find out the final winner!
http://www.dogsdeservebetter.com

Peril on the Sea - The Dogs of Titanic
Rae Ann Kumelos, Voice of the Animal
Not only did 2,200 passengers face the ultimate peril on the sea when Titanic sank, but so did all of the dogs on board. Discover how an ancient Greek goddess and a courageous and compassionate passenger did what they could to help the dogs of Titanic.
http://www.VoiceOfTheAnimal.org
Don't Leave Your Dog Alone in the Car
Sammy St. Croix, Write in Your Ear Productions


You've done it before, you are only going to leave your dog in the car for a minute while you run a quick errand. Listen as Sammy St. Croix talks about how hot a car can get on a summer day.
http://www.HSUS.org
http://www.WriteInYourEarProductions.com
Talk With Your Animals
Joy Turner
Joy talks to Sammy, a corgi, who is having behavioral issues.
http://www.TalkWithYourAnimals.com
Pet Party
Downtown Doghouse will be hosting a pet party for Dachshunds and Chihuahuas on August 10, 2006 from 6PM to 8PM. This party will be the sixth breed meet-up and eighth get-together in a series of weekly dog-themed events this summer in "The Dog Days of Summer at Downtown Doghouse" program. Other successful events have included a workshop at a nearby theater and an art fair.
The event is free to all, but reservations are strongly suggested as space is limited. Neither extreme heat nor pouring rain will affect this party as it is indoors in the air conditioning. Street Treats, Dogswell and Stella and Chewy's will be providing delicious and nutritious snacks for the pets and everyone will be sent home with goody bags.
Downtown Doghouse is located at 259 West 18th Street, New York, NY, 10011. (1/9 to 18th, ACE to 14th) 212.924.5300. Downtown Doghouse, Pet Salon & Boutique offers grooming for dogs and cats, unique pet accessories, and high-quality foods and supplements.
http://www.downtowndoghouse.com
Clicker Train Your Bunny
Teresa Lewin, Getting Started: Clicking With Your Rabbit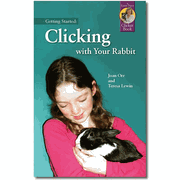 Why leave your bunny in a cage all day when you could both be having fun together? Rabbits are smart! Because rabbits are prey animals, they have to solve problems quickly, and can pick up clicker training in a short period of time.
You can teach your rabbit to jump through a hoop and sit in a basket; happily get into your lap to be carried and snuggled; come when called; "gimme five" with a paw; and even use a litter box. http://www.ClickerBunny.com
It's a Good Thing Elvis Was in the Building
Britt Savage
Elvis the dog, named after the "King," came to the rescue of his family when a fire broke out in their trailer. Elvis' guardians were fast asleep in their bedroom, while he was on the couch. Elvis then ran into their bedroom and started jumping on them. At first they thought some animal outside had upset him, but soon realized that their trailer was filled with smoke, and were able to get outside.
The cause of the fire has not been determined, even though firefighters believe it is suspicious and an investigation is ongoing.
Small Dogs Can Bring Big Rewards!
Darlene Arden, Small Dogs, Big Hearts


Small dogs are charming, intelligent, and loving, but they can also be overly energetic, manipulative, and stubborn. How do you ensure that your little dog becomes a fun, feisty best friend rather than a tiny terror?
Small Dogs, Big Hearts features the very latest, safest, and fastest training methods for little dogs. There's no need to use training methods from the past that don't work well with most dogs, let alone little ones who view the world and their owners from a very different vantage point.
Toy dogs come with all the behavior issues, health problems and joys that other dogs have, plus a whole set of unique problems and joys of their own. http://www.DarleneArden.com
A Naughty But Loveable Cat
Carol Paws, Willi Whizkas, Tall Tales and Lost Lives!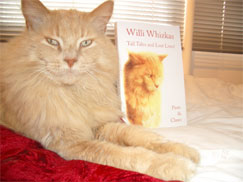 Willi Whizkas really exists - he lives with us. He picked us as his humans in late 1999, when he was a really cute beige Maine Coon kitten he had been looked over as a show cat as he was 'ginger', but once he got his paws under our table he showed his true colors!!
In real life Willi Whizkas really is a cat on a mission of naughtiness and adventure, so we started to watch what he would get up to. Some cats would come into his garden and he'd attack them quite furiously, others he'd just ignore. Some cats he just casually greeted whilst others he would run to greet them then sashay off into the bushes tails entwined with his playmate for another day filled with adventure and derring-do.
Some days he'd sleep all day on the bed too exhausted to even raise an eyelid, others he'd be out with the dawn chorus, coming home reluctantly at night bursting with excitement, covered in bits of twigs, grass and slugs, other nights he'd be so tired he could barely drag his tail through the door before collapsing on the mat almost comatose.
So we started to speculate as to what exactly he was doing whilst out of our sight, and the Willi Whizkas series was born. The tales are 'true' based on what we have seen our 'boys' do.
Willi and Tusher get fan mail, but because they are so busy out having adventures, the mail is answered on their behalf!
http://www.thedailymews.com/Williwhizkas/introwilliwhizkas.htm
Rat Refuge
Kim Sheridan - Animals and the Afterlife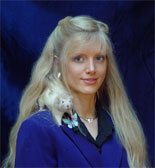 Kim Sheridan grew up in Southern California, surrounded by animals of various shapes and sizes, and she fell in love with rats before society had a chance to tell her not to. As a young child, she was known as the "neighborhood vet," often nurturing injured baby birds with an eyedropper feeder and a warm bed. She seemed to have an extra-special connection to animals and an ability to communicate with them.
Being a devoted animal lover, she also operated a dog walking and pet-sitting service, and she began welcoming rescued rats into her home (which has become known as the Rat Refuge and provides sanctuary for a multitude of very happy rescued rats).
Kim has loved and rescued rats for the majority of her life. Her first rat, Queenie, came into her life and stole her heart when Kim was five years old. Today, she is the caretaker of an enchanted little kingdom of rescued rats. They have their own sanctuary and enjoy a 100% homemade, organic, vegan diet. They often arrive at the Rat Refuge terrified and in very poor health. With lots of love and TLC, they become vibrant, long-lived, ecstatic beings who live harmoniously with one another, regardless of age, gender (they are spayed/neutered), color, or background. We humans could learn a lot from them!
http://www.AnimalsAndTheAfterlife.com
http://www.AnimaLove.com
Listen to the 1/2 Hour ABRIDGED VERSION Podcast of this show (#347).

View Animal Radio Network® Broadcast Schedule in a new window.


Listen to Animal Radio® - Go to the launch page


Return to Animal Radio Network® Home Page


Read July Newsletter
Copyright 2006 All Rights Reserved Animal Radio Network LLC