July 23, 2005
Jill Robinson - Animals Asia Foundation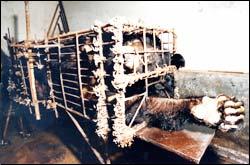 Sometimes we receive a message in life that is hard to ignore. For Jill, that message came in 1993 when a single moment was to alter the course of her life forever. During the first investigation of a bear farm in China, Jill discovered Asiatic Black Bears imprisoned in tiny cages literally no bigger than their own bodies. Painfully milked each day for their bile through metal catheters crudely inserted into their abdomens, these bears had endured unimaginable physical and mental abuse for over 20 years. As she documented the conditions on that first farm (later exposing the practice to the international community), a bear reached out from one of the coffin-like cages and gently touched Jill. It was a silent plea for help and in that moment, Jill made a promise to do whatever she could to end their suffering. Listen and find out how you can help.
Maria Goodavage - The Dog Lover's Companion to California


The Dog Lover's Companion to California has the inside scoop on the best parks, dog runs, beaches, forest preserves, ski areas, pet-friendly businesses, and much more. Local author Maria Goodavage and her trusty companion Jake have dug up many surprising resources available to dogs in the Golden State, such as baseball games, summer camps, ski areas, and pet parades. For the less outdoorsy dog, there are doggy spas, art openings, and even drive-ins! Packed with illustrations by celebrated cartoonist Phil Frank, as well as helpful maps, up-to-date leash laws, and a useful "paw" ranking system for all locations in the book, The Dog Lover's Companion to California is a pet's best friend. Hear some of the best Southern California locations to take your pet!
Bob Smith - The International Fauna Society (IFS)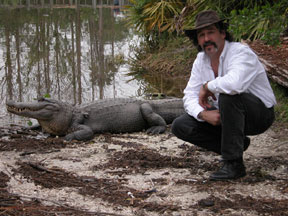 The International Fauna Society (IFS) was founded by Bob Smith, an enthusiast of our planet's lesser-known and misunderstood creatures that fulfill a vital role in nature's balance. The IFS is a non-profit organization dedicated to preserving Earth's biological diversity through habitat protection, active conservation, responsible captive propagation, sustainable development and educational programs for all age groups. Visit their Serpentarium on East Main Street in Downtown Riverhead, Long Island, NY. The IFS also organizes and leads excursions to exotic locales like Panama, Costa Rica, and Galapagos two to three times each year for members and their families to enjoy attractive non-profit rates on our eco-trips. Find out how you can join one of these tours.
Lori Faye Bock - The Animal Artist
Lori Faye Bock's paintings of animals speak to the soul and the heart. She declares her affection for the animal world with wit, lively color, and jaunty poses, striking a responsive chord in the viewer who can't fail to recognize the truth in her images.


Lori has also been lending her talent to promote American Humane's Tag Day for five years, which is a national initiative to encourage everyone to tag or microchip their companion animals.Lori says, "Knowing animals and caring for them is one of life's joys. Even the most ordinary-seeming animals are truly extraordinary and give us so much. My art reflects my life." Bock and her husband live in an 18th-century adobe on a riverside farm near Abiquiu, New Mexico, where they delight in the company of some forty sheep, six dogs and six cats.
Merritt Clifton, Editor of Animal People - What's wrong with P.E.T.A.?
In 1992 and 1995, ANIMAL PEOPLE surveys of cat rescuers netted several signed responses from PETA staffers who identified mass roundups for killing by needle as their preferred "rescue" method. One of them, Teresa Gibbs, openly boasted of killing more than 400 cats per year on. She was the only respondent who stated that her preferred option for homeless cats was death. In January 1998, ANIMAL PEOPLE received a detailed account from the Meower Power Feral Cat coalition, alleging that a hit squad led personally at first by PETA cofounder Ingrid Newkirk had for three years frequently trapped cats from supervised neuter/release colonies near Fort Norfolk, Virginia, and delivered many to their deaths at local animal shelters. The PETA raids continued even after the intervention of Alley Cat Allies brought a brief hiatus in early 1997. In July 2000, Newkirk admitted that her staff killed 1,325 of the 2,103 dogs and cats they received in 1999, although they do not even operate an animal shelter. PETA'S beliefs are that animals are better off dead than alive on the street.
Bob Gitzen - The Antser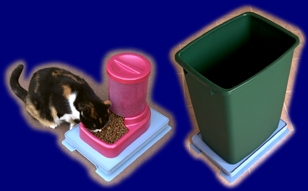 The Antser - the answer to your ant problem in your pet's feeding dish without the use of pesticides! The Antser is filled with water and a dash of liquid soap, and has a small lip surrounding it's surface to prevent items from falling off. Although it's ideal that your pet's dish fits inside that lip, it's usually no problem if one side rests on the lip and protrudes over the edge of the Antser. An exception would be a pet with such "enthusiastic" eating habits that he/she knocks the dish off. The Antser also eliminates ants from garbage cans, recycling bins, plants and picnic foods.

Rae Ann Kumelos - Ladybug - Fashionista of the Insect World
From the gardener's best friend to the official insect for five states, Ladybug brings cheer, good luck, and extra dollars to all who take the time to appreciate her presence.

Get your pet's photo on real U.S. Postage Stamps