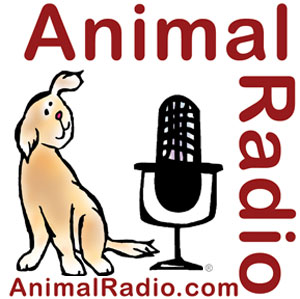 Animal Radio® Show #555 July 24, 2010
Loretta Swit

Actress Loretta Swit returns for her third appearance on Animal Radio®. Best known as "Hotlips Houlihan" on the long-running M*A*S*H sitcom, Swit has spent much of the last decade helping animals live better lives.
Swit introduced us to the horror of crush videos (fetish films wherein insects, snails, worms, or occasionally small animals like guinea pigs or frogs are crushed on camera, usually by women wearing spiked heals), some time ago. Swit feels that the current legislation is an abomination and we have to find a way to "crush" crush videos. She says it is disheartening to find out that a group of people got together and came up with this horrendous idea to "entertain" people and to make money. It makes you lose faith with your species!
Swit has three cats and a Yorkie named Munchkin. Munchkin is currently undergoing "re-training" because she seems to have slipped a little in her good manners. Her Turkish Angora cat has diabetes and is off at the vet. Swit says their absence is really apparent not only to her but to her other pets as well. And while she misses them, she thinks her remaining two cats like it when the others are gone!
"I can't imagine life without little things running around the house. It's amazing how you integrate with their spirits and souls," say Swit.
The President of the Humane Society of The United States (HSUS), Wayne Pacelle, also joins Loretta Swit where the conversation quickly centered on the Gulf oil spill.
"Energy production comes with it's costs. We'll be dealing with this for years. I'm sick about it all the time," says Pacelle. Swit mentions that she was in Alaska during the Exxon oil spill and helped scrubbed the oil off of the animals and knows how bad it is for them firsthand.
Pacelle also discussed the "Making History!" campaigns of the HSUS, including legislative battles at the federal and state levels to influence standards of care for dogs and puppies in puppy mills, stopping seal hunts and to establish more human practices for millions of animals raised for food.

Dodge Journey Pet Destinations
What Is Your Favorite Place To Take Your Pet?
People who have pets love to travel with them. At Dodge, they have made it easier with their pet friendly vehicle, the Dodge Journey, which contains concealed storage bins, Chill Zone glove box cooler and second-row dual in-floor storage bins with removable and washable liners (very handy for muddy paws!) Call us with your favorite place to take your furry-friend: 1-866-405-8405
This weeks Dodge Journey Pet Destination:

Bo from Los Angeles, California tells us her 2 black labs like to go hiking and to the beach. But one of her favorite places to take them is Runyon Canyon Park in Los Angeles, California. It is a 130-acre park in the Santa Monica Mountains, two blocks from Hollywood Boulevard. She states that this is a great place where your dogs can frolic with other dogs and have a good time! And who knows, you might even catch a glimpse of a celebrity and their pet while you're there!
Past Dodge Journey Pet Destinations: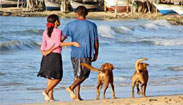 Danielle from Shell Beach, California tells us her favorite place to take her dogs is Avila Beach, California. She states it is a very secluded beach with a nice protected area to let your dogs run free. Everyone brings their dogs to this beach and it is a very pet-friendly place.
An Unconditional Love Story
Fido Friendly Travel Talk With Susan Sims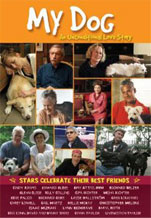 Susan Sims speaks with Daryl Roth, Co-Producer of the film: My Dog.
The concept of the film is to explore the relationship that we all share with our dogs. They focused on a group of well-known New Yorkers: Richard Belzer, Glenn Close, Edie Falco, Richard Gere and Isaac Mizrahi to name a few, through candid interviews. Viewers are offered an intimate glimpse into the lives of these actors and musicians, authors and designers through the aspect of their lives that unites them all: the profound connection they have with their dogs.
A tribute to all the dogs that have made our lives richer and happier, My Dog captures the remarkable bond between our dogs and ourselves.
In appreciation, twenty percent of every dollar earned by the film will be donated to nonprofit animal welfare charities designated by their participants.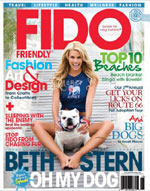 Fido Friendly Magazine:
The Travel Magazine For You & Your Dog, a complete guide to Fido-friendly accommodations across the United States and Canada. "Fido Friendly is the only magazine dedicated to the travel lifestyle of man's best friend, and the one magazine your dog will thank you for." And don't forget to join the Fido Friendly Travel Club.
The Dogfather's Grooming Tip with Joey Villani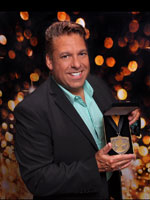 Picking The Right Groomer
The first thing you need to look for in finding the right groomer is an inviting place. Don't just pick one from the phone book. You really need to spend some time in your selection and actually visit these places.
When you look at a grooming salon from the outside, look to see if all the lights in the ceiling are lit. Make sure there are no burned out bulbs. It's important for the groomer to be able to see the dog properly. If a bulb is out, this could make a potential client feel that if they neglect their salon, then the dogs will be neglected as well. It should look like a salon you want to go in. It doesn't have to be elaborately decorated, but it should look inviting.
When you walk in the door, the first thing you should do is "smell" the place. Does it smell clean? Does it smell like dirty dogs, urine or feces? The exception is that perhaps a dog just did his business in the salon, but you should be able to tell the difference.

When speaking to a groomer, listen to the questions they ask you. You shouldn't have to ask them questions. One thing they should ask you about is your pet's vaccinations. This means that they will make sure that not only are they safe, but that your pets will be safe there too.
Do they address your pet as well? You want to make sure that your pet is comfortable with them. Of course there are some pets that won't be comfortable no matter what you do. These pets can be served a steak dinner and champagne and they will still want to walk out the door. But the groomer should pay attention to the pet and have a smile on their face.
Before you leave your pet, make sure that you tour the salon. And if they offer to take you on a tour, that is even better. When groomers say you can't go in to the back because it might stress some of the dogs there, run away! There is no reason why you shouldn't be allowed to view the area and see what goes on. Don't let them hide anything from you.
And lastly, when you leave with your groomed dog, make sure your dog is a happy dog!

DOGFATHER'S GROOMING TIP Brought To You By SeniorPetProducts.com
Animal Radio® News with Bobbie Hill
ASPCA & PetSmart Charities Give Millions to Clinics
The ASPCA has teamed up with PetSmart Charities to pledge 5.2 million dollars to be given to local clinics across the country. The goal is to provide low cost spay and neutering services. The companies combined their efforts with North Carolina based Humane Alliance, a leader in high volume spay/neuter services. Their response team has trained close to 80 local organizations to perform high quality, low cost spay/neuter services at community clinics. The grant will be given out over a five-year period.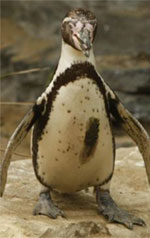 Penguin Released on City Street
The Dublin Zoo has been the target of some pretty immature pranks in the past. For example, two years ago their switchboard was inundated with callers asking to speak to "Ana Conda, Rory Lyon and G. Raffe." Recently, a 10-year-old Humboldt penguin was taken from the park's enclosure. The good news is Kelli the penguin was found after her abductors dumped her on a city sidewalk. Police and Zookeepers were able to track her thanks to a microchip implant. The vets gave her a check up and she's now back with her mate Mick the penguin.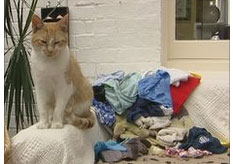 Cat Burglar is Actually a Cat!
When Peter and Birgitt Wiesmantel decided to foster a cat at their suburban home in Portswood near Southhampton, England they had no idea what they were in for. Oscar, the 13-year-old adoptee has a problem. He's a kleptomaniac. Ever since Oscar showed up, there's been a crime spree with items being stolen from gardens and clotheslines. Oscar was bringing home gifts - paint roller, a kneepad, builder's gloves, women's underwear and at least 10 pairs of kid's underwear. On average, Oscar commits 10 robberies each day…his owners…yes they've decided to keep him….have tried to return most of the items
The ShelterCare Gift Program
One of the country's leading provider of companion animal services, Pethealth, announced it has paid out over $10,000,000 in claims to assist newly adopted pets. The ShelterCare gift program, which began eight years ago, was designed to help cover the veterinary needs of pets adopted from animal welfare organizations. The gift covers the pets vet visits for the first 45 days and is aimed at reducing the number of pets returned to shelters due to illness.

Jobs Grow in the Animal Care Sector
If you love animals and are currently unemployed – listen up! The Bureau of Labor Statistics expects jobs to grow by 21% in the animal care sector. Americans continue to spend what money they have on their pets - $45,000,000 bucks last year alone according to the American Pet Products Association. As a result, jobs in animal or pet related industries have outpaced others. The good news - most of these jobs don't require much formal training and workers can usually set their own hours. The bad news – an increase in work related injuries!
Betty White is a Calendar Girl!
The ever youthful and bawdy Betty White was honored by the Los Angeles Zoo and even dubbed "Ambassador to the Animals of the City of Los Angeles" by the mayor. Now she's a calendar girl! Betty White has released a 2011 calendar available in September, packed with poses from the 88-year-old actress and SNL hostess for a mere $12.99. The proceeds from the sales will benefit the Morris Animal Foundation, an animal welfare organization with White as a trustee. This isn't Betty's first calendar, last year she released Hot Guys and Baby Animals.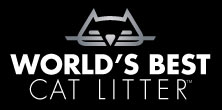 NEWS UPDATE Brought To You By World's Best Cat Litter™
Listen to the entire Podcast of this show (#555)

indicates XM Satellite Radio and Podcast versions only.