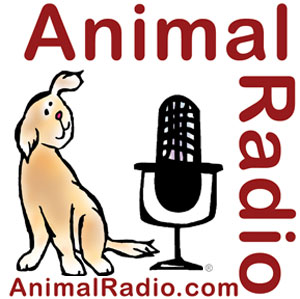 Animal Radio® Show #660 July 28, 2012
Doris Day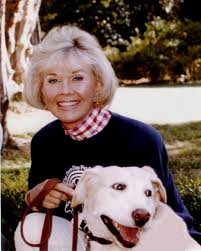 Doris Day has made over 39 films, and her movies are still among the most popular on television and home video. Doris is one of the world's most-loved and most-honored women, and in 2004, she received the Presidential Medal of Freedom from President George W. Bush.
Doris currently heads up two non-profit organizations, the Doris Day Animal League (DDAL), based in Washington D.C., whose purpose is to get bills passed; and the Doris Day Animal Foundation (DDAF) which is a hands-on organization, and creator of the annual "Spay Day USA," which has altered over one million animals since it's inception in 1995.
Spay Day USA is an annual observance on the last Tuesday of February that was created by the Doris Day Animal League to bring attention to the nationwide pet overpopulation problem and to encourage animal population control by neutering pets.
Spay Day is the first and only international day of action to promote the spaying or neutering of pets. During Spay Day, veterinarians and their staff, animal welfare professionals, business owners and citizens join forces nationwide and around the world to provide spay/neuter services and to promote spay/neuter as an effective and humane means of decreasing the euthanasia of homeless animals in shelters.
Unspayed or unneutered pets are according to Doris Day, "The biggest problem in the country, in the world." She states that, "In many countries, they don' even know about spaying, and the animals run loose and they keep having babies, doggies and kittens, and they're all starving. It's just a horrifying situation." She now feels that, "Spaying and neutering is the most important thing, and that the animals "Are not losing their manhood or womanhood!"
During Spay Day's first 15 years, participants spayed or neutered more than 1,457,200 animals. When you consider that an unspayed cat can give birth to 18 kittens each year and an unspayed dog can give birth to 20 puppies each year, and that the average cost for shelters to handle each homeless animal is $176, it's clear that Spay Day participants have, potentially, prevented millions of surplus births and saved millions of taxpayers' dollars. Doris also wants everyone who donates money to her organization to know that, "It's being used. I'm not buying fancy clothes and it's not going to sit in the bank. We're going to use it to save as many animals as we can and to help people who need that help when hey have pets, and to rescue."
One last note, Doris wants everyone to know who has had a hard time when an animal died and stated that they can't possibly replace them with another animal and have to go through another eventual death, that she felt that way at one time also. She now wants everyone who feels that way to "Please don't! Go to your nearest SPCA, or wherever, and give another beautiful little doggy or cat a loving home. If you love animals, and if you feel so strongly about the one that you lost, I know that it has to be a great home and a loving, loving person, and you're the ones who should have the animals! So, please think about it again!"
Doris currently lives in Carmel, California with her furry companions.
Ever Been Called A "Bird Brain?"
Dr. John Marzluff, Gifts Of The Crow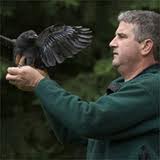 John Marzluff, Ph.D., is Professor of Wildlife Science at the University of Washington. It was the ability of the Crow to solve problems that first caught his attention.
John has studied the crow for a long time, and every time he went out and watched them, they surprised him with a new trick or a new way to get along in their environment.
The success of the crow is basically their ability to learn who among us is good and who among us is dangerous to them. They also learn where the good sources of food are that we provide and where the source of danger is that we provide.
When someone is called a "Bird Brain" it was thought of as an insult, however, it is truly a compliment, as some birds have big brains for their body size. Even though a bird's brain is so small physically, they are still able to solve the same sorts of problems in their environment that we can with our much bigger brain.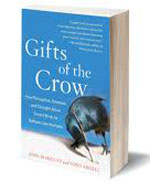 Crows also have some human characteristics such as language, delinquency, frolic, passion, wrath, risk-taking, and awareness. Crows gather around their dead, warn of impending doom, recognize people, commit murder of other crows, lure fish and birds to their death, swill coffee, drink beer, turn on lights to stay warm, design and use tools, use cars as nutcrackers, windsurf and sled to play, and work in tandem to spray soft cheese out of a can. Their marvelous brains allow them to think, plan, and reconsider their actions.
Crows can live up to 30 years of more in the wild, but unfortunately most die in their first year, as it is a very risky time to be a young bird in the nest. But if they make it to adulthood, they can live a very long life.
Gifts of the Crow, by Dr. John Marzluff and Tony Angell, portrays creatures who are nothing short of amazing. A testament to years of painstaking research and careful observation, this fully illustrated, riveting work is a thrilling look at one of nature's most wondrous creatures.
http://books.simonandschuster.com
Animal Radio® News with Stacey Cohen
Baby Monkey Sounds Used To Lure Missing Female
Officials at North Carolina's Wake Forest Primate Center are playing baby monkey sounds to try to lure a missing female monkey that escaped from the facility. The 16-year-old monkey has been on the loose in the Winston-Salem area despite efforts to recapture it. There have been several sightings but the elusive primate disappears by the time animal experts arrive. Officials say they are now trying baby monkey calls because the missing female is used for breeding at the center.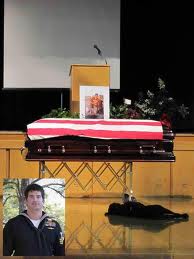 Pets Grieve For Humans and Other Animals
Jon Tumilson's dog, Hawkeye, was an important part of his life. And, as it turns out, Tumilson was an important part of Hawkeye's life. After the Navy SEAL was killed in Afghanistan last summer, more than a thousand friends and family attended the funeral in Rockford, Iowa, including his "son" Hawkeye, a black Labrador retriever who laid down in front of Tumilson's flag-draped casket. There, the loyal dog stayed for the entire service. Hawkeye's reaction to his owner's death generated a lot of buzz online and in the media. But its not unusual, pet experts say, for some dogs to mourn the loss of a person or animal housemate. Grief is one of the basic emotions dogs experience, just like people, said Dr. Sophia Yin, a San Francisco veterinarian and applied animal behaviorist. Dogs also feel fear, happiness, sadness and anger, as well as possessiveness. Dogs who mourn may show similar signs to when they're separated for long periods from the individual they're bonded to, she said. Of those signs, the most common is depression, in which dogs usually sleep more than normal, move slower, eat less and don't play as much. An interview with astute pet owners for her upcoming book, "How Animals Grieve," and the power of observation, has also led her to this conclusion. If a pet mopes around the house after the death of a canine or human companion, Yin suggests the best thing to do is to get the dog's mind off the loss by engaging the pet in fun activities.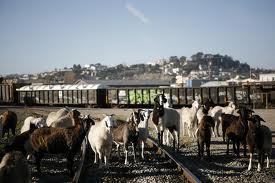 Goats Land At San Francisco International Airport
If you're flying into San Francisco International Airport anytime soon, don't be surprised if you see a strange sight: goats! SFO is using goats to eat up dry and excess grass along property near the airport, in order to reduce fire risk. The herd of 250 to 300 goats will be there for a couple of weeks, according to airport spokesperson Charles Schuler, as part of its annual organic weed abatement program. The animals are brought over from Sycamore Farms in Watsonville, California, about 80 miles from the airport. Schuler explained that using chemicals or heavy machinery to clean up the land was "out of the question" because of the sensitivity of the habitat. Two endangered species are lurking in that grass, one being a snake. Goats are nothing new at airports. Seattle-Tacoma International Airport also used them several years ago, but airport spokesperson Perry Cooper said they stopped using the animals because "it was not cost-effective."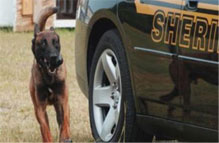 Man Charged After Police Dog Dies From Biting Cocaine Filled Package
A North Carolina man whose hidden cocaine was found by a police dog that bit into the package and died has been sentenced to more than 11 years in prison. Federal prosecutors said a judge ordered 33-year-old Jamie Gonzalez-Lopez to spend 135 months behind bars. He pleaded guilty to several drug charges. Authorities say undercover federal agents ordered a kilogram of cocaine from Gonzalez-Lopez in July 2011. Gonzalez-Lopez then hid the drugs in a Brunswick County field while waiting to meet the "buyer." Agents arrested Gonzalez-Lopez, and a sheriff's drug-sniffing dog Viper was sent into the field to find the drugs. Viper accidentally bit into the package and shook it, ingesting a fatal amount of cocaine. More than 200 people turned out for a memorial service for the dog.
Bring Your Pup To Dog Friendly Vacation Spots
Need a vacation but can't bear to part with your precious pup? Check out the following tail-wagging destinations courtesy of Kelly Carter's TheJetSetPets.com: Aspen, Colorado: Topping Carter's list, Aspen is a stunning year-round haven boasting a myriad of parks, trails and streams to entertain outdoorsy owners and their dogs. Boston, Massachusetts: According to Carter, active pets will relish Boston's endless walking parks and trails, savor beautiful weather and meander around street fairs and local art shows with your pup, at Boston Harbor Islands on Saturdays, dogs sail free. Del Mar, California: With its dazzling beaches and ideal location (just twenty minutes north of San Diego), Its annual Surf Dog Surf-a-Thon at leash-free Dog Beach raises money for the Helen Woodward Animal Center every September. Nine months out of the year, dogs are allowed along Del Mar's entire two-mile stretch of coastline as well as Seagrove Park and Powerhouse Park. Los Angeles County, California: LA County rolls out the red carpet for its furry visitors. Countless dog friendly, outdoor areas abound including Hollywood's Runyon Canyon and Rosie's Dog beach. LA also boasts extensive dog-friendly dining options.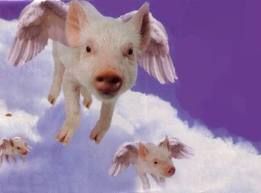 When Pigs Fly – The Time Is Now!
To those terrified travelers who say, "I'll get on a plane when pigs fly," maybe you can start packing now. The Department of Transportation has drafted new guidelines that would allow animals, including exotic pets such as miniature horses, monkeys, and yes, pot-bellied pigs on commercial flights if their owners use them for "Emotional support." The new Transportation Department guidelines are available for public comment until October
Listen to the entire Podcast of this show (#660)