August 4, 2007
Is There Dog Fighting in Your Neighborhood?
John Goodwin, The Humane Society of the United States (HSUS)


Last week's indictment of NFL quarterback Michael Vick on charges related to dog fighting has brought national attention to the extreme cruelty of this criminal industry.

The Humane Society of the United States, which has campaigned against dog fighting for decades, has found it thriving in both urban and rural areas, and believes that it is on the rise.
Concerned citizens in every community can take steps to identify and report the presence of dog fighting in their communities. Lawmakers have recently passed HSUS-backed legislation to strengthen animal fighting laws in many jurisdictions, and individuals involved in dog fighting face serious penalties if they are prosecuted. Telltale signs include:
An inordinate number of dogs, often pit bulls, kept in one location, chained and apparently unsocialized.
Signs of or the obvious presence of a fighting pit.
Dogs with scars on their faces, front legs and stifle area (hind end and thighs).
Dog fighting training equipment such as rawhide or tires hanging from trees (that dogs jump up and grab onto) or treadmills.
The remains of dead fighting animals outside a suspicious location.
A large number of missing pets. Individuals involved in dog fighting are known to steal cats and smaller dogs for using in training.
Unusual foot traffic coming and going from a location at odd hours.
Pit bulls can be wonderful family pets, but when they're mistreated by irresponsible owners they can become so damaged that they are dangerous. For more information, visit http://www.HSUS.org.


Einstein - The Trained Goldfish
Britt Savage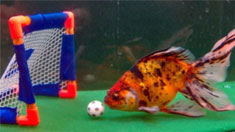 Studies are showing that the common goldfish may be a lot smarter than we thought. Nine-year-old Kyle Pomerleau agrees. He won Albert Einstein the goldfish at a school fair and soon noticed that the fish would react to him whenever he came near the tank.
Kyle and his dad decided that they would try to train the goldfish to do something. They first bought a finger soccer kit from a dollar store and rewarded Albert with food every time he swam near the net. As soon as Albert got the net trick, they added a ball. Soon Albert was trained to push the ball into the goal for a treat. The father and son training team have heard from so many people eager to train their own fish, they've now started selling fish training manuals from their Fish School website. They say it takes about five or six training sessions a day for about three weeks to teach most goldfish how to swim through a hoop.
NEWS UPDATE: Rent-A-Dog


From the state that popularized purse puppies, drive-thru dog washes and gourmet dog food delivery comes the latest in canine convenience ­ a company that rents out dogs by the day to urbanites without the time or space to care for a pet full-time.
Marlena Cervantes, founder of FlexPetz, bristles when people refer to her five-month-old business as a rent-a-pet service. She prefers the term "shared pet ownership," explaining the concept is one akin to a vacation time-share or a gym membership than a trip to the video store.
FlexPetz is currently available in Los Angeles and San Diego for an annual fee of $99.95, a monthly payment of $49.95 and a per-visit charge of $39.95 a day. Cervantes has a 10-dog crew of Afghan hounds, Labrador retrievers and Boston terriers.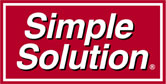 NEWS UPDATE Brought To You By Simple Solution Natural Line Of Products
Bill Requiring Pets to be Spayed - Withdrawn
Lloyd Levine, D-Van Nuys, CA


Lloyd Levine, the assemblyman who proposed requiring that Californians spay or neuter their pets has temporarily withdrawn his proposed bill from consideration after becoming the object of personal attacks.
"I think we could have worked collaboratively toward a solution but instead it became a matter of name calling and everything under the sun to get people afraid of the measure and just finally created too much noise and too much fear," said Levine.
But Levine said he remains committed to the issue. In California, about half of the 1 million dogs and cats taken each year to shelters are euthanized at a cost to taxpayers of $300 million, he said.
"Both from a fiscal and a humanitarian viewpoint, that is just wrong," he said. "It's a failure here in California, and we need to do better. How we do it, I'm not sure."
Levine invited his opponents "to put down the rhetoric and come and help me and I think, together, we can solve the problem."
Levine said he made the decision to pull the bill after determining that the bill would not pass in a planned vote, despite support from shelter workers and directors. By withdrawing the current version, which has already passed the Assembly, he can simply tweak it and bring the modified bill to a Senate vote in January.
Under the bill, owners who did not have their animals spayed or neutered by four months of age could have been ticketed and fined up to $500.
http://democrats.assembly.ca.gov/members/a40/mainpage.htm
Rent-A-Pet Program
Seth Sachson, Aspen/Pitkin Animal Shelter


Moving to Aspen in 1992, Seth Sachson was hired as the director of the shelter in 1993, and in 1994 took over the contract to operate the shelter. In the past 9 years, Seth has turned the shelter into a happy, healthy atmosphere for animals and people alike.
One of the programs Seth has started is the Rent-A-Pet Program. This program allows visitors, who have been forced to leave their pets at home, the opportunity to fill the void by spending a day outside the shelter with one of the animals who live there. The program is also open to residents.
Other programs Seth has started are:
Dog Walking Program
Recognized by the American Humane Association as one of the top 100 animal shelter programs in the United States, Aspen's dog walking program provides a way to ensure that shelter dogs get plenty of exercise and human interaction. As many as twelve volunteers come by the shelter each day specifically to take a dog for a hike or long walk.
Educational Programs at Local Schools
The shelter works very hard to educate school children on how to take care of animals. There are a number of in-house programs in which kids visit the shelter and interact with the resident dogs and cats. There are also several outreach programs designed to reach children attending these local schools.
A mentorship program with the Aspen Middle School
An internship program with the Aspen Community School
A community involvement program with the Aspen Country Day School
Seth can be contacted at 970-274-3043 for more information.
http://www.DogsAspen.com
6 Common Misconceptions About Fleas
Dr. Heather Willis-Goulet, Florida Veterinary Specialties


Dr. Willis-Goulet talks about 6 common misconceptions about fleas and what pet owners can do to protect their pets!

Here are 6 Common Misconceptions Abouts Fleas:
1. If you don't see fleas on your pet, there's no need to worry about a flea allergy.
FALSE! Dr. Willis-Goulet says, "Even if you don't see fleas, your pet can have a flea allergy. One fleabite from a flea can cause an allergic reaction. That one bite can make the pet scratch and/or bite the affected area for 7 days!"
2. When it comes to a flea, you only need to worry about a fleabite.
FALSE! If a cat or dog eats a flea, they can get a tapeworm. What the pet owner will see is tiny little white worms or rice-like segments on the pet's backside or bedding.

3. No need to worry about treating your yard or home for fleas.
FALSE! If the problem is severe, you can treat the yard and the house. With regard to the yard, it's best to apply products in the evening, because the UV light from the sun will degrade it. Fleas like to be in moist, dark areas. So, be sure to clean up any rubbish or thatch in your yard. Fleas also like to live under raised mobile homes. Be aware of those shady areas of your yard. With regard to the house, flea foggers aren't always effective because the insecticide settles on top of furniture. Fleas will simply go under your couch and into the dark areas. No matter what treatment you use for the house or yard, be sure they are safe for pets!

4. Most pet owners are using their flea products correctly.
FALSE! Some people do not put the entire dose on their pet, according to Dr. Willis-Goulet. Or, they'll split the dose between two pets. The products, used as intended, are very safe. Pet owners should be using them every month. Every three months is not adequate. Also, frequent bathing or swimming can reduce the insecticide levels. Be sure to bathe and dry your dog BEFORE applying the flea product. "We see failures in products during a great flea season because people are not using it as frequently as they should," adds Dr. Willis-Goulet.

5. All flea products are created equal.
FALSE! Some flea products only kill the adult flea. Those products do not take care of the eggs that are released onto the pet. The best products kill the adults AND control the eggs.

6. Cats and dogs can share the same products.
FALSE!"You cannot put dog flea control products on a cat. Many will kill a cat," according to Dr. Willis-Goulet. "Some of them are just downright toxic to cats." Read the labels very carefully and be sure it's formulated for cats.
http://www.FVS.com
Why Does My Cat Do That?
Arden Moore, The Cat Behavior Answer Book


Cats can be difficult to understand. They often seem secretive, aloof, and maddeningly independent. But they also earn deep love and devotion from millions of cat owners who cherish that incomparable feline spirit. For cat lovers everywhere, pet expert Arden Moore explores cat behavior in an inviting, browsable Q&A format. She answers the questions that come up again and again among devoted cat owners, opening an intriguing window on the feline brain and physiology.
How, for example, can a cat in deep sleep three rooms away from the kitchen come zooming in within seconds of the refrigerator door opening? It's not just instinct. Cats really do have amazing hearing. Their ears are perfectly designed to pick up more sound vibrations and at higher frequencies than either humans or even dogs. And what does it mean when a cat's tail swishes slowly from side to side? That cat is probably getting ready to pounce on a mouse-either a toy or the real thing. Tail swishing is part of the cat's predatory positioning.
In addition to explaining why cats do what they do, Moore shows readers how to prevent many common feline problems. Her practical advice and workable solutions help cat owners work with their pets to banish bad litter box habits, nighttime howling, and destructive clawing. Even finicky eaters can become feline gourmands with a little gentle encouragement.
Arden Moore is the editor of Catnip, the national award-winning monthly published in cooperation with Tufts University's School of Veterinary Medicine. To receive a copy of Catnip, please contact catnipeditor@tufts.edu
Join Arden in the "Arden Moore Unleashed for a Pet-Friendly America Tour" from July 24-August 30, featuring The Cat Behavior Answer Book and The Dog Behavior Answer Book.
http://www.ArdenMoore.com
"Green" Your Pet
Tracyann Mains, Pets911


Can man's best friend also be a friend to the environment? According to the United States Humane Society, 73 million dogs and 90 million cats currently inhabit U.S. homes, meaning household pets are an important consumer of valuable resources in many families. Here are eight tips on making your pet owning experience a "green" one.
1. Adopt Your Pet From a Local Shelter
Pets 911 currently has a list of over 20,000 adoptable pets from 8,000 animal shelters. All these animals need things like food, water and vaccinations to survive. They are not disposable, just in need of a loving home. Before you consider buying from a pet store or breeder, visit Pets 911 to see if your dream pet is just a shelter phone call away.
2. Help Control the Pet Population
Bob Barker's famous television line says it best, and spaying/neutering your pets can also have environmental impacts. According to Animal World Network, seven puppies and kittens are born for every human, which means animal overpopulation is a more serious issue than human overpopulation. A neutered/spayed cat will also be less likely to suffer from ovarian or testicular cancer, which means less resources spent on treatment.
3. Find a Local Vet
Every time you drive your pet for a routine check-up, you're emitting carbon dioxide into the air. A five minute drive creates far less damage than a 45 minute commute to the vet you started seeing when you lived five towns away. When you move over 10 miles, consider finding a veterinarian in your new community. Pets 911 has a database of more than 6,000 vets organized by zip code for your reference.
4. Investigate Healthy Food Alternatives
If your family is good enough for the latest trends of a healthy diet, why not your pet? While organic pet food may cost a little more money, it is made with renewable resources and no pesticides or environmentally unfriendly fertilizers. Any extra expenses on food could easily be offset by less medical expenses for your pet from a healthier diet.
5. Recycle Food Containers
As the #1 recycling resource on the internet, it's only natural that Earth 911 would encourage pet owners to practice good recycling. Whether it comes in cans, bottles or bags, chances are your pet's food containers can be recycled. Earth 911's recycling database can show you what facilities in your area recycle which products.
6. Make Poop Disposal Environmentally Friendly
All animals go to the bathroom, and disposing of animal waste is no fun no matter what kind of pet you own. Biodegradable bags are sold at most pet stores, and provide an alternative to using plastic bags that are nearly impossible to decompose. Flushing any remains down the toilet is a smart option as well because most traditional landfills don't lend themselves to composting.
7. Buy Your Pet Sustainable Toys
These can range from eco-friendly beds to hemp collars to stuffed toys made from recycled soda bottles. Your pet may not realize that its playtime is saving the environment, but that won't stop it from having fun with its toys.
8. Keep Your Pet Identified
Everything involved in searching for a lost pet takes up environmental resources. Whether it's printing up paper flyers to post information or driving around the neighborhood yelling your pet's name, losing a pet is an environmentally unfriendly process. While tagging your pet can't prevent it from getting lost, it will surely help with the retrieval. Pets 911 has a Lost Pet section for posting both lost and found pets.
http://www.Pets911.com
Eco-Friendly Pet Products
Angela Torrey, Simple Solution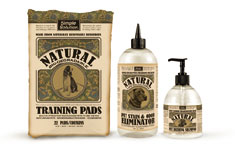 In current times, people are trying to be eco-friendly and help "green the planet" and what better what to start than with our pets?
Simple Solution has a new line of Natural Pet Products that are eco-friendly and biodegradable. There is the Natural Biodegradable Training Pads (which degrade faster than an orange peel); the Natural Stain and Odor Remover (scented with warm ginger eucalyptus); and the Natural Pet Bathing Shampoo (contains a pleasing sweet almond extract). Each product's formulation is specifically designed to lessen environmental concerns and provide a quality alternative to traditional household products for pets.
You can feel good about buying and using these products on your pet!
http://www.Simplesolution.com
New Cookbook for Humans and Dogs
Dr. Jim Humphries, Veterinary News Network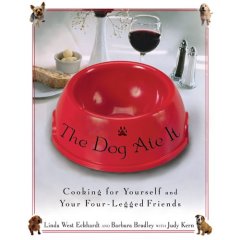 There is a new cookbook in town for people who would like to cook meals that they can share with neighbors and their dogs. Entitled "The Dog Ate It - Cooking for Yourself and Your Four-legged Friends," the author shares recipes for dogs and owners alike. Try stuff like Chow Bella Burgers, or Growly Good Granola or even dog friendly salads. I am not sure my dog would eat a salad, but they have salads! This is certainly not new. I have seen dog books on the shelves for two decades or so, but they certainly are fun. The book also provides some doggy "do's and don'ts" and what foods to have on hand so you can invent your own canine friendly recipes.
http://www.VetNewsNet.com
Virginia Kids Create "Barkitecture" for Pets
Tammy Cavanaugh, Design & Challenge Project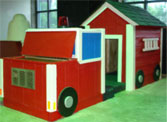 One house is in the shape of a pyramid.

Another is aptly named the Hip-Hop Doghouse.

Then there are the Rotunda and the Monticello doghouses, and don't forget the princess doghouse. One of the dog dwellings even includes solar panels.

These homes for pets are being built by 10- to 14-year-olds through the Design and Challenge Program in Charlottesville, VA. Ten children from the Design & Challenge Program are bringing 100 doghouses to be distributed to victims of Hurricane Katrina. The project will partner with the Humane Society of South Mississippi and Habitat for Humanity to distribute the doghouses to families that are moving into new Habitat for Humanity homes, and that are in need of suitable shelter for Fido as well.
46 young people spent five months working on the doghouses. The ten children, one carpenter, and the Design & Challenge Project Director, Tammy Cavanaugh, will be visiting the coast from July 29th to August 2nd. The children will tour the coast and participate in other volunteer activities during their visit.
Design and Challenge is a program offered by the Youth Learning Academy in Charlottesville, an organization that tries to develop students' academic skills through vocational training. It is an after-school club that promotes career awareness and offers first-hand knowledge of the construction and homebuilding industry among 5th-8th graders.
The program seeks to expose the youth of today to the many excellent career opportunities available in the construction industry, providing them with an educational experience that enhances their math and science skills, emphasizes the impact and importance of sustainable practices, and further develops the leaders of tomorrow. Students learn leadership and team building through the use of hands-on group projects, positive role models and job shadowing.
221 young people participate in the Design & Challenge program, 46% of which come into the program with behavioral problems or problems with school performance. An evaluation was completed, and 13% of students have demonstrated a measurable positive change in their behavior since participating in the Design & Challenge program.
If you would like to help the children build more houses, please contact Tammy Cavanaugh, Director of the Design & Challenge Project at 434-953-4980.
http://www.hssm.org
Listen to the entire Podcast of this show (#401).



View Animal Radio Network™ Broadcast Schedule in a new window.


Listen to Animal Radio® - Go to the launch page


Return to Animal Radio Network™ Home Page


Read July Newsletter
Copyright 2007 All Rights Reserved Animal Radio Network LLC