August 11, 2007
"Proud 2 Adopt"
John Tartaglia, Johnny and the Sprites


Broadway and TV star John Tartaglia ("Avenue Q," "Johnny and the Sprites") has volunteered to spread the word about pet adoptions and is now a spokesperson for The Humane Society of the United States' Proud 2 Adopt campaign. The New York-based actor shares his home with four of his own shelter-adopted pets.
The HSUS offers Proud 2 Adopt "care packages" at no charge to new "pet parents" who send in their adoption certificate from their local shelter or rescue group. The package includes: an HSUS certificate, a P2A t-shirt, bumper sticker, pin, pen, brochures, and a coupon for Hill's Science Diet pet food.



Tartaglia stated, "I believe that there is no organization as powerful and knowledgeable about animal issues as The HSUS and it's an honor to be linked with them on this project. I consider my own dog Dora and cats, Sebastian, Mia and Keisha ­ all from shelters ­ to be part of my family, and I am a proud dad to have them in my life."
Tartaglia, best known for his Tony Award-nominated performance on Broadway in the original cast of "Avenue Q," is star, executive producer and co-creator of the hit Disney Channel series "Johnny and the Sprites." As a puppeteer, he was one of the youngest actors to ever appear on "Sesame Street," where he worked for 10 years starting at the age of just 16. In addition, he appeared earlier this year as Lumiere on Broadway in "Beauty and the Beast."
http://humanesociety.org/proud2adopt
NEWS UPDATE: Vic's Co-Defendant Agrees to Plea Deal


The New York Times By MICHAEL S. SCHMIDT
RICHMOND, Va., July 30 - One of the men indicted with Michael Vick on federal dogfighting charges pleaded guilty Monday and has agreed to help prosecutors make their case.
Tony Taylor, a 34-year-old from Hampton, Va., pleaded guilty here in United States District Court to charges of conspiring to travel in interstate commerce in aid of unlawful activities and to sponsoring "a dog in an animal fighting venture."
Taylor, Vick and two other men, Purnell A. Peace, 35, of Virginia Beach; and Quanis L. Phillips, 28, of Atlanta, pleaded not guilty last week in the case. But as part of his deal, Taylor signed a 13-page statement that confirmed much of what the government asserted in its indictment of the men on July 17.
Taylor outlined his involvement with the others in a dogfighting enterprise known as Bad Newz Kennels, according to the statement. He attested to how he scouted a property for Vick to buy in Smithfield, Va., as the base for the venture and cited numerous examples in which the group bought, trained and sponsored dogs in connection with fighting. He also said they gambled on the fights.
Although the statement said several dogs were killed, it did not say that Vick killed any of them. The statement said Taylor had a falling out with Phillips in 2004 and had not been part of the enterprise since.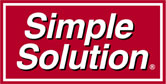 NEWS UPDATE Brought To You By Simple Solution Natural Line Of Products
Human Encounters With Feline Spirits
Dusty Rainbolt, Ghost Cats


People who have spent a lifetime observing and interacting with cats will say that these amazing animals seem to possess powers - supernatural, psychic, or otherwise - that we can only begin to comprehend. But are they able to return from the grave as well?
In Ghost Cats, the strangely heartwarming tales of cats who have refused to let death part them from their human companions are recounted in vivid and captivating detail. From the chilling "Demon Cat of the Nation's Capitol" to the delightful "Phantom Litter Box" to the touching "Poor Puss" of Stonehenge, there's a plethora of phantasms here for everyone. And what if you receive bedtime visitations from your very own dearly departed kitty? Author Dusty friend explains all the signs of a haunting and offers reasons why your friend has come back.
A thrilling read for the cat and ghost lovers among us, and a consolation for those who have lost a beloved pet, this collection of stories confirms that these wonderful, whiskered creatures capture our imagination as much as they do our hearts, long after they have purred their last.
http://www.DustyRainbolt.com
Lonesome George
Britt Savage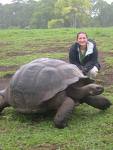 Lonesome George may be the World's Most Eligible Bachelor. George, a giant tortoise from the Galapagos Island of Pinta is believed to be the last of his kind. His species was hunted for centuries and for the last 35 years, biologists have been looking for that special someone for George. The problem is, lonesome George doesn't seem to mind being lonesome at all. In fact, the thought of romance seems to leave him shell shocked. Although he is in his romantic prime, around 80-years-old, when two eligible tortoises of similar breeding were brought in, he ignored them. One rejected love interest flipped over in a wading pool and died, but the match making isn't stopping. The search is on for that special female that can help wake up this sleeping giant's libido. But for now, George is happy to be lonesome.
Pocket Pets
Marc Morrone, "The Pet Shop"


Marc Marrone, celebrated animal and pet expert, discusses mice, hamsters, and other small rodents that actually make great pets for children. They provide the perfect balance of a concealed cage environment with an easy schedule of letting them out for exercise and play when it is convenient for the family. Marc convinces even the most die-hard skeptic that the differences between pet mice and sewer rats are vastly different and pocket rodents may be easier to care for than many parents may think!
http://www.ParrotsOfTheWorld.com

Skunk ­ A Reputation to Respect
Rae Ann Kumelos, Voice of the Animal
This true story about the rescue and relocation of an amiable skunk is a reminder that respect and reputation involve more than just noble intention.
http://www.VoiceoftheAnimal.org
Excessive Noise in Shelters Can Lead to Stress
Dr. Jim Humphries, Veterinary News Network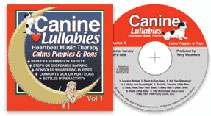 If your neighbor's barking dog drives you crazy, pity the employees of our nations' animal shelters where the noise produced by howling, barking and yapping dogs often exceeds that produced by a jackhammer. And, pity the poor dogs! While employees may wear hearing protection, dogs don't have that option.
Excessive noise in shelters can physically stress dogs and lead to behavioral, psychological, physiological and anatomical responses. Noise levels regularly exceed the measuring capacity of noise dosimeter. These levels were higher than produced by a jackhammer, 110 decibels. The Occupation Safety & Health Administration (OSHA) recommends anyone should wear hearing protection in a noise environment about 90 decibels.
Extra amount of human contact was very influential in reducing the stressful effects of shelter housing and the noise. Keeping dogs behaviorally healthy, helps keep them psychically healthy. And healthy unstressed dogs, have a tendency to be more calm and relaxed, and of course, are more adoptable. Excessive noise not only affects shelter animals and employees, but it affects the potential adopters also. Visitors are sometimes driven off by the excess noise in a shelter, and that's not a good thing.
But for now, as shelters try to engineer for the noise, try to bear it a little and take home one of those wonderful new family members. Also, you might suggest to your local animal shelter that they try the Canine Lullabies CD. This CD will actually calm barking dogs in minutes and it works and is scientifically proven. Visit CanineLullabies.com and see what you think.
http://www.VetNewsNet.com
Bob Barker ­ The Price is Right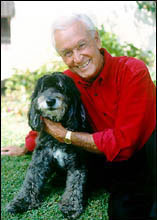 Bob Barker is an outspoken member of the animal rights movement, and is known for ending each episode of The Price is Right by saying: "Help control the pet population, have your pet spayed or neutered." CBS now goes out of its way to offer prizes that do not violate Barker's animal rights views. Barker has also established the DJ&T Foundation, the purpose of which is to help control the dog and cat population. He is funding the foundation through his own resources to support low-cost or free spay/neuter clinics.
www.djtfoundation.org

Entering the Dog World
Alfred Gingold - Dog World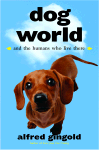 A hilarious excursion through the studied, obsessive, colorful, demanding, occasionally lunatic world of contemporary dog ownership. In the fall of 2001, Alfred Gingold found himself succumbing to the undeniably endearing behavior of his family's new Norfolk Terrier, George, and becoming a member of what he calls Dog Nation: the 43 million dog owners and their 55 million dogs living in America today. In a matter of weeks, Gingold had become a firsthand ethnographer of the passions (read: idiosyncrasies) that define dog owners everywhere. It was literally a case of puppy love.
http://www.alfredgingold.com

From Charlotte to Shelob
Rae Ann Kumelos, Voice of the Animal
Charlotte was not the first spider in myth and legend to weave words of wisdom and power. Meet the spiders who have inspired heroes and heroines from cultures all over the world to spin webs of wisdom, weave amazing dreams, and create order out of chaos.
http://www.voiceoftheanimal.org
Listen to the entire Podcast of this show (#402).



View Animal Radio Network™ Broadcast Schedule in a new window.


Listen to Animal Radio® - Go to the launch page


Return to Animal Radio Network™ Home Page


Read August Newsletter
Copyright 2007 All Rights Reserved Animal Radio Network LLC