August 12, 2006
The Amazing Kreskin on
Dog Slaughter in China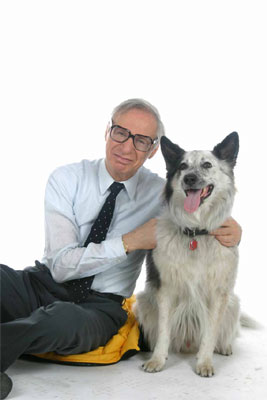 World renowned mentalist, The Amazing Kreskin expresses his outrage over the slaughtering of 50,000 dogs in south-western China. Having spent his life tuning into the thoughts of people and as a spokesperson for the United Action for Animals, Kreskin has been quoted for years stating "Animals don't betray people".
Kreskin believes we can understand a human being dramatically by watching how they treat animals better THAN time spent with psychologists and other theorists. The slaughter was ordered after about 360 of the county's 200,000 residents suffered dog bites this year, with only three people reportedly dying of rabies. The five-day massacre, lead by the county police chief, sought out Dogs being walked, who were taken from owners and beaten to death on the spot.
http://www.AmazingKreskin.com
http://www.ua4a.org
Peacock Finds Love at a Gas Station
Britt Savage


A peacock in England has fallen in love. Not with another peacock, but with a gas pump! Everyday from 6:30am to 10:00pm, when the station is open, you can find Mr. P, the peacock, displaying his plumage to the gasoline pumps. It is speculated that the clicking noise from the gas pump is similar to the mating call of a female peacock.
Mr. P is not the only peacock in his family with a strange new love. His brothers have fallen in love with a cat and a light fixture.
Mad Cow Disease


Dr. Cass Ingram
The cattle industry is still being pressured to sweep mad cow disease cases under the rug so as not to cause alarm in this billion-dollar industry. Dr. Cass Ingram, author of Natural Cures for Killer Germs, tells how the disease is spread in cattle and can eventually spread to humans. Learn how to tell the signs of mad cow disease and how to protect yourself and your pets.
www.oreganol.com
9/11 Dogs
Dr. Jim Humphries, Veterinary News Network


For years, search and rescue dogs have worked alongside their human teammates, including the attacks at the World Trade Center and the Pentagon on September 11, 2001. Without any regard for their own safety, or the protective gear available to humans, these dogs put their nose to the ground in an attempt to find the missing and hopefully save a human life.
For the first responder, both human and animal alike, the long-term health affects of exposure to hazardous carcinogens and fine particles of soot and debris is a major concern. As a result, the University of Pennsylvania is hosting a 5-year study using MRI's to look for the early warning signs of health issues, primarily cancer in these canine first responders. The study, which was launched in 2002, has been tracking the health of 12 search and rescue dogs that volunteered time in the rescue, recovery and relief missions at Ground Zero and at the Pentagon.
At the conclusion of the fourth year earlier this month, the study yielded no signs of nasal or respiratory cancer that related to the search and rescue efforts. Search and rescue dogs rely on a heightened sense of smell to transcend the rubble of the remains of manmade structures and lead human handlers to the missing. As a result, these animals are unable to use safety devices such as gas masks and safety goggles to protect them from potentially hazardous carcinogens contained in the debris.
In 2002, ProScan, a world leader in human MRI technology, opened the first pet imaging center housing technologically advanced, state of the art equipment, that uses magnetic energy and radio waves to create detailed images of tissue. These centers, created especially for dogs and cats, allows veterinarians to more accurately determine the cause and location of disease such as cancer in pets without evasive exploratory surgery. Based on more than 6,000 case referrals, pet imaging centers are the world leader in pet MRI scans. This is a great example of technology helping our canine heroes but also a good indication of what's available for all of us and our pets who might need some more advanced diagnostic capabilities.
http://www.VetNewsNet.com
Protect Your Pet During the Heat Wave
Dr. Tod Schadler, Assoc. Dean of Clinical Studies at Ross Univ.


With this heat wave currently spread across Northeast, pet owners should take the necessary precautions to protect their pets from the dangerous heat and be aware of signs of heatstroke, according to Dr. Tod Schadler, Associate Dean of Clinical Studies at Ross University School of Veterinary Medicine. Dr. Schadler offers the following tips on ways to keep pets safe from the summer's scorching heat:
Never leave your pet alone in a parked car. Parked cars are potential death traps for pets during the warm months. Even on a mild day, the temperature inside a car can quickly climb to more than 120°.
Provide adequate shelter for protection from the heat if your pet lives outdoors. Outdoor kennels should be well ventilated and in a shaded area. There should always be an area where your pet can go to get out of the sun.
Make sure that there is plenty of fresh drinking water available. The bowl should be placed in a shaded area where it cannot be heated by the sun. Provide a few bowls in case your pet tips one over.
Avoid excessive exercise during hot days. Exercise is important, but over-exertion during hot weather commonly causes heat stress.
Keep your pet well groomed. Overgrown and matted hair can retain heat for your animal, making it more difficult to maintain a comfortable body temperature.
Be aware of symptoms of heatstroke. Heatstroke is a life-threatening condition that results when pets cannot adequately rid themselves of excess body heat. The warning signs of heatstroke include panting, staring or anxious expressions, a refusal to obey commands, warm and dry skin, high fever, rapid heartbeat and possibly vomiting. If your pet shows these signs, lower the body temperature quickly with cool water, either by immersion or by spraying thoroughly with a garden hose. But be careful not to overcool your pet, and never use ice. Call your veterinarian immediately if your pet exhibits any of these signs.
Beware When Buying a Puppy - The Story of Patrick
Lyn McLaughlin, Papillon 911 Rescue & Adoption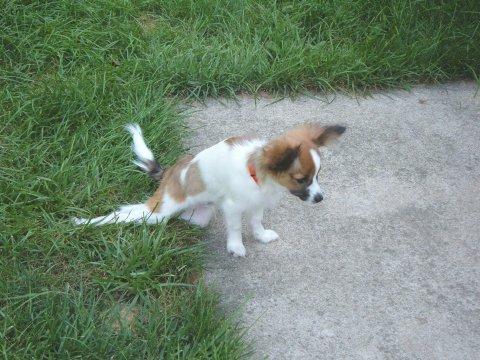 Patrick is the offspring of a puppy mill dog whose days were numbered. Patrick's mother was no longer earning her keep and was eventually discarded. But little did anyone know that this dog was pregnant. Due to the undernourishment of this mother, she gave birth to one tiny ball of fur. In celebration of the Irish holiday, the 4-ounce boy was named Patrick.
Patrick developed like a normal puppy, except that he got a frequent cough that would turn into pneumonia. His foster Mom noticed that his gait was stiff and sometimes awkward, but he seemed to be happy and growing just as expected, until he was 4 months old. All of a sudden, Patrick could not use his back legs and is paralyzed.
Patrick's prognosis is not good. He is guaranteed a loving home and the best care available in the Papillon 911 Rescue family. But what if he had been sent out with other 5-week-old puppies to end up in a pet shop across the country? Someone would have taken him home with the expectation that he would be a healthy loving companion for 15 to 18 years. All of a sudden they would be faced with all the suffering and insurmountable bills of a chronically ill puppy.
Papillon 911 Rescue and Adoption, Inc, formed in early April, 2004, with the specific mission of reaching out to save the breeding stock used in puppy mills. The founders vowed openly that these so called "forgotten butterflies" would not remain in wire crates and barrels. Every opportunity would be used to get these dogs to safety, restore their health and place them in loving homes.
http://www.Pap911Rescue.org
Skunk - A Reputation to Respect
Rae Ann Kumelos, Voice of the Animal


This true story about the rescue and relocation of an amiable skunk is a reminder that respect and reputation involve more than just noble intention.
http://www.VoiceOfTheAnimal.org
Cool Neon
Benjamin James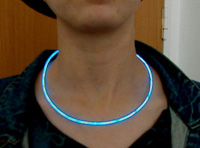 At Funhouse Productions, we play hard at being purveyors and advocates of fun, harmless mischief, and a celebratory lifestyle. Our specialty is transforming imagination into reality. Funhouse Productions will produce just about anything in Cool Neon. Our specialty is the creation of things that have never existed before. We welcome individuals and artists, as well as corporate and industrial inquiries. Visit our on line photo gallery to see what other people have created with Cool Neon. Our Cool Neon necklaces are great for having your dog outdoors at night, whether it is for a walk, or even a camping trip, your dog will light up the night with his Cool Neon.
www.CoolNeon.com
Talk With Your Animals
Joy Turner
Joy speaks with Sweetness a young kitten who plays too rough with her guardian.
http://www.TalkWithYourAnimals.com
New Puppy! Now What?
Victoria Schade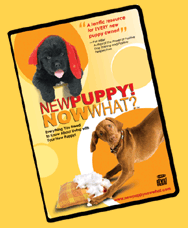 So you've got a new puppy! That probably means you've got new stains on the rug, nibbled fingers, ripped up shoes and non-stop whining it's enough to make a person wonder "Now what?!"
Well, Victoria Schade answers that question. She has put together a great DVD that can help all new puppy parents with a sense of humor!
You will learn HOW TO:
· Solve the most difficult housetraining issues
· Master the secrets to crate training
· Benefit from early puppy socialization
· Address mouthing and nipping
· Engage your puppy in great games to burn off energy
· Exercise sit, come and down commands
· Teach your pup not to jump up on guests
And MUCH more!
Victoria Schade is an APDT Certified Pet Dog Trainer and an honors graduate from the San Francisco SPCA Academy for Dog Trainers with a Counseling Certificate. Her company, Good Dog! Obedience Training has grown exponentially since opening its doors in the Washington, DC area six years ago. She has worked with thousands of dogs ­ and dog owners ­ where she has honed her unique dog handling and "coaching" technique. She earns rave reviews from her customers for her ability to help every dog be a good dog.
If you have a new puppy or are thinking about getting one - you don't want to miss this!
http://www.NewPuppyNowWhat.com
Tips on Starting a Pet Related Business in Your Spare Time
Michelle Anton


Michele Anton has put together a book containing 101 great ideas for business that can be run on weekends or evening. Whether you are interested in pet-sitting, dog doo removal or are interested in starting your own unique pet service, among other types of business, Weekend Entrepreneur contains all of the secrets to make your business successful.
Michelle Anton has been a noted producer and media expert for over a decade. She served as executive producer for The Dr. Laura Radio Show as well as a producer on prestigious television shows such as The A&E Biography Series, Leeza, Danny Bonaduce, Famous Families and as a freelance associate producer working on The Oprah Winfrey Show. Anton was nominated for the NAACP Image Award 2000 for the A&E Biography Series, profiling the life and career of Dorothy Dandridge. In addition, she has won the Entertainment Industries Council, Inc's PRISM Award in 1999, and is a distinguished member of the Writers Guild of America.
http://www.MichelleAnton.com

Listen to the 1st Hour ABRIDGED VERSION Podcast of this show (#350).
Purchase a CD Copy of this Show

View Animal Radio Network® Broadcast Schedule in a new window.


Listen to Animal Radio® - Go to the launch page


Return to Animal Radio Network® Home Page


Read August Newsletter
Copyright 2006 All Rights Reserved Animal Radio Network LLC