2 States - 1 Day
South Lake Tahoe, California
Carson City Nevada


Lake Tahoe Wildlife Care
Tom & Cheryl Milham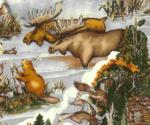 Lake Tahoe Wildlife Care began in 1978 when Tom and Cheryl Millham literally opened the doors to their home on Cherry Hills Circle to take in sick, injured, orphaned and displaced small wild animals. Beginning with birds and squirrels, it wasn't long before all helpless and vulnerable small wildlife found their way to the Millhams through an ever-expanding network of volunteers and a very caring community. Now, after 27 years at the same location, a greater dream is emerging. With the help of El Dorado County, the city of South Lake Tahoe, hundreds of volunteers and the citizens of the Lake Tahoe Basin, a state-of-the art facility can be realized. The search for a new location is now underway and grant funds are being pursued. It is the Millham's hope that a new facility can be built within five years.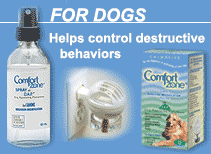 'Tis the Season for Natural Disasters
Tammy Senter, Farnam
This time of year, the news is replete with stories about natural disasters; wildfires out west, hurricane season back east and in the Gulf of Mexico, and tornados in several parts of the country in between. Farnam Companies, Inc. encourages you to remember to include your four legged family members in your evacuation plans. If you live in an area where weather related emergencies are a perennial possibility it is a good idea to keep an emergency bag packed for your pets. Be sure to include items your pet needs for every day as well as items that will keep them safe and make them feel more comfortable. Include Farnam's Comfort Zone® with D.A.P.® for dogs / Comfort Zone® with Feliway® for cats in your emergency bag to help pets feel more secure in an unfamiliar environment.

West Nile Virus
David Alan, KRLT- FM/KOWL-AM Radio News Director
Last year, there were a total of 829 human West Nile Virus infections, including 27 deaths, reported from 23 counties in California. The virus was detected in all 58 California counties. This is a critical time for mosquito prevention and residents should eliminate standing water around their homes where mosquitoes might breed, keep their pools, ponds, and water features clean and in good working order. Also repairs should be completed on any window screens that could provide entry for mosquitoes. Residents should wear long sleeves and long pants and spray on lots of bug "DEET" repellent all over themselves in mosquito prone areas. Remember those pesky bugs can even bite through clothes!