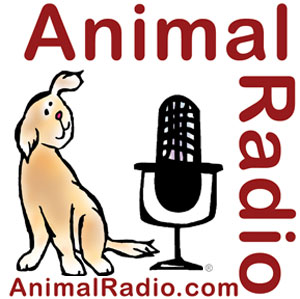 Animal Radio® Show #663 August 18, 2012
Jo Anne Worley, Rowan & Martin's Laugh In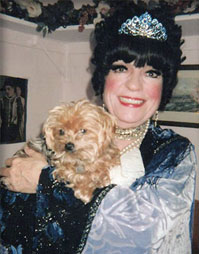 Jo Anne Worley is most remembered as one of the cast members of Rowan & Martin's Laugh In from 1968 to 1970. Jo Anne was also named "School Comedian" in high school.
Currently, Jo Anne is the President of Actors and Others for Animals, a California 501(c)(3) non-profit corporation dedicated to the promotion of the humane treatment of animals.
Jo Anne says that the name, "Actors and Ohers for Animals" is a silly name. People always mess it up and say, "Actors and Other Animals" or "Animals For Actors." The organization was started years ago when Doris Day saw a need and started collecting money from actors on a set. The people who were behind the cameras, the lighting cew, the people who did wardrobe, all said they wanted to contribute. So that's how the words 'And Others" got into it.
Their main mission is to curb the pet overpopulation problem by subsidizing spay/neuter surgeries. Together with other vital services, they are there to help pet guardians living on a low and/or fixed income care for their beloved companions.
Jo Anne loves the animals and has a rescued miniature Yorkshire Terrier named Harmony, who travels everywhere with her. She states that, "Harmony is a world class traveler, and is better at it than I am!" Jo Anne also mentions that Harmony is a service dog, and stated, "She keeps me calm and sane, and that is an extremely good thing.!"

http://www.actorsandothers.com
A Real Life Pet Entertainer!
Lee Day, Pet Entertainer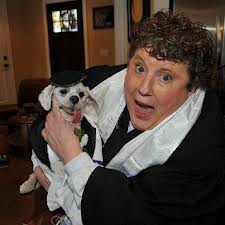 Lee Day provides a service not performed by any other entertainer worldwide. She has combined two of her most intense passions, show business and pets, into a business that has endured for fifteen years. She is like the Chuck Woolery for dating animals!
Lee Day is a Pet Entertainer! She performs pet weddings; pet dating services and in 1984 created the first Bark Mitzvah. Dogs have to be 2 years of age (in human years – which equals about 13 in dog years) and Lee says the Jewish Prayer with the dog getting presents. Lee has performed many Bark Mitzvahs, including one for Joan River's dog, Spike, who got a lot of attention and love – which is what its all about!
But that's not all; Lee is the only person in the world to provide a romantic dating service for animals. She even took two lobsters out for a romantic date to Red Lobster! She also took two penguins from Sea World out and actually performed their marriage, complete with a wedding certificate. Lee also performed a marriage between two of Sally Jesse Raphael's horses.
Lee is also a pet hairstylist and when she comes to your home to groom your pet, she will also sing to them. The singer, actress, comedian and dancer is a "full-service" service!

http://www.leedaypetentertainer.com
The Dogfather's Grooming Tip with Joey Villani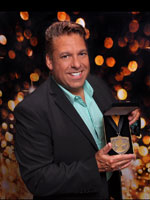 Sprucing Up Your Pet's Coat Color
People frequently ask Joey if there is a way to spruce up their pet's coat color. Not only is there a way, but it's easy if you do it right.
If you have a multi-colored dog, like a Dalmatian, you don't want to try this, as it is too difficult. But if your dog is a solid color, like apricot or black, it is real easy. Go out and buy a small jar of Vaseline, not scented, just regular Vaseline. Next, buy Just For Men Hair Color, not the type for the beard or mustache, but for the hair. Don't buy a color that is permanent. Permanent products are dangerous and messy and should be left for professionals.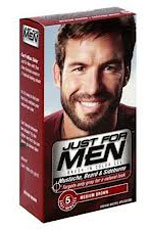 First, you want to do a test patch on your dog. After mixing the formula for a test patch, it is no longer any good, so just take a couple of drops of each solution, one being the activator and the other being the color. Mix them together and put it on a test spot on your dog and leave it on for five minutes. Rinse it off and wait 24 hours to see fi there is any irritation or if the skin looks pink. If you do see a reaction, do not go through with the coloring of your dog.
If there is no reaction, you need to figure out how to secure your dog safely in your bathtub or in a sink. This can't be stressed enough! Because if your dog is not secure, they may jump out and stain your carpets and your furniture.
When your dog is secure and you are ready to begin, start off with a dry dog. It is a good idea to put a little Vaseline in your dog's eyes to protect them from any dye. Put on the plastic gloves that are provided and mix the remaining solution together.
You need to work fast now. If you have a big dog, you might want an extra person to help you out. You need to get the solution on your dog and be able to rinse it off within five minutes. It is best to apply it to the areas where it is usually needed the most, like the head and the back. Leave it on for the recommended five minutes. If your dog is not solid black or brown and has a hint of other colors, leave it on for three minutes.
After your have rinsed off the dye, shampoo and condition your dog. Conditioning is very important because it's going to lock everything in place.
When you are done, you will be left with a dog that looks 10 years younger!
Animal Radio® News with Stacey Cohen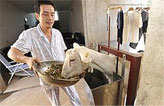 Roof Top Sheep Farm
A father in China is going to great lengths, or more accurately, great heights, to make sure his baby has plenty of fresh milk. Orange News reports Wei Xingyu and his wife have converted the roof of their house into a sheep farm to help provide a never-ending supply of the beverage. Wei explains that his daughter was born shortly after a scandal broke out in China over poisoned baby milk formula. He says they didn't know if they could trust something they bought at the store, so they decided to take matters into their own hands. He bought two ewes for about $470 and then later added a ram to complete the flock, which is still living happily four stories above the ground.
"Big Guns" Brought Out To Find Missing Snake
Police in England are breaking out the big tools to find a missing snake. The Sun reports authorities in Plymouth are using a helicopter equipped with a thermal imaging camera to help locate the 4-foot boa constrictor. The reptile was spotted on a busy street last week and three locals were actually able to trap him in a trashcan. However, the animal proved too powerful for them to keep restrained and broke free again, leading police to take to the air. They've yet to find the non-venomous snake and officials are warning residents not to try to take care of the runaway themselves.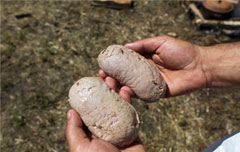 Ancient Olympic Dopers Ate Raw Testicles
Forget anabolic steroids in easy-to-swallow tablets or EPO in clean syringes. Ancient Olympic dopers got their pre-Games hormone boost from chewing on raw animal testicles. The problem of some Olympic competitors taking potions, medicines and supplements to boost performance is as old as the Games themselves. Even athletes of the 19th century thought nothing of fortifying themselves with coca leaves, cocaine and alcohol. Thomas Hicks won the 1904 Olympic marathon with the help of raw egg, strychnine and shots of brandy given to him at regular intervals by his attentive coach. Experts say what drove people to extremes then is probably similar to what drives athletes to dope now. After all, the desire to win by any means must have been strong to induce athletes to eat raw testicles - it was "probably also seen as a sign of masculinity." The difference now is that drugs are safer, subtler and more sophisticated, and perception of cheating has changed.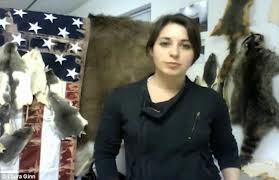 $100 Multi-Course Rat Dinner
If a server at a dinner event said the special for the evening was rat, most people would think it was a joke. But that wasn't the case at the Allegra LaViola Gallery in New York City, where guests choked down goat cheese bruschetta with rat tenderloin, rat-pork terrine, rat braise and French toast with smoked rat for dessert. According to The New York Times, artist Laura Ginn hosted an exhibition event as part of her project called, "Tomorrow We Will Feast Again on What We Catch." Guests were served a multi-course dinner of rats. The dinner cost $100 each and diners had to sign a liability waver before taking their first bites. Ginn's project, as explained on her Kickstarter page, explores self-sufficiency in an urban environment. She documents her adventures using both photography and performance. Photographs of her at the exhibit showed her dismantling a deer head. Her dress for the event was homemade; 300 rat pelts were used as material. The artist's interest in being self-sufficient in the city led her to eat rats and have them prepared for dinner at the gallery. She explained, "I could've gone with pigeon. I think people are a little more comfortable with pigeon, and I wanted to put people outside of their comfort zone." Would you try a bite of rat bruschetta or rat tenderloin? What about pay a whopping $100 for a multi-course rat dinner?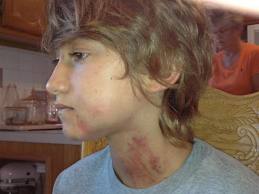 Boy Hits Bird On Roller Coaster
A boy suffered minor injuries after getting hit by a bird at Six Flags-Great Adventure in Jackson Township, New Jersey. Authorities tell NBC10 the victim was riding the Kingda Ka Roller coaster, when a bird slammed into his face. The ride was shut down for a while, but has since reopened. The victim is going to be OK and has quite a story to tell. Shane Matus, of Howell Township, told Philadelphia's NBC10 that he was riding in the front car with his friend on the Kingda Ka rollercoaster around 5 p.m. Thursday when something slammed into his face. "When it hit me I was like, 'What the-? Did somebody throw a ball or something?' When I started spitting out feathers, I was like, that was a bird," said Shane.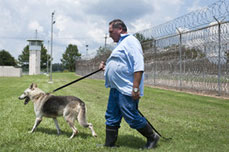 Wolves Guard Prison
At the Louisiana State Penitentiary, the nation's biggest prison facility, a new breed of guard dog is working nights. The prison's wolf dog hybrids are perhaps the most creative solution to budget cuts within the nation's prison system. At the 18,000-acre prison, known as Angola, 35 of the 42 guard towers now stand empty, thanks to budget cuts that forced the layoffs of more than 100 officers. Instead, at least nine patrolling wolf dog regularly guards three of the seven camps that make up the complex. The wolf-dog hybrids range between 90 and 120 pounds. Nobody yet has tried to overpower or outrun them. Capt. Robert Tyler oversees the work with the dogs. "How do you train a wolf dog? Very carefully and with lots of hot dogs," Mr. Tyler said. "It takes a lot of time. Wolves are like other canines. They're pack animals. And they are slow to trust." The average correctional officer at Angola earns about $34,000 a year, a prison spokesman said. By comparison the entire dog program, which includes about 80 dogs, costs about $60,000 annually for medical care, supplies and food.

NEWS UPDATE Brought To You By ScoopFree.com. Free Shipping on trays plus up to 20$ off your first subscription.
Listen to the entire Podcast of this show (#663)