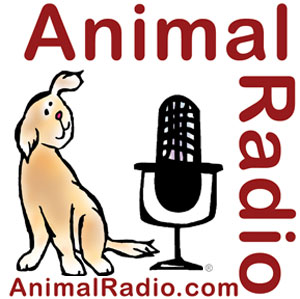 Animal Radio® Show #559 August 21, 2010
.
Replacing Guilt With Joy for Traveling Pet Owners
Steve Pinetti, Kimpton Hotels

There are many hotels that will accept pets, but they don't roll out the red carpet like Kimpton does.
Steve Pinetti, Sr. VP Sales & Marketing, explains the history of the Kimpton Hotels and their welcoming of the animals. He tell us when Bill Kimpton founded the company in 1981, he loved two things in life. He loved his Chianti and he loved his pets. His miniature Collie named Chianti would walk around the hotel lobby and meeting rooms. As time went on, other people would begin to bring their pets. They never officially launched a pet friendly program, it just sort of happened. Thirty years later and it's now called the "HosPETality" program.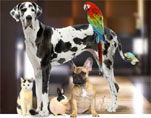 Kimpton Hotels plans for your pet ahead of time. After making reservations, your pet will receive a link to a website from a director of pet relations, showing all of the cool places where your dog can go with you around town and enjoy the city. Upon check-in, you will find a bowl with some food, snacks, and water. You will also find a chalkboard in the lobby welcoming your pet by name. And once in their room, your pets will enjoy their own comfortable pet bed and bowl. A special door hanger will also alert staff to your pet's presence. And if Fido or Fluffy is feeling a bit tense from the travel, they can grab a treat from the honor bar and schedule a massage!
Don't worry if you left some items behind for your pooch. They have thought of everything. Kimpton Hotels have cleanup bags, leashes and even umbrellas for those rainy days.
At Kimpton Hotels, there are no size restrictions, amount of pets, nor animal-type restrictions. You will also find that they don't charge any additional fees for pets. They often have snakes as guests, and as long as the same amount of snakes eventually check out that checked in, that's a good thing! Some of the strangest animals have been a monkey, a llama and an iguana. One time, at the Kimpton Monaco Hotel in Denver, a man pulled up in front of the hotel with 4 horses in a trailer. Kimpton Hotels thought they were going to be put to the test, but the man just wanted to park his trailer in front of the hotel overnight. (I'm sure the staff was relieved!)
And if you can't bring your pet with you while you travel, they have a program called "Guppy Love" where you can have a gold fish placed in your room during your stay!
Kimpton doesn't simply allow pets to stay the night—they roll out the red carpet!
For their pet-loving Animal Radio® listeners, they're offering a great deal—15% off their Best Available Rate. When making a reservation enter "KPETSRate Code" in the Rate Code field.



Dodge Journey Pet Destinations
What Is Your Favorite Place To Take Your Pet?
People who have pets love to travel with them. At Dodge, they have made it easier with their pet friendly vehicle, the Dodge Journey, which contains concealed storage bins, Chill Zone glove box cooler and second-row dual in-floor storage bins with removable and washable liners (very handy for muddy paws!) Call us with your favorite place to take your furry-friend: 1-866-405-8405
This week's Dodge Journey Pet Destination: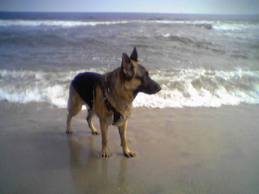 Vladae, Animal Radio's own Russian Dog Wizard, is one busy guy. He sees one client after another and is always hard at work turning unruly dogs around for their guardians. But after a hard day of training dogs, he and his wife like to take their dog Mika (who is of course very well behaved), to the Huntington Beach Dog Park in Huntington Beach, California. There, Mika can run free with the other dogs and just be herself!
Past Dodge Journey Pet Destinations: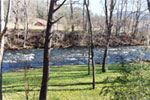 Steve from Tennessee recommends the town of Townsend, Tennessee, one of three gateways to the Great Smoky Mountains National Park, which has dubbed itself "The Peaceful Side of the Smokies." You can find many roadside parks along the Little River to take your pets. Steve states that his dogs first learned how to swim in the Little River.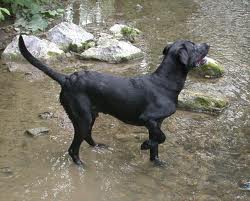 Richard of Bend, Oregon likes to take his Labrador Retriever to Tumalo State Park in the heart of sunny central Oregon. Tumalo State Park rests along Oregon's spectacular Deschutes River, which is a great place for your water-loving dog to romp.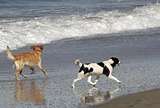 Glenn of San Diego recommends Ocean Beach Dog Beach in San Diego, California. Ocean Beach Dog Beach is open to canines any time. This small beach has plenty of sand for the dogs to run on, and waves for them to run through. On weekends there can be up to 100 dogs there.

Bo from Los Angeles, California tells us her 2 black labs like to go hiking and to the beach. But one of her favorite places to take them is Runyon Canyon Park in Los Angeles, California. It is a 130-acre park in the Santa Monica Mountains, two blocks from Hollywood Boulevard. She states that this is a great place where your dogs can frolic with other dogs and have a good time! And who knows, you might even catch a glimpse of a celebrity and their pet while you're there!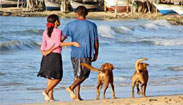 Danielle from Shell Beach, California tells us her favorite place to take her dogs is Avila Beach, California. She states it is a very secluded beach with a nice protected area to let your dogs run free. Everyone brings their dogs to this beach and it is a very pet-friendly place.
The Dogfather's Grooming Tip with Joey Villani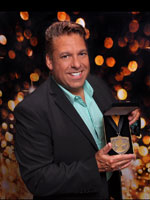 How To Cover Up A Grey Muzzle
Some dogs develop grey muzzles as they grow older. But you don't have to live with it if you have a brown, black or red dog. (Unfortunately, this tip doesn't work on the lighter haired dogs.)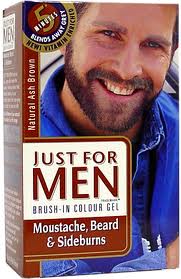 You can use the same thing on your dog that a man would use to cover his grey beard – Just For Men! It works like a charm. Take the product and mix it according to the original directions for humans and comb it through. But be careful that your dog doesn't lick it. While he has the Just for Men on, distract him by getting him excited. You want him to forget that he has something on his muzzle. After about 5 minutes, rinse it off.
It works like a charm and your male dog goes from looking like an old man back to a young stud; while your female dog will start turning those puppy heads again!

DOGFATHER'S GROOMING TIP Brought To You By SeniorPetProducts.com. Use the code "radiospp" to receive 25% off!
.
Animal Radio® News with Kaye Browne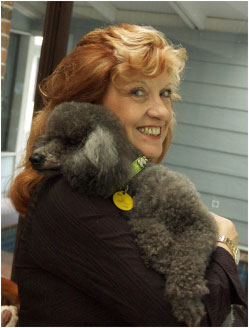 Expanded Voluntary Recall by Procter & Gamble
Giant pet food company Procter and Gamble has expanded its voluntary recall of selected brands of its dry dog food over fears it may be contaminated with salmonella. Although P&G hasn't received any actual reports of food poisoning related to its products, independent testing suggested some of its brands had the potential to be contaminated so they're voluntarily recalling tons of dry kibble as a precaution. The pet food, which should be trashed or returned for a refund are Iams Veterinary Dry Formulas, and three Eukanuba lines - Naturally Wild, Pure and Custom Care Sensitive skin with best by dates between July this year and December 2011.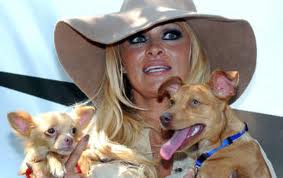 Actress Pamela Anderson Snuggles Up To Two New Housemates
But it's not what you might be thinking. The lovely Pammy – who's a well-known animal activist - has opened her heart and her home to help some of the dozens of dogs surrendered or abandoned by people who lost their livelihoods because of the catastrophic BP oil spill. Anderson said her son would like to take in all the needy pets – but for now – they've taken in two scruffy Chihuahua mix girls – tentatively named after Gina Lollobrigida and Brigitte Bardot. If you'd like to copy Pam and re-home a needy dog affected by the oil spill – just get in touch with your local humane society group.

Iguana Owner Has The Last Laugh
The owner of a four-foot long iguana has had the last laugh on a Maryland Council, which tried to ban the pair from walking in public. Wayne Short was outraged when Ocean City Council passed a special law banning him from taking Hillary for strolls along the boardwalk on a lead. Even though iguanas are incredibly docile - council said she might scare other sun-worshippers. However, Hillary is not just any old lizard and Short now has the paperwork to prove it – he applied for and was given permission to register his pet as a certified disability service animal.

Gulf Coast Oil Disaster Dogs Headed to New Jersey
More than a hundred dogs displaced or abandoned by families affected by the Gulf Coast Oil Disaster are on the way to New Jersey – in hopes of finding a new home. The dogs are the latest victims of the BP pipeline explosion, which continues to cause misery – initially suffocating wildlife --then swallowing the jobs of huge numbers of people who depended on the Gulf for work – and suddenly had no income. Louisiana animal shelters say they've been overwhelmed by the influx of hundreds of pets in the past couple of months – with no sign that these forced surrenders will ease anytime soon.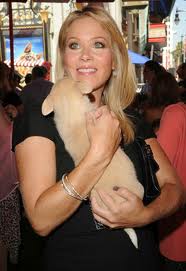 Christina Applegate Worried About Arrival Of Her First Baby
Christina Applegate - the star of the new movie 'Cats and Dogs – The Revenge of Kitty Galore' – has revealed she's worried sick about the imminent arrival of her first baby. The heavily pregnant actress is telling anyone who'll listen that it's not childbirth she fears – but rather how her surrogate child – her dog Tallulah – will cope. Apparently Christina never read the book on how to prevent k9 separation anxiety and consequently whenever she's at home the dachshund Chihuahua mix dog sticks like glue – all day, every day. At least she's come clean – and not surprisingly helpful hints are flooding in from fellow dog lovers.

Is Your Pet Accident-Prone?
Apparently the number of pets surviving bizarre events is now so weird there's a competition for the most unusual insurance claim. There were 12 nominees voted for in this year's VPI Hambone award – the competition was tough. For example, there was Darci the Westie who took on a chain saw – while it was running– and survived with just 4 stitches; Sandy the Abyssinian cat who took a nap that turned into spin in the clothes dryer; and even a Jack Russell Terrier visiting Australia who didn't know that you shouldn't rumble with a goana – downunder's most ferocious giant lizard. Check out the results at www.vpihamboneaward.com. Hopefully your pet won't ever be a contender!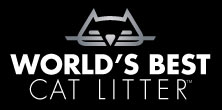 NEWS UPDATE Brought To You By World's Best Cat Litter™
Listen to the entire Podcast of this show (#559)

indicates XM Satellite Radio and Podcast versions only.