Animal Radio® Show #455 August 23, 2008
Wendie Malick, Just Shoot Me


Wendie states that most of her best friends have been dogs, horses and now a cat. She believes that our animals make us far better human beings just by being in their company. She says there is so much we can learn from our animals, and that the way we treat animals is a mirror as to how we treat each other.
Wendie grew up as a dog person, and in fact, mentions that her older sister was a "Collie." She never had cats as a kid and was always just a little spooked by them. Even though she "didn't get cats" she was well versed in "dog," but didn't have that cat vocabulary.
However, years ago she was given a cat by friends who were moving. She has now started "speaking cat" and says she has one of the coolest cats around, and even people who don't normally love cats, lover her Woody!
Wendie Malick has been a presenter at the Genesis Awards every year, which is an annual event to honor outstanding individuals in the major media for raising awareness of animal issues presented by The Humane Society of the United States.
Listen in as Wendie talks her animals.
http://www.arktrust.org



Prepare Your Pets For a New Baby
Kristen Overdurf-Abud ­ Baby Sounds for Pets CD


Knowing that the arrival of her first child would be a big adjustment for her beloved Chihuahua, Fred, and kitty cat Pasha, Kristen Overdurf-Abud created a CD with a variety of baby sounds and played them daily in her home. When baby Antonio arrived, Fred and Pasha were not upset by the strange new noises coming from their new little brother. Instead of rejecting the new arrival and misbehaving, they accepted Antonio into their territory and bonded with him.
Overdurf-Abud knew that pets react strongly to sounds and wondered how to provide a head start preparing for the big change ahead. With a background in the entertainment field she held a casting and created the CD a few years earlier, for her sister's dogs, Walter and Henry, so they would be fully prepared. With their success, she exposed her pets to all types of sounds made by infants and toddlers, various types of crying, gurgling, cooing and even temper-tantrums. The last track is called Nursery for multiples in the home. This helped with their curiosity, anxiety and increased insistence for attention while adapting to a new family member.
When Overdurf-Abud's expectant friends began asking for copies of the CD she found herself making more and more copies until she decided that there were probably many more families who could benefit from this recording. When she became pregnant herself, she knew it was time to launch the CD on the internet and suddenly, Baby Sounds For Pets was born
http://www.babysounds4pets.com



Vladae, The "World Famous" Russian Dog Wizard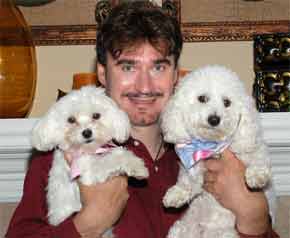 English Pointer Sometimes Destroys House & Yard
It turns out this dog has separation anxiety. With a dog who has separation anxiety, you should not talk to them for about 15 minutes before you leave the house, and don't greet them immediately upon returning. While this lady does not do those things with her dog, it turns out her husband does. Vladae tells her that they have to get on the same page with their dog and offers some advice on how to do that.
4-Month-Old Golden Retriever Jumps on People
It doesn't matter what you say to your dog (in this case he is told "down" ), it is what you do. You need to show this dog that you are displeased. You also need to invade his space before he invades yours and Vladae tells you how.
Dog Training Techniques that Will Turn Any Unruly Dog's Attitude Around in 5 Minutes or Less
1. Terminate democracy in the household
2. Don't speak English, speak "Doglish"
3. Terminate your dog's welfare ­ give your job work to do
4. Take away privileges
A New Dog Will Be Visiting ­ How Do I Help everyone Get Along?
As strange is it sounds, all the dogs need to sniff each other's butts. It is like Google or Yahoo, as this gives them all of the information about each other that they need. When they first meet, split them up in a neutral territory, and slowly bring them together.

New Puppy Joins 4 Dogs In The Household And Pees In House


When you can't supervise the new puppy, keep him in a crate. Make sure you clean the spots he has peed on with an enzyme-based product. Then, put his food where he has gone to the bathroom, as a dog won't pee in an area where he eats. Take him outside frequently and tell him to "go potty." You should be able to correct this problem in about a week.
http://www.911dogwizard.com



Animal Minute With Britt Savage

Heartbroken Bird Lover Places Ad On Craigslist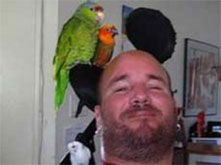 Lots of people place online ads for love or maybe to sell their used car, but a heartbroken bird lover got his missing parrot back thanks to Craigslist. Thirty-five­year-old Jason Strong couldn't bear to think of never finding his 8-month-old Amazon parrot, but the though of his beloved Dino becoming a meal for another animal was unbearable. Strong has Cerebral Palsy and his caregiver had taken Dino to visit some friends. They were sitting at a pool with Dino perched on her arm when he suddenly took of flying. Something he'd never done before. They made flyers and put an ad on Craigslist about the missing parrot, but weren't expecting too much. Meanwhile, an employee from Hyundai Motors found Dino in a parking lot at work. She was going to post a "found bird" on Craigslist when she found the "lost bird" one. She returned Dino to Strong where he happily found a place on Strong's wheelchair, right next to a parakeet named Pharaoh, a cockatiel named Willow and a conure named Spirit. He explained, "Some people are cat people, some people are dog people, maybe I was a bird in a past life!"



Dr. Jim Humphries, Veterinary News Network

Leptospirosis


Leptospirosis is an old bacterial disease that is getting a lot of new attention recently. It is rarely fatal, but can seriously damage the liver, kidneys, and eyes. Additional strains of this old disease are causing an increased number of cases in both people and animals. Leptospirosis is a zoonotic disease - a disease that can be transmitted between people and animals. Learn what can be causing this increase of Leptospirosis - who is at risk, and what can be done to protect people and pets.



Airline Transportation for Pets Can Be Deadly
For one San Francisco pet the seemingly safe trip across the country on American airlines proved to be fatal. Willie, a 2-year old English Bulldog, died after flying across country. According to the Air Transportation Association, over a half a million animals are transported each year by air, of which only 1% experience complications. Complications range from minor issues including unapproved kennels, lack of health certificates and missed connections to more serious problems such as loss, injury or the death of the animal. Most severe are temperature fluctuations, insufficient oxygen in cargo holds or damage to the kennels. For devoted per lovers, even 1% is a risk worth preventing when trusting an airline to transporting their pet safely. Willie's owner is suing American Airlines. He hopes the lawsuit will make American Airlines, as well as other airlines, more responsible when transporting dearly beloved pets. American Airlines and Continental have contributed to more than half of all pet deaths on airplanes.
http://www.myvnn.com



Best in Show Now Certified Therapy Dog
David Frei, Angel On A Leash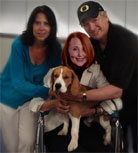 Demonstrating the determination that led to his "Best in Show" title at this year's Westminster Kennel Club Dog Show, Ch. K-Run's Park Me In First, otherwise known as the beagle "Uno," successfully completed his Delta Society Pet Partners training at the ASPCA® (The American Society for the Prevention of Cruelty to Animals®).
David Frei, also known as the voice of Westminster Kennel Club Dog Show, assisted Uno in this astounding accomplishment. "Uno's historical win at Westminster confirmed his role as America's best dog," said Mr. Frei. "But, now that Uno is a certified therapy dog, he is much more than a pretty face. He has the ability to comfort and love those who are in serious need, and that goes beyond breeding." Mr. Frei stated that Uno serves as a celebrity "spokesdog" for Angel On A Leash, the therapy dog program that is a charity of the Westminster Kennel Club.
On February 12, Uno received "Best in Show" at the 2008 Westminster Kennel Club Dog Show. Although beagles have consistently placed in the top ten of popularity polls throughout the years, no beagle in the history of the dog show had ever won the coveted award.



Vinnie Penn, Animal Radio's Resident Party Animal


Naming Your Pet
Today, a very important topic ­ naming your pet. Now I am an Italian, I don't know if you can ascertain that from the "Vinnie" thing, and Penn is an abbreviation of a very long Italian name that I can't get into there. But when it comes to Italians, Italians have a very interesting way nicknaming people, which you can find all of this out in my new book which comes out this summer (I don't mean to plug here during my radio time, but I do have a book coming out called "Guido's Credos" available at book stores every where at the end of the summer ­ I hope you'll check that out and check me out at www.VinniePenn.net).
But, I do have a chapter in there dedicated to how Italians come up with nicknames. If you're obese, your nickname is Tiny - that might be standard ethnicity not withstanding. Interestingly enough though, if your name is Frank, your nickname might just be "Fat Frank." It really depends on your name before we go with the nickname.
But there's something about doing the complete opposite. If you're 6 foot 7, your name is "Shorty," unless your name is Tom, in which case you're "Tall Tom," really creative we Italians.
But nonetheless, it does kind of extend itself to the pet. If I meet one more ridiculously tiny sweater wearing dog whose name is "Thor," I'm going to lose my mind! Thor is reserved for Rottweilers, Labs, and even then, it's kind of done to death. It's kind of the "Jason" in the human world, or the Luke. We have enough babies and dogs with the same name.
If your pet is 3 pounds or so, and it sleeps in a hearth at the foot of your bed and you take him or her out in your pocket book, here are some of the names you cannot name that tiny pet: Thor as I said, Bear, King, Hulk, Orca ­ choose a name that fits. At the same time, don't acknowledge the stature at all. "Teensy-Weensy" is just as annoying, and we all know to steer clear of the human names.
Naming your dog or your cat is the most important thing you will ever do. They are going to respond to this name. You might want to make it a little unique, but steer clear of human names, names that have anything to do with their stature. If it's a white dog, it doesn't need to be named "Whitie." If it's a black dog, it doesn't need to be named "Blackie." Come up with something clever! Your favorite ice cream flavor, you know, here's "Rocky Road." What's wrong with that? Your favorite musician. But, a lot of people do that "Marley" thing, that's kind of annoying in and of itself!
All I'm saying is be creative, pay homage to something that has affected you profoundly in your life, and don't be so obvious! Stop the Thors, and as a matter of fact, I want to see if Animal Radio® is going to get behind making T-Shirts that has the name Thor in a circle with a slash through it. No more Thors!



International Animal News with Kaye Browne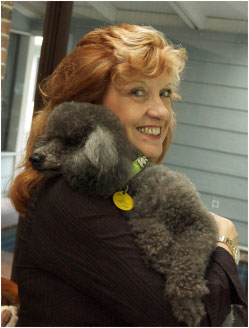 Hero Rabbit
We quite often hear about dogs and sometimes even cats waking their owners and saving them from fires ­ but a very different pet is being hailed a hero in Australia's southern capital of Melbourne. The hero? A pet rabbit. Firefighters say a night shift worker arrived home just as the sun was coming up ­ went to bed ­ but just 30 minutes later was surprised to hear his pet ­ called rather unimaginatively 'Rabbit' - scratching at the bedroom door. He discovered a fire rapidly spreading from a back room. Both the heroic Rabbit and his Dad escaped unharmed.
Lucky Dog Should Have New Name
A San Diego woman is thinking of giving her dog Shadow a new name -- "Lucky." The feisty 9-month-old poodle not only survived a rollover accident on Interstate 5 but also somehow dodged death wandering for hours against traffic on Highway 152. Fortunately for Shadow, the Bassford family spotted the pooch some ten hours later and lured her out of harm's way and into their car. Shadow's owners, Kim and Loren Jones who were getting treatment in hospital, were convinced they'd never see their surrogate child ever again. But thanks to the Bassfords and some quick police work ­ the family was reunited.
Poodles Nip Crime in the Bud
The residents of Japan's island of Hokkaido say they don't need big burly police dogs ­ their pets are just as efficient. Locals wanting to nip crime in the bud have combined their nightly dog walks with a bit of crime fighting ­ resulting in a stunning 48% drop in crime. The wan wan patrol ­ loosely translated as woof woof patrol ­ wear special coats donated by police to identify their crime-busting job ­ and Yoyogi residents sleep more soundly knowing their poodles ­ are on patrol.
Cat Mailed Off With Presents
You've heard the phrase let sleeping dogs lie ­ what about cats? A drowsy feline was accidentally posted 450 miles across Germany by mistake after it crawled into a parcel box for a catnap. Gitti Rauch said she didn't notice her cat Janosch had climbed into a box full of presents and she mailed it off to relatives. Two days later, when the parcel was opened ­ Janosch emerged ­ thirsty ­ but unharmed. Apparently he's a very patient cat and never complains.
Best Excuse EVER For Monday-Itis
Lots of us feel a little reluctant to go back to work on a Monday ­ but spare a thought for 300 Russian miners who reckon they've got the best excuse EVER for Monday-itis a pack of giant brown bears has them surrounded AND they've already attacked and eaten two security guards. At least 30 of the bears, which can reach 9 foot in height, have been seen prowling close to the platinum mine in northern Kamchatka ­ and workers say they're not moving until shooters arrive to dispatch the animals. Only trouble is ­ the weather's too bad for choppers to land. Apparently the bears' usual food supply ­ pacific salmon ­ has disappeared after poachers used nets to decimate the regions rivers.

New Beauty Treatment Includes Nibbling Fish!
If you didn't feel like trying the facial beauty mask I told you about recently ­ you know, the one that uses nightingale droppings ­ perhaps you could be tempted to try another new beauty treatment ­ a fish pedicure. Apparently it's the latest 'in' thing at a DC salon in Northern Virginia where 5 thousand people have already dunked their tootsies in a tank where tiny fish nibble off the dead skin. Inventors John Ho and his wife Yvonne Le wanted to find an alternative to using razor blades because of concerns over sanitation ­ so they decided to try garra ruffa ­ better known as Doctor Fish. The tiny fish don't have any teeth so they can only gum away the dead skin cells ­ and apparently the worse your feet ­ the better they like it. No accounting for taste!
Listen to Current World News



Pet Blood Shortage
Dr. Jean Dodds, Hemopet


North America has an ongoing critical shortage of animal blood for veterinary use because demand for blood products continues to climb as clinics perform more and more sophisticated procedures. Dogs, cats or other animals are prescribed transfusion therapy as part of their recovery program after a trauma, surgery or disease. It's become increasingly difficult for them to get the blood products they need.
Hemopet/Pet Life-Line animal blood bank in Garden Grove, Calif., the country's largest nonprofit animal blood supplier, ships around 1,200 units a month to 2,000 clinics throughout the United States and Canada.
"Requests for blood often surpass the supply," says W. Jean Dodds, DVM, founder and president of Hemopet/Pet Life-Line, "Our blood bank frequently has a two-week waiting period for dog plasma."
Hemopet ships blood and blood products to clinics throughout North America and overseas, often on a moment's notice, so doctors can perform emergency surgery when a dog is injured through an accident or abuse. In addition, centers in major cities throughout North America serve as repositories to stock blood products for their community.
Due to advances in veterinary medicine, pet owners are increasingly willing to spend large sums on their family pets, which has caused the nationwide shortage of blood and diagnostic capabilities.
Hemopet/Pet Life-Line is working on alleviating the crisis by raising funds to build an expanded blood bank facility that would include the nation's first "wholistic" pet healthcare facility for rescued greyhounds (which are the main blood donors) on two-and-a-half acres in Garden Grove. Upon completion, this new facility will feature unique group apartment-style units for the rescued greyhounds with outdoor exercise yards and playgrounds.
Find out more and how you can help at www.hemopet.org.



Animal Radio® News with Bobbie Hill



Pedigree Dog Food Recalled
A limited recall of Pedigree dog food was issued this week in Southern California and Las Vegas, Nevada. Mars Petcare issued the recall after a component of the food tested positive for Salmonella. It was inadvertently shipped to the company's production facility in Tracy, California and was used in 100 bags of Pedigree Complete Nutritional Small Crunchy bites with a best buy date of 7-2009 on the bags. The company recalled products shipped to California and Nevada.
Exotic Tortoises Stolen
A thief made off with two exotic tortoises from a pet store in New Hampshire last weekend. Owners of the Zoo Creatures Advanced Pet Center in Plaistow reported the theft after discovering holes cut in the fence of the tortoises' pen and the 25 to 100 pound pets missing. The turtles are valued at over a thousand dollars but require special lighting, food and care. Anyone with information is asked to contact the Plaistow New Hampshire police department.
"Best In Show" Now Therapy Dog
The dog voted Best In Show at this year's Westminster Kennel Club show has another title worth mentioning. Uno the beagle is now a certified therapy dog. The winner of the prestigious dog show completed his Delta Society Pet Partners training becoming a therapy dog. David Frei, who assisted Uno in his schooling said....."Now Uno is a certified therapy dog.....he has the ability to comfort and love those who are in serious need, and that goes beyond breeding." Uno is also the official spokesdog for Angel On A Leash, the charity of the Westminster Kennel Club that trains therapy dogs.





Talk With Your Animals with Joy Turner
Joy speaks with a horse that was once owned by Mary Beth and has been placed in many different homes since. If the horse can't come back to Mary Beth, it would like to be placed in a forever home and not moved so much.
http://www.talkwithyouranimals.com
http://www.joyturner.com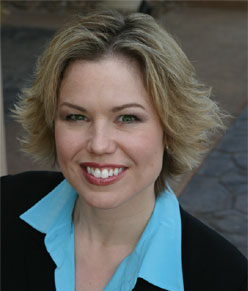 Your Vet Questions Answered with Dr. Debbie

Rhodesian Ridgeback Gained Weight After Being Spayed
Along with the weight gain, it seems this dog now has a limp. Could something have happened during the spaying procedure? Dr. Debbie suggests that perhaps this was an underlying problem that just reared itself with the extra weight. It is not uncommon for female dogs to gain weight after spaying, so be prepared with their changing metabolism and slight modify their feeding regimen by scaling back about 1/4 cup a day immediately after being spayed.
Yellow Lab on Glucosomine For 3 Years­ Should the Dosage Be Upped?
It seems at first the Glucosomine was working fine for a hip problem, but now it seems to have stopped working all together. Should the dosage be upped from one tablet to two? Dr. Debbie is not sure what amount of milligrams the dog is receiving, but suggests that a large dog should get at least 1,500 to 2,000 milligrams daily. Also, you should always talk to your vet about other medications that might help.
Dog Has Ritual Of Tapping Nose to Treat, Then The Floor and Then He Hides Them


Is this normal? It is not abnormal for a dog to take what is his and hide it for a later date. There are no other dogs around this one, so it is not competition with them. Perhaps this is just his way of being a dog in a close environment with his truck-driving guardian. Maybe the dog thinks that because the road is moving, he has to have food accessible.
Listen to the entire Podcast of this show (#455)

Broadcast on XM Satellite Radio and Podcast Versions Only.

Listen to Animal Radio® - Go to the launch page
Return to Animal Radio Network™ Home Page
Read August Newsletter
Copyright 2008 All Rights Reserved Animal Radio Network LLC