August 26th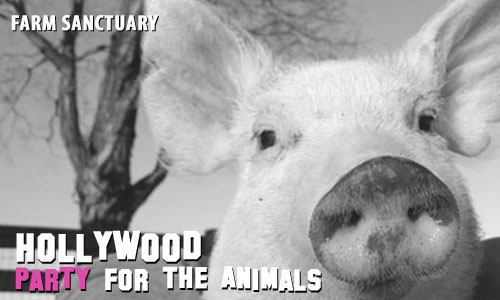 Joan Van Ark
Hollywood Party for the Animals
Joan Van Ark is best known for her role as Valene Ewing beginning on "Dallas" and then the spin-off series, "Knots Landings." Joan grew up in Boulder, Colorado surrounded by animals. Joan tells us the story of 6 piglets that the Farm Sanctuary rescued.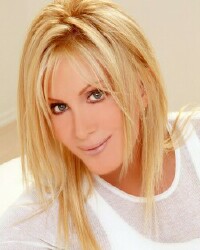 The Farm Sanctuary recently rescued six new piglets who had been used as "teaching tools" at a university veterinary hospital. After undergoing "practice" surgeries, their time at the school was up. No longer useful to the university, the piglets were scheduled to go to auction, and eventually to slaughter. But due to a kind vet student who asked that their lives be spared, the piglets were eventually sent to the Farm Sanctuary. When the piglets arrived at the Farm Sanctuary, they still had fresh surgical wounds on their bellies. They were originally identified only by numbers, but have now been given all new names. One of the piglets has been named "Joan Van Ark" and she couldn't be prouder. She even has a picture of her piglet in her kitchen.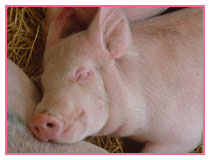 The Farm Sanctuary's Hollywood Party will be held on Saturday, August 26th in Hollywood, California. The attire is outdoor cocktail and the event will be held in a lawn and patio area.
Special Guests: David Boreanaz, Thora Birch, Kelly Bishop, Rebecca De Mornay, Lisa Edelstein, Dennis Erdman, Corey Feldman, John Feldmann, Dave Foley, Kevin Nealon, Cassandra Peterson, James Reynolds, Matthew Scully, Darren Star, Loretta Swit, Steve Valentine, Joan van Ark, Persia White, Kelli Williams, Debra Wilson Skelton, Gretchen Wyler, Bob Zmuda
Tickets are $50 per person. To purchase your tickets or for more information about sponsorship opportunities, please contact: 607-583-2225 ext. 221 or register online at
http://www.FarmSanctuary.org
Woman Run Over By Police Truck
Britt Savage


Mary Stone, of Ogden, Utah, was hit by a police truck, but it was not driven by a police officer, it was being driven by a police dog.
It seems the officer was responding to a domestic violence call and left Ranger, the police dog, in the truck. The officer also left the truck running so that Ranger would have use of the air conditioner. All of a sudden, Ranger managed to shift the truck into gear causing it to move and hit the woman.
Mary Stone was warned by the police to get out of the way, but she remained in place, thinking she could push the truck back. Consequently she suffered several broken bone in her pelvis.
Spending on Pets Expected to Soar
Dr. Jim Humphries, Veterinary News Network
Fluffy, Fido and Spot tug at their guardians' hearts, and in many cases, at their wallets. About 63% of all US households, or 69 million homes, have at least one pet according to the American Pet Products Manufacturers Association. Experts expect the growth of two demographic groups, children younger than 18 years of age and empty nesters to drive that number higher over the next few years. The pet products experts point to research showing that having a pet can provide benefits ranging from helping to lower blood pressure to assisting in fighting depression, that or just that many pet owners view their pets as family, helps drive them to providing the animals with the best of everything. Pet industry expenditures were 36 billion dollars in 2005 and are expected to grow by 5.8% to about 38 billion dollars in 2006.
http://www.VetNewsNet.com
The Jumping Bean Queen
Soledad Hindi, Mexican Jumping Beans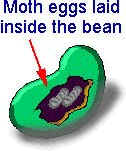 This amazing little, live bean, the size of your fingernail, has been entertaining and fascinating both young and old alike for more than 50 years, proof enough that they are harmless, yet entertaining natural wonders. It is a member of the TORTRICADAE family. This family is somewhat of a curiosity. A moth, of the Genus and Species Larva, TINEOIDEA/ LASPEYRESIA SALTITANS lays its egg in the flower tree called EUPHORBIACEAE SEBASTIANA PAVONIANA, found only in Mexico. The flower then forms a seedpod around the moth egg. This seedpod serves as a temporary home for "JUMPING BEANDITO". When the early May rains start, the seedpod matures, splits into three parts and falls to the ground. The egg turns into a caterpillar which then consumes the seed inside.
The jumping movements are the caterpillar's movements to get to the edible seed. Eventually, the caterpillar will spin a silk cocoon which causes more jumping. It will then go dormant for a short time. It is not dead. Instead, it is going through metamorphosis. It will turn into a tiny, harmless moth that does not pose any danger to either clothes, plants or humans. You can actually watch the small moth emerge. If you should be so lucky as to see a moth hatch, do not worry. It will not harm a thing and it hates the taste of clothes. The moth does not require food. Point it South and let it go, PLEASE!!!! A happy bean prefers to rest in a cool, dark place when it is not jumping. They also love to travel, so take them along in your shirt pocket. The warmth of your heart will make them bounce. Occasionally, they do like a little drink. So be kind and give them a light mist once a week. They are ideal pets since they don't need to be walked, fed or brushed. PS - THEY JUMP BEST TO MUSIC!
http://www.Jbean.com
Salute to the Eagle Steven Colbert, Jr. (Comedy Central)
Jan Sluizer, Special Correspondent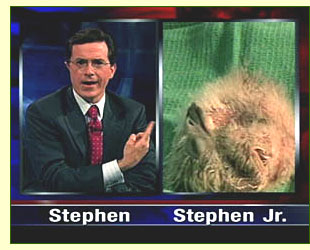 The San Francisco Zoo has named one of its eagle chicks after Steven Colbert, of "The Colbert Report" which airs on Comedy Central. Colbert is a fan of American iconography and his show prominently features a computer rendition of an eagle in the opening introduction. The idea to name a chick after Colbert was the brainchild of the staff and volunteers at the Avian Conservation Center.
The Avian Conservation Center staff has successfully hatched their 100th bald eagle chick for reintroduction into the wild. Their grand total is now 103 chicks hatched since the program began 15 years ago.
http://www.SFZoo.org
Cats & Heartworm
Dr. Anne Norton, DVM

While it is not as common for cats to get heartworm as dogs, they do get it, and unfortunately, there is no heartworm treatment for cats. Therefore, prevention is most important.
Heartworm symptoms in cats tend to differ from those of a dog. In a cat, the symptoms seem to be more immune-related than heart failure related. In fact, in cats you may see more of a lung disease along with respiratory problems, such as coughing and/or vomiting. Many times heartworm in cats has been misdiagnosed as feline asthma.
For cats, the heartworm may die. But because their hearts are much smaller than those of a dog, passage of the worm may become difficult, and it may actually cause a blockage. And in the worst cases, sudden death may occur.
Fortunately, there are many products on the market today, most in a monthly pill, that can help prevent heartworm. Please check with your vet to see what is best for your pet depending upon the area you live in.
Catching Children's Imagination - Hook, Line & Sinker!


Dr. Kathleen Madigan, "Aquademics"
As parents send their children back into the classrooms, it is important to remember the value of staying involved in a child's education. To make this easier, it is vital to implement creative teaching methods which can foster a healthy parent/teacher partnership and keep a child intellectually stimulated.

Tetra's award-winning program, Aquademics, is a hands-on, minds-on enrichment opportunity that brings learning to life for children, whether they are gathered around the aquarium in the classroom or at home with family.

Designed to complement the level of instruction taught in 4th and 5th grade classrooms, the Aquademics program includes more than 40 lesson plans with related resources. The lesson plans are all based on the aquarium and cover such topics as science, math, creative writing, geography, social studies and more. With the Aquademics program students are responsible for creating and maintaining and aquarium as well as experiencing activities designed to inspire a love of learning. Additionally, students will feel a sense of ownership in the aquarium they have created and character traits like responsibility and citizenship are reinforced.
Aquademics is available free to all interested parents, teachers, and home-schoolers.
http://www.Tetra-Fish.com
http://www.TetraCare.com
China Dog Massacre
Merritt Clifton, Animal People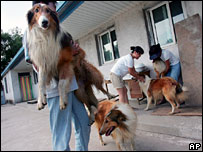 After the deaths of 3 people in China from rabies, the government ordered the slaughter of 50,000 dogs.
Unfortunately, approximately 2,000 people die each year from rabies, where only 3% of the dogs have received rabies vaccinations. And even those dogs that had received rabies vaccinations were affected due to a report of fake vaccinations.
All dogs were killed except for military guard dogs and police canine units. Officials would create noise during the night to entice the dogs to bark, and then would beat them to death. Some dog owners were even offered 63 cents to kill their own dogs ahead of time.
Due to the internet, this slaughter received much publicity, and prompted calls for a boycott of Chinese products.
http://www.AnimalPeopleNews.org
The Travel Magazine for You and Your Dog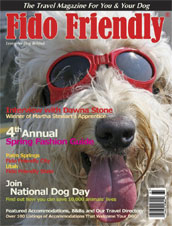 Susan Sims, Fido Friendly Magazine
Perhaps "you" can do without our magazine, but for kibbles' sake, think of your dog! At last, a voice for the traveling canines of the world. Until now, few have taken us mobile pooches seriously. After all, who appreciates warm shelter and a comfy bed more than a dog?
Fido Friendly Travel Club
Each month we will be adding new affiliates and you will be notified by our e-newsletter who is new to the club as well as what specials and promotions are available.
Membership Includes:

One year subscription to Fido Friendly Magazine
One-year service with"The Pet Protector System" for 1 pet from 1-800-Help-4-PETS and 20% off each additional pet
5 - 20% discounts on overnight stays at participating hotels
Special pet amenities and privileges at participating hotels and vendors
5 - 20% discounts and/or special pricing discounts on products and services from participating affiliates such as hotels, groomers, kennels, restaurants, pet retail stores and online stores
"A Special Pet.com" offers a 5% - 10% discount on the purchase of products. They specialize in products for the older, recovering and disabled pets. Orders must be placed by phone to receive the discount
Fido Friendly Travel Club Membership Card with unique ID number that will need to be used in order to receive the special card member benefits
Access to the exclusive www.fidofriendlytravelclub.com website listing affiliate
A one-year membership with 1-800-HELP-4-PETS
OFF THE LEASH (Lifetime)
The cable channel's look into "the tumultuous world of a real-life Hollywood pet talent agency" will reportedly debut on Monday, October 2 at 11:00/10:00c. The network has committed to six episodes of the series, which comes from "Blow Out" executive producers Kevin Dill and Mechelle Collins.
http://www.FidoFriendly.com
Taking the Sting out of Scorpions
Rae Ann Kumelos, Voice of the Animal


Discover how Scorpion has lent his venomous presence to the noble heraldry of France and to ancient machines of war, is a symbol used by Buddhist monks, and is a revered presence in the night sky.
http://www.VoiceOfTheAnimal.org
Talk With Your Animals
Joy Turner
Joy speaks with Ralph, a dog who gets very anxious on car rides.
http://www.TalkWithYourAnimals.com


Listen to the 1st Hour ABRIDGED VERSION Podcast of this show (#352).
Purchase a CD Copy of this Show

View Animal Radio Network® Broadcast Schedule in a new window.


Listen to Animal Radio® - Go to the launch page


Return to Animal Radio Network® Home Page


Read August Newsletter
Copyright 2006 All Rights Reserved Animal Radio Network LLC