#300 Aug 27, 2005
The Horses In My Life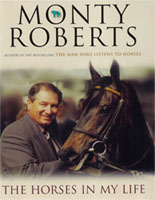 Monty Roberts
Monty Roberts, a world-renowned horse trainer and international best-selling author, is best known as 'The Man Who Listens to Horses." He is also known as "The Horse Whisperer," made famous by the Robert Redford film and Nicholas Evans book. He has spent his whole life working with horses - schooling them, listening to them, and learning their equine language. The essence of his training techniques is non-violence. Rather than break his horses he "gentles" them. With over 1500 demonstrations of his "gentling" techniques performed on 6,000 horses in 22 countries, Monty's message, "Violence is never the answer," is being listened to as never before. Listen as he tells his incredible story.
AKC Honors Outstanding Dogs with ACE Awards
Lisa Peterson, The American Kennel Club
The American Kennel Club (AKC®) announced the winners of the sixth Awards for Canine Excellence (ACE). The award is designed to commemorate loyal, hard-working dogs that have made significant contributions to their community. The five categories of the Awards given annually are: Law Enforcement Dog; Search and Rescue Dog; Therapy Dog; Service Dog; and Exemplary Companion Dog. Hear some of the amazing feats of these amazing animals.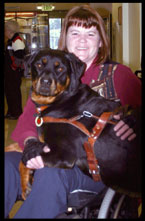 Leana Beasley and "Faith," her Service Dog.
Faith is a 4- year-old Rottweiler trained in seizure alert and response, respiratory/cardiac alert and response, mobility, emergency water rescue and cart pulling. On September 7, 2004 Faith saved her owner's life by performing a remarkable series of tasks all on her own. In March 2005, the local chapter of the American Red Cross honored Faith with a Real Hero Award in the "911 Rescue" category. This was the first time the award had been presented to a non-human. You will be astounded at the acts of this incredible canine.
Reliable Pet Award
Lynn Butterworth, JELD-WEN
From hundreds of entries in the United States and Canada, a trained seizure alert dog in Florida and an unfailingly cheerful English bulldog who uses a wheelchair in Mississippi have won The JELD-WEN Most Reliable Pet ContestSM. The remarkable stories of these two reliable dogs captivated the contest judges, a national panel of animal experts.
The grand prize winner, Chipper, a four-year-old German Shepherd mix who lives with her owner in Oviedo, Fla., received a custom pet playhouse valued at $5,000. The winner representing an animal shelter is Lilly, a four-year-old English bulldog, who lives in Gulfport, Miss. On August 11, her shelter and current home, the Humane Society of South Mississippi, received a $5,000 donation from JELD-WEN® to its building fund. You will be inspired by their stories.
Chipper the Trained Seizure Alert Dog
Candice Hernandez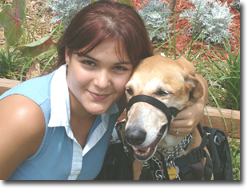 Chipper, a four-year-old German Shepherd mix who lives in Oviedo, Fla. as a seizure-alert dog for a college student, and the grand prize winner in the JELD-WEN Most Reliable Pet Contest. Chipper escorts 21-year-old Candice Hernandez to classes, warning her when she is about to have a seizure. Chipper also stands guard if paramedics are required to assist Candice and has even been known to open push-button hospital doors. As a teen, Hernandez says she worried about simple activities like going to school, performing in the local choir or going to the prom. Now, "Chipper has made my life fun again, and I trust her with my life. She goes with me everywhere, even on dates with my boyfriend." Chipper will walk down the aisle with Hernandez when she marries her boyfriend on Nov. 12. Hear how this dog changed this girl's life.
Canine 4 Life
"Loews Loves Pets" Program
Emily Goldfischer, Loews Hotels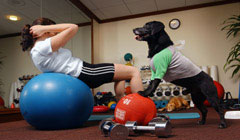 Pets have a passport to travel at Loews Hotels. Since the introduction of the "Loews Loves Pets" program in 2000, many VIPs (Very Important Pet) have made Loews Hotels their home away from home, enjoying the special treatment and privileges that are offered at the chain's 18 properties in the US and Canada. As part of the Loews Loves Pets program, each visiting VIP can travel in first-class comfort with gourmet room service, specialized bedding, a pet amenity, and guest services designed to make pets and their owners feel right at home. Find out some of the strange animal guests at the Loews hotels.
PET ALERT
Stacey Candella, Executive Director PETS911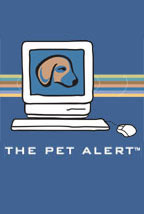 You've heard of the AMBER Alert System, well PETS911 has taken that new technology and innovation created for the AMBER Alert, and transformed the pet welfare arena by creating the PET Alert. The PET Alert will notify you of a lost of found pet; help shelters and rescues overwhelmed with lost/stray animals desperately hoping their families actually locate them; and aid in per adoption. Listen for the details on how you can post your own pet's profile as a preventive measure.
Go to Animal Radio's new Pet Resource Center, presented by Pets 911.
Service Dogs
Darlene Arden
Service dogs assist humans in many ways. There are service dogs who can detect seizures and even psychiatric service dogs for post-traumatic syndrome. Did you know that service dogs can get stressed? Find out many interesting facts about the animals that serve humans.


Alpacas: Yogis of the Animal World
Rae Ann Kumelos
Discover what the alpaca has in common with a Jedi Maser, how the oldest alpaca in the United States tells stories about elephants to her alpaca friends, and why the Incan civilization helped guarantee the loan of alpacas to all of humankind.
Sam, The Ugliest Dog, 2003, 2004 & 2005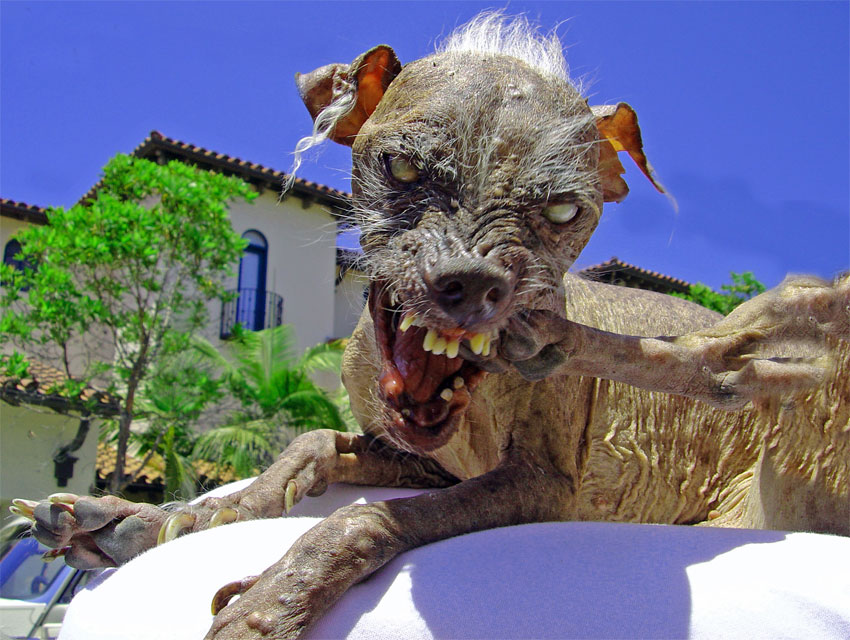 Britt Savage
Sam is a purebred Chinese Crested Hairless. He's almost 15 years old and was taken in as a rescue over five years ago by Susie Lockheed. He was considered "un-adoptable" by local shelters. Susie took him in on a 48-hour trial period. During that time he lived in a cage because he acted like "Cujo" the rabid dog. Susie had to shove food and water into the cage and run. The 48-hour trial became several days, and then Sam just walked out of the cage and became one of the pack.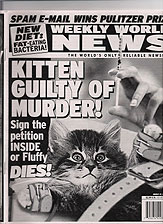 Kitten Guilty of Murder
Not since O.J. Simpson courtroom drama has a murder trial so riveted the nation as Tennessee vs. Fluffy the Cat. Fluffy is accused of entering the bedroom of her guardian and purposely knocking over a bedside lamp, killing him instantly. There is currently a petition on the Weekly World News website asking people to choose whether Fluffy lives or dies.

Worms
Dr. Jim Humphries, Veterinary News Network
Most puppies and kittens are born with worms. About 52% of shelter dogs in the southeast and 36% of shelter dogs nationally are infected with worms that can translate to human disease, with children being the most vulnerable. Find out how easy it is to protect your children.