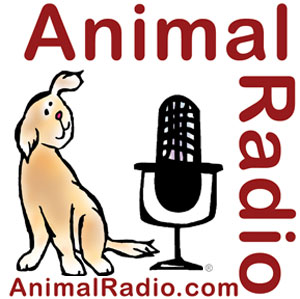 Animal Radio® Show #560 August 28, 2010
.
Joy Behar

Comedienne, children's book author and co-host of The View, Joy Behar is back on Animal Radio®. The charismatic comic pulls no punches when talking about her furry-family.
When Joy Behar isn't making us laugh, you might find her cuddled up with her Shih Tzu's. She says that the person who sold her the dogs said they were Shih Tzus, "But there's nothing Shih Tzu about them," she raves.
Joy lives in a tenement style setting. Family is apparently an important priority for the television host.
"My daughter and her husband share custody of two mutts (Gracie & Tallulah) and a cat that weighs as much as the dog," says Behar. "Benito (her cat) likes to wake me up out of a dead sleep at 5 in the morning."
Her pets roam the house as if it were their own. She says despite what dog trainers say about letting your dog sleep in bed, her dogs are always welcome. "You can always find an marriage counselor that says 'don't let your husband in bed.'"
Get Your Licks on Route 66
Susan Sims, Fido Friendly Magazine

The 2nd Annual "Get Your Licks on Route 66" Tour will kick of on September 2nd in Chicago and end up in Los Angeles around October 2nd.
Last year, during this one-month event, they were able to find homes for 150. This year, they are hoping to top that number.
They will be driving a climate controlled pet adoption bus, a 33-foot Mobile Adoption Unit (their Shelter on Wheels) and wind their way down Route 66, stopping in at partnering animal shelters in key cities along the route. The adoption tour raises national awareness of the plight of homeless pets, enhances shelter visibility and increases pet adoptions.
The kick-off for this life-saving tour will be held on Friday, September 10th, at Chicago Heights City Hall, where Mayor Alex Lopez will present the Animal League with the Key to the City. The tour's partnering shelter, South Suburban Humane Society, will also host a maiden "Get Your Licks on Route 66" adoption event.
The Mobile Adoption Unit will then travel across eight states: Michigan, Illinois, Missouri, Oklahoma, Texas, New Mexico, Arizona and California for nearly a month, culminating with a final wrap-celebration and adoption event with the City of Los Angeles, Department of Animal Services, on or around October 2nd.


Put Your Cat To Work
Ann Dziemianowicz, Careers For Your Cat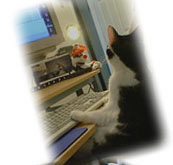 With ever-growing economic pressure being felt in every strata of society, more members of the household are being asked to step up and contribute. Dogs have been assisting the human labor force since the dawn of history by hunting, herding, guiding and guarding us for millennia. But what about cats? What have they been doing between 9 and 5 while we've been out working to support them?
Cat career coach Ann Dziemianowicz helps our furry companions navigate the increasingly high-stakes feline job market and streamlines the kitty job-search process by giving cats the tools they need to identify skill sets and make sound employment decisions, in her new book Careers For Your Cat.
So how do you decide just what career is appropriate for your cat? You can help them by identifying their skill sets with the Meowers-Briggs Personality Quiz. This is designed to provide an accurate assessment of your cat's personality type. For example, are they a creative extrovert? A creative extrovert is a gregarious night owl and is always the life of the party. They may even have an attitude problem. A career for this cat may be an interior designer who is able to make those inventive fabric alterations and be able to deconstruct a sofa in no time at all.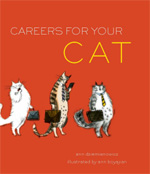 When you find the career appropriate for your cat, what happens next? Well, they need to attend an interview. Ann gives some tips on acing that interview. First of all, don't show up with fish breath; don't sit on the interviewer's lap; and don't play with the objects on the interviewer's desk. And when you first enter the room, you may want to come in normally instead of dashing haphazardly into the room.
So help your cats land their dream jobs and let them bring home the bacon once in a while so you can sit back, relax, and take a well-earned catnap.
Ann Dziemianowicz is a writer and feline career counselor who is dedicated to helping cats land their dream jobs. Ann's cats have enjoyed varied careers in the fields of law enforcement (Bibsy is a private detective), culinary excellence (Fella is a restaurant pastry chef), and entertainment (Milton is a cabaret singer).

Dodge Journey Pet Destinations
What Is Your Favorite Place To Take Your Pet?
People who have pets love to travel with them. At Dodge, they have made it easier with their pet friendly vehicle, the Dodge Journey, which contains concealed storage bins, Chill Zone glove box cooler and second-row dual in-floor storage bins with removable and washable liners (very handy for muddy paws!) Call us with your favorite place to take your furry-friend: 1-866-405-8405
This week's Dodge Journey Pet Destination: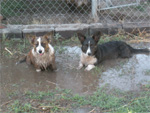 Mark, from Southeastern Wisconsin, recommends the Burlington Dog Park in Burlington, Wisconsin. He tells us it is a great place to take your dogs in the summer. They have some great open fields to let your dogs run free. It is also next to the Fox River, so if you have a dog that likes to flop around in swampy mud, it is a great place!
Past Dodge Journey Pet Destinations: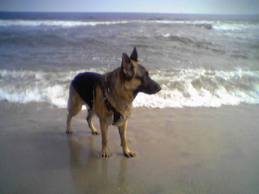 Vladae, Animal Radio's own Russian Dog Wizard, is one busy guy. He sees one client after another and is always hard at work turning unruly dogs around for their guardians. But after a hard day of training dogs, he and his wife like to take their dog Mika (who is of course very well behaved), to the Huntington Beach Dog Park in Huntington Beach, California. There, Mika can run free with the other dogs and just be herself!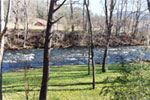 Steve from Tennessee recommends the town of Townsend, Tennessee, one of three gateways to the Great Smoky Mountains National Park, which has dubbed itself "The Peaceful Side of the Smokies." You can find many roadside parks along the Little River to take your pets. Steve states that his dogs first learned how to swim in the Little River.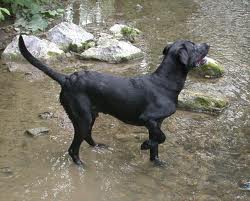 Richard of Bend, Oregon likes to take his Labrador Retriever to Tumalo State Park in the heart of sunny central Oregon. Tumalo State Park rests along Oregon's spectacular Deschutes River, which is a great place for your water-loving dog to romp.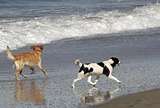 Glenn of San Diego recommends Ocean Beach Dog Beach in San Diego, California. Ocean Beach Dog Beach is open to canines any time. This small beach has plenty of sand for the dogs to run on, and waves for them to run through. On weekends there can be up to 100 dogs there.

Bo from Los Angeles, California tells us her 2 black labs like to go hiking and to the beach. But one of her favorite places to take them is Runyon Canyon Park in Los Angeles, California. It is a 130-acre park in the Santa Monica Mountains, two blocks from Hollywood Boulevard. She states that this is a great place where your dogs can frolic with other dogs and have a good time! And who knows, you might even catch a glimpse of a celebrity and their pet while you're there!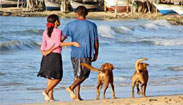 Danielle from Shell Beach, California tells us her favorite place to take her dogs is Avila Beach, California. She states it is a very secluded beach with a nice protected area to let your dogs run free. Everyone brings their dogs to this beach and it is a very pet-friendly place.
The Dogfather's Grooming Tip with Joey Villani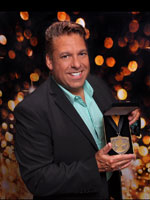 Best Pet Manicure In The World!
After seeing Joey and seeing how he looks – you would not expect him to be able to give the best pet manicure in the world! But, guess again- he is! He has some great tips to make anyone a great pet manicurist!
He states it is always easy on a dog that has shaved feet like a poodle, but then he will get some maniac that wants their pet's nails painted. (Actually, those maniacs are the ones who pay for his wife's Neiman Marcus credit card bill!).
What he normally does is use a "vet wrap" between the toes. This exposes the nails. He then wraps it around the top of the foot. This is easy to do if you have a grooming table and a well-behaved dog.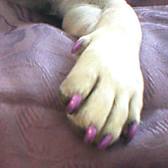 But when you're home, it is a little bit more difficult. To start with, cut your pet's nail and file them down. Then, to make it easier, get a heavy gauge plastic bag like a Ziploc. Put your dog's foot in the bag and pop each nail through. This way, the toes are spread automatically and the hair is moved out of the way and doesn't get polish on it. You can then use human grade nail polish on your dog's nails, but nail polish for pets will usually dry quicker. Finish painting one foot at a time before going to the next.
And to make it even easier, you can air brush your pet's nails. Just spray it on and then put a clear coat over it.
If you follow these awesome tips, you too can be a great pet manicurist!

DOGFATHER'S GROOMING TIP Brought To You By SeniorPetProducts.com. Use the code "radiospp" to receive 25% off!
.
Animal Radio® News with Jen Austin

First State to Ban De-Barking
Massachusetts has become the first state to ban de-barking surgery on dogs. The surgery cuts or removes vocal chords to silence dogs. Massachusetts says anyone caught doing that can be sentenced to prison for up to 5 years. Devocalization is often done by commercial breeders for convenience. Opponents of the law say this will result in more animals being abandoned or turned into shelters.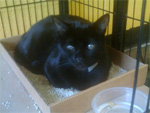 Blind Cat Makes His Way Across Country
How can a cat, who is nearly blind, travel all the way from San Francisco to New York? Well, last year a cat named Jack Daniels was abducted from the San Francisco SPCA. About a week ago a nearly blind cat was discovered on 110th street in New York City, and thanks to a microchip, he was traced back to the San Francisco shelter. No one knows how exactly Jack Daniels traveled coast to coast.
What Would You Give Up - The Internet or Your Pet?
Is your pet a want or a basic need? Many of us can't imagine life without our pets and we would probably say it's a need. A USA Today survey says 51% of us consider pets and their care to be a basic need. Actually, most people think the Internet is a more basic need than having a pet. About 8 in 10 can't live without getting online.

Pet Friendly Dorm
Many college students are moving into dorms right now, and I don't know about you, but I wasn't able to have my pet schnauzer move into the dorm with me when I was in college. You? Actually now at Stetson University in Florida, a pet friendly dorm has been introduced. It will house 31 students and 20 pets, including cats, dogs, rats, guinea pigs and a fish. Just like many apartments, Pit Bulls, Rottweilers, and Chows will be prohibited.

Man's and Woman's Best Friend!
It turns out dogs may literally be humankind's best friend. A new survey conducted by a dog food company in the UK discovers that 1 in 5 women tell their deepest, darkest secrets to their dogs and nearly 1 in 10 women AND men think their dogs can read their minds. Sometimes pets are the only ones who truly listen!

Check Your Pet's Toenails
Here's a quick fact that may be helpful. Many foot disorders in dogs are related to long toenails. Check your dog's nails once a month and trim when necessary, avoiding the vein. The trick is getting them to sit still!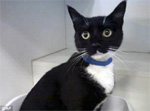 Man Marinates Cat
Police arrested 51-year old Gary Korkuc in Buffalo, New York after a disturbing discovery during a routine traffic stop. His 4-year-old cat Navarro was inside a boot in a cage in Korkuc's car, and police said it seemed that cat was marinating in oil, salt, and crushed red pepper. Korkuc reportedly told officers he was punishing the cat for being ill tempered and he intended to eat it. Korkuc was arrested and charged with one count of animal cruelty. The SPCA already found a new home and a new name for Navarro.

Keep Your Toddler Out of the Pet Food!
If you've got a toddler you know they're into everything, including pet food. A new study shows that contaminated pet foods can not only sicken pets, but also people. One salmonella-related outbreak from 2006 to 2008 sickened 79 people, half of whom where age two or under. The study also shows most people feed their pets in or near the kitchen and failing to wash their hands after feeding can spread bacteria.
New Additions for Pamela Anderson
Pamela Anderson did her part this week to help dogs who have become victims of the Gulf Oil Spill. About 50 dogs were re-located from Louisiana to Virginia and Pam Anderson was on hand to inspire us to adopt. Now in Virginia, PETA is working with the Virginia Beach SPCA to find new homes for the animals. Anderson actually ended up adopting two of the dogs herself.

Hero Dachshund
We've heard that dogs have an incredible sense when there might be danger, and on that note a great dog hero story. An 11-year-old Dachshund's owner in Oregon recently had heart surgery and was recovering at home when he collapsed. The dog usually doesn't leave the yard unless the owner is with her, but this time she sprinted across the street to alert a neighbor who was outside working. The dog persisted until the neighbor followed, and he was able to call for help. The man, who had heart surgery, is doing just fine now.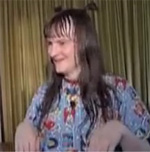 Man Denied Name Change to "Boomer the Dog"
You may love dogs, but have you ever wanted to dress like one and change your name to "Boomer the Dog?" A 44 year-old Pennsylvania man, Gary Matthews, frequently wears dog costumes and legally applied this week to have his name changed to Boomer the Dog. A judge denied the request because he said it would be too confusing. Matthews was asked whether he considered himself more of a dog or a human, and Matthews said "in spirit probably more of a dog."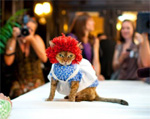 Feline Fashion Show
Maybe you've heard of the Algonquin Hotel…it's in the heart of Midtown Manhattan, very swanky place. Well it was home to a feline fashion show this week. Cats in wigs, hats and silky dresses. The photos are online if you'd like to see these cats on the catwalk. Most of them looked none too happy, but then most models don't!
Another Reason to Spay or Neuter

Here's an unbelievable fact that may encourage you to have your pets spayed or neutered: A female dog, her mate, and their offspring can produce 67,000 dogs in 6 years.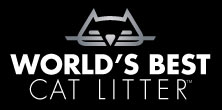 NEWS UPDATE Brought To You By World's Best Cat Litter™
Listen to the entire Podcast of this show (#560)

indicates XM Satellite Radio and Podcast versions only.