Animal Radio® Show #456 August 30, 2008

Groomer Has it, Judge Joey Villani


Groomer Has It is a reality show hosted by Jai Rodriguez, where 12 professional groomers cut and styled their way to being Groomer Of The Year. The winner would not only take home $50,000 in cash, but also a grooming van.
Judge Joey Villani talks about the 12 contestants and how he didn't think that Artist was going to be the winner. But, Artist listened to everything they told him and on the last day, he was the better groomer. Joey admits that he thought Jonathan would take it all the way and that Kathleen would give him a little bit of challenge. He felt that Artist endeared himself to America when he pretty much handed the competition over to Jorge during an adoption event. Joey states that it took a big person to really put everything on the side and say, "Listen, this means more to me than the $50,000 and the grooming van," and it was a great thing for Artist to do.
He comments on the other judges, Karen "Doc" Halligan and Xaviar Santiago. He states that he and Doc Halligan had a love/hate relationship. He also states she was wonderful, but they come from two different worlds. She comes from a veterinary world and he comes from a grooming world, and they loved to disagree. Xaviar, he mentioned, comes from the handling world.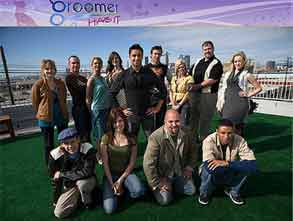 There is a lot more interest in Season 2, so expect to find stiffer competition. They definitely want some really good groomers, but they also want some personalities, and want to have fun with it as well. They will be looking for someone who can groom, someone who has compassion and someone who has a little bit of personality who can step it up a little and make it a little more exciting and jazzy!
For information on how to appear on the show, visit Animal Planet, Nash Academy or the Groom Expo and fill out an application.
You can also apply at the Groom Expo 2008 from September 10-14 at the Hershey Lodge and Convention Center in Hershey, Pennsylvania. Look for Joey, as well as some of the Groomer Has It Season 1 contestants at the Opening Night Party at 44/20 on Friday, September 12th from 10pm-12am.
Joey currently teaches grooming at Nash Academy of Animal Arts in New Jersey and has 3 Cairn Terriers, two of which are rescues. He also has an umbrella cockatoo, which is the boss of the house over him and his wife, and runs the household and runs the dogs as well.



Why Take Your Cat To Work Day Never Caught On!
Kira Vermond, Globe and Mail


When the Workplace Goes To the Dogs
Maybe you've seen the cartoon that shows a cat sitting snugly - some would say smugly - on a computer keyboard, under the heading, "Why 'Take Your Cat to Work Day' never caught on." While a feline focused workday is probably not in the cards for many companies, an astounding number of employers allow pets at work either as a regular practice or in a pet-sitting emergency.
A recent poll by the American Pet Products Manufacturers Association suggests nearly one in five companies permit pets. Benefits range from reduced employee absenteeism to workers agreeing to put in more hours because they're not fretting about racing home to walk the dog or feed the cat her vittles.
Not every workplace is ideal for animals, though. Health care, food service and factory settings are obvious no-go zones. But so are those where numerous employees are allergic, phobic or simply regard pets as pests.
Is it possible to keep puppy-lovers and puppy-loathers in the same ballpark or are pet-friendly companies barking up the wrong tree?
Before a pet project:
-Make sure pets are acceptable to the landlord, business owner and other employees.
-Decide in advance which pets are welcome at work.
-Have employees sign a contract agreeing to be accountable for their pets' behavior and care.
-Ensure there's a spot at the office to stow the pet if a visiting client is uncomfortable around animals.
*****
THE UPSIDE
People are happier when their animals are with them.
THE DOWNSIDE
Like your kids, not everybody likes your pets as much as you do.



Vladae, The "World Famous" Russian Dog Wizard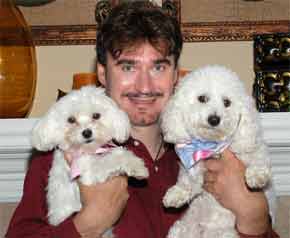 What Foundation Training Should a Dog Be Given?
Women have a tendency to act with their dog on an emotional level. Their relationship with their dog is mainly based on affection and not on mutual respect. Unfortunately, a lot of dogs love their owners but have no respect for them because their owners do not demand that respect. Sometimes you have to be the Alpha Female, and if you are not going to lead your dog, your dog will lead you. A foundation is important and obedience training should be done in the right way, which is one which promotes authority. And after that, when an issue arises, such as barking or licking, you automatically become an authoritative figure in your dog's life.
Dog Is Not The Same After Being Kenneled
When this dog came back from the kennel after being left there when his guardian was on vacation, he wasn't' the same. He is now rambunctious and doesn't listen. Perhaps he came across some low ranking dogs at the kennel and basically took over the pack. In this case, you need to show your dog who is the boss again. Vladae explains how.
New Puppy Comes In From The Outside And Goes Potty Inside


Make sure every time the puppy comes in the house, and you cannot supervise him, he is put in a crate. You also need to clean any spots in the house he has urinated on with an enzyme based cleaner. Also, put his food bowl where he previously urinated, as a dog will not urinate in a place where he eats. You should do this for about one week and he should be broken of this bad habit.
http://www.911dogwizard.com



Animal Minute With Britt Savage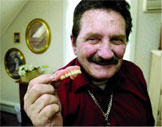 To Catch a Thief (err, Mouse)
We have all misplaced things, but when Bill Exner couldn't find his dentures, he knew someone else was involved. That someone else turned out to be a mouse. A mouse that they have managed to capture three times, only to have him escape three times, has plagued Bill and his family for quite some time. Bill eventually found a hole in the wall of his closet and believed that this where the mouse fled with his dentures. He called upon his daughter's fiancé, Eric Holt, to help. After tearing apart a section of the wall, they found the dentures lying there. Since then, Bill claims that mouse comes out occasionally and taunts him. When Bill does catch the little guy, he will take him for a ride in the country.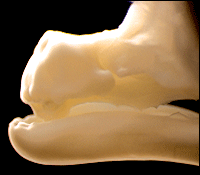 Do Chickens Have Teeth?
Matthew Harris, of the University of Wisconsin, was examining a mutant chicken embryo when he noticed several small bumps that looked like teeth. The teeth actually looked like small alligator teeth. This new discovery shows that chickens have the ability to grow teeth, even though they lost this feature quite some years ago.



Dr. Jim Humphries, Veterinary News Network



Is Instant Info on the Internet a Good Thing?
We live in an age of almost instantaneous information. Technology, like the Internet, has changed the way we think and educate ourselves. It's easier than ever to research topics and make decisions about almost any subject, even medical care for both our families and our pets. But, is that advice good?
Searching for pet related items on the web, you'll find everything from pet psychics to pet pharmacies. With this explosion of information, people might ask are there Internet pet sites that you can trust, really? Is it okay to trust our pet's health to someone other than your family veterinarian? For most pet owners, their family veterinarian is their primary source of advice. But, the urge and desire to save money on our pet's care is a big factor in deciding where to go for that advice. Just look at all of the blogs, the chat rooms and the message boards that offer all kinds of pet care information and pet health information. Anyone can post anything on the web. There's no requirement for that person to actually be an expert. And while much valuable information can be found, there's also much that is inaccurate or just plain incorrect or even dangerous. When it comes to understanding how all aspects of our pet's environment, genetics, psychical health and even mental and emotional health are all related, your family veterinarian is still the best choice to provide you the answers you need.
You see, veterinarians have either a DVM or a VMD degree. This doctor of veterinary medicine designation is your assurance of proper training and the completion of a university accredited curriculum. Knowing this, a good place to start to find accurate and up-to-date information on animal health is your veterinarian's website. Many will have links that are pre-approved veterinary medical sites such as VeterinaryPartner.com or sites associated with the nearest veterinary teaching hospital, for example. Additionally, your veterinarian's website may allow you to order common pet medications and other treatments on line. Some may even allow you to schedule an appointment or ask advice. The biggest reason for visiting your family's veterinarian's website is the comfort of knowing it comes from your pet's doctor, the one who knows you and your pet the best.
This huge pipeline of information that is the Internet is wonderful. You have an incredible resource at your fingertips. But frankly, it should come with a warning label: CAUTION; THE INFORMATION YOU ARE ABOUT TO RECEIVE OR THE PRODUCTS YOU BUY MAY NOT BE RIGHT FOR YOU OR YOUR PET.
For the health care of your special pet friend, don't rely on third party resources of unknown qualifications. You, your veterinarian and your pet are the best team to insure your pets live a long and healthy life.
http://www.myvnn.com



Currents Kill Canines
Deborah Howard, CAPS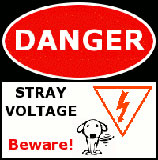 Ms. Deborah Howard, Founder of the Companion Animal Protection Society (CAPS), is currently joining forces with Denise Buffa, a reporter with the New York Post for the "Currents Kill Canines" campaign, which will include walks in New York City and Boston in late September to raise awareness about stray voltage in both cities that is killing and injuring dogs and people.
Voltage Leakage or Stray Voltage is responsible for the injuries and deaths of numerous dogs (and humans) in the New York City and Boston areas. It is a significant hidden danger on streets, sidewalks, and in parks. Because liquids cause current leakage, the risk is heightened in wet conditions, such as rain, snow, air and ground moisture, and puddles. This also includes your pet's urine stream. However, it should be known that it is a constant threat regardless!
Deborah is also reaching out to teens with the Caps2point.0 Program where they can become a part of the CAPS 2.0 community, and they can find resources to stay informed and learn how to become an activist, and can learn about breeders and brokers through CAPS undercover investigations.
Ms. Deborah Howard, a former radio news reporter, public relations executive and lawyer started the Companion Animal Protection Society (CAPS), a national nonprofit organization, in 1992. CAPS' foremost concern is the abuse and suffering of pet shop and puppy mill dogs.



Vinnie Penn, Animal Radio's Resident Party Animal


Video Kennels
I'm sure you animals lovers are very aware of this, but those of you who aren't, I'm very excited to bring this to your attention.
My sister and her children were visiting for the past two weeks, at the end of the summer. They put their dog, Ringo, in a video kennel, and they were able to log on everyday and check on Ringo. The camera was aimed right at him. I heard my nephews Ricky and Jay saying, "Ringo's sleeping, mom, look at Ringo sleeping!"
This is great for all of those people out there who still have a little bit of paranoia when it comes to leaving their pet behind. All you really have is the kennel owner's words. The fact of the matter is that kennels are fantastic and there is more than enough loving kennels out there. But, every once in a while you hear horror stories. There wouldn't be 20/20 or Prime Time Live without those kinds of stories. What would Barbara Walters do outside of the View?

But it was great now; there was so much piece of mind. The boys were worried about Ringo and to be able to tune in in the morning and watch him in action, watch him chasing a ball, was great. Every day they started off in a great mood, except for the day I had to explain to them what dry humping was and why Ringo was behaving in that manner, but my sister Julie says they are going to resolve that issue as soon as they get home. But nonetheless, what a beautiful thing to be able to tune in and see him playing and being able to log in.
(They all live in Las Vegas, so you would think that the boys would know about dry humping already. Especially Ricky, he's 12, and living in Las Vegas!?
But video kennels have to be all over, and if they aren't, they are definitely something that is going to be happening. Video kennels, it's piece of mind for a couple of dollars, and even if it isn't a couple of dollars, it is piece of mind for your pet!



International Animal News with Kaye Browne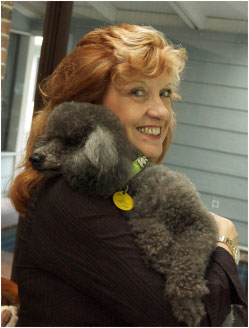 Don't Leave Your Dog In The Sun
A warning for pet owners ­ if it's hot enough for you to wear sunscreen ­ put it on your pets too. The call follows the discovery of a badly sunburned mixed breed dog in southern Arizona. The local Humane Society says the dog had a piece of rope hanging from his neck, leading them to believe he'd been left tied up outside without shelter from the sun. Tethering dogs is illegal in many parts of the world ­ and even where its not ­ it's a bad idea.
Cat Becomes Ill By Licking Guardian's Head
Another warning ­ this one for cat owners ­ especially cat owners under-taking treatment for their shrinking hair line. An eleven-year-old domestic moggy in Australia's capital city of Canberra was left gasping for life after playfully nibbling and licking her owner's head. Unfortunately for Luna the cat, she inadvertently ingested a chemical called Minoxidil ­ the key ingredient in a popular hair growth product.
Dog's Name Insults Inmate
In Britain, a prison officer and his sniffer dog have been transferred after a Muslim inmate complained about the dog's name. Officer Chris Langridge insisted the prisoner had misheard him and that his Labrador was in fact called Ali, and not Allah ­ which is the Islamic word for God. However, given that the high security Belmarsh prison in London houses more Muslim prisoners than any other jail in the UK ­ prison officials decided it was prudent for Ali and his handler to work at another prison.
Goldfish Star Attraction at Pub
In the UK, a goldfish has become the star attraction at a Devon pub ­ because it swims upside down ­ and has done so for four years. Expert fish fans have suggested that the fish has a rare swim bladder problem, which could be easily rectified ­ however the pub's owner says a vet checked it out and he's perfectly happy. Pub regulars like to joke the fish is simply drunk.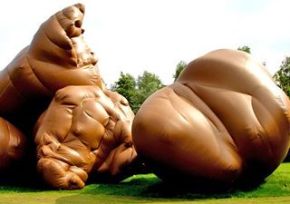 Doggy Doo Brings Down Power Lines
Swiss Police couldn't believe their ears when the 911 call came in ­ help ­ a giant inflatable doggy doo has just brought down power lines and smashed a greenhouse. But it was true ­ the monster inflatable dog poo­ about the size of a house ­escaped from an art exhibition at the Swiss museum during an unexpected burst of gale force winds. The art work was designed by American artist Paul McCarthy who called it "complex ****" ­ not realizing it would soon have a new title "flying ­ you know what!"
Dog Cloner Abducted Missionary
There's been a dramatic development in the story about South Korea's first successful commercial cloning of a deceased pet it now appears that the woman who joyfully embraced the cloned puppies is the same person who allegedly abducted a Mormon missionary and turned him into her sex slave in Britain 31 years ago. Bernann McKinney initially denied she was the Joyce McKinney in the Mormon sex case ­ but has now told AAP it's her. But she says the reason she jumped bail all those years ago on charges of having chained the young missionary to a bed is that he was definitely a willing partner and not a victim. The now-57-year-old McKinney maintains there's no way little old her could have over-powered and raped a 300 pound man - plus she'd rather people focus on her joy in having the cloned images of her one true love ­ Booger ­ the dog.

Men Can't Use Animals to Make a Pass At Women
Saudi Arabia's religious police have banned the selling of cats and dogs or even exercising them in public in the capital, Riyadh, in case men used the animals to ­ heaven forbid - make a pass at a woman. The supreme council of Saudi scholars says the ban will be rigidly enforced and anyone found breaking it will have their pet confiscated by the Saudi religious police and the would-be flirtatious male forced to sign a document saying he will not break the ban again. Apparently the ban on dogs and cats being seen in public is part of an attempt to curb increasing pet ownership ­ which the Islamic conservatists fear almost as much as other corruptive Western practices such as fast food, jeans and pop music.

Cats Diagnosed with Alzheimer's
An increasing number of forgetful cats in Britain are being diagnosed with mental health conditions similar to Alzheimer's disease. According to a new study more cats are displaying behaviors such as inappropriate vocalizing, forgetting commands, breaking housetraining, pacing, wandering, sluggishness, decreased grooming and confusion, such as "forgetting that they have just been fed. Edinburgh university researchers believe that improved diet coupled with less exposure to the outdoors means cats are living much longer and so they're suffering similar age related brain degeneration as humans ­ particularly those over the age of 15. The good news is that researchers also found that environmental enrichment ­ which is a fancy term for interacting with and playing with your cat dramatically reduces the risk of them suffering dementia. It's also good for their human owners.
Fire-Bombings by Animal Libbers
US Federal and state authorities are investigating a series of fire-bombings in Santa Cruz, California ­ thought to be the work of animal libbers opposed to the use of animals in medical research. Two bombs were ignited outside the homes of two researchers from the University of California, one destroying a car, the other setting the front of a house on fire, forcing the researcher and his family to flee from an upstairs window. One of those targeted, UCSC biologist David Feldheim, performs research on mice to understand how brain connections form during development. At no time do the rodents suffer any pain and the work is deemed crucial to saving the lives of future generations of people ­ and animals.

Best Kisser? It's a Dog!
Still in Santa Cruz ­ but on a cheerier note ­ the community has hosted its first 'dog show with a twist' ­ with a world-first competition - best kisser? More than 60 dogs vied for titles including best dressed, best name, best singer, longest nose and the crowd favorite ­ best kisser which was taken out by Yoshi ­ a Chihuahua cross.

Dog Judge Goes 29 Years Without Injury ­ Until Now!
Not all dogs are so friendly ­ just ask famous British TV presenter and dog judge Peter Purves who's nursing a nasty fang mark in his hand after a 3-year-old called Buster lashed out. Purves was guest judge at a Norwich mongrel dog show called Scuffs and Buster a JRT cross West Highland terrier was in the running for the most handsome dog title. Purves, who's judged the prestigious Crufts dog show for 29 years ­ without injury ­ was treated at a nearby hospital but returned to finish the judging. Buster didn't get a look in.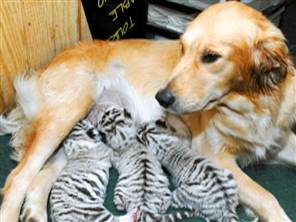 Tiger Cubs Adopted by Dog
A dog at a southeast Kansas zoo has adopted three tiger cubs abandoned by their mother.
Staff at the Safari Zoological Park feared the cubs would die ­ but figured it was worth a chance to see if a golden retriever, who'd recently weaned her own pups, might take on the tiger cubs. Luckily the dog's maternal instincts kicked in ­ and the cubs are now thriving.

111-Year Old Becomes Father For First Time
Science is always interested in animal procreation ­ well, we all are - so it's with great delight that New Zealand reptile experts have announced that a 111 year old tuatara -one of the last living dinosaurs is about to become a father for the first time in decades. Henry and his much younger girlfriend Mildred produced a dozen eggs last month after mating at the Southland Museum in March. Curators say Henry hadn't shown any interest in sex until he recently had a cancerous growth removed from his genitals. They say although Henry's now enjoying the company of three female tuataras ­ he's not into speedy relationships ­ he's not expected to breed again until next March.
Listen to Current World News



Fifth Annual Dog Swim
Anne-Mary McGrath, Springfield-Greene County Park Board Special Events


The Springfield Citizens Dog Park Committee and the Springfield-Greene County Park Board in Missouri, will host the Fifth Annual Dog Swim from 4 to 7 p.m. Sept. 2 at Fassnight Park Pool, 1300 S. Campbell Ave., Springfield, Missouri.
Before draining the public pool for the season, the dog swim will allow an opportunity for unleashed dogs to play and swim freely in the fenced pool area.
The cost is $8 per dog, including one handler; additional spectators are $3. Registration is required for all dogs.
Due to the popularity of the event, pre-registration is highly recommended. Pre-registration forms can be downloaded at www.parkboard.org. Proof of vaccinations is required for all dogs to participate.
Proceeds benefit the Cruse Dog Park, slated to open this fall at 2100 W. Catalpa St.
For more information, call the Park Board Office at 417-864-1049.
For information about Springfield, visit www.SpringfieldAdventures.com or call the Convention Visitors Bureau at 800-678-8767.
This is such a great idea ­ perhaps you can get your city pool opened for the dogs before it is closed for the season. And those of you who live in an area where the pool is open year round, perhaps just before they close for a cleaning, they can let the dogs in for one day!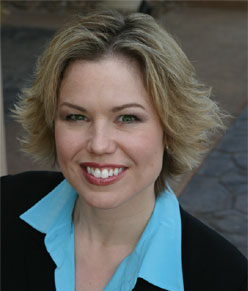 Your Vet Questions Answered with Dr. Debbie

Grocery Store Pet Food
Dr. Debbie comments on a caller who said his dog was eating Old Roy Pet Food. She says beware of grocery store pet foods or pet food that is sold outside of a pet store, the quality isn't always there. Basically, you get what you pay for and nobody likes to hear that, because everyone is budget conscious. She personally feeds her two labs Science Diet, the Senior variety. When looking for a good food, it should have an AAFCO Signature of Approval, that means that it has gone through nutritional testing. And even better than that, look for bags that mention the food has gone through food trials. This means that they have actually fed that food to animals to make sure that they don't get sick.
Ferret Has Urinary Blockage
Dr. Debbie recently treated a ferret that had a urinary blockage. Ferrets are cool little pets and it is unfortunate that they get bad diseases. The number one thing that causes urinary blockages, especially in male ferrets, is a problem with their adrenal glands which causes their prostrate to swell up, and in other cases, its just the lower urinary tract type problems, like in male cats where they get plugs and stones.
Dog Has Developed Cushing's Disease
Cushing's Disease usually appears in dogs 10 years or older and affects many breeds. It is a disorder resulting from excessive circulating cortisol (a steroid). The most common signs of Cushing's Disease are increased appetite, increased thirst and urination, hair loss, lethargy, and pendulous abdomen (due to increased liver size and muscle breakdown). In most cases the cause of Cushing's Disease is due to a non-cancerous overgrowth (hyperplasia) of the pituitary gland (called Pituitary Dependent Hyperadrenocorticism or PDH). Cushing's disease can also be caused by a tumor in the adrenal glands, which are located in the abdomen next to the kidneys.

Are There Oral Contraceptives For Cats?
How easy would it be if we could just put an oral contraceptive in water that we give to feral cats? Some of the methods used in the past to control overpopulation of pets are obviously not working, and the spay/neuter trap/release programs are great if you can catch the cats. There are some people working on oral contraceptives for cats, but there is not a lot of good information on the subject. Currently, there are too many side affects and hazards with oral contraceptives for cats. However, we look for some new things on the horizon, perhaps even in the next few years. Maybe a vaccine that will cause sterilization?

Listen to the entire Podcast of this show (#456)

Broadcast on XM Satellite Radio and Podcast Versions Only.

Listen to Animal Radio® - Go to the launch page
Return to Animal Radio Network™ Home Page
Read August Newsletter
Copyright 2008 All Rights Reserved Animal Radio Network LLC