September 1, 2007


Shelley Morrison, Will & Grace


Shelley is an animal lover and involved with many animal charities. But what you might not guess is that Shelley Morrison has had a remarkable and fascinating forty-plus year career in show business, from co-starring in feature films with the likes of Hollywood legends Gregory Peck, William Holden and Anthony Quinn, to co-starring on one of television's most acclaimed situation comedies. Or that this talented woman of Hispanic descent, born and raised in The Bronx in New York City, whose first language was Spanish and whose parents were Spanish Jews, has embraced the spiritual tradition of the Lakota Sioux. But Shelley Morrison is better known as Rosario, the feisty maid on NBC's hit comedy series "Will and Grace."
Morrison has also become tirelessly involved in charities close to her heart. The first, A.N.G.E.L.S Day (Animals Needing Generous Endowments of Love & Support), is an organization dedicated to help senior citizens take care of their pets in times of crisis such as during hospitalization. "One woman broke her foot and was unable to walk her dog," Morrison explains, "and we had a volunteer come every day for a year to be sure that the dog was taken care of." L.A. Shanti is another organization that Morrison has dedicated time and resources to; it was the first organization in Los Angeles founded to help those with HIV and AIDS, offering support, prevention advice and volunteer training for the last two decades. Morrison, who has survived two bouts with cancer, has also raised money for the American Cancer Society and this year led the "Sea of Pink" Survivors' Ceremony to kick off the Ninth Annual Susan G. Komen "Race for the Cure" in Los Angeles.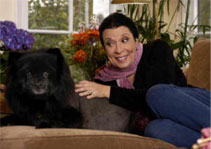 Shelley is one of the special hosts of the Farm Sanctuary's 21st Anniversary Gala, which will be a glamorous evening of entertainment and education, bringing together celebrity supporters, key legislators and animal advocates in honor of farm animals and those leading the movement to protect them from abuse.
The Farm Sanctuary Anniversary Gala will be held on Saturday, September 8th at the Beverly Hills Hotel in Los Angeles, California and will consist of a 3-course gourmet vegan dinner (and if it is like last year's ­ will leave you licking your plate!) a silent auction and entertainment. A few of the celebrities who will be in attendance are: Robin Williams, Ellen Degeneres, David Duchovney, Ed Begley Jr. and Kevin Nealon. Tickets are $200 per person. To purchase your tickets or for more information about the event, including product donations, sponsorship and advertising opportunities and auction contributions to support the event, please contact: 607-583-2225 ext. 221 or gala@farmsanctuary.org
http://www.FarmSanctuary.org
http://www.ShelleyMorrison.com
Michael Vick Asks for Forgiveness
11alive.com, Web Editor: Tracey Christensen


Atlanta Falcons football quarterback Michael Vick bows his head as he makes a statement after pleading guilty to a federal dogfighting charge.
The following is the complete statement issued at a news conference Monday in which Michael Vick apologized for his part in dogfighting:
"For most of my life, I've been a football player, not a public speaker so, you know, I really don't know how to say what I really want to say.
I understand it's not important as far as what you say but how you say things so now I take this opportunity just to speak from the heart.
First, I want to apologize for all the things that I've done and that have allowed to happen. I want to personally apologize to Commissioner Goodell, Arthur Blank, coach Bobby Petrino, my Atlanta Falcons teammates, for our previous discussions that we had and I was not honest and forthright in our discussions and I was ashamed and totally disappointed in myself to say the least.
I want to apologize to all the young kids out there for my immature acts and you know what I did was very immature, so that means I need to grow up.
I totally ask for forgiveness and understanding as I move forward to better Michael Vick the person, not the football player. I take full responsibility for my actions. Not for one second will I sit right here and point the finger and try to blame anyone else for my actions and what I have done. I'm totally responsible and those things just didn't have to happen.
I feel like we all make mistakes. It's I made a mistake in using bad judgments and making bad decisions and those things just can't happen. Dogfighting is a terrible thing and I did reject it. I'm upset with myself and through this situation I found Jesus and I asked him for forgiveness and I'd just turned my life over to God. I think that's the right thing to do as of right now.
Like I say, for this entire situation, I never pointed the finger at anybody else. I accepted responsibility for my actions and what I did and now I have to pay the consequences for it but since I think it will help me as a person I've got a lot to think about in the next year or so.
I offer my deepest apologies to everybody out there in the world who's affected by this whole situation. If I'm more disappointed in myself more than anything is because of all the young people, young kids that I've let down who look at Michael Vick as a role model. So I have to go through this and put myself in this situation, you know, I hope that every young kid out there in the world watching this interview who's been following the case use me as an example to using better judgments and making better decisions.
Once again, I offer my deepest apologies to everyone and I will redeem myself, I have to.
I got a lot of down time, a lot of time to think about my actions and what I've done and how to make Michael Vick a better person."
ASPCA Applauds Vick Suspension
Ed Sayres, President of the ASPCA


The ASPCA® (The American Society for the Prevention of Cruelty to Animals®) today applauded NFL Commissioner Roger Goodell's strong and decisive action in suspending Michael Vick without pay, effective immediately, from the League.

Said ASPCA President & CEO Ed Sayres, "Right from the outset, we knew the Commissioner was taking this case extremely seriously-and respected the fact that he was proceeding appropriately by commissioning an independent investigation into the case."

In a strongly worded letter to Vick, the Commissioner today called his admitted conduct "not only illegal, but also cruel and reprehensible."

"The Commissioner's extremely strong and swift response today to Michael Vick's guilty plea is no less than what we expected, and reinforces how seriously he takes not just the integrity of the League, but his expectations of how animals should be treated in a humane society. The ASPCA is proud to be associated with the National Football League as its animal welfare partner, and we will continue to raise public awareness on the humane treatment of animals together."

For more information on the ASPCA, or to learn more about staying alert to animal cruelty, please visit www.aspca.org/cruelty.
Big Dog Bites Back Against Michael Vick
Mike Walker, Big Dog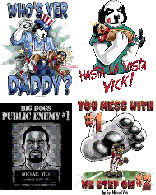 "While everyone is appalled at Michael Vick's actions, we at Big Dogs are particularly upset as most of our customers and employees are dog lovers," said a company spokesperson. "We hope that people will wear these t-shirts as a reminder of Vick's terrible acts and help to eliminate dog abuse and the brutal practice of dog fighting."
The four new graphics will feature Vick being reprimanded by the Big Dog character. The first graphic features the Big Dog, in Uncle Sam attire, spanking a crying Vick. An additional graphic shows Vick in a hot dog bun while the Big Dog prepares to take a bite. The third graphic depicts a mug shot of Vick as Big Dogs public enemy #1. The last t-shirt will feature a giant big dog paw stepping on the cowering quarterback.
The shirts will be available in Big Dog Sportswear retail stores beginning this week and online. Through the Big Dog Foundation, which consistently provides support to dog charities across the country, a contribution from the proceeds of each shirt sold will be made to help prevent dog abuse.
http://www.Bigdogs.com
NEWS UPDATE ­ Recalled Food Still on Shelves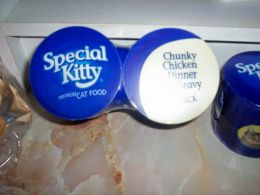 It has been reported that Sheri McComber from Alabama purchased Special Kitty, a recalled cat food, from Wal-Mart. Unfortunately, she is not the only one. Recalled cat food has been found on the shelves at other Wal-Mart stores as well.
It turns out that the product code checks out fine, but when the sticker is peeled off, there is another product code below, which matches the recall list. When there are no stickers, the items will scan as "Do Not Sell."
Could manufacturers be repackaging recalled food?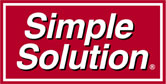 NEWS UPDATE Brought To You By Simple Solution Natural Line Of Products
Dog Performs Heimlich maneuver
Britt Savage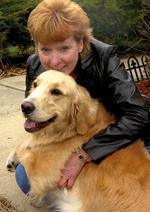 Little did Debbie Parkhurst know that when she found a dog in a dumpster 2 years ago, that he would save her life.
Debbie Parkhurst, 45 years old from Calvert, Maryland, found a Golden Retriever in a dumpster years ago and took him home and named him Toby. Recently, Debbie was eating an apple in her home when she got a piece of the apple stuck in her throat. She immediately tried to remove it by jumping up and down, with no luck. She then started beating on her chest, and when Toby saw what was going on, he got involved. He jumped up; putting his front paws on her shoulders and knocked her down. He then started jumping up and down on her chest, dislodging the piece of apple.
While some skeptics believe Toby thought it was a game, Debbie truly believes that Toby knew what he was doing and saved her life.
Nonaggressive Way to Teach Your Dog Good Behavior
Tamar Geller, The Loved Dog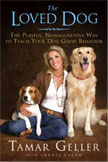 Every dog owner must make a choice: Do you want a fearful and submissive pet, or do you want a happy, joyful, and well-mannered member of the family?
Tamar Geller's mission in life is to teach her cruelty-free method of "life coaching" for dogs and their people. Her revolutionary play-training uses mutual understanding and respect -- and puts an end to outdated methods that rely on physical exhaustion, choke chains, prong collars, dominance rollovers, or stressful aggression of any kind.
A former Israeli intelligence officer who witnessed the horrors of military dog training methods, Tamar went on to observe wolves in the wild. She discovered that wolves educate and socialize their cubs with games, bonding, and body language, not dominance or punishment. As a result, she developed teaching systems that address a dog's authentic nature, part wolf like and part toddler like. Learning can be a positive experience that dogs enjoy and look forward to, and we can actually make it fun for our dogs to listen to us and behave, as we want them to.
Tamar's insights have brought dog training into the twenty-first century, and her groundbreaking techniques have won the approval of the Humane Society of the United States, for which she is a longtime advisor. Her celebrity clients include Oprah Winfrey, Ben Affleck, Courtney Cox-Arquette, Owen Wilson, and the Osbournes, and she has appeared as an expert on the Today show, The Oprah Winfrey Show, Animal Planet, and more.
http://www.tamargeller.com
Talk With Your Animals
Joy Turner
Joy speaks with a guardian who wants to know if a dog she placed in another home 10 years ago wants to come back.
http://www.TalkWithYourAnimals.com
http://www.JoyTurner.com

Best Friends Animal Sanctuary Beginnings
Jan Sluizer, Special Correspondent
The sanctuary, at the heart of Southern Utah's Golden Circle of national parks, is home, on any given day, to about 1,500 dogs, cats, horses, rabbits, birds and other animals.
http://www.bestfriends.org
Is Feline Hyperthyroidism Caused by Household Products?
Dr. Louise Murray, ASPCA Bergh Memorial Animal Hospital


The ASPCA® (The American Society for the Prevention of Cruelty to Animals®) has recently learned about a new study conducted by the Environmental Protection Agency (EPA) that investigated the possible connection between the presence of polybrominated diphenyl ethers (PBDE)-a flame retardant chemical added to a wide variety of household products-and an increase in feline hyperthyroidism. The study-lead by Dr. Janice A. Dye and published in the journal Environmental Science and Technology on August 15, 2007-confirmed high levels of PBDEs in some housecats; however there was not conclusive evidence linking this to the disorder.
The use of PBDEs has been under scrutiny for several years as a potential health risk for humans, potentially causing problems in both the nervous and reproductive systems. The recent attention towards its effects on cats is fueled in part by concern regarding what these findings may indicate about potential problems affecting humans in the long run.
What are PBDEs?
PBDE (polybrominated diphenyl ethers) is a common flame retardant used in the production and manufacturing of a wide variety of household items, most notably, upholstery, carpets, and mattresses. In use since the 1970s, products that contain PBDEs have been found to shed this chemical into house dust, which can then be inhaled or ingested into the body.
What is feline hyperthyroidism?
"Hyperthyroidism is one of the most common conditions found in older cats," says Dr. Murray. "It's usually caused by a benign tumor of one or both thyroid glands, which can lead to increased levels of thyroid hormone in the body." Symptoms of hyperthyroidism in cats can include weight loss, rapid heart rate, vomiting, diarrhea, increased appetite and/or thirst and increased urination.
Is feline hyperthyroidism fatal?
Dr. Murray clarifies that feline hyperthyroidism, when treated with the appropriate therapy, is not a fatal disease. "This is generally an extremely treatable disease, and with certain treatment methods, can even be cured," she says. "The disease is mainly fatal in cats who have not received timely care, resulting in heart disease and eventually heart failure. "
Do PBDEs cause feline hyperthyroidism?
"Although it is possible that PBDEs may increase the risk of hyperthyroidism in cats, this disease is a common illness in senior cats," says Dr. Murray. "Due to better health care now available to our pets, and the benefits of living inside the home, cats are living longer, and as a result the increase in cases of thyroid disease is not unexpected."
How can I keep my pet safe from such potential PBDE dangers?
To keep you and your pet safe, the ASPCA recommends taking the following precautions:
Use a vacuum with a HEPA filter and change the filter regularly
Use an air conditioner with HEPA filter and change the filter regularly
Cover tears in upholstery that expose polyurethane foam, particularly if the foam is crumbling
Cover mattresses with tightly woven allergen barriers to reduce dust that could carry PBDEs. Do not remove the mattress label, as it will tell if polyurethane foam was used.
http://www.aspca.org/site/PageServer?pagename=press_082207

Animals and the Full Moon: What's In a Name?
Rae Ann Kumelos, Voice of the Animal
From wolves to worms, many of the names for the Full Moon every month have been inspired by animals. Discover how our lunar companion reflects the activities of our animal friends.
http://www.VoiceOfTheAnimal.org

Human Meds Not for Cats
Dr. Jim Humphries, Veterinary News Network


Human medications are a no-no for cats! Human medications are the most common source of animal poisoning. The most common source of these medications for cats is those that are left out on the countertop or table, or those that are accidentally dropped on the floor. However, many times owners think that when a medication is safe for children, then it is probably safe for their cat. This is far from true, and in fact, many of these medications can cause death in cats.

Why do various human medications, something as simple as aspirin, cause death in cats? The primary reason is that cats do not have the necessary enzymes to metabolize these drugs. Even small amounts can be very toxic. Most notably are the topical flea and tick products labeled "dogs only." A single application of these on a cat may mean sudden or an agonizing death for a cat. Tylenol is one of the deadliest and most common drugs that we see that causes fatalities in cats. Second on the list of most frequent toxins in cats is aspirin.
http://www.VetNewsNet.com
Listen to the entire Podcast of this show (#405).



View Animal Radio Network™ Broadcast Schedule in a new window.


Listen to Animal Radio® - Go to the launch page


Return to Animal Radio Network™ Home Page


Read August Newsletter
Copyright 2007 All Rights Reserved Animal Radio Network LLC