Animal Radio® Show #457 September 6, 2008


"IT'S ME OR THE DOG" CASTING CALL LIVE FROM LOS ANGELES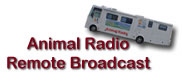 Unruly Dogs & Their Owners, Help Is Here!
We broadcast to you live from the "It's Me Or The Dog" Casting Call in Los Angeles. While "It's Me Or The Dog" was originally filmed in the United Kingdom, they are doing a casting call to bring it to the Untied States. If you think you are the owner of an out-of-control dog and would like to apply, visit www.RicochetTelevision.com or call 877-44 DOGGY (1-877-443-6449) for more information.



Victoria Stilwell, It's Me or the Dog


Victoria Stilwell is the host of "It's Me or the Dog" on Animal Planet as well as one of the judges on the new reality show, the "Greatest American Dog," on the CBS Television Network.
"It's Me Or the Dog" is a series that follows Victoria Stilwell as she tries to restore harmony in homes where the pet is running riot and the family is in the doghouse. Through observation, interviews and secret filming with a 'pet cam', Victoria uses her 10 years of experience to assemble the evidence and diagnose the problem. A clear practical training program follows, offering both pet and owner the chance to change the bad habits of a lifetime. This series gives owners easy to follow hands-on advice.


Vladae, The "World Famous" Russian Dog Wizard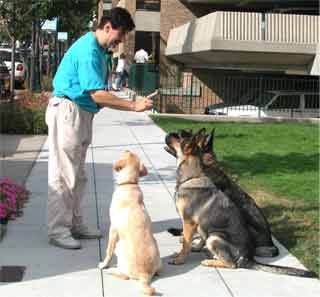 Vladae comes to you live from the "It's Me Or The Dog" Casting Call in Los Angeles. While there, Vladae saw all types of people and dogs who were in need of emergency help! He also gave a demonstration with a man who couldn't take his dog to dog parks because he was too aggressive with other dogs. Within moments, Vladae had this dog lying right next to his German Shepherd as if they were best buddies!
Vladae also spoke with a mother and daughter team who couldn't agree on dog training. The mother was even considering placing the dog in another home.
Another contestant-want-to-be was a woman whose dog refused to stay in the yard and was a very good escape artist.
Then there was the mother and son whose father was going to leave if they didn't control their dogs from constantly barking.
But the worst seemed to be the couple who were actually considering ending their relationship because they couldn't agree on how to make their dogs obey.
Vladae was able to help many of these people out with their unruly dogs ­ we just hope it doesn't jeopardize their chance of getting on the show!
http://www.911dogwizard.com



Groomer Of The Year
Artist Knox ­ Groomer Has It, Animal Planet


Ever since winning "Groomer of the Year," Artist Knox has been burning rubber all over the city of Los Angeles. As the winner, he received $50,000 in cash along with a mobile grooming van from Wag'n Tails. Artist says you can't just call it a grooming van; it is like a house, a salon and a chick mobile on wheels!
Groomer Has It is a reality show hosted by Jai Rodriguez, where 12 professional groomers cut and styled their way to being Groomer Of The Year.
At one point during the competition, Artist gave up the easy win and passed it off to another contestant during an adoption competition. But Artist made a decision of what was more important at that moment. Was it better for him, or was it for something that needed it more than he did? He got so wrapped up in the moment, that he forgot about the consequences that he could possibly lose the competition. But, it was a good decision, not only for the dog, but also for Artist himself.
Artist now gets calls from all over, including New York and Illinois, from people who want him to come personally groom their dog. However, Artist is located in Los Angeles, but for the right amount of money, he will go anywhere!
Artist gives a shout out to Hugh Heffner and states officially on Animal Radio®, "Girls Next Door ­ Meet Groomer of the Year. I'm coming to your house and I'm grooming all of your dogs!" So, Hugh, get ready for Artist!
Artist has big plans for his future. He is going to master the mobile unit, master his own shop and then go on to schools and lecturing. There is no stopping this guy!
http://www.artistgrooms.com



Dr. Jim Humphries, Veterinary News Network



Feline Heartworms...A Hidden and Deadly Threat!
Most cat owners don't worry about heartworm disease and fewer still use any sort of heartworm preventative. But, as veterinary scientists continue to discover, feline heartworm disease has become a severe threat to our cat companions.
Fred Thomas is religious about giving heartworm preventative to his three dogs. On the first of every month, Fred breaks open a new package of medication and every dog gets their monthly treat. Looking over at his cat, Fred grabs the kitty treats and tosses a few to the feline member of the pack. What Fred doesn't realize is that he is leaving his cat unprotected from a deadly killer.
Like Fred, most cat owners are unaware of this often-fatal disease. Heartworm disease was found in cats as early as the beginning of the 20th century, but few cat owners or veterinarians were concerned about it. Recent studies have shown that 26% of cats from the Gulf Coast have signs of heartworm infection at some point in their lives and 10% have actual adult worms. These prevalence rates are significantly higher than rates for Feline Leukemia or for the Feline Immunodeficiency Virus. Yet, according to the American Heartworm Society, only about 5% of cat owners use any sort of heartworm preventative for their cats! Like dogs, cats acquire the parasite from mosquitoes but this is when any similarity ends!
Heartworms continually evolve to exist in their canine hosts, but cats are abnormal hosts and these heartworms will live stunted and shortened lives. You might think that this is a good thing, but due to our cat's strong immune systems, heartworms actually can cause more serious and severe disease than they do in dogs. It is not unusual for a dog to live for years with 20, 30, or even 50 worms in their heart. But a cat with a single heartworm can die suddenly, often with no apparent clinical signs whatsoever. In addition, your "inside only" kitty is just as susceptible as the outdoor tomcat.
Upon infecting a cat, the heartworm larva will travel to the blood vessels of the heart and lungs, where it will grow to be about two inches long. At this time, cats may exhibit respiratory symptoms that are often misdiagnosed as bronchitis or asthma. Veterinary scientists studying heartworm disease in cats have given this stage of the disease a name: Heartworm Associated Respiratory Disease, or HARD.
As the heartworms mature, signs of their presence will often diminish. In fact, evidence suggests that the live heartworms can actually suppress the cat's immune function and the cat appears to tolerate the infection. However, when the mature worms start dying, massive inflammation can occur, leading to acute lung injury and even sudden death. Your cat can literally die within an hour!
So, what signs should you look for to keep your cat safe? Cats with heartworms may exhibit difficulty breathing, coughing, vomiting, weight loss, sudden collapse, or even sudden death. Because this disease can cause such a terrible outcome in a short period of time, your veterinarian should immediately examine any cat exhibiting these signs. Tests are available to screen for heartworm disease, but again, unlike dogs, testing cats is a complex, often confusing, endeavor. To make matters even worse, there is no effective or approved way of treating adult heartworms in cats. So prevention is really the key!

And on that front there is good news! Heartworm preventatives are available for cats and are as easy to give as the medications designed for dogs. These preventatives are available in both oral and topical formulations and your veterinary staff can help you choose the right one for your pet. Your veterinarian can also help you make sense of heartworm testing options for your cat. Although the Heartworm Society does not mandate testing cats prior to using a preventative, it is recommended as a baseline for future reference.
Preventing heartworm disease in cats is only one step to helping our feline friends live long and healthy lives. Twice yearly physical exams, blood tests and appropriate vaccinations can all do their part to insure your cat's health. Watch the video.
http://www.myvnn.com



Animal Minute With Britt Savage

Finding Someone Who Loves You and Your Pets


It's hard enough to find love, but finding someone who loves you and all your pets can be even trickier. A new Dutch website, http://www.dier-en-mens.nl loosely translated to mean animal-human, says it's a meeting place for all animal lovers, whether you're looking for that special someone, someone who likes snakes and spiders, or someone to take care of your chickens when you're on vacation.

Fish Smuggled in Dress
An Australian woman was recently sentenced to 9 months of community for smuggling protected fish from Asia in her dress. Forty-five-year old Sharon Naismith was caught in a Melbourne airport trying to smuggle the fish. Custom officers reportedly heard flipping noises coming from her clothes and conducted a search. In an especially made apron under her dress, they found 15 plastic bags filled with water and fish. They found one rare Asian Arowana, that customs said was worth tens of thousands of dollars and 14 catfish. Naismith, who had just arrived from Singapore, pleaded guilty to a charge of attempting to import regulated wildlife.
Pet Picture Taking


Have you ever been frustrated while trying to take a picture of your pet? They're sitting there looking so cute. You pick up your camera and they run away, or jump out of the frame or try to play with you or maybe even attack the camera. Pet Photographer Ian White suggests choosing a background that works well with your pet. For example, if you have a Black Lab, he'll show up better on a light colored blanket. Pets model the best when they're a little tired and after a meal. Let them fall asleep on the selected background and then alert them with a treat or a squeaky toy. Be ready with that camera! Try to take the photo from eye level, which may mean lying on your stomach or having your pet up on a bed or furniture. Good luck!



Doggy-Style Speed Dating Event
Lisa Caroline Leung, FastLife.com


Finding a partner that gets along with your furry friend is non-negotiable - "Love Me, Love My Dog," the saying goes. Save time and frustration by combining your dog walk with a month's worth of dates!
Puppy Love ­ New York's first-ever dog walk speed dating event ­ is FastLife's latest solution for the time-challenged professionals who use its services. This new dating event format is designed exclusively for busy, dog-owning singles. The innovative new format makes its debut in Central Park on Sunday, September 21.
The group romp will be attended by 24 dog-owning New Yorkers. Furry friends in tow, participants will ramble through Central Park's most dog-friendly spaces in rotating dating pairs. Sponsored locally, daters and their dogs will take home a "doggy bag" (complete with a snack for Scruffy) from the New York Dog Shop. One lucky participant will walk away with a full pet portrait session from Petographs.
As with FastLife's standard speed dating events, love matches are calculated and sent via email the following day, leaving it up to the daters to take the next step.
Why not try it - What have you got to lose???
Fast Life Speed Dating



Vinnie Penn, Animal Radio's Resident Party Animal


Six Degrees of Animal Separation
I got together in New York City the other day to meet up with a girlfriend of mine going way back. She shows up with her new dog, Puffy. I don't know if it's a "Diddy" thing. I immediately accused her of being a Paris Hilton Want To Be. To which she deflected and shot back that I was a Rick Springfield Want To Be when she first met me and I used to have a working class dog and she claims I got my first dog because of Rick Springfield's love for dogs, which is something we fans of his have known for a million year, and I had a few things to say to that.
One, first and foremost, Rick's got a great new album out and it's called "Venus in Overdrive" and it kicks ***. If you're a Rick fan, go out and get it. But two, isn't it funny how we associate certain animals with certain celebrities. I don't think I ever really realized it until today. Here she was with this tiny little dog and I immediately associated her with Paris Hilton. She immediately associated me with a certain type of dog with Rick Springfield. Another friend of ours has a pig and we're constantly making George Clooney jokes well, that's not really true! But you do, you associate pigs with George Clooney. Whenever the subject of neutering or spaying comes up, you think Bob Barker. You also think Bob Barker when you think of old men hitting on 25-year-old girls too, but that's beside the point.
The fact of the matter is that celebrities carry such clout with what they can do with a certain animal. I know back when Michael J. Foxx did the voice for Stuart Little, for the longest time he was associated that way. Even Mel Gibson, back in the day, when he did the movie with the chickens and they were trying to make a break for it, you associated him with that long before you associated him with DUI's and other horrific stances and beliefs.
These celebrities are linked. There's got to be a board game in this, with 6 degrees of animal separation where you can kind of link up the specific animal to the specific celebrity, and about as far reaching as you can get.

I thought of snakes, and you think of Snake Pliskin, Kurt Russell from escape from New York. I've got to get in touch with Parker Brothers, because there's a board game in this. And if ever a specific animal is in danger, you can just associate a celebrity to it and get a celebrity campaign behind it and the fans of that celebrity will just come rushing in. Look at Siegfried and Roy with the white tigers? And granted, we've discovered they're not the most gentle of creatures, but again, beside the point.
I would love to get email on this. Email Vinnie@AnimalRadio.com. Send me your list and I will follow up on this one. This will be the first Party Animal where I do a Part Two on it. Associate the celebrity with the specific animal. And the crazier the animal, the better. If you can get it to ferrets or things of that nature, and who is really associated with them.
I know I was watching that show on the E Channel it's complicated. Her home is a variable farm. They say her and Charlie Sheen broke up for this reason and that reason; they had to break up, because I think she's got pigs! She actually has pigs, and associating Denise Richards with the word pig ­ that's not a big leap.
Let's play the game, ""Six Degrees of Animal Separation!"



International Animal News with Kaye Browne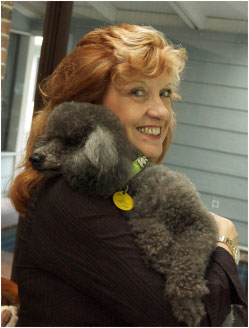 Pedigree Dogs Exposed
A British documentary has set the cat among the pigeons in the elite world of show dogs.
The BBC program called 'pedigree dogs exposed' blames generations of in-breeding by owners desperate to win in the show ring as the cause of so many dogs now suffering painful diseases such as spinal defects, heart problems and even having skulls too small to contain their brains. In the documentary Britain's Kennel Club chairman Ronnie Irving admits having bred grandfather to granddaughter of his own border terriers ­ a mating genetics experts say is illegal among humans and should be in dogs.

Tougher Dog Laws Afer 80 Dogs Shot
In the US, Pennsylvania's governor Ed Rendell is pushing for tougher dog laws which would have prevented two Berks County kennel owners from shooting dead 80 dogs. County wardens had ordered the men to provide veterinary care for 39 of the animals for flea and fly bites ­ instead Elmer and Ammon Zimmerman shot their dogs ­ which is allowed under current laws ­ and reportedly plan to re-stock their breeding facility with new dogs. The proposed law changes would make it illegal for anyone but a veterinarian to euthanize dogs in commercial breeding kennels and would also improve housing requirements such as doubling the size of cages which would also have to have solid floors and provide outdoor exercise for dogs.
Police Officer Contributes to Dog's Death
A Texas couple has made news around the world after a police officer allegedly delayed their emergency dash to a vet. The pair admit they were speeding ­ 95 miles per hour outside San Marcos ­ but when they told the officer their poodle was choking to death he told them ­ quote - chill out ­ it's just a dog ­ you can get another one. Sadly by the time the officer eventually wrote out a speeding ticket ­ which for some inexplicable reason took 20 minutes ­ by then, their tiny poodle was dead. Texas police have since dropped the ticket and say the officer will be "counselled."

$1,000 Reward Offered for Two-Headed Turtle
Police In New York are looking for a missing pet ­ a two-headed turtle ­ which was stolen from a Brooklyn pet store. Owner Sean Casey said it took police some time to believe that he wasn't joking and that the two headed turtle lived in a tank in the window and wasn't for sale. Two-headed turtles are rare ­ but their chances of survival are better in captivity ­ if their owners understand that the extra head makes normal swimming and diving dangerous. Casey has offered a thousand dollar reward and the Police hunt has been bolstered by neighborhood kids who want their favorite turtle back in his tank.

Cat Has Extra "Hearing Power"
Speaking of weird animals ­ a tiny cat called Yoda has a huge fan base in Downers Grove, Illinois thanks to his extra sensory "hearing power." Little Yoda has four ear flaps instead of two. Ted and Valerie Rock adopted the tiny grey kitten from a neighborhood bar on the South Side of Chicago where patrons figured the runt of the litter with the extra ears was actually a devil cat or had evil powers. But far from being on the dark side, little Yoda enjoys perfect health and hearing. His owners only fear; that someone might catnap their 4-eared wonder.
Man Passes 9 Foot Long Parasite
A man claiming he got a three-yard long tapeworm after eating undercooked fish is suing a Chicago restaurant. Anthony Franz claims he fell violently ill after eating a salmon salad and later passed the giant parasite. However, parasitologists say its unlikely the monster tapeworm came from the salad. For one to reach 3 yards in length it was more likely to have been ingested years earlier ­ and two ­ you'd think he'd have noticed it amongst the lettuce leaves.
Listen to Current World News



Separation Anxiety
Gary Helton


Separation anxiety can occur in dogs of all ages and breeds. These dogs may bark frequently when they are left alone, sometimes barking for hours. Most dogs, when left alone, find a familiar spot and go to sleep. However, dogs suffering from separation anxiety will become extremely anxious or they may actually become destructive.
In extreme cases, your dog may become depressed, suffer from diarrhea and even bite themselves. They don't understand where you've gone or if you'll ever come back. Some people think that their dog is barking and tearing up the home on purpose, and that he's a "bad dog!" But this behavior is related to being a pack animal. If you punish your dog for this, you can actually make the situation worse.
But there are things you can do to help. Try crating your dog. By limiting his range of motion, you can actually reduce his anxiety and stress. It's a good idea to make sure he has some toys to chew on while he's in the crate.
You should also ignore your dog just before leaving the house. By that, I mean don't make a lot of fuss by giving him extra attention and then stop all of a sudden, and then leave. Some people actually leave the radio or TV on while they're gone. You can leave these on in a room where you usually are, and then just close the door. When your dog hears this, he might feel that someone else is in the home.
Another good idea is to exercise your dog before you leave the house. A tired dog is less likely to be stressed. Ten minutes of playing, such as chasing a ball, is also a good way to exercise him before you leave.
You can practice these procedures several times, leaving your dog for longer periods each time. Remember to give him rewards for good behavior and this should eventually reduce his anxiety and stress.



Animal Radio® News with Bobbie Hill



Pet Food Recall Continues
The pet food recall issued last week by Mars Petcare U.S. is continuing. The U.S. Food and Drug Administration said Pedigree brand dog food is being recalled due to possible Salmonella contamination. The food, sold under the name Pedigree Complete Nutrition Small Crunchy Bites, was shipped to stores in Nevada and California. Albertsons stores in Southern California and Las Vegas have pulled the product from store shelves. The 20-pound bags of recalled food can be returned to the place of purchase for a refund. Consumers can contact the company at 877-568-4463 for more information.

Yawns Are Contagious To Dogs
When someone near you yawns, do you? Yawning is contagious and it seems dogs are just as sensitive to catching it. A study at London's Birkbeck College tested 29 dogs with 72 percent showing susceptibility to catching human yawns. Researchers say the behavior showed dogs have the ability to read human cues and "may relate to their capacity for empathy."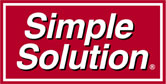 NEWS UPDATE Brought To You By Simple Solution Natural Line Of Products



Just What IS That Doggie in the Window?
Dr. Jim Humphries, Veterinary News Network


Call them mutts or hybrids, mixed breed dogs are definitely one of the most beloved pets. Some people are proud of their "half Collie, half Shepherd" and others are just as content to call their dog a "Heinz 57". But, how do you know what the "mix" is in your mixed breed dog? More importantly, does it really matter?
Until recently, most people could only guess as to their pet's ancestry. The American Kennel Club recognizes more than 150 breeds of dogs and 62 more are considered Foundation Stock. About 400 hybrid breeds are listed by the Hybrid Breed Club. Without some sort of validation from the breeder, people were at a loss to discover what type of dog their pet might be. But, the mapping of the canine genome has now given scientists new tools to help answer some owners' questions about their pet's "roots".
It is now known that humans first domesticated dogs from wolves more than 13,000 years ago, but some "tame" wolves may have associated with early humans as far back as 100,000 years ago. The mapping of the dog's genome has validated that all of our canine friends, purebred and mutt, descend from the gray wolf. It may seem far-fetched, but Chihuahuas and Great Danes have almost identical DNA and, believe it or not, could actually breed and reproduce. Although most people are content with the love and affection of their mutt, a recent survey showed that 60% of dog owners would welcome knowledge that would help them better understand their pets.
The Wisdom Panel® DNA test for mixed breed dogs enables some of these owners to find answers. This new analysis is a comprehensive DNA based test that uses unique, breed-specific markers in the DNA to identify what breeds are most common in a dog's ancestry. By taking advantage of something called "SNiPs" or single nucleotide polymorphisms, scientists have designed blood tests that can determine from what breeds your dog might have descended. SNiPs are single changes in the DNA code that allow researchers to track human population migration, or for CSI fans, to find the murder suspect from a single drop of blood.
With a small amount of blood drawn by your veterinarian, the Wisdom Panel can determine your pet's unique ancestry through the use of more than 300 SNiPs. According to Genetic Research Manager, Dr. Paul Jones of Mars Veterinary, the Wisdom Panel has the ability to identify 134 AKC registered dog breeds that could be present in your pet's past. Validation testing by Mars, which is ongoing, has shown an 84% accuracy rate.
So what does all of this mean for you? Knowing the breed predilection to various diseases, could this test predict that your pet will develop cancer or kidney failure?
Dr. Lowell Ackerman, a board certified veterinary dermatologist and noted author says that the test is "really more for entertainment rather than medical or diagnostic purposes." A point with which Dr. Jones agrees. He states, "The Wisdom Panel should only be used for informational purposes. It should not be used to try and link a disease process with a pet because of its ancestry and known pre-disposition to certain diseases or congenital malformations."
And what about the legal implications? Could an insurance company deny coverage to you because of your dog's ancestry? To date, this has not been an issue, but the thought does raise questions. As an example, some cities have tried to enact pit bull bans. But, according to Jones, there is no method of proving pit bull ancestry due to the genetic variability of this dog. Could other "aggressive" breeds be singled out? Is it possible you may have to move because of your Rottweiler or Doberman? Could your homeowner's insurance deny you coverage because your dog has too much German Shepherd?
For those folks who want to provide the latest in pet identification, there is even a DNA fingerprinting test for your pet available through www.pawsitiveid.net. Using a cheek swab (just like CSI), scientists can often gather enough DNA to create a DNA fingerprint for your pet. Unfortunately, unlike CSI, pet owners often have to send multiple samples in order to generate enough DNA for the testing. Kansas State University uses similar testing to verify identity and parentage of racing greyhounds.
If you want to know more about your pet's genetic background, ask your family veterinarian about the Wisdom Panel. After a simple blood sample, you can expect results back within a few weeks. These tests usually cost between $100 and $200. The cost difference may reflect your veterinarian's involvement and consultation in the interpretation of the results.
All in all, the Wisdom Panel could be a fun way of taking a new look at your family pet. You should remember that there are limitations to this test and it will not likely provide any concrete evidence of either medical or behavioral issues. If you have concerns about breed specific diseases or problems, talk with your veterinarian. There are specific DNA tests available for many hereditary diseases of dogs.
To see a video on this and many other medical advances, visit www.MyVNN.com.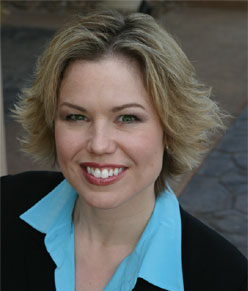 Your Vet Questions Answered with Dr. Debbie

What is Parvo?
Parvo is a virus that goes into a pet's intestinal tract and causes them to be unable to digest foods. They vomit, they have diarrhea, and sometimes it's even bloody in nature. They have a loss of appetite and become very dehydrated. It is a highly fatal disease.

Historically, Parvo has been around for quite some time. It was about the 1970's or 1980's when the virus really started to come out and took control of the dog population. It is still seen today, but it is completely preventable with vaccinations.
Dog Suddenly Developed Bald Spot
Dr. Debbie fist checks to see if this dog recently had any vaccinations, as sometimes, a bald spot can result at the site of vaccinations. This may also be a hot spot, which can be from an infection or an allergy, which would necessitate antibiotics. The best thing to do in this case is to get him to a vet for a checkup to find out what is going on.
Win Animal Radio® Advance Screening Passes of Disney's Beverly Hills Chihuahua

Here's your chance to win passes to a special advance screening of the hilarious new doggie adventure-comedy BEVERLY HILLS CHIHUAHUA from Walt Disney Pictures. If you live in one of the cities holding a special advance screening (Albuquerque, Atlanta, Austin, Baltimore, Boston, Charlotte, Chicago, Cincinnati, Cleveland, Columbus, Dallas/Ft. Worth, Denver, Detroit, Grand Rapids, Hartford, Honolulu, Houston, Indianapolis, Jacksonville, Kansas City, Las Vegas, Los Angeles-Orange County, Miami/Ft. Lauderdale, Milwaukee, Minneapolis/St. Paul, Nashville, New York City/Long Island, Norfolk, Orlando, Philadelphia, Phoenix, Pittsburgh, Portland, Raleigh/Durham, Sacramento, Salt Lake City, San Antonio, San Diego, San Francisco-San Jose, Seattle, St. Louis, Tampa/St. Petersburg and Washington DC) listen for a chance to call in and receive passes for a family of four to attend the advance screening in your local market. If you don't live in one of those cities, we'll have a second-chance drawing to win a set of movie t-shirts for an adult, a child and a Chihuahua! BEVERLY HILLS CHIHUAHUA opens in theatres everywhere October 3rd but Animal Radio® is taking you to see it first!"

The cast of BEVERLY HILLS CHIHUAHUA includes: Piper Perabo, Manolo Cardona, Eugenio Derbez and Jamie Lee Curtis with the voices of Andy Garcia, Plácido Domingo, George Lopez, Edward James Olmos, Paul Rodriguez, Cheech Marin, Luis Guzman, Eddie "Piolin" Sotelo, and Drew Barrymore as the voice of Chloe.
Chloe (voice of DREW BARRYMORE), a diamond-clad, bootie wearing Beverly Hills Chihuahua enjoys her luxurious lifestyle so much, she hardly notices Papi (voice of GEORGE LOPEZ), a hilarious Chihuahua who happens to be crazy for Chloe. But when the most pampered pooch gets lost in Mexico with only a street-wise German Shepherd (voice of ANDY GARCIA) to help her find her way home, Papi heads south of the border ­ joining forces with a motley crew: three dogs (voices of PLÁCIDO DOMINGO, LUIS GUZMAN and EDDIE "PIOLIN" SOTELO), two humans (PIPER PERABO, MANOLO CARDONA), a sly rat (voice of CHEECH MARIN) and a nervous iguana (voice of PAUL RODRIGUEZ) ­ to rescue his true love.

Here are some fun facts about the movie:

· FACT 1: The film features a truly international cast of dogs and a variety of breeds -Dobermans, German Shepherds, Poodles, Pugs, Chinese Cresteds, a French Bulldog, a St. Bernard, a Labrador, a Border Terrier, a Dachshund, a Boston Terrier, a Yorkie, a Beagle, a Dalmatian, a Border Collie, a Pomeranian, a Bichon and Pekingese. Some were found at rescues in Los Angeles and Mexico -- some were seasoned Hollywood dogs. Half of them understand Spanish, half of them understand English.

· FACT 2: In addition to more than 200 dogs of various breeds, the film features appearances by many different types of animals, including snakes, pigeons, coyotes and a mountain lion, plus two virtual animals ­ a rat and an iguana.

· FACT 3: "Rusco," (ROOS-KO) the Chihuahua tapped for head hound PAPI, was rescued from a shelter. It was his big ears and great expression that attracted the filmmakers to the part-Chihuahua, part-mutt mix. Rusco has since found a permanent home at his trainer's seven-acre ranch outside of L.A. Today, he hangs out with his new canine brothers and sisters and awaits his next big Hollywood role.

Listen to the entire Podcast of this show (#457)

Broadcast on XM Satellite Radio and Podcast Versions Only.

Listen to Animal Radio® - Go to the launch page
Return to Animal Radio Network™ Home Page
Read September Newsletter
Copyright 2008 All Rights Reserved Animal Radio Network LLC