September 15, 2007

Annemarie Lucas - Animal Precinct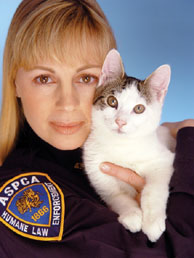 We speak with Annemarie Lucas, who is a Supervisory Special Investigator for Humane Law Enforcement (HLE) at the American Society for the Prevention of Cruelty to Animals (ASPCA). She has received training by both the New York City Police Department (NYPD) and the Federal Bureau of Investigation (FBI). Annemarie is also the star of Animal Precinct. She currently discusses how someone who is interested in this line of work can get started,
Humane Law Enforcement/Animal Control Officer:
HLE/AC officers inspect kennels, pet shops, stables, and other places where animals are kept to make sure that animal welfare regulations are being followed. HLE/AC officers respond to reports of animal cruelty, investigate, and if warranted, may make arrests. HLE/AC officers also enforce licensing laws and rescue trapped animals. For example, there was a fire in a building in Manhattan and ASPCA HLE officers went into the building with the help of the fire department and rescued the animals that were trapped in the building.
To become a HLE/AC officer usually requires a minimum of a high school diploma, possibly some courses in criminology and animal sciences and specific job training. Prior experience as a police officer, park ranger or peace officer will make you a more attractive candidate for the job.
Some states require certification.
The OOH predicts fast as average (9-17%) growth for jobs in Animal Control through 2014.
http://www.ASPCA.org
Starting a Pet-Sitting Business
Jaime Deason, Fetch! Pet-Sitting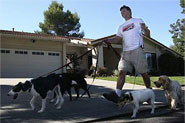 Jaime Deason had trouble finding good pet care for her own pets. She also thought that others might have the same problem. As a result, she decided to open up her own pet-sitting business and contacted Fetch! Pet Care.
Fetch! Pet Care was able to help her to setup her business and trained her how to recruit, train, motivate and manage her staff.
But, pet-sitting isn't for everyone. Here are six things to be aware of:
1. You're going to get dirty.
Be ready for a lot of exercise in all kinds of weather. In the summer "I definitely take two showers a day," Jaime Deason says.
2. You'll need transportation.
Make sure you enjoy spending time in your car. Pet sitter Gabe Schneider estimates that he spends 20 percent of his time driving from one assignment to another.
3. You won't have steady hours.
Working from home means you never get to leave your job at the office. Deason says, "My husband has implemented a no-phone-at-the-dinner-table rule." But otherwise she encourages her sitters to call her with problems at any time of the day or night.
And because business naturally fluctuates, Deason can't guarantee her sitters, who are independent contractors, a set number of hours.
4. Your vacation time will be unusual.
Demand for your services is highest on weekends, summers and holidays.
5. You'll need to be flexible.
Deason recently gave up a weekend trip to take a boarding assignment when it was discovered at the last minute that an apartment-living dog who was assigned to another sitter couldn't handle the stairs in her house.
6. You'll need to be an animal and people person.
Perhaps the most important thing to remember is that pet-sitting is a people business as much as an animal one. And as Deason says, "With pets, like children, everyone has their own idea of how to raise them." Some people are laid back, some people are finicky. "You're going to run into all kinds of idiosyncrasies," Deason says. "Some people like their dog food mixed by hand. You'll never cease to be surprised."
Who would have thought that caring for pets could be lucrative? The fact is, over 69% of U.S. households own one or more pets and the demand for specialized pet care services outfaces the supply of professionally trained operators. In 2007, Americans are projected to spend over $41 billion on their pets - double of just a decade ago. By 2009 this number is projected to grow to over $52 billion. This demand is projected to increase exponentially every year as pet owners find themselves working longer hours, traveling more for business and personal reasons, looking for alternatives to crowded kennels, and generally spending more on the positive welfare of their furry family members.
To find out more how to get started contact 1-866-FETCH-ME (1-866-338-2463) or email franchise@fetchpetcare.com.
http://www.fetchpetcare.com
Cat Predicts Death
Britt Savage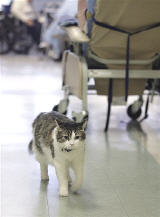 Oscar the cat, who was adopted as a kitten by the Steere House Nursing and Rehabilitation Center, seems to be able to predict when patients are close to death.
When a patient is near death, Oscar curls up to them during their final time. He has been accurate in over 25 cases. Now, when the staff see Oscar with a patient, they call family members to come to their loved one's bedside.
The patients that get a visit from Oscar are very ill and probably are not aware of his presence. However, family members are comforted knowing that their family member was not alone.
Oscar recently received a wall plaque publicly commending his "Compassionate Hospice Care."
So You Want to Become a Dog Trainer?
Joel Norton, HollywoodPaws


Have you ever wondered how to become a dog trainer? HollywoodPaws is looking for you! Our courses can teach you everything you need to know to start on the path to becoming a professional dog trainer. Learn the tricks of the trade ­ from the commands for basic obedience to the complex cues used in movies, TV and commercials.
HollywoodPaws holds its trainers to a higher standard. Our graduates are equipped not merely to give effective commands but to get a perfect performance out of an animal actor under the most demanding circumstances.
But what you'll learn in our workshops and courses has uses far beyond the entertainment world. These are the bedrock skills for any animal-related career, such as running a boarding kennel, pet health, pet sitting services or other pet care business. Possessing these abilities might enable you to launch your own animal-related enterprise or make additional income by training part-time. Working with animals is richly rewarding ­ the kind of career that makes you look forward to Monday morning ­ but unless you acquire and develop the ability to communicate effectively with animals, it will remain forever beyond your reach.
At a young age Joel knew he wanted to work with animals. Like most children he wanted to be a veterinarian but discovered there was more out there than just healing the sick. After seeing a few episodes of "The Crocodile Hunter" he wanted to be just like Steve Erwin and learn hands on as much as he could about animals.
To find out more about their workshops, please call 888-781-7827 or visit http://www.hollywoodpaws.com.
NEWS UPDATE: A Puppy with a Big Heart


The latest heartthrob in Japan is Heart-Kun, a little Chihuahua puppy, who was born with a heart-shaped mark on his coat.
Heart-Kun's guardian, Emiko Sakurada, states that ever since he was born, she has been having good luck. Emiko has won the lottery and a concert ticket.
Heart-Kun has become a celebrity after a local television station aired his story. And as you can imagine, Emiko has had calls from people who want to buy heart-Kun, but she is not selling.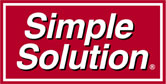 NEWS UPDATE Brought To You By Simple Solution Natural Line Of Products
Hi-Tech Lost & Found -Microchip ID For Pets Not Yet The Answer
Dr. Jim Humphries, Veterinary News Network


Without a doubt, microchips provide the most reliable and most secure method of identifying your pet. But, with the never-ending controversy over different types of microchips, can you really rely on this "high-tech" ID tag?
Many pet owners assume that the use of a microchip in their pets will keep their pets safe and bring them home if they are lost. But, what really happens when your pets run away? Are pet owners aware that this safe, secure, and "fool-proof" pet ID can fail?
Essentially, microchips are computer chips about the size of a grain of rice. Easily implanted under your pet's skin by a hypodermic needle, microchips provide permanent identification that won't wear out, fade, or get lost if the pet runs away. Special scanners find the microchip and can translate into a specific ID code. These unique numbers can then be found on a database and, with luck, the owners can be contacted and the family will be together again.
In the United States currently, there are microchips using 4 different frequencies. Over the last 17 years, the predominant frequency has been 125 kHz. Some pets might have a different chip, one that emits a frequency of 134.2 kHz, otherwise known as an ISO chip. If a local shelter does not have the right scanner, they can actually miss this chip!
This confusion of frequencies has caused a storm of controversy. According to Dr. Dan Knox of the AVID Company, these multiple frequencies will continue to put pets at risk by confusing the system. He says that adding new frequencies will only cause more work for under-staffed shelters and will potentially be dangerous to pets.
Dr. Knox's concern was validated in 2004 when a young dog was euthanized after a Virginia shelter failed to find a microchip. The dog had been implanted with the ISO chip and the shelter could not read it.
With the exception of the United States, the rest of the world has been using the ISO chip for identification. Recently, 2 major veterinary pharmaceutical companies have teamed up with microchip manufacturers to create a stronger support system for the ISO chip. They are handing out more than 60,000 new scanners that are capable of reading all four frequencies in use. Julie Lux of HomeAgain Pet Recovery says that "our first focus is to protect the pet."



But the mixed up frequencies are not the only real problem with this high tech system. This second major issue is that many pets are not properly registered. In fact, Michael Gendreau, product manager for the ResQ® ISO chip states that less than half of microchipped pets have been entered accurately into any database ­ a major fault with this system. Even if they are registered, information can quickly become outdated if the owner fails to change it during a move.
All of the microchip manufacturers agree that veterinarians and shelters must be strongly proactive in finding ways of getting the information into an easily accessible national database. Unfortunately, it appears that many of the registration websites are complicated, often offering multiple services. According to Ralph Johnson, Executive Director of the Colorado Veterinary Medical Association, "Pet recovery databases should be used solely for the purpose of bringing pets home and not for medical records access or marketing purposes."
These problems are obviously overwhelming and veterinarians are concerned. This wonderful technology is simply not ready for prime time. Old fashioned methods, such as ID collars and tags should be used along with the microchip until issues can be resolved ­ hopefully sooner rather than later.
http://www.VetNewsNet.com

Fido Friendly Travel Talk
Susan Sims, Fido Friendly Magazine


Fess Parker's DoubleTree Resort in beautiful Santa Barbara, California is pet-friendly! Listen to Fido Friendly Travel Talk with host Susan Sims and Marketing Manager Beth Olson and find out what's in store for you and Fido at this 52-acre resort!
We have designated rooms for pets! To best accommodate you please make your travel arrangements directly with our Reservations Desk so that we can best serve you.
Pets at the Resort:
24 acres of grounds/paths
Directly across from the beach
Pet Menu In room dining
All rooms have balconies or patios
No size restriction
A $40.00 one-time, non-refundable pet fee
Pet gift upon check in - gifts also for sale in gift shop
Fess Parker's DoubleTree Resort
633 East Cabrillo Boulevard
Santa Barbara, CA 93103
(805)-564-4333
http://www.fpdtr.com
Fido Friendly Magazine:


The Travel Magazine For You & Your Dog, a complete guide to Fido-friendly accommodations across the United States and Canada. "Fido Friendly is the only magazine dedicated to the travel lifestyle of man's best friend, and the one magazine your dog will thank you for." And don't forget to join the Fido Friendly Travel Club.
http://www.fidofriendly.com
http://www.fidofriendlytravelclub.com
World's Smallest Horse
Michael Goessling, Thumbelina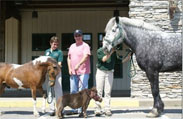 She stands a mere 17.5" tall and weighs 57 pounds. Her brown-and-white coat feels like velvet and her enormous brown eyes suggest a quiet wisdom. They also belie a mischievous Side. She likes to untie shoe laces when you're not looking and wiggle under fences to reach grassy fields. When she's not playing with her best friend, Cassie, an Estrella Mountain Dog (I hadn't heard of this breed either; they're very rare), she can be found napping in an Igloo doghouse.
Her name is Thumbelina and she is the world's smallest horse.
Born six years ago at Goose Creek Farms in Missouri, Thumbelina has been turning heads from the moment of her birth, according to her handler Michael Goessling. "It was early morning of May 1, 2001 and my mom said there was something in the barn that I had to see," Goessling remembers.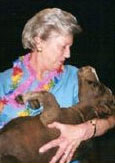 "At first I thought it was a possum but as I got closer, I realized it was a tiny foal."
Thumbelina was born to two miniature horses and she is extra tiny because she is also a dwarf, making her a "mini-mini." While she is perfectly healthy in most respects, she does have a few orthopedic issues. If you look closely, you can see that her right rear leg turns slightly inward and she wears special shoes to help compensate for the deformity. And because of her petite physique, she can't carry a rider on her back.
"She's never been ridden and never will," stresses Goessling. "She has other things to do!"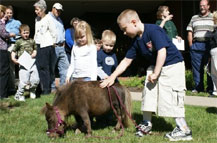 Goessling is referring to the Thumbelina Children's Tour, whose goal is to raise $1 million this year to help sick and needy children. Since May, Thumbelina and Goessling have been, um, hoofin' it around the country in a specially-equipped 30-foot RV dubbed the "Thumby Mobile." This dynamic duo are making stops in the 48 contiguous states and delivering smiles and hope at children's hospitals, schools, summer camps, fairs, horse shows and charitable fundraisers. They will wrap up the tour in November at the Macy's Day Parade in New York City.
Thumbelina is the perfect children's advocate. After all, her name comes from the Hans Christian Andersen fairytale of a woman the size of a thumb.
Thumbelina is also looking for corporate sponsors for the remainder of her tour.
http://www.worldssmallesthorse.com
Goats as Pets?
Councilman Richard Conlin, Seattle, WA


Goats as pets? Why not! Seattle City Councilman, Richard Conlin, feels that people in Seattle should have the right to have a miniature goat as a pet.
Cat and dogs are legal, so why not goats? In fact, there are many qualities of pygmy goats. They can "mow a lawn," clean out the weeds and provide milk and cheese. What cat or dog can do that?
Currently, goats are classified as a farm animal and cannot be confined on lots smaller than 20,000 square feet. Conlin would like to see them changed to a classification of a small animal, with licensing just like dogs and cats.
Conlin also said that the disease risk is low, but that unneutered male goats have a certain smell. Having the goat neutered would solve that problem. They would also have to be de-horned for obvious reasons.
http://www.seattle.gov/council/conlin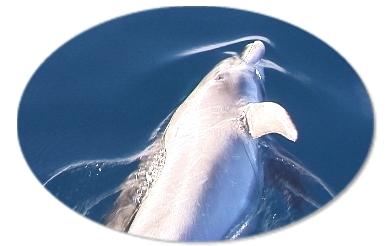 Frolicking Whales and Dolphins
Jan Sluizer
Jan reports on a catamaran ride of the south Maui coast to watch whales and dolphins frolic.


Listen to the entire Podcast of this show (#407).



View Animal Radio Network™ Broadcast Schedule in a new window.


Listen to Animal Radio® - Go to the launch page


Return to Animal Radio Network™ Home Page


Read September Newsletter
Copyright 2007 All Rights Reserved Animal Radio Network LLC