Sept. 16, 2006
Governor for the Animals and the People
Kinky Friedman for Governor of Texas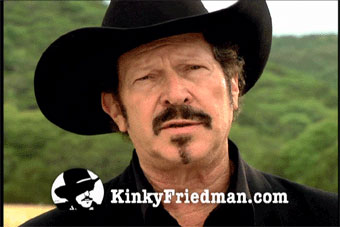 The last independent governor of Texas was Sam Houston. Hopefully, the next will be Kinky Friedman. Without a political party to appease or lobbyists to pay back, Kinky will answer only to the people.
Part of Kinky's platform is to close the Dallas Crown slaughter plant in Kaufman, Texas, where horses are slaughtered and sold to France for human consumption. He would also like to make Texas a "no-kill" state, where no homeless animals are put down in shelters, and to ban the declawing of cats.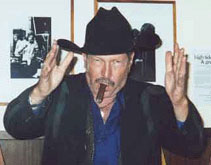 Another concern of Kinky is when the 75th Texas Legislature created the Animal Friendly license plate in 1997. The intent was to raise money to fund low cost or free spay and neuter programs throughout Texas; to help stop the killing of unwanted animals across Texas. Unfortunately, the money has been going to the state's general fund.
Kinky runs the Utopia Animal Rescue in Texas.
http://www.UtopiaRescue.com
http://www.KinkyFriedman.com
Arrested for Helping Dying Chained Dog? Shocking Video Footage
Tammy Grimes, Dogs Deserve Better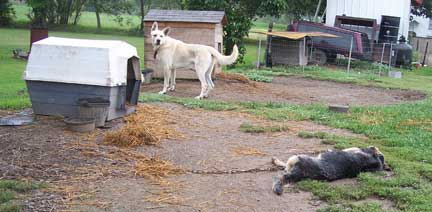 Tammy Grimes, founder of Dogs Deserve Better, was arrested Monday, September 11, 2006, for helping a dying chained dog she dubbed Doogie in East Freedom, Pennsylvania. Grimes organization was called with frantic pleas for help by a neighbor and another concerned citizen who alerted them to his plight.
Kim Eicher, the neighbor, stated that Doogie had been unable to stand since Saturday, and she had gotten no response from the local humane society after calling all weekend. Grimes instructed her to call again, leaving a detailed message. When Ms. Eicher had gotten no response by noon, Grimes' team went out to see if they could help Doogie.
Grimes, upon seeing Doogie from the road, initially felt he had already died, as he was lying with his back to the road and was not moving. Her team went to investigate, and found that he was still alive, but was unable to stand, his legs flailing about in the mud and his own feces. She then documented his condition with video and photos, and-making the decision to put Doogie's welfare ahead of any fears of legal action-took him to a local veterinarian, getting him immediate and necessary care. She then took Doogie to her home, bathed him, gave him food and water, and made him comfortable.
She was later arrested for her refusal to return Doogie to a certain and immediate death on the end of a chain. She is now facing misdemeanor theft, receiving stolen property, criminal mischief, and criminal trespass charges.
Grimes states, "I will always be proud of what I did for Doogie. As Oprah says, there is one thing I know for sure: helping Doogie was the only morally right thing to do. The video has been placed on You Tube, and has received over 13,000 views in two days. People are astounded and outraged that we live in a society where those who help suffering animals are arrested, and those who abuse them are not punished. I am calling for my immediate release from all charges, and for the Arnolds to instead be charged with abuse-based on video and photo evidence, the testimony of a neighbor and another citizen, and the testimony of the veterinarian. I am asking all concerned citizens to stand with me against this atrocity. Speak out, do not let the press and local authorities railroad me while the Arnolds get away with this abuse. Please visit the website at http://www.dogsdeservebetter.org/doogie.html. View the video. You will understand why I had to stand up for Doogie; he could not stand up for himself."
Dogs Deserve Better is a 501c3 nonprofit organization headquartered in Tipton, Pennsylvania, is the 2003 First Place Winner of the ASPCA Pet Protector Award, and currently has 150 area reps in 38 states as well as in Canada and Australia.
http://www.DogsDeserveBetter.com
Fred Willard
The 1st Annual Canine Film Festival


Wag Pet Hotels presents The 1st Annual Canine Film Festival, a fun-filled, weekend-long benefit filled with some of the most beloved films--as well as some riveting newer films--that feature dogs.
Dogs have portrayed heroes, rascals, comics, straight men, fall guys, angels, devils, detectives, protectors, and most of all--best friends. But until now, there's never been a major film festival focusing on these furry stars and sidekicks!
KRON-TV's Jan Wahl hosts an exciting Gala Evening reception and program featuring Fred Willard, Jane Lynch, and other stars from the hilarious hit movie Best in Show. And on Sunday, join the fun as JoAnne Worley emcees a dog-themed drag queen contest where some of San Francisco's most colorful characters will compete for the title of Queen of the Canine Film Fest. A screening of the live-action 101 Dalmatians follows the contest.
http://www.CanineFilmFest.org
Tails from the Road
Tracie Hotchner, THE DOG BIBLE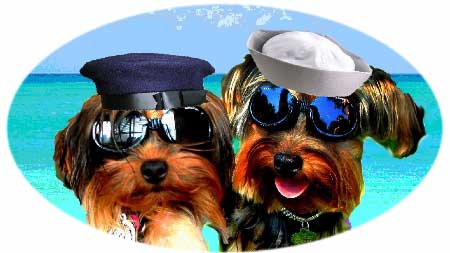 Tracie comes to us live from the 1st Annual New York City Canine Cruise and BARC Fundraiser. This event closed out the summer with a BARK! The 1st Annual New York City Canine Cruise was for the diminutive dog (20 pounds and under) of New York City, the tri-state area, and beyond. Small dogs, their owners and friends cruised around the New York City Harbor on a chartered Circle Line, for a 3-hour sight-seeing tour and doggie-centric on-board activities! All of this fun while raising funds for BARC, a worthy no-kill animal shelter out of Brooklyn, New York
http://www.TheDogBible.com
http://www.CanineCruise.com
Fear of Flying with Pets
Dr. Jim Humphries, Veterinary News Network


New report may conquer fear of flying with poets. Pet owners who worry about shipping Fido in the belly of an aircraft might want to chew on this. Despite previous estimates from animal rights groups that thousands of animals were killed, injured or lost on commercial airlines each year, only 56 incidents were reported nationwide in the past year. And, that is the first year that official statistics were kept. A Dallas morning news analysis of records reported by airlines to the federal government revealed that 28 animals died, 22 were injured and 6 were lost form May 2005 through May 2006. About 70% of the incidents involved dogs, which are more likely to travel in cargo than in the cabin, 14 cats, 2 birds and 1 rat made up the rest. The figures don't show how many animals travel on each airline each month. It is important to know that cargo holds throughout the industry are temperature controlled and pressurized to the same degree as the cabin. Continental allows year-round flying, because it transports the pets to and from the plan in temperature controlled vehicles. It also has arrangements in all cities with local veterinarians to respond to animal emergencies. The airline's Pet Safe Program is designed to attract passengers flying with animals.
http://www.VetNewsNet.com
Oldest Crow Lives to Age 59
Britt Savage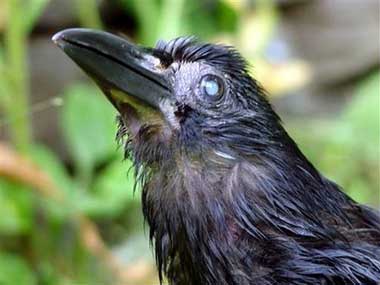 Even though it can't be proven, experts say it is possible that Tata, the crow, was 59 when he died.
Tata was never able to fly after a thunderstorm blew him out of his nest in a Long Island Cemetery. Tata was taken by the cemetery caretaker to a local family who was known for taking care of animals in the past. The family took care of Tata for over 50 years, when they had to give him up due to their own health problems.
Tata then lived out the remainder of his life, even though he was blind and had cataracts, with Kristin Flones.
"Lassie" and Dr. Jeff Werber, Vet to the Stars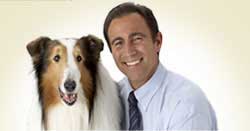 Lassie is one busy dog these days. Not only has she just released her latest movie "Lassie," but she also is launching a new natural dog food, and the new "My Pet, My Pal" contest. Lassie is looking for a new best friend to appear on packages of her new dog food, Lassie Natural Way ­ and it could be your dog!
Lassie is the star of eleven movies and a two-time Emmy Award winning TV show. The current Lassie is a 9th generation descendant of the original Lassie.
Dr. Jeff Werber has been a practicing veterinarian for more than 20 years and has treated the pets of some of Hollywood's biggest stars including Britney Spears, Julia Roberts, Ben Affleck, Magic Johnson, Eddie Murphy, Paula Abdul, Rod Stewart and of course Lassie.
http://www.Lassie.com
http://www.Lassie.tv
Talk With Your Animals
Joy Turner
Joy speaks with Kong, who's stomach flipped and his guardian wants to know if he is in pain.
http://www.TalkWithYourAnimals.com


Hornets: The Original Paper Mache Artists


Rae Ann Kumelos, Voice of the Animal
To stir up a hornets' nest means big trouble, but actually, hornets are gentle creatures, who are especially gifted paper artists, as well as amazing architects.
http://www.VoiceOfTheAnimal.org
Bond Between People and Their Pets
Emily Scott Pottruck, Tails of Devotion


Tails of Devotion represents an interesting dialogue between guardian and pet, and vice-versa, through a series of letters that answer the question: "If you and your animals could communicate via paper, what would you say to each other?" In one such letter, Robin Williams' dogs tell his family to "Please Stop Traveling!"
When asking someone to talk about their pet, you will see an immediate smile on their face while it lights up!
All proceeds ­ 100% - will go to The San Francisco SPCA, the Friends of San Francisco Animal Care and Control, PAWS (Pets are Wonderful Support), Pets Unlimited and Rocket Dog Rescue.
http://www.TailsofDevotion.com
Pioneering Work of the Late Cleveland Amory
Julie Hoffman Marshall, Making Burros Fly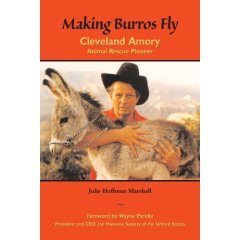 A new book by award-winning journalist Julie Hoffman Marshall, Making Burros Fly, is the first-ever biography of Cleveland Amory, a Boston wit and social critic who, as head of The Fund for Animals, gained fame for his acerbic criticism of opponents involved in cruelty to animals and for his groundbreaking, fearless, and headline-making animal rescues. Among other accomplishments, Amory orchestrated the airlift of 577 burros set for slaughter out of the Grand Canyon by helicopters, and painted hundreds of baby seals to protect them from being killed for fur. He was especially skilled in using his own celebrity to attract the powerful and influential to his cause.
Before his rise to fame as one of the foremost animal crusaders and activists of the 20th century, Amory was a social satirist, a TV Guide critic, and a commentator for NBC's Today Show. In addition to his works of social criticism, and his pioneering Mankind (1974), a sharp indictment of hunting and other threats to wildlife, he was the author of best-selling books about his cat Polar Bear (The Cat Who Came for Christmas, The Cat and the Curmudgeon, The Best Cat Ever).
http://www.FundForAnimals.org
Funny Cat Names Contest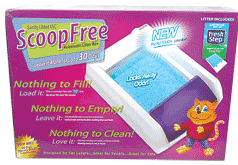 ScoopFree Automatic LitterScoopFree and Animal Radio are looking for the funniest cat names and the story behind them. Just submit your funny cat name and story and you will be eligible to win one of 3 prizes. Each prize consists of your choice of one Scoopfree automatic litter box or (if you already own a ScoopFree) a case of 6 ScoopFree Throwaway Trays filled with Fresh Step® Crystal litter.
Listen to Animal Radio at www.AnimalRadio.com for chances to win additional ScoopFree boxes, ScoopFree Throwaway Trays and other prizes for you and your cat.
ScoopFree is the first litter box you can leave totally alone for up to 30 days with one cat (15 days with two cats)-no scooping, cleaning or refilling. It utilizes our ScoopFree Throwaway Tray™ which comes pre-filled with Fresh Step Crystal litter. The crystal litter absorbs the liquids and dehydrates the solids, providing unbeatable odor control. The box automatically rakes and grooms the litter and seals the solid waste into a trap built into the tray, so you never have to see, smell or touch messy waste. After about a month, just remove the old tray and throw it away. Then replace with a new tray and you have just cleaned you litter box for another month.
The contest begins at on September 1, 2006 and ends on September 30, 2006. If you are chosen as a winner, you will be able to select which prize you want to receive. Winners will be notified by email by October 16, 2006. Not valid where prohibited by law.
http://scoopfree.com/contest/
ENTER FUNNY CAT NAMES CONTEST
Listen to the 1st Hour ABRIDGED VERSION Podcast of this show (#355).
Purchase a CD Copy of this Show

View Animal Radio Network® Broadcast Schedule in a new window.


Listen to Animal Radio® - Go to the launch page


Return to Animal Radio Network® Home Page


Read September Newsletter
Copyright 2006 All Rights Reserved Animal Radio Network LLC