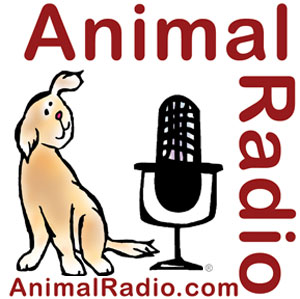 Animal Radio® Show #668 September 22, 2012
Animal Radio® is LIVE from SuperZoo Las Vegas
Our New Pet Product Special is from the floor of the Mandalay Bay Convention Center and the world's largest tradeshow for the pet industry. Not only are we featuring the best new stuff for you and your pet, we are also giving you every new product we're talking about.
Double Header Jose Canseco and Steve Garvey Guest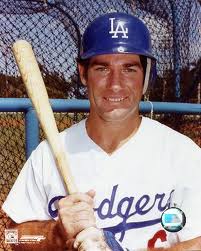 Steve Garvey, who was the first baseman for the Dodgers, was at the Natural Balance booth at SuperZoo, "pitching," by autographing baseballs and bats. Jose Canseco was also at the Natural Balance booth autographing baseballs and bats for the crowd.
Steve has owned several dogs over the years, and currently has a 140-pound Rottweiler named Spartacus, that his wife rescued about four months ago. Steve has 7 kids, and all but two are gone. In fact, one of his sons just signed with the Rockies. With most of his children gone, Steve states that, "Spartacus has taken the place of a few of the humans."
Steve also states, "I've been the warm-up act for Tillman" and that, "Jimmy Van Patten and I do a little song and dance and then say, 'Here's Tillman!" Jimmy Van Patten is the son of Natural Balance founder and actor Dick Van Patten. Tillman is an English Bulldog, and also a representative of Natural Balance, who was named after Pat Tillman, a former NFL professional football player and U.S. Army Ranger. He started skateboarding when he was only 10 weeks old. Tillman established the Guinness World Record for the "Fastest Skateboarding Dog" on July 30th, 2009. Tillman also enjoys snowboarding, skimboarding, and surfing almost as much as he loves skateboarding.
Steve enjoys working with Natural Balance since they have been on the cutting edge of marketing for the industry with so many unique things from their yearly, record breaking, Rose Parade Floats, to stadium sponsorships to Bark in the Parks. In fact, they just held a Bark in the Park at Dodger Stadium where they had about 700 dogs and 4,000 people take over the right field pavilion. There was a "Pup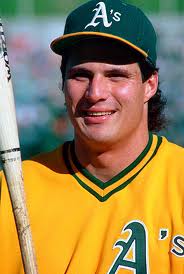 Rally" about an hour and a half before the game, with a parade around the warning track. Usually people are in the stands looking down, and the parade gives them a chance to be on the stadium floor, looking up!
Jose currently has a Great Dane/Weimaraner mix dog at home named Bruce. He weighs about 130 pounds and Jose says that, "He is the most gorgeous dog. Not because he's my dog. He's the most gorgeous dog ever!" His daughter named him after "Bruce Almighty." He is sorry he didn't bring him along. When asked if Bruce sleeps in the bed with him, Jose states that, "Bruce is very spoiled and he has a big air mattress beside my bed, but he jumps on my bed all of the time, and then I kick the girl out that I'm with, and she gets pissed off!"
Joey Herrick, President of Natural Balance, informs us that this coming year's Rose Parade Float will honor military working dogs. They are involved with the first ever monument signed by congress and President Obama to honor the military working dog. The float will be a replica of it in flowers.
http://www.naturalbalanceinc.com
Tagg – The Pet Tracker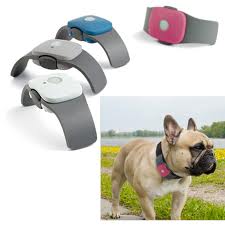 Over 10 million pets are lost each year. At Tagg - The Pet Tracker™, our mission is to make people's lives easier and safer. Tagg was born out of our love of dogs and it uses advanced GPS and location technology to help people find their lost pets. The Tagg™ pet tracking system allows you to see where your dog is and receive a notification if he or she wanders off. The lightweight tracker attaches to your dog's existing collar, and is designed to be worn at all times, even while swimming. Tagg puts you in control of finding your pet. Unlike a microchip, which won't alert you if your pet is lost, Tagg is a GPS tracker that sends you a text and email when your pet gets out so you can find him NOW. Once you get your pet GPS tracker, it's simple to get it up and running. First, create your account. Then activate your Tagg—The Pet Tracker. Finally, set up your Tagg zone, a "geofence" around the area where your dog spends most of his time. Start tracking your dog now. Start tracking now. Don't let your pet become a statistic. Where's your pet? Now you'll always know! http://www.tagg.com
Stella & Chewys
Stella and Chewys knows that the right food (and a lot of love) can promote a pet's health and well-being. You can find Stella & Chewy's products in pet and specialty stores throughout North America and on many online outlets.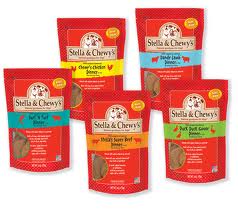 Dog
When you check the list of ingredients in our Dinners, you'll see it reads like a "who's who" of wholesome, healthy stuff. Like raw, naturally-raised meat, poultry or fish, sourced from USDA-inspected facilities. Organic fruits and vegetables such as cranberries, carrots, apples, spinach, broccoli and beets. Healthful, direct-fed microorganisms (probiotics), natural tocopherols, chelated trace minerals and taurine. Plus essential vitamins and minerals. And for your complete peace of mind, every ingredient is sourced from reputable suppliers. What you won't see are any of the usual suspects, like grain, fillers, artificial preservatives, colorings, added hormones or antibiotics. We don't even add sugar or salt! To find out about each flavor, click the packages below.

Cat
Did you know cats are carnivores, and require protein-rich meat in their diet? Our raw diets maintain the nutritional content of foods closest to their natural state. Our freeze-dried foods provide the benefits of a raw diet with the convenience of a dry food. Freeze-drying removes the moisture without cooking, and maintains the benefits of food in its raw state. This is unlike many commercial pet foods that are processed at high temperatures. Our freeze-drying process maintains the vital proteins, vitamins, minerals, amino acids and natural enzymes cats need to thrive. And freeze-drying not only "locks-in" the nutritional value, but also the bold taste your cats will love. Available in two convenient sizes: Single-Serve Pouches (feeds like a 3-oz. can); and 12 oz. Dinner Bags (re-sealable). http://www.stellaandchewys.com
FroliCat
The mission of Brilliant Pet™ is to allow pet lovers to spend more quality time with their pets. Brilliant Pet develops innovative products under the ScoopFree®, FroliCat™, and RouseDog™ brand names. FroliCat/RouseDog is a line of innovative toys designed to engage your pet in fun exercise and enthused play.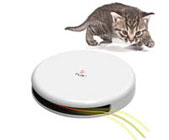 FroliCat™ FLIK™ is an automatic teaser that throws a string to engage your cat in enthusiastic play. Watch your curious cat stalk FLIK and try to capture the string before it hides again.

FroliCat™ POUNCE™ is a rotating hide-and-seek cat teaser. Marshal Maus™ moves unpredictably around the circular path zooming forward, reversing direction, hiding under obstacles and occasionally twitching back and forth to stimulate your cat's natural instinct to hunt, chase, and pounce on his prey!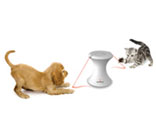 FroliCat™ DART DUO™ is an automatic rotating light with two lasers for shared play for multiple cats and dogs. Random laser patterns entice your pets to dart, pounce, and chase. Adjustable speed and timer settings create16 engaging play combinations.
Kurgo


Kurgo's mission is to help dogs and their owners get out and enjoy the big wide world together. We design each of our products so they are easy to use and last for years. This ambition has guided us to develop award-winning products that make this simple joy in life effortlessly fun…Go Together. Our standard line of products is made with extremely high-quality materials and designed for ease of use. These products help drivers avoid the distraction a moving dog can cause in a vehicle. With the growing application of distracted driving laws to people driving with dogs in the car, these products can help dog owners ensure they are in compliance with their state's laws. Our standard line includes items such as the Back Seat Barrier, the Tru-Fit Smart Harness with plastic Quick Release Buckles, the Auto Zip Line and the Wander Hammock. http://www.kurgo.com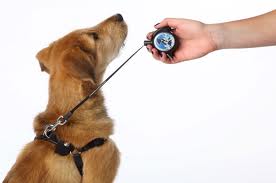 Leash Locket
The revolutionary retractable leash that magnetically snaps to your dog's collar. Never again struggle to hold your dog and clip on a leash. LeashLocket is a retractable leash in a locket that dogs conveniently carry right on their existing collars or harnesses when you want your hands free while out with your dog. This means LeashLocket is always close at hand whenever you're with your dog. There's no struggling to catch your pet in unpredictable or dangerous situations and clip on a leash, because LeashLocket is right there on the collar or harness, ready to grab and go when you need it. If LeashLocket is on your dog's collar, you can't lose it or leave it behind, and your dog gets to carry the leash for a change! The leash extends to nearly 6 feet. http://www.leashlocket.com

GumBone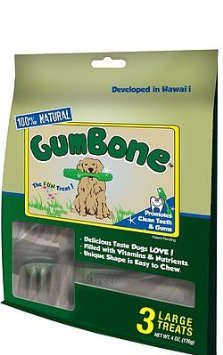 GumBone is a dental chew that reduces tartar and freshens breath.
• 100% Natural, Fully Tested, 100% Edible, No by-products, Easy to digest
• Freshens Breath and promotes clean healthy teeth Each Gumbone is filled with nutrients, vitamins & minerals
• Reduces Tartar, Water Soluble, Guaranteed better Palatability than Greenies
• The only dental chew with Utility Patents- Meaning every quality and design is useful and has a unique purpose. -Size and shape slows pets gulping mechanism allowing proper cleaning and prevents choking
• Tapered shape allows for longer chewing time, which ensures better cleaning of teeth & gums
GumBone is sold in 4-ounce and 12-ounce bags, with four sizes based on the dog's weight. Extra Small for canines under 10 pounds, Small for dogs 10 to 20 pounds, Medium for companions 21 to 40 pounds, and Large for the bigger "best friends" 41 pounds and larger.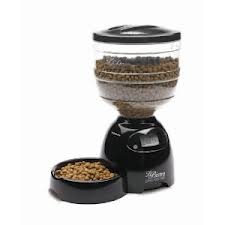 Petmate
Petmate, with its family of brands, is the trusted authority in smart pet care solutions. As the first to provide a safe and comfortable alternative to wooden travel crates, Petmate has gone on to introduce smart solutions for every stage in a pet's life. At Petmate, they believe in what they do, because they have pets too! Check out all of the other great brands and products in the Petmate family: Bamboo, Fat Cat, Booda, Petmate and Aspen Pet. Chose Petmate and know that at least 25% recycled materials are used in our products and packaging use is kept to a minimum. http://www.petmate.com
PetHub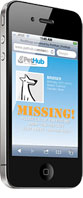 PetHub is a group of pet-loving people (some say we're "software geeks") in Seattle who are dedicated to getting pets home faster and safer than ever before utilizing the latest in mainstream technology. As a result, the PetHub team has created the most affordable, comprehensive protection solution available. Our award winning QR code pet ID tag can have the standard phone number etched upon it, but, someone can also use an Apple iPhone, Android, or other "Smartphone" (or regular computer) to quickly display your pet's free online profile with critical data you've chosen to share. (Yes.. it's slick.. and it's winning awards) Wait! (There's more!) We can also send you your pet's GPS location, allow you to alert shelters in your area if your pet goes missing, and provide emergency medical insurance to reimburse your vet bills! With PetHub, you will have peace of mind that your pets will be protected with our QR code pet tags. http://www.pethub.com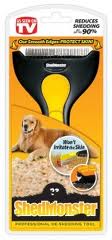 Oster
For over 100 years, The Oster brands has shared your passion and enthusiasm for pet grooming. Through superior quality, innovative ergonomics and legendary product performance, the Oster Animal Care line keeps your pets clean, happy and healthy. Our collection of grooming tools has everything you need for a well groomed dog. Treating your pet to careful, frequent brushing will prevent matting and leave their coat shiny and healthy. The ShedMonster Professional De-Shedding Tool reduces shedding by up to 90%! Used for years by professional groomers, the ShedMonster glides through the coat to remove shedding fur without causing painful brush burns or irritation. Great for all shedding breeds with medium to long coats. Carves through mats & tangles. Removes unwanted shedding hair that would otherwise accumulate all over the house. Pulls out shedding hair while leaving the healthy hair in place. http://www.osteranimalcare.com
Animal Radio® News with Stacey Cohen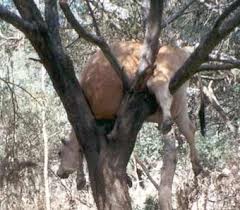 Cow Stuck In Tree Needs Rescuing
Their job often requires them to rescue plenty of cats and even the occasional bear, but firefighters in England where shocked by a recent call asking them to help rescue a cow stuck in a tree. The Daily Telegraph reports Sparkle, the 660-pound calf, had fallen more than 100-feet down an embankment and landed in the tree. A spokesman for the Cumbria Fire Rescue Service says it took three fire crews four hours to rescue Sparkle, but their hard work paid off. Sparkle's owner, Philip Armstrong, says the animal appeared to be in a state of shock, but the vet checked her out and says she appears relatively unscathed.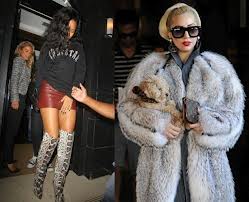 Rihanna Is The Latest Celeb Attacked By PETA
Rihanna is the latest pop star to spark the ire of PETA for her wardrobe. Britain's Daily Express says the animal rights organization is calling the singer out for the thigh-high snakeskin boots she was seen wearing in London recently. PETA reps recall Rihanna's tearful discussion about her relationship with Chris Brown in saying that the snakes are brutally killed for fashion but they "can't go on Oprah to cry about it." PETA calls wearing snakeskin "creepy and callous," and says that in wearing the reptile skins she looks "even more out of touch." The organization adds that Rihanna and Lady Gaga both seem to be "so desperate to be freaks instead of recognized for their talents" that it's unclear if they "realize that they are being laughed at." Last month PETA lashed out at Lady Gaga over pictures showing her wearing fur.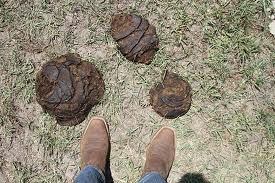 Drought Causes Shortage of "Cow Pies"
Add one more problem caused by drought this summer, a shortage of cow pies. To the east of Minnesota, organizers have changed their line-up for the annual Wisconsin Cow-Chip Throwing Contest in Prairie du Sac. The quality of this year's crop, as it were, is questionable. So about 200 cow pies that were being held in reserve are being used to supplement the few that are okay to throw. The chips are the size of a table tennis paddle. Workers normally shovel the manure in July and let it dry and flatten in the sun. But that operation was scrapped this year because of the poor quality of the manure as a result of the drought. The record cow pie throw stands at 248-feet.
Dog Bites Are One Of The Risks Faced By Children Playing Outdoors
Dr. Anne Brayer, a pediatrician in emergency medicine at University of Rochester Medical Center, in New York, has some suggestions. Remaining calm and not aggravating a dog are key elements in preventing dog bites. Dogs bite when they feel anxious or threatened. Never leave infants or young children alone with a dog, and keep children away from dogs that are eating or sleeping. Be careful when visiting older relatives with dogs. These dogs often aren't used to young children and can be jealous of the attention they receive. Remember that all breeds of dogs can bite, and a dog's upbringing plays a much larger role in its tendency to bite than its breed. Dogs bite about 4.5 million people each year in the United States, according to the U.S. Centers for Disease Control and Prevention. Children most likely to get a bite are between 5 and 9 years old.
Pets Get Alzheimer's
Is your dog or cat increasingly forgetful, getting "lost" in the corner of a room or seemingly forgetting where the litter box or dog door is? If a visit to the veterinarian rules out organic reasons such as an ulcer or cancer for the unusual behavior, your pet may be diagnosed with cognitive dysfunction syndrome—what in humans is called senility or Alzheimer's disease. If CDS is indeed diagnosed, easy environmental changes can bring about improvement. Maintain a routine so your pet eats or goes for walks at the same time every day. Feed a diet that contains high levels of antioxidants, which have been demonstrated to enhance brain health. Keep your pet's brain sharp with play and training. Most important, be aware of changes in behavior that may signal the onset of CDS. The earlier you intervene, the more chance you have of staving off the signs.
Is Premium Pet Food Better?
This is a rhetorical question, since the only thing that really matters is, is premium pet food worth the extra money to you? Because it is so important to so many pet owners, pet food is a $20 billion a year business, so here is what we have found out that there have been precious few long-term, independent studies on pet food. Any pet food you choose should be nutritionally balanced. Vets say it should be labeled with a "statement of nutritional adequacy" showing it meets the Association of American Feed Control Officials' guidelines. Just as with people food, the first five ingredients listed on the label tell you a lot about a product's nutritional value. Premium pet food doesn't always contain more balanced nutrition, nor is it immune to recalls or contamination. Millions of people feel very strongly about their pets and believe if they eat natural food their pet should too. Dr. Tony Buffington, a veterinary nutrition professor at Ohio State University, makes it clear pet owners shouldn't feel guilty about buying less expensive, but nutritionally balanced brands.

NEWS UPDATE Brought To You By ScoopFree.com. Free Shipping on trays plus up to $20 off your first subscription.
Listen to the entire Podcast of this show (#668)